The President, Republican members of the House and the Senate, Fox News personalities and talking heads, the President's surrogates on other broadcast and cable news shows, the conservative social, digital, and news media, and the President's campaign officials and surrogates have been calling for the release of the email that former Assistant to the President-National Security Advisor (AP-NSA) Susan Rice sent to herself in January 2017 as a memorialization of the meeting about what the FBI's counterintelligence officials had been discovering about LTG (ret) Flynn and his activities before he joined the President's 2016 campaign, during the campaign, and during the transition.
This was purposefully conflated with unmasking by Congressman Nunes as part of his agitprop that President  Obama and his senior officials spied on the President's campaign, including seeking to unmask LTG (ret) Flynn in signals intelligence collected on foreign targets. When the Trump administration declassified and released Rice's email to herself, they only declassified and released part of it. Which, of course, led to screaming and yelling about coverups and conspiracies. Dr. Rice has long requested they declassify the whole email, as well as the transcripts of LTG (ret) Flynn's calls with Ambassador Kislyak, as well as other Russian officials, and officials from other countries. Earlier today the Trump administration declassified and released the remainder of Dr. Rice's email and no surprises at all, there's nothing untoward at all in it.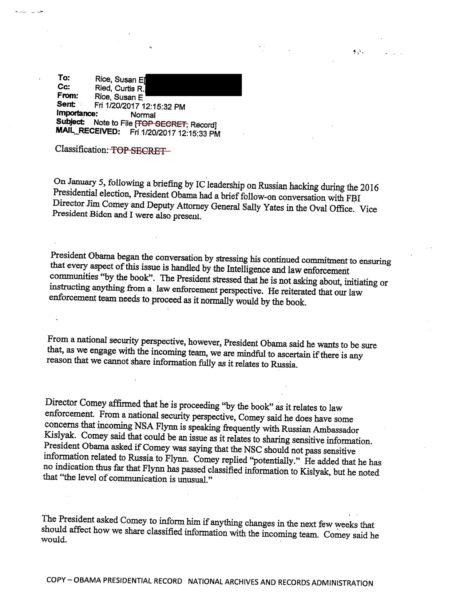 As can be clearly seen from reading the email, no one involved did anything untoward, unethical, and/or illegal. As was the case with the unmasking conspiracy theory, there is no there there.
Here is Dr. Rice's statement from this afternoon: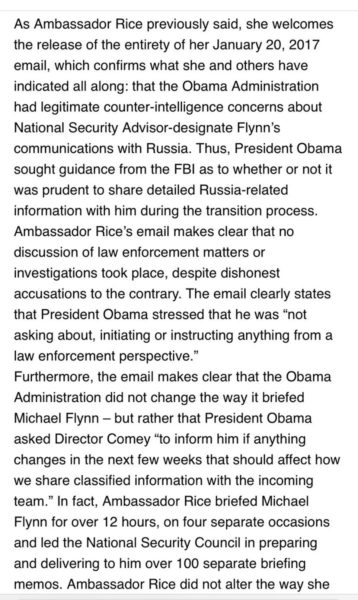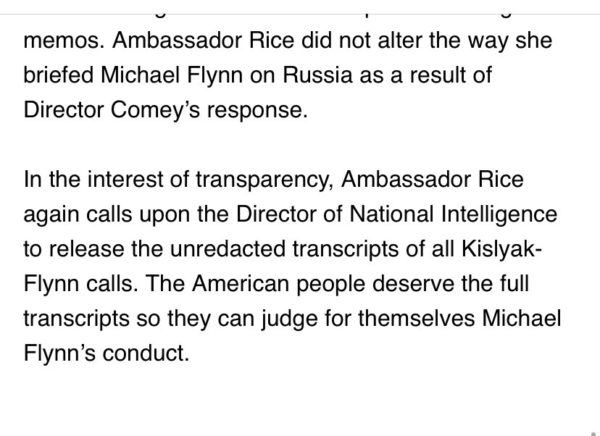 And while Republican elected officials* and their surrogates are trying to spin this as evidence of illegality, it isn't. And the most amusing part of today is that Senator Graham hung his tuchas way, way, way, way out over the edge this morning expecting to turn this into a scandal that he could weaponize on behalf of the President's, as well as his own, reelection chances.
This could backfire on Graham-Trump.

Graham letter to Grenell, Barr asks for new list of unmasking requests that revealed Trump campaign/transition associates "and the reason given for any such request."

Likely to show national security threats involving those US persons. pic.twitter.com/h2nzo0GQco

— Ryan Goodman (@rgoodlaw) May 19, 2020
Ooopsie!!!!!
To quickly summarize:
Dr. Rice's email to herself memorializing the 5 JAN 2017 meeting with President Obama, VP Biden, FBI Director Comey, herself, and several others clearly indicates that nothing untoward, unethical, and/or illegal took place. Rather, President Obama made it very clear that everything was to be done by the book.
The release of the entire email further undercuts the Congressman Devin Nunes created agitprop and conspiracy theory that President Obama ordered the FBI to spy on the President's 2016 campaign and he knows this because the evidence is being covered up in Dr. Rice's email to herself, which is classified.
That email is now declassified and released and once again Congressman Nunes is unmasked as a none too bright, conspiracy mongering fabulist.
The declassification and release of Dr. Rice's entire email memorializing the 5 JAN 2017 meeting undercuts Senator Graham's plans for a Senate Judiciary Committee investigation to get to the bottom of these allegations, because the declassified email shows those allegations to be complete bullshit.
Open thread
* Obligatory: