49 of 50 states have balanced budget requirements. States are experiencing a massive revenue shortfall due to the COVID pandemic. State budgets have core priorities of education, medical care, criminal justice and civil courts, transportation, infrastructure and recreation on public lands. State budgets also have short run fixed costs of pensions and debt upkeep as well. After those expenses, other add-ons can be included.
One of the add-ons that about a dozen states have chosen to spend money is Section 1332 reinsurance waivers for the ACA individual market. These waivers have a couple of different flavors but fundamentally they are similar. A source of money that is not tied to premiums is injected into the claim paying pool. This external money takes on a share of the claims and allows premiums to drop. The lower premium level triggers lower federal subsidy payments which then gets recycled back into the external source of money. The key here is the external source of money. Some states use general fund revenues, others use a general insurer assessment while others have other dedicated funding streams.
These waivers serve a fairly small number of people in the state. The waivers make insurance cheaper for individuals earning over 400% FPL and slightly more expensive for subsidized individuals who choose a plan that costs less than the benchmark plan. The marginal cost of insuring one extra person is fairly high.
States will have to make very hard choices in the next several weeks as updated revenue and expenditure projections come in. 1332 waivers can be either reduced or eliminated to free up the funding stream that went to the waiver. The freed up funds could be redirected to other, higher priority programs.
Below is the language from the Colorado 1332 waiver approval letter that outlines early termination procedures. The key is a notification by July 1st.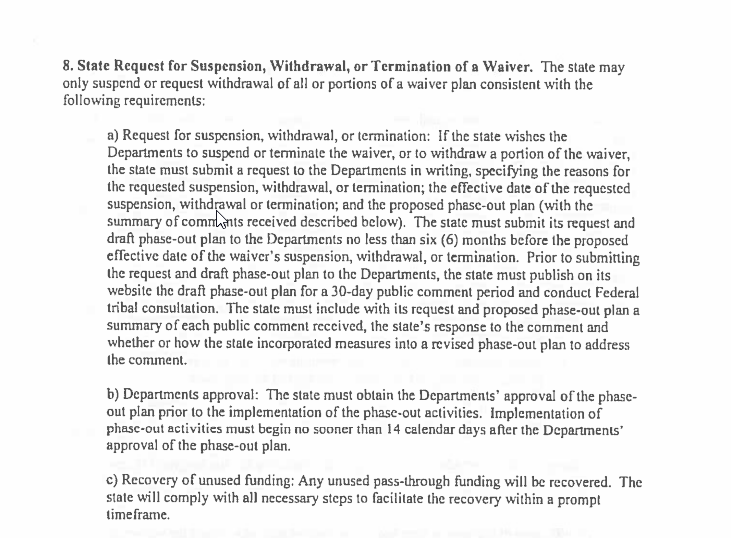 If a waiver was to be terminated, we should hear rumbles in the next week or so and then comment periods in two or three weeks.
This is worth keeping an eye on.