Researchers at Rand, including Jodi Liu who I've written with before, have a new analysis of a variety of public option plans.  Two variants that increase subsidies have more people better off.  Two variants that merely low index premium levels have more people worse off.  The Public Option Institute has a good summary: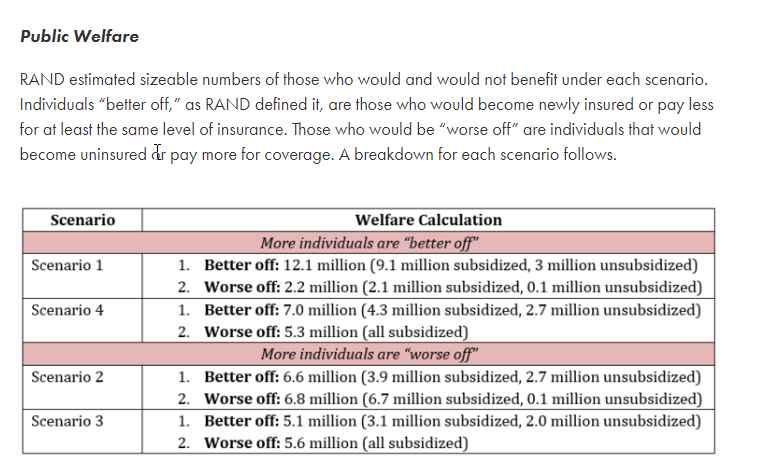 The public option at this time is a solution in search of several different problems.  Lower price levels are good for individuals who are not receiving subsidies.  Lower price levels are bad for the affordability of coverage on the ACA exchanges for people who get subsidies and purchase plans that are priced below the benchmark.
Last year, I cowrote a Health Affairs blog with Billy Wynne of the Public Option Institute laying out the mechanics of net of subsidy pricing in Colorado:
We found a strong contrast between the affordability impact of the single public option plan and multiple public option plan scenarios. Our analysis suggests that introduction of a single public option plan in each rating area of Colorado would reduce the contribution a sample subsidized consumer would need to make to the premium of the lowest-cost plan in each metallic tier by 40.0 percent to 73.4 percent. Introduction of multiple public option plans in each rating area would, by contrast, decrease net premium contributions by 6.5 percent for the lowest-cost gold plan while increasing the contribution required for bronze and silver plans by 15.7 and 0.7 percent, respectively.

The fact that Colorado's 2019 market currently has limited spreads between the least expensive silver plan and benchmark plan contribute to this disparity of impact between the single public option and multiple public option scenarios. Currently, for a single 27-year-old, the difference in premium between the least expensive silver and the benchmark ranges from $1.00 to $18.00, with an average difference of $8.44 and a median difference of $6.00. A uniform reduction of 20 percent in premium would shrink the absolute difference in premiums between the less expensive plan and the benchmark if two or more public option plans were to be introduced. Lower spreads yield higher net premiums for subsidized buyers who purchase plans priced below the benchmark, which is what we have modeled here. These findings are consistent with the work of Coleman Drake and Jean Abraham who have demonstrated how insurer competition in the market reduces premiums but also compresses silver premium spreads, which reduces the value of the APTC as premiums converge over time.
Emma Sandoe and I wrote that policy makers need to understand their objectives in regards to proposals for Medicaid buy-in.  I think that same warning applies to public option proposals as well"
The policy should be judged based on how the programs serve the policy maker's intended goals. Medicaid buy-in proposals can achieve multiple goals. Each advocate may lay out their goals of this policy differently, but whether the details of their plan meet their stated goals can be determined using the criteria outlined in this post…

Medicaid buy-in proposals still need significant development to become a viable policy. At this stage, proposals should outline their intended objectives and clearly articulate the policy choices aimed at addressing these goals….
The critical questions for a public option program at this time is what problem is it trying to solve, and how does it interact with the ACA price linked subsidy formula as it attempts to solve the stated problem. The RAND analysis shows that there are significant trade-offs with meaningful distributional impacts.