There were protests outside the White House last night, and they scared the shit out of Trump, who reports that he was peeping out the window at the action. We got a "sir" story on Twitter a while ago to confirm Trump's pants-soiling terror, the "sir" thing being an infallible indication of a big fat whopper: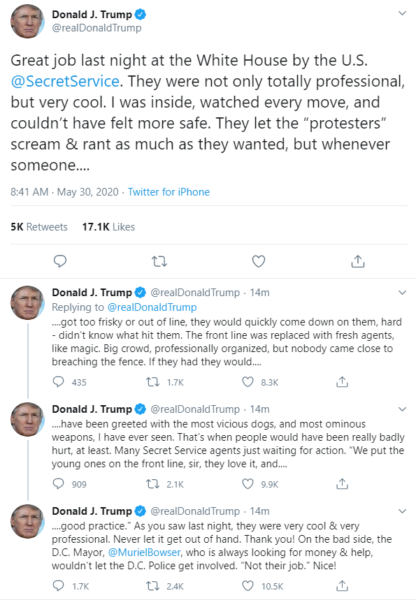 The "most vicious dogs" and the "most ominous weapons," plus strapping young agents vying for the privilege of protecting Trump's cowardly orange hide, probably with tears in their eyes from an excess of devotion. Bullshit. They protected the building and the current resident, which is indeed their job.
I wonder where Trump got the information about the DC cops standing down, and if it's true? That's probably a lie too.
Anyhoo, Trump was never in any danger, of course. But he's a coward, and as a chickenshit, yellow-bellied, sniveling punk, he got a tiny glimpse last night of what it was like to be Nicolae Ceaușescu of Romania in the run-up to Christmas in 1989. It scared the shit out of him.
Good.
I say it's good because fear for his own personal safety is probably the only thing that might give Trump pause as he pours gasoline on the flames of rage and despair that are engulfing the country. Trump feeds on that sorrow and anger. He uses it to stoke division, which he regards as potential deliverance from the trap in which he finds himself ensnared, thanks to his own towering incompetence and fathomless malice.
Here's hoping fear will serve as a restraining force. Compassion, empathy and intelligence certainly won't.
UPDATE: Well, there goes my hopeful theory:
The professionally managed so-called "protesters" at the White House had little to do with the memory of George Floyd. They were just there to cause trouble. The @SecretService handled them easily. Tonight, I understand, is MAGA NIGHT AT THE WHITE HOUSE???

— Donald J. Trump (@realDonaldTrump) May 30, 2020
So, Trump is summoning the MAGA choads to the White House so they can clash with protesters. In the middle of a pandemic.