The bunker occupant held a conference call with the nation's governors this morning. He wasn't in a happy mood: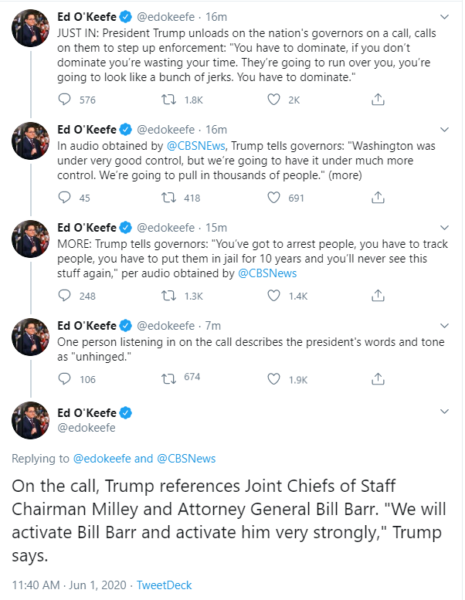 I wish activating Bill Bar and activating him "very strongly" referred to a mechanism for launching a projectile — a trebuchet containing Bill Barr aimed at the side of the DOJ building would be ideal. But I'm thinking Trump means to subvert the rule of law even further, perhaps to empower head-knockers in a bid to save his (Trump's) own ass from this humiliating spectacle. Coincidentally, that was the Fox & Friends advice this morning, if you read between the lines.
One NYT reporter says Trump told the governors he was putting the Chairman of the Joint Chiefs "in charge." Is that even legal? Fuckifino.
Anyhoo, it's alarming, obviously. But as Cheryl correctly pointed out on Twitter, it's pretty clear there's no real strategy here. Just a small, scared shitbird squawking in a gilded cage. Still, he's a shitbird with the nuclear codes and military forces, so yeah, I'll categorize this display as alarming AND disorganized for now.
Courage, friends. The only way out of this dangerous time is through it.