So, this happened a while ago: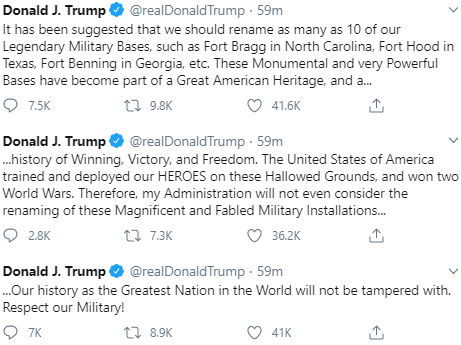 Cadet Bonespurs screeching "Respect our Military" at people who want to peel off the loser names on U.S. military installations and replace them with the names of Americans who served — rather than betrayed! — the United States is…peak something or other.
Speaking of stupid, aside from the obvious racism, there were clues that Trump was a closet Confederate before he became a politician and started pandering to mouth-breathers in the Deep South (whom he wouldn't be caught dead with in a social situation, by the by). Here's an idiotic monument he created to mark the spot of a non-existent Civil War bloodbath that definitely didn't take place at one of his stupid golf courses:*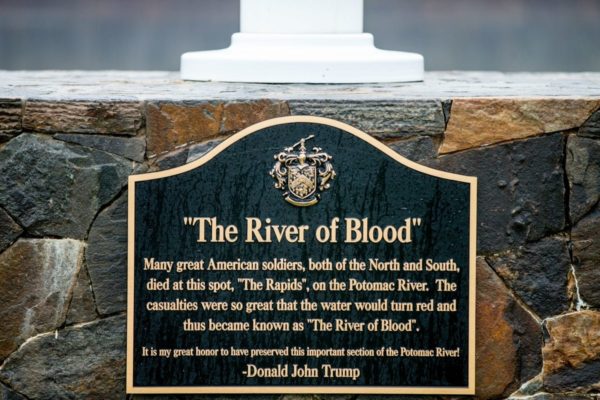 Trump is a half-witted huckster, so it's not surprising that he'd conjure up a fake historic event to commemorate as a selling point for what is probably a substandard, overpriced course with downtrodden staff and lots of mole hills. But notice Trump goes out of his way to note that "great American soldiers" from both "North and South" died there. (They didn't.) Very fine people on both sides!
As a Southerner, I'm all too familiar with the cognitive dissonance that enables Confederate flag wavers to consider themselves the most patriotic Americans who ever lived. But correct me if I'm wrong, Northern readers, isn't venerating Confederates unusual for a person who was born and raised in NYC? That's just plain weird.
Open thread.
PS: Everything currently named for Robert E. Lee should be renamed for Robert Smalls, an American hero whose derring do should be familiar to every American schoolchild.
*The Wikipedia page on the fake monument is pretty funny.