On the Road is a weekday feature spotlighting reader photo submissions.
From the exotic to the familiar, whether you're traveling or in your own backyard, we would love to see the world through your eyes.
First Timers Week
It's Day 4  – let's give a warm welcome to MelissaM! One thing I love about On the Road is getting to see places I will never visit in person, and Iceland looks nothing like I would have imagined!   The rocks along the walkway are very cool, indeed!

It's not too late for you to send your photos in and be published next week.  ~WaterGirl
MelissaM
In 2016 my husband and I took our 19yo and 15yo to see their uncle in The Hague. We flew Iceland Air, which allows up to a week stopover in Iceland with no surcharge in airfare, and hey, why not? We stayed only 2 days, which was enough to learn we really want to go back and spend at least a week, drive the ring road, see it all.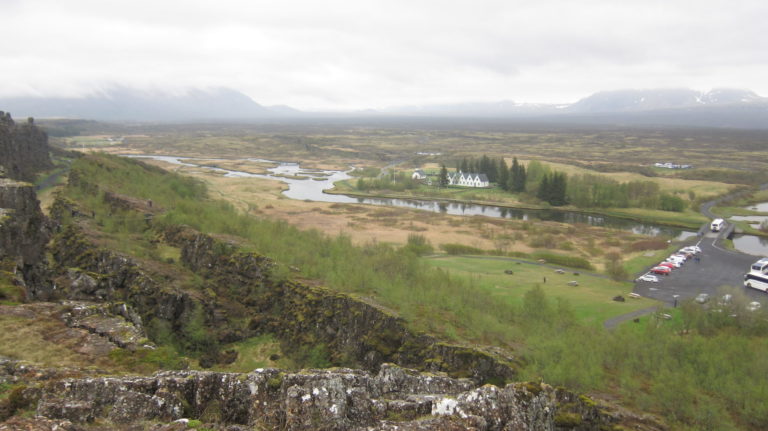 þingvellir, Thingvellir
Because we arrived at 6:30am couldn't get into our room until much later in the afternoon, we did a 5 hour bus tour of highlights close to Reykjavik. First up, Thingvellir, which is where the mid-Atlantic plate rift crests. It's also where the original Icelanders would hold their annual parliament. This picture looks out from the info center overlook.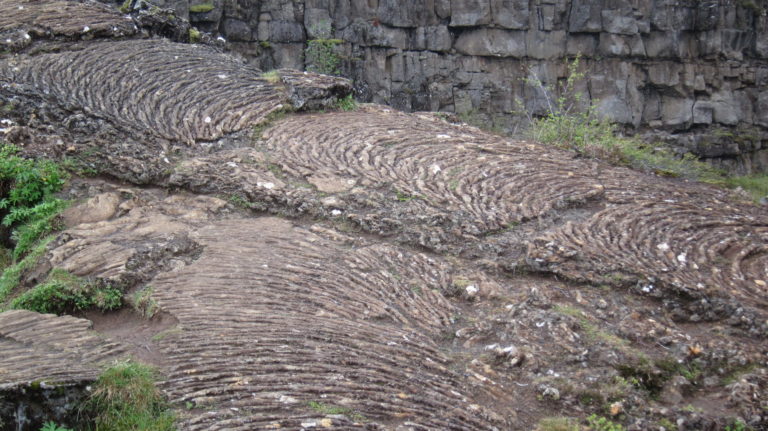 Thingvellir
Cool rocks along the walkway.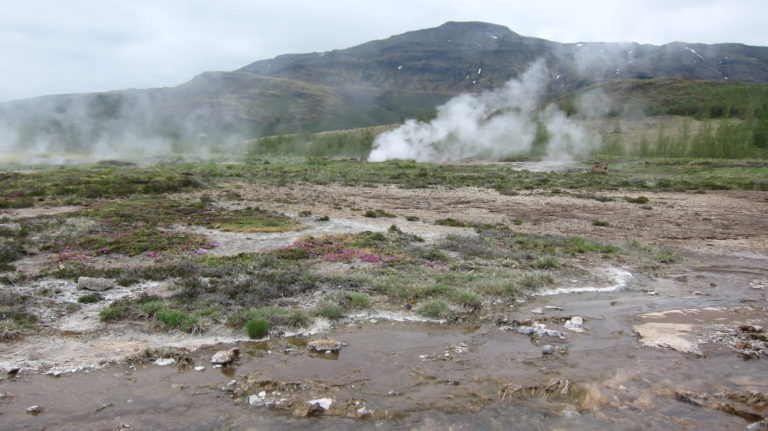 The tour also took us to see the mighty geyser Strokkur, which I didn't capture going off, but there were small bubbling holes and lots of steam. This area was appreciated because it was overcast and chilly for us silly Americans dressed for 70 degree weather (picture a 19yo American male in shorts and t-shirt and that's my kid.)
We have no idea what this statue is for. We just called it a monument to the Wedgie. This was near the geyser stop.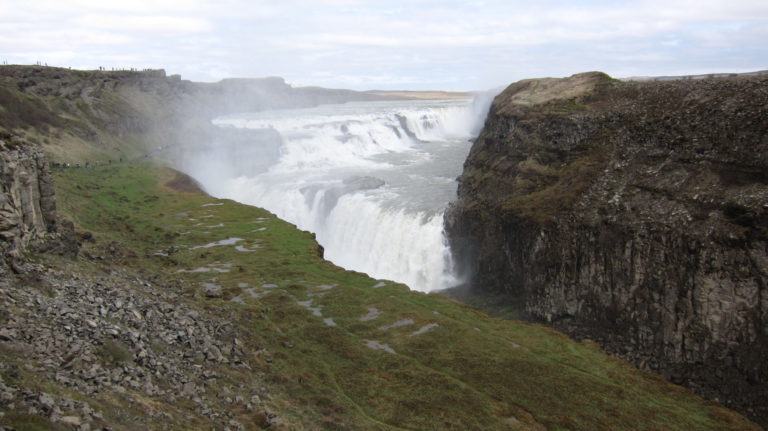 Gullfoss
Our Golden Circle tour also included Gullfoss, or Golden Falls, which is a 2-step waterfall.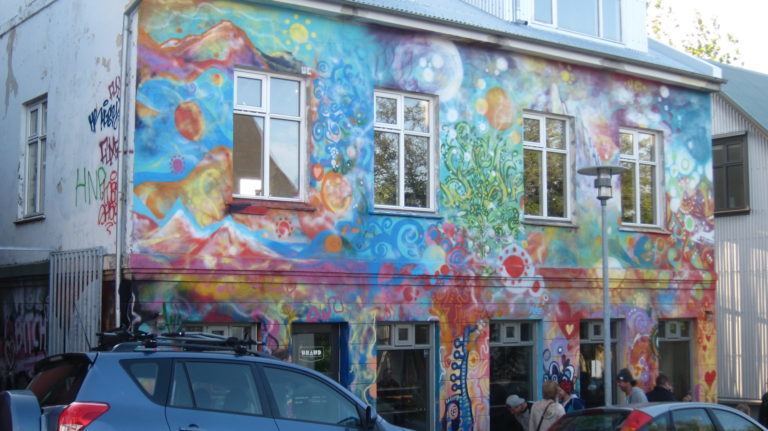 Reykjavik
Reykjavik has many colorful houses and the graffiti, if it is that and not the building owners scheme, is attractive.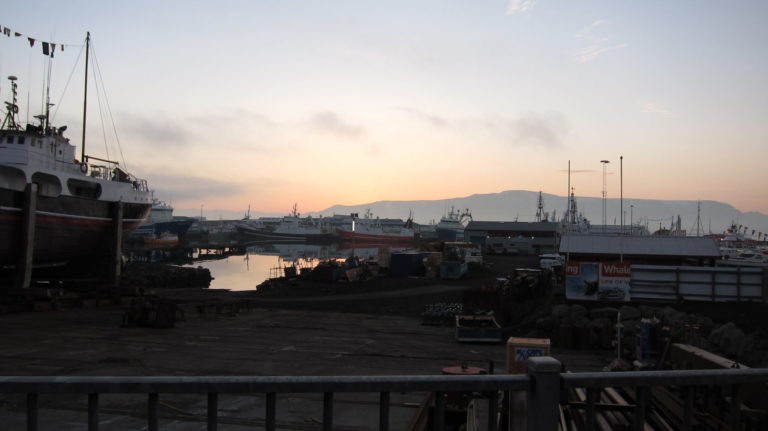 Reykjavik
One of the strangest things was to experience the light. This was early June, so still a few weeks until mid-summer. To get our early flight to Amsterdam, we had to get a 3:30AM shuttle to the bus station, which allowed me to catch this picture. There were people still out enjoying the night/day, while others were straggling home. It's said that folks in the northern areas stay up with the sun as much as possible.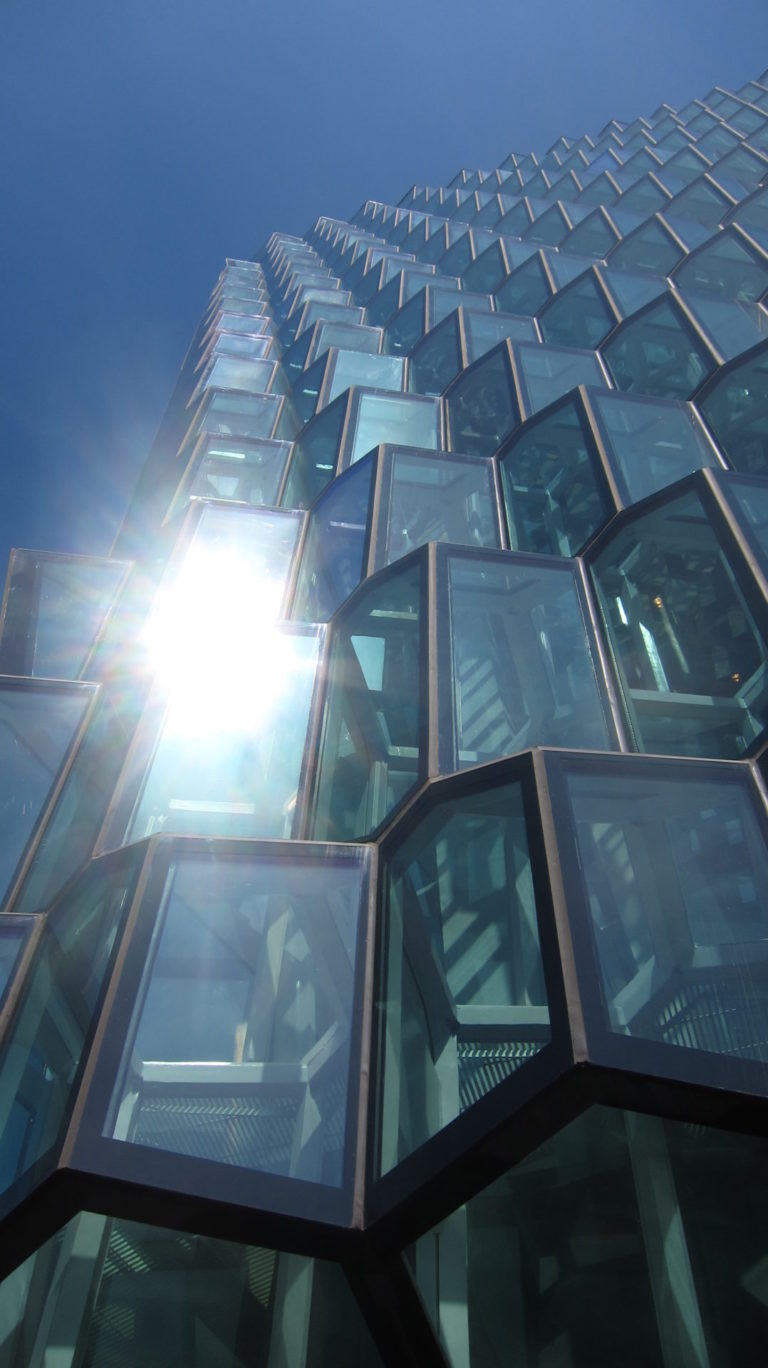 Harpa concert hall
Not to be missed when walking around Reykjavik is the Harpa concert hall. Stunning glass exterior, black lava concrete interior, and *ahem* lovely bathrooms. Good travelers know, if you see a bathroom, especially a clean, free one, use it. We didn't attend any function here, but tourists are free to walk around inside. Some of the windows are colored, which made lovely patterns on the floor.
I have no idea when we might get back to Iceland, but it will include a car rental and driving further out. As a knitter, I'd love to see some sheep.