On the Road is a weekday feature spotlighting reader photo submissions.
From the exotic to the familiar, whether you're traveling or in your own backyard, we would love to see the world through your eyes.
It's Day 6  – let's give a warm welcome to Jack Canuck!   Today we have a study in black & white, and a wonderful reminder of how beauty can be found in ordinary things.  ~WaterGirl
Jack Canuck
Since we've all been stuck at home to varying degrees for months now, I thought I'd share some of the photography I've done without leaving my home and yard. I enjoyed the challenge of finding interesting shots to take with my macro lens around the house and garden here in inner Melbourne. Since I couldn't get out much even locally, much less get out of the city, it helped to keep me busy and give me something to do that let me get away from the work-at-home vortex.
For some of the shots, the subject matter is quite obvious. For others, the focus is so close up (and the depth-of-field so shallow) that they turn into abstracts. That's one of my favourite parts of macro photography – changing everyday things into images that have virtually no connection to the object itself, to the point that you might not even know what it is if you aren't told.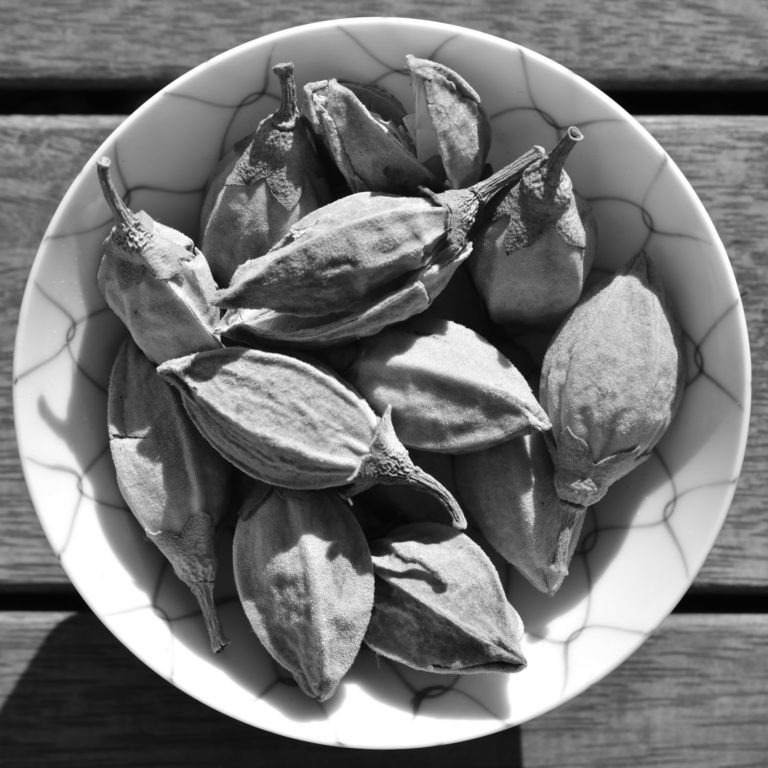 One of the trees on the street in front of our house gets loaded down with these seed pods in the fall (which has just finished here in Melbourne – we're into winter now). I collected a bunch of them, put them in a Japanese ceramic bowl from the kitchen, and took it out onto our back deck in the late afternoon sun. I loved the textures, the contrast between the pods and the bowl, and the shadows from the setting sun.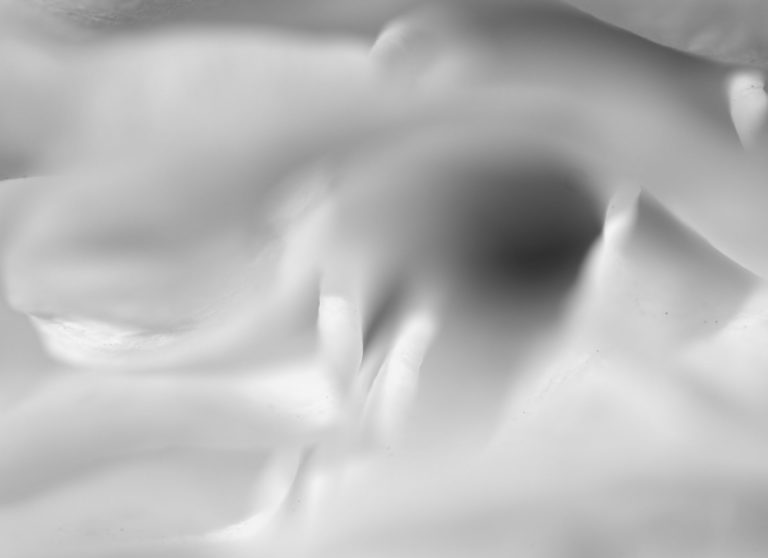 This is actually the interior of a rose in our front garden, with the shot focused deep inside the flower. When you're this close up with a macro lens, the depth of field is extremely shallow, leaving only elements on a very narrow plane in focus while the rest is blurred.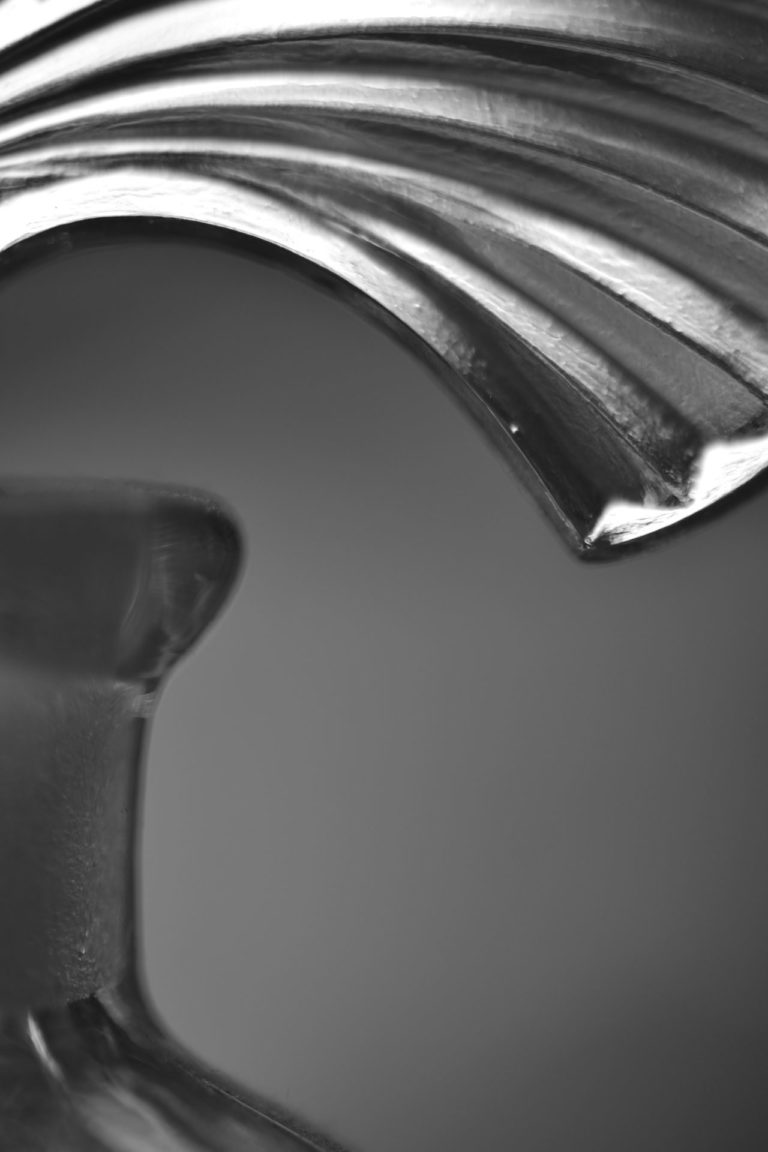 Inside the house for this one. This is actually a small part of the stopper and top of a small bottle made of so-called 'depression glass'. My wife collects these, so there are a fair number around the house and they make an appealing subject. The actual part you see in this shot is probably only a few centimetres across.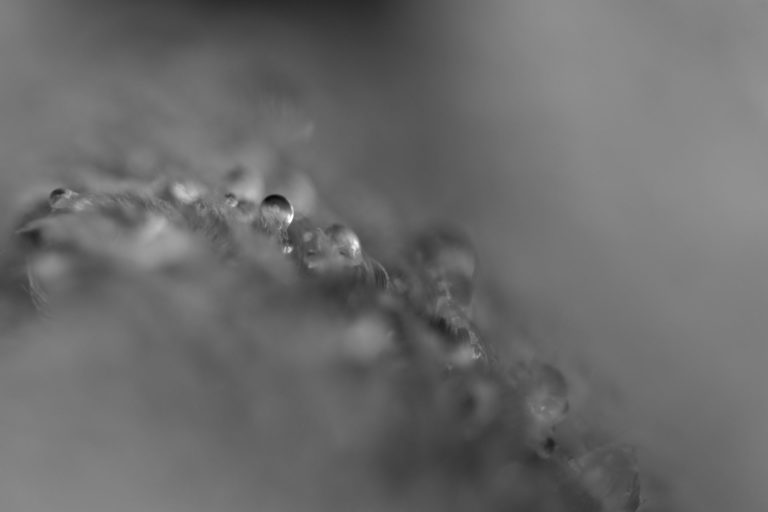 I went out in the garden one morning after some rain, and this is one of the results. It's actually raindrops on a plant called lamb's ears (stachys byzantina, if you want the formal name). It has thick, furry leaves that let the rain collect as distinct drops. Again, the narrow depth of field of the macro lens resulted in an abstract almost unconnected to the actual plant. You may have noticed by this point that I also tend towards black and white, which also helps with the abstraction. I like black & white photography for the way it directs the attention to the shapes, to the composition, and to the interaction of light & shadow. Blame it on my Dad, he was/is a mostly b&w photographer himself.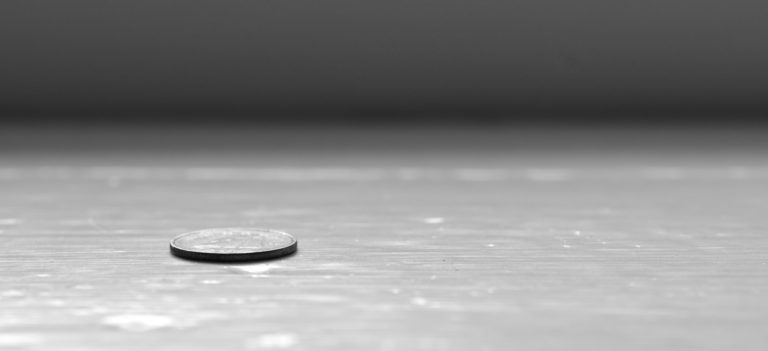 Inside again, I was seeing how minimal I could go and still get an interesting photo. This isn't quite the most extreme I achieved, but it's the one I like best. You're just looking at a 1951 Canadian silver dime, sitting on an old white-painted windowsill, with the natural light coming in.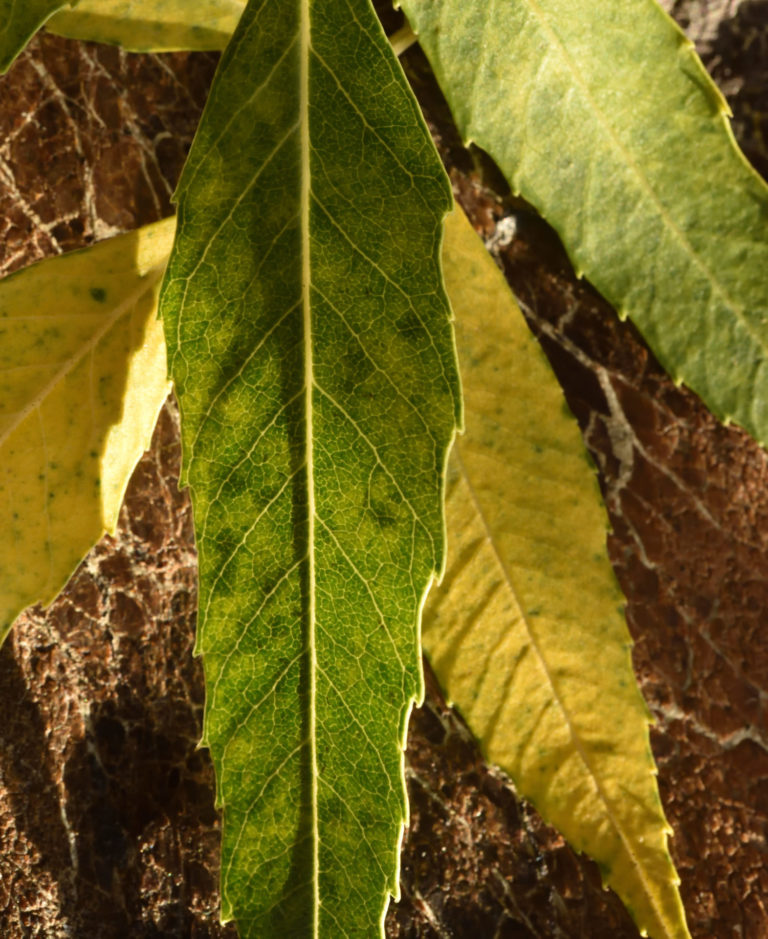 Just to show that I do use colour sometimes! My son and I had gone for one of our daily lock-down walks (we had a regular route that covered about 2 kilometres, block by block), and I'd picked up some gum tree leaves that had fallen on the pavement. As the sun was setting, I experimented with them to see what I could do. This shot actually has the leaves set on top of a fossil (probably a piece of giant turtle shell, from what a palaeontologist told me) that I picked up in the hills in Drumheller, Alberta many many years ago when I was a boy living in Calgary. I love the colours and texture and light & shade in this shot.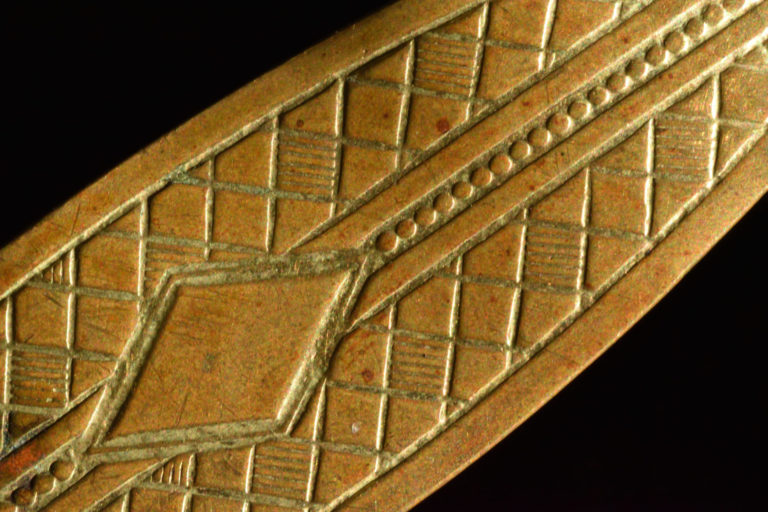 Another colour one, this time of the clip on an antique pocket watch chain that I got from my grandfather long ago. Again, to give you a sense of scale, you're seeing about a centimetre of actual size in this shot. This was just on my kitchen table in late afternoon (for the light); it was actually sitting on top of a black wool hat that I bought 16 years ago when I was living in Dublin – it made a good dark background that let me position the chain well to catch the light.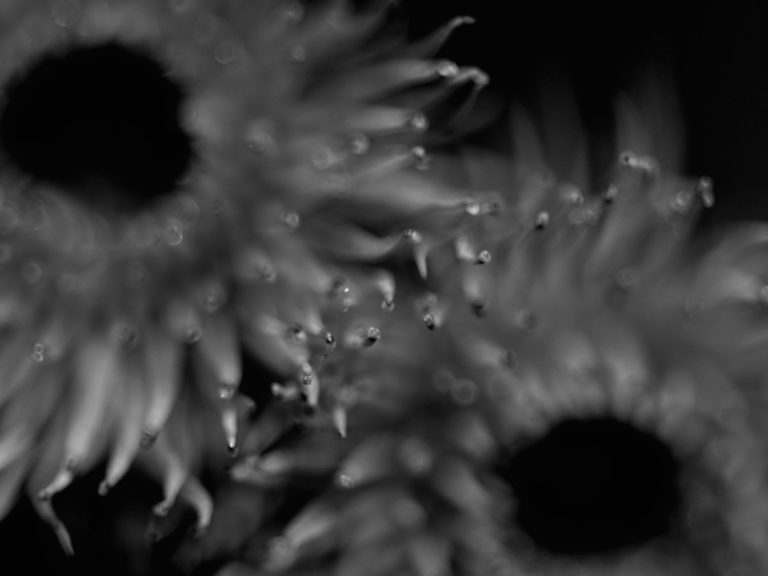 Back to black and white, this time of the flowers from the red flowering gum (corymbia ficifolia). The flowers are about a centimetre or so across, and they're vivid red in real life. I picked a few up on a walk and brought them home to see what I could do, and this is one of the results. I really like how the tight focus is on the very tips of the flowers, with the rest receding into a blurred background.