On the Road is a weekday feature spotlighting reader photo submissions.
From the exotic to the familiar, whether you're traveling or in your own backyard, we would love to see the world through your eyes.
Frosty will be taking us on a trip to see several national parks.  This is the introductory post, which will be followed by 8 more detailed posts, on-and-off over the next few months.  It should be quite a trip!  ~WaterGirl
frosty
I've been a road tripper all my life. When I retired on January 31st we made plans for our sixth annual snowbird road trip to Florida, but this time instead of heading back north, we'd be heading west to see six National Parks we hadn't been in before: Big Bend, Joshua Tree, Death Valley, North Rim of Grand Canyon, Grand Staircase-Escalante (NM), Arches, and Canyonlands. Along the way we added White Sands and Saguaro to the list.
Throughout the trip, we were pretty well isolated in the car and our trailer while traveling, camping, and sightseeing. We bought hand sanitizer in Louisiana, the last time we ever saw it in a store. We lucked into face masks in a hardware store in Lake Havasu. We typically had about an hour a day interacting with other people (grocery stores, other campers, hikers and sightseers) and except for the stores it was outside and more than six feet distant. We followed stay-at-home orders, but our home had wheels under it.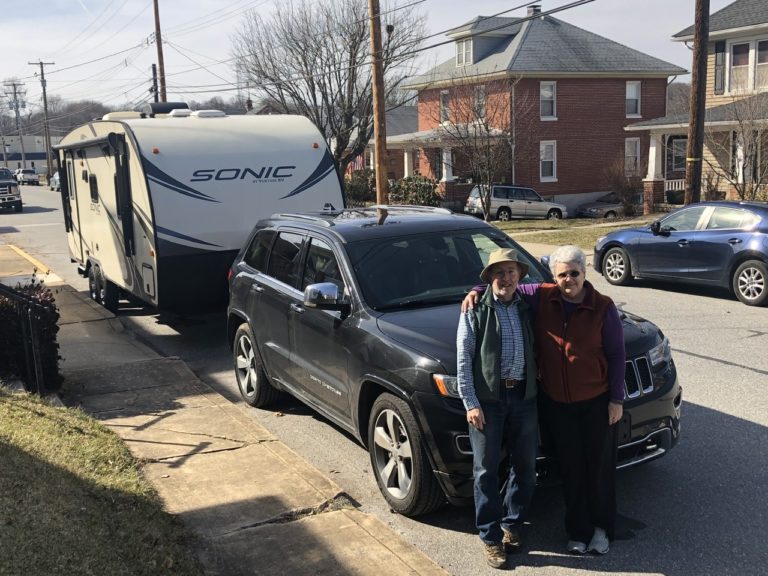 South Pennsylvania
February 15, 2020
We've been trailer campers for over 25 years, moving from a Coleman popup to our current 27-footer.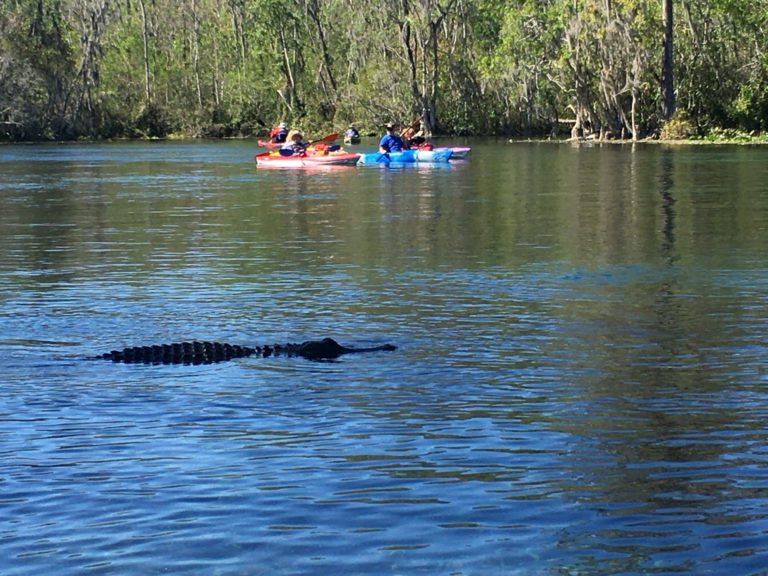 Silver River State Park, Florida
February 28, 2020
The day before I retired, WHO declared a global emergency for COVID-19. When we left in mid- February, it was still a distant Asian problem.
We stayed in three state parks in Florida, among the best in the country. The first was Fort Clinch State Park. While we were there, South Korea and Italy had the first COVID-19 deaths.
At Silver Spring State Park, I went on a canoe trip on the Silver Springs where we saw lots of wildlife like our friend here. The day after that the first US death was recorded in Evergreen Washington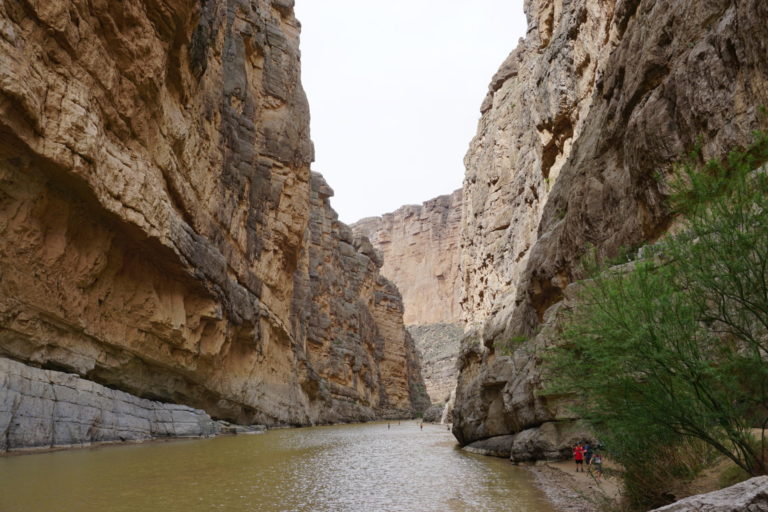 Santa Elena Canyon, Big Bend National Park, Texas
March 18, 2020
We left Florida on March 1st. The next day, the US recorded 100 cases. Our next stops were two state parks in Louisiana. We arrived on the day that the first case was discovered in New Rochelle, NY. Our day trip to NOLA was two days later, where we made the biggest mistake of the trip: a tour of NOLA neighborhoods in a bus full of strangers, a week after Mardi Gras. By then we knew we should keep our distance as best we could.
Next stop was Austin, after an overnight in Beaumont, where the RV park owner insisted on shaking my hand. I washed it immediately. By then, 10 states had recorded their first cases. This was when the public started to take notice:
• Colleges closed their campuses
• School districts started to close
• NBA and MLB suspended operations
• March Madness was cancelled.
We could still go shopping and to restaurants in Austin, although the grocery stores were jammed and panic buying had commenced. On the next few days as we headed west across Texas to Big Bend, NYC schools closed and Ohio started to shut down. We spent four days at Big Bend, traveling to different areas of the park, including Chisos Basin, Rio Grande Village, and Santa Elena Canyon. The far side of the river in the picture is Mexico.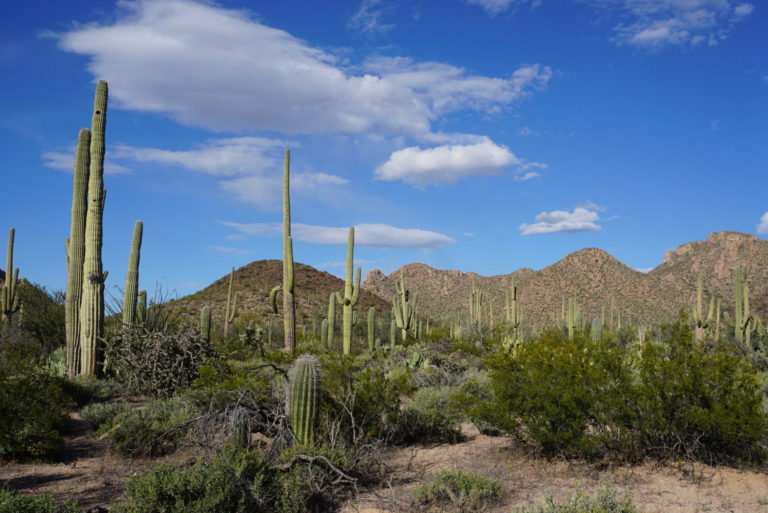 Saguaro National Park, Arizona
March 27, 2020
While we were at Big Bend, our planned vacation started to get upended, particularly because we had planned to spend most of April in California.
• 3/18 most National Parks closed all visitor centers and facilities
• 3/19 state parks in New Mexico and California closed
• 3/19 California issued a stay-at-home order
We changed reservations to private RV parks instead of state parks, and departed Big Bend for a KOA in Alamagordo. The day we arrived, White Sands closed entirely and New Mexico went into lockdown. Our next stop was Catalina State Park outside of Tucson. We spent some time there touring the Sky Island Scenic Drive and Saguaro National Park.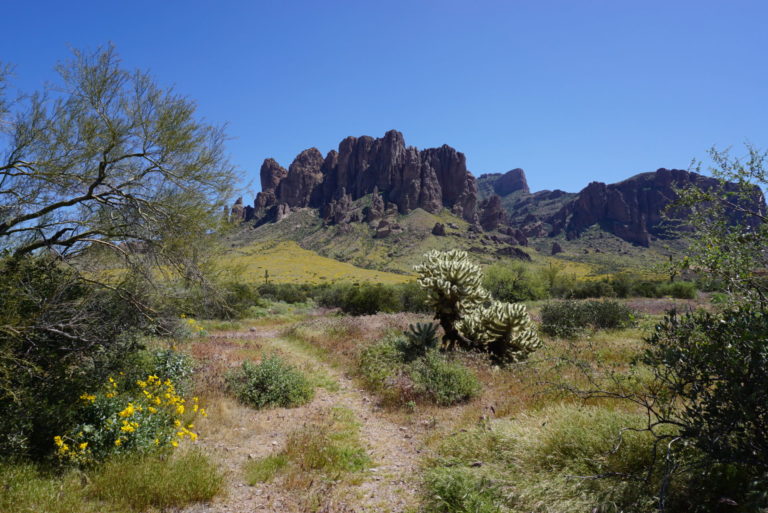 Lost Dutchman State Park, Arizona
April 2, 2020
We left Catalina State Park for Lost Dutchman outside of Phoenix. We still had hopes of seeing Joshua Tree by bicycle, after they closed the roads to vehicles. However, about that time in late March / early April the Utah parks, Joshua Tree, and Death Valley closed completely, and our whole National Park tour was over.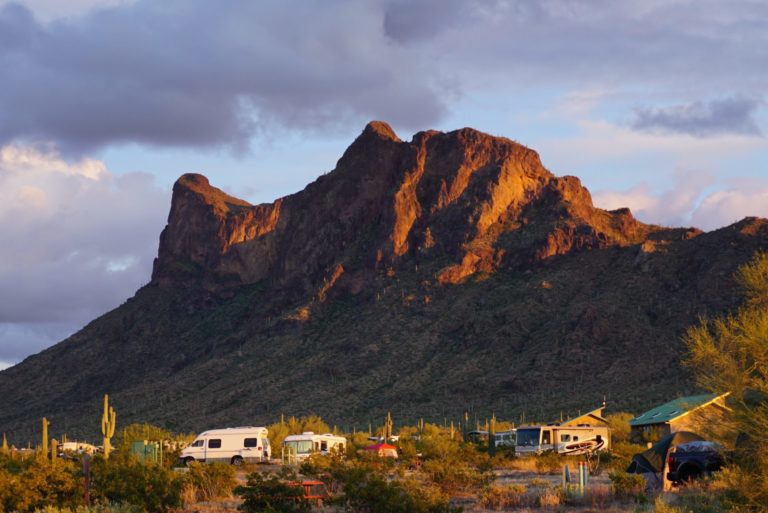 Picacho Peak State Park, Arizona
April 9, 2020
We had a choice between heading east or waiting out the virus somewhere nearby to see if California or Utah might defeat the virus and begin to open up. Arizona didn't close their state parks, so we talked over the options, ran it by our grown sons, who didn't think we should head home, then canceled our other reservations and booked campsites in more parks across the state through the end of April. Our next stop was Picacho Peak, between Phoenix and Tucson.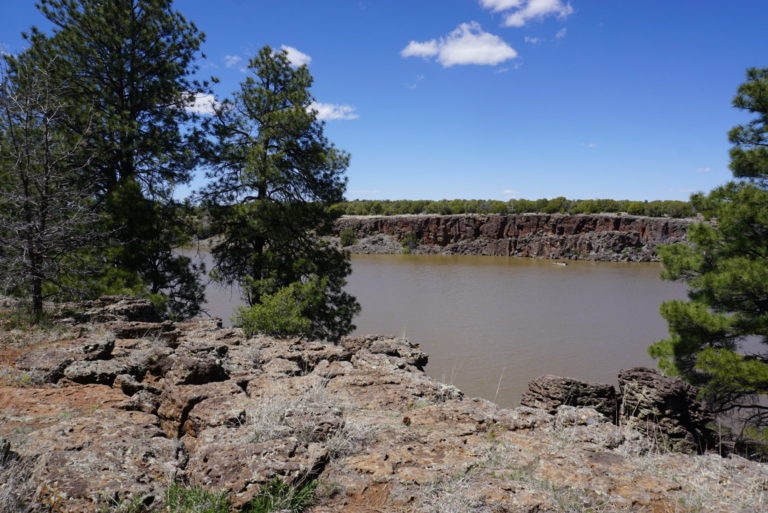 Fool Hollow State Park, Arizona
April 23, 2020
In mid-April, Trump began pushing for states to relax their shutdowns. On April 20, when we were in Homolovi State Park, Tamara posted her experiences about coming down with the virus. It was an eye-opener. Even if we had a mild case, we could have two to three weeks of fatigue while recovering in a trailer, which sounded like hell. This was when we decided to give up waiting to see what opened up, although we kept our planned stops at two more state parks.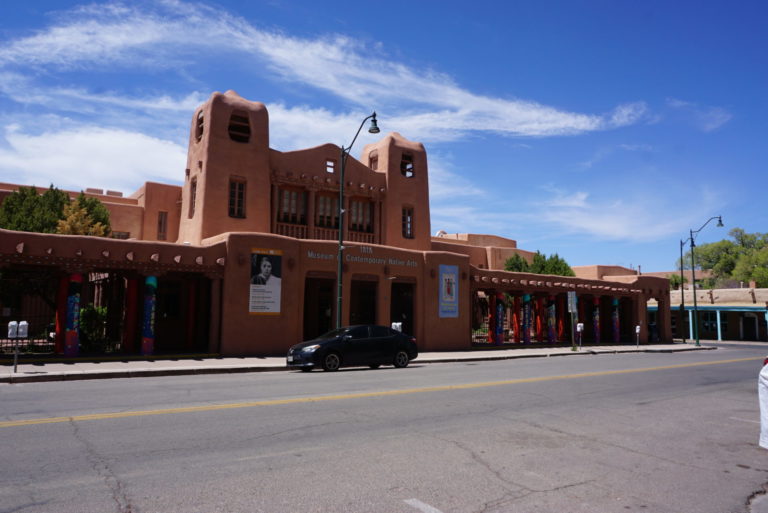 Santa Fe, New Mexico
May 3, 2020
We had waited out the month of April in Arizona, so we pointed the wheels east, through El Malpais National Monument to Albuquerque. We stayed there three days, spent an afternoon at Petroglyph National Monument, then went north to Santa Fe. On our day trip to town we found all the streets empty. The striking thing to me was how many businesses were closed. Santa Fe is a huge arts community and all the museums, galleries, jewelry shops, Native American crafts, and boutiques have been shut since March 23. It brought the economic impact home.
After that we headed north through Taos, eastern Colorado, western Kansas, and then I-70 eastbound. It will be strange to be back in our house and see the same view out the window every day. I hope we'll be able to redo the trip we planned next spring, but I am doubtful.