On the Road is a weekday feature spotlighting reader photo submissions.
From the exotic to the familiar, whether you're traveling or in your own backyard, we would love to see the world through your eyes.
Today is the start of week two of  On the Road After Dark as we catch up on submissions.

On the Road: Week of July 13 (5 am)

Albatrossity – Coso Canyon
way2blue – Hanger 7, Salzburg, Austria
?BillinGlendaleCA – Brown Mountain Dam
Steve from Mendocino – Los Angeles train yard
ema – Pandemic Pics Part Deux: The Reopening

On the Road After Dark: Week of July 13 (10pm)

Albatrossity – Hovenweep and Chimney Rock
lashonharangue –  Yosemite Backcountry
?BillinGlendaleCA – Inyo County
Steve from Mendocino – Los Angeles Harbor
BigJimSlade – Hiking in the Italian Dolomites
Albatrossity
The western US has many well-known and iconic places to visit, e.g. the Grand Canyon, Yosemite and Yellowstone National Parks, and many scenic mountain ranges and lakes. There are also many less well-known but equally fascinating spots, and I have had the privilege of seeing and photographing some of those as well. In these times of lock-down, when future travel plans are among the "unknown unknowns", I've been wandering through old photos and revisiting some of those. I will probably be able to do that for quite some time; I would like to be able to travel again, but for now, these virtual visits are what I've got. Here's one of those places.
Coso Canyon, aka Little Petroglyph Canyon, aka Renegade Canyon, lies in the eastern Sierra Nevada in Inyo County CA. The closest town is Ridgecrest, which I suspect many jackals have also never heard of. This canyon is within the boundaries of the China Lake Naval Air Weapons Station, and that makes access somewhat problematic. But the military brass have an agreement with a museum in Ridgecrest that allowed tour groups to visit the site on a regular basis in the spring and in the fall. Those tours are canceled right now, but if you have plans to visit eastern Kern County sometime in the future, check with them and get on a tour if possible.
Why would you do that? Because this canyon is home to one of the oldest and finest galleries of rock art in the entire country. By virtue of its remote location on a military base, it has not been damaged by yahoos with ATVs and high-powered rifles, like much of the rock art in the rest of the country. And it is ancient, dating back to the Pleistocene, when this region was glaciated, game was abundant, and the dry lakes actually were full of water. The times were not recorded in writing, and the people did not build permanent structures or pass down an oral history, so the petroglyphs of the canyon provide some of the few insights we have into the early history of the peopling of North America.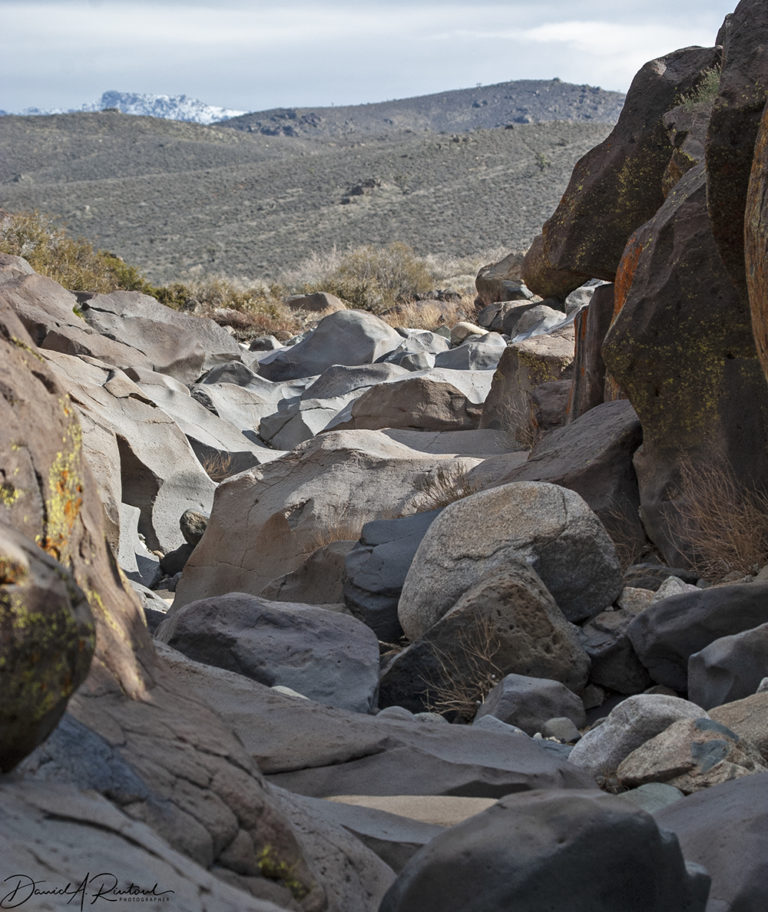 Coso Canyon
March 5, 2005
The ride from the entrance to the station to the trailhead at Coso Canyon, climbing up through Joshua Trees and other Mojave Desert flora and fauna, takes about an hour. Pictures are not allowed during that time since you are, after all, on a top-secret military weapons testing range, but we saw some wildlife and even a couple of herds of wild horses. Once at the trailhead you hike a short distance to the canyon and this view.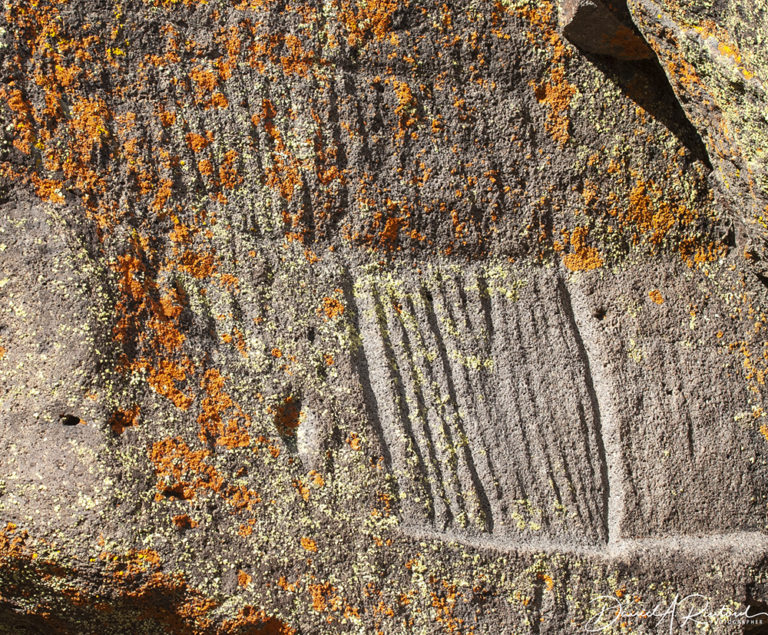 Coso Canyon
March 5, 2005
The petroglyphs here at the top of the canyon are the oldest at the site. They have been dated, using various techniques, to somewhere between 16,000 and 10,000 years BP (before present). Most are simple and deeply incised into the basalt rocks here.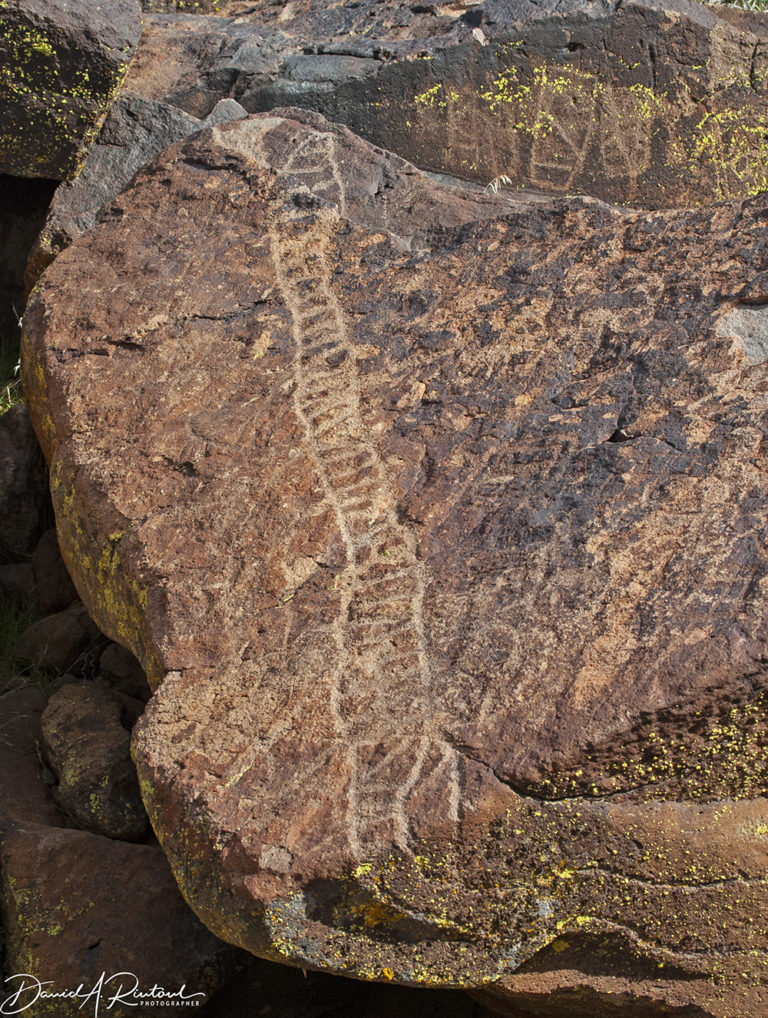 Coso Canyon
March 5, 2005
Many of the petroglyphs at the top of the canyon are dominated by simpler designs, such as this one. Is it a ladder? A snake? Something else entirely?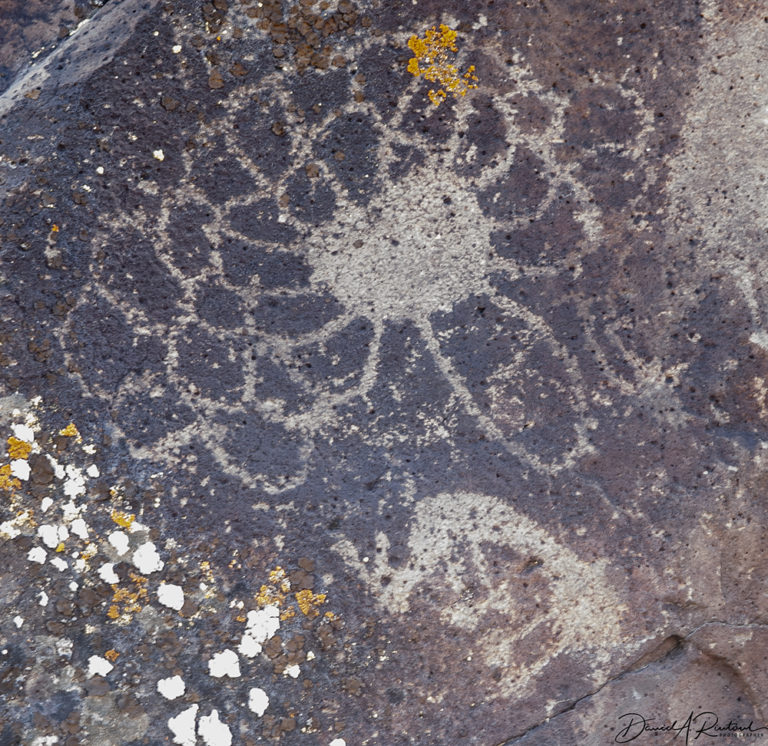 Coso Canyon
March 5, 2005
As you head down the canyon you can find some of these simpler designs and the first appearance of human-like figures. Perhaps this is an earlier coronavirus rendition, rendering the human figure helpless. But probably not.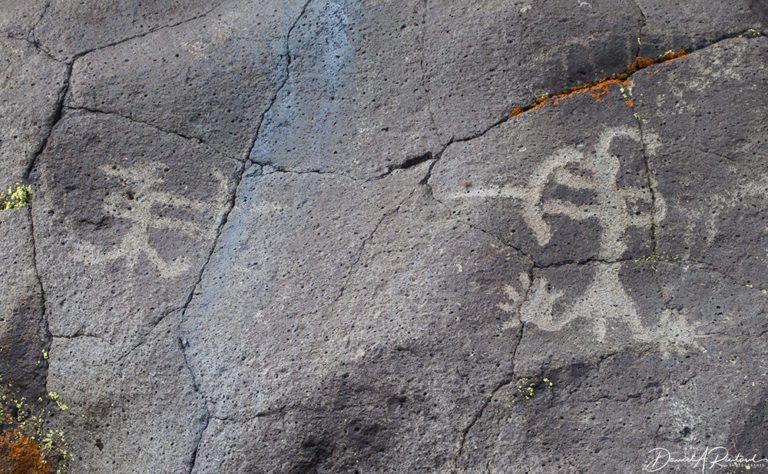 Coso Canyon
March 5, 2005
This petroglyph is clearly a pair of humans shooting at each other with bows and arrows. This has to be a relatively recent carving; for much of the history of this site the only weapons were atlatls. The bow and arrow first appeared in this region about 1,500 BP.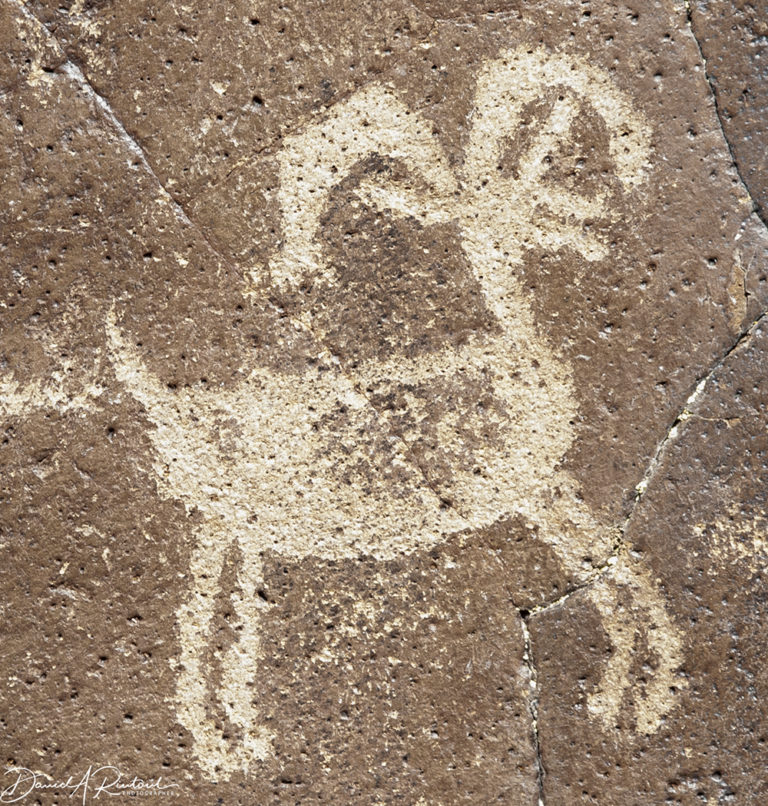 Coso Canyon
March 5, 2005
The atlatls were used to bring in lots of game, but the most common depiction of recognizable animals in the canyon would have to be bighorn sheep, like this one.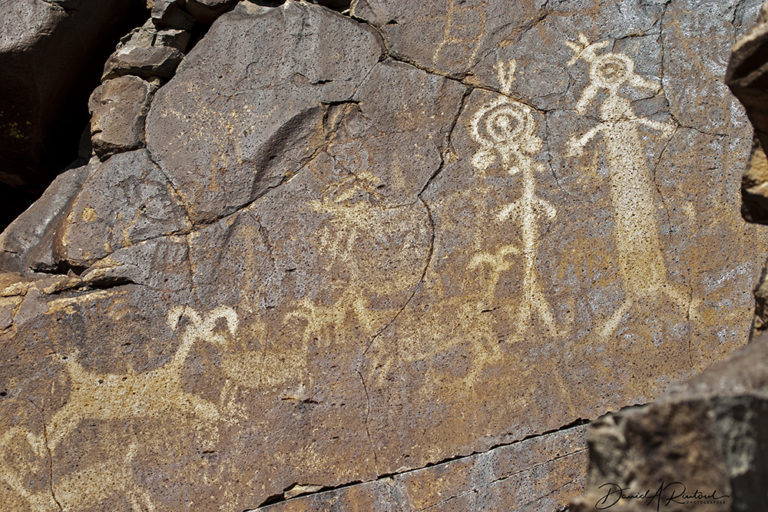 Coso Canyon
March 5, 2005
The lower end of the canyon has not just bighorn sheep, but also curious anthropomorphic figures like those at the right part of this panel. There are numerous hypotheses about what these might represent, but again, as with most of these carvings, we will never know what they really mean. And there could indeed be multiple meanings and explanations.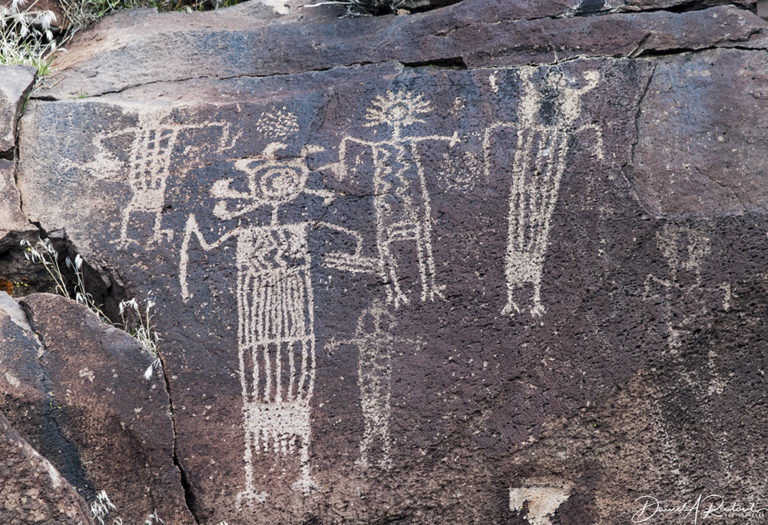 Coso Canyon
March 5, 2005
This is one of the most famous panels in the entire canyon. These anthropomorphic figures have been reproduced on t-shirts, postcards, and even beer mugs. My t-shirt has long since disintegrated, might have a few of the beer mugs in my collection!