BREAKING: (@AP) — Former U.S. Attorney General Jeff Sessions lost the Republican nomination for what had once been his Senate seat in Alabama to former college football coach Tommy Tuberville, likely ending a long political career with a bitter defeat egged on by President Trump

— Jim Lokay (@LokayFOX5) July 15, 2020
Ex-attorney general Jeff Sessions defeated in bid to reclaim his U.S. Senate seat in Alabama; Trump's candidate wins GOP runoff https://t.co/GvtJhlAund

— The Washington Post (@washingtonpost) July 15, 2020
It was so good once, in the Olde Days, when their mutual deep, abiding hatred of non-white people was such a strong bond… The Washington Post, "Sessions loses runoff in Alabama as Trump helps vanquish a key supporter he came to despise":
They stood center stage before a cheering crowd of thousands five years ago, shaking hands in a half embrace that seemed to cement a political and ideological bond that would serve as the foundation for Donald Trump's presidency

"We have a man here who really helped me — and he was the one person I sought his counsel, because he's been so spot on. He's so highly respected. Has anybody ever heard of Senator Jeff Sessions? Huh? Jeff, come up, where's Jeff? Get over here, Jeff," the former reality TV show host said to a roaring ovation in August 2015.

"Donald, welcome to my hometown, Mobile, Alabama," then-Sen. Sessions (R-Ala.) said, donning a white "Make America Great Again" cap. "The American people, these people, want somebody in the presidency who stands up for them, defends their interests and the laws and traditions of this country."

That once remarkable bond came to a crashing end Tuesday night when the Associated Press declared that Tommy Tuberville had defeated Sessions in the runoff to be the Republican nominee in November's Senate race against Sen. Doug Jones (D-Ala.). The result culminated four months of Trump imploring Alabama's voters to reject Sessions, the man who the president once said he leaned on for advice in forming his "America First" agenda.

Running for his old Senate seat — which he abandoned in early 2017 to become Trump's attorney general — Sessions endured one brutal insult after another from the president. Trump's endorsement of Tuberville in the race has always seemed to have more to do with Trump's anger at Sessions over his recusing himself from the Russia investigation while attorney general than with any particular support for the former Auburn University football coach.

"I will tell you, I got to know Jeff Sessions very well," Trump told Tuberville supporters on a conference call Monday night, "I made a mistake when I put him in as the attorney general. He had his chance and he blew it. He recused himself right at the beginning, just about on Day One on a ridiculous scam, the Mueller scam, the Russia, Russia, Russia scam."…
Tough noogies, Jeff Beau Three! In the Trump Crime Cartel, all loyalty runs in one direction.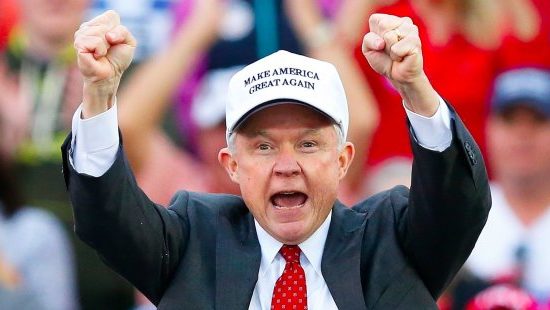 I've taken the road less travelled. Not sought fame or fortune. My honor and integrity are far more important than these juvenile insults. Your scandal ridden candidate is too cowardly to debate. As you know, Alabama does not take orders from Washington. https://t.co/1I6ROih43E

— Jeff Sessions (@jeffsessions) July 11, 2020
The Repub 'winner', Tommy Tuberville, is a former college football coach. That's it, as far as political experience. Apparently he was a reasonably good college football coach, but that seems like slim training for a Senatorial seat, especially given all the interlocking current crises. On the other hand, while I am no sportsball expert, I have a feeling that any career involving college football is a target-rich market for oppo reseach, so go Dems!
Who knows — perhaps Mr. Sessions himself will have a change of heart, like so many other Repubs the Oval Office Occupant has stiffed over the past four years.
Especially given the caliber of the Democrat now running for re-election:
A reminder of who the Democrat is on the ballot in Alabama in November vs. Tommy Tuberville: incumbent, and civil rights lawyer, @DougJones https://t.co/WNjfuSHEkR

— Joy Reid (@JoyAnnReid) July 15, 2020