On the Road is a weekday feature spotlighting reader photo submissions.
From the exotic to the familiar, whether you're traveling or in your own backyard, we would love to see the world through your eyes.
Before we get to these stunning pictures from BigJimSlade…
I'd like to say a little bit about where we'll go from here.

On the Road: Week of July 20 (5 am)

Albatrossity – Homer Alaska
Auntie Anne – Random Places in Paris
?BillinGlendaleCA – Comet NEOWISE
dmbeaster – Mt. Whitney
feloniousferb – Ramona Falls, Oregon

On the Road After Dark: Week of July 20 (10pm)

Because there are 8 posts from frosty's adventure on the road during the Days of COVID, I thought a little continuity would be helpful.  So we will do 4 this week After Dark, and 4 After Dark the following week.  Sound okay?

Okay, back to these enchanting photos.  First we get the panoramic view, then clouds and mountains and flowers!  Love the little dots of red flowers, oops, I mean people, on the rocks.
BigJimSlade
Last time I posted pictures from the ridge up above our neighborhood… this time let's go on a little virtual vacation. I have the Flickr extension for Chrome which loads a picture into any new window/tab. I started seeing these fantastic pictures of a place called Tre Cime (it just translates to 3 peaks).  I decided that we had to go there!  So, these pictures are from our 2018 trip to Italy, 4 days of which my wife and I spent hiking in the Dolomites. It is such an incredibly scenic area. Just junk food for the eyes everywhere you look. We stayed in Cortina (d'Ampezzo). We were supposed to go back next month, but, um, yeah.

Dolomites, near Cinque Torri
The first day we drove into the valley for Passo Falzarego and did a reasonable (6 mile-ish) loop around Cinque Torri and enjoyed a delicious lunch at the hut that you can see at the far right of this pano.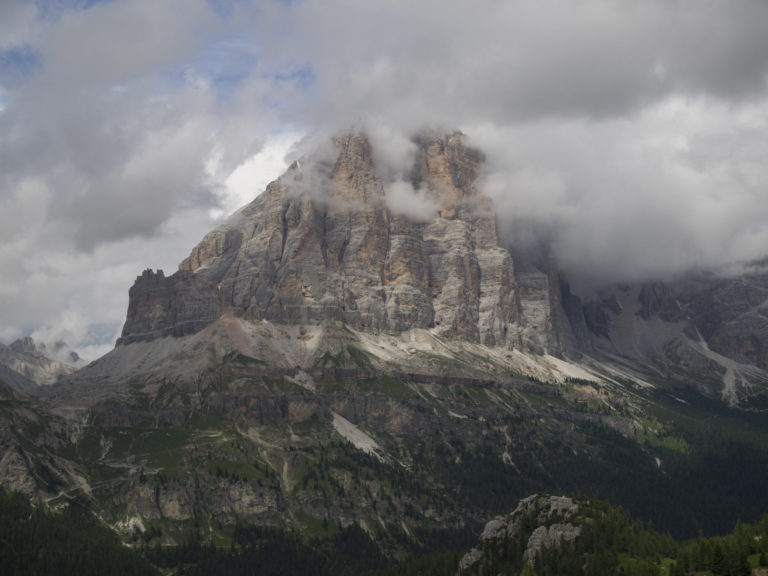 Dolomites, near Cinque Torri
That is Tofana di Rozes – we would be hiking on that side in 2 days. The weather was changing constantly, so different parts of the mountain were coming in and out of view. It was very dramatic!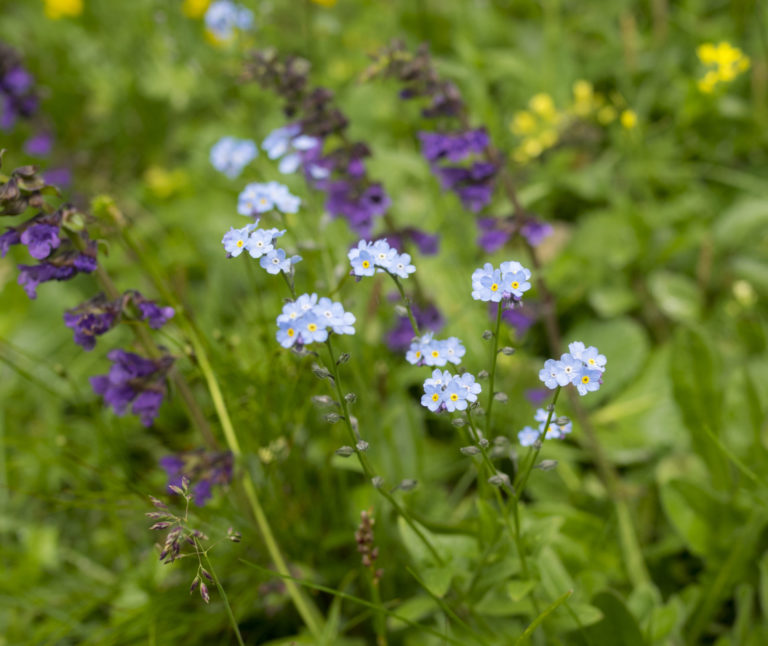 Dolomites, near Cinque Torri
These tiny light blue flowers were some of my favorites. You gotta keep your eyes open for the small stuff, too ;-)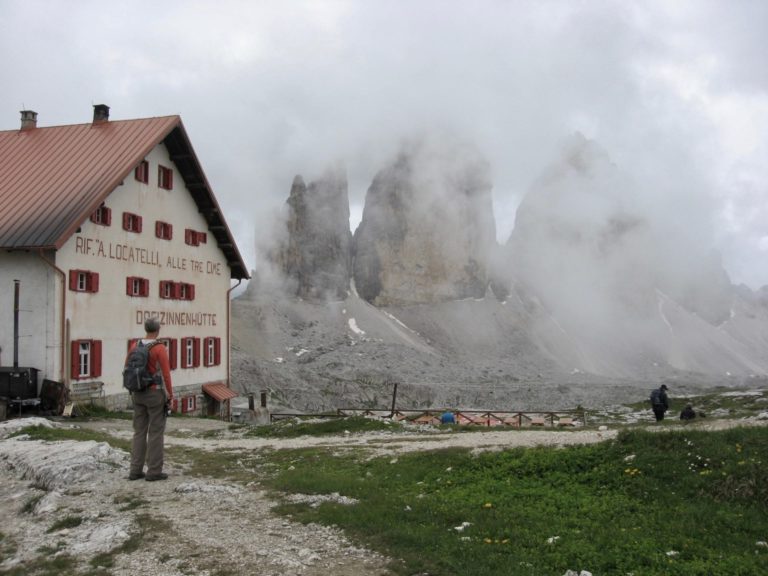 Tre Cime di Lavaredo
Day 2. That's yours truly and the reason for the trip – Tre Cime di Lavaredo! Again, the clouds were changing the scene every minute… I recommend taking a timeout and googling Tre Cime and hit the images tab.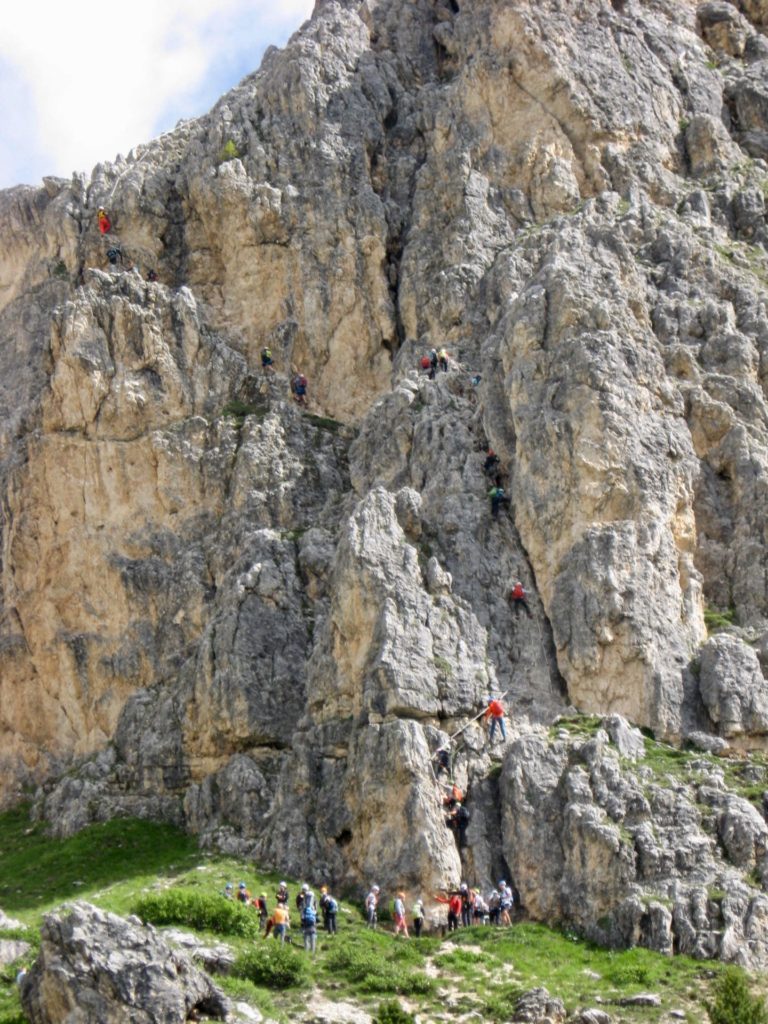 Dolomites - Tofana di Rozes
Here you can see people doing "via ferrata" (way of iron). It's the adventure climbing where you don't have to be a hardcore rock climber. We just stick to normal trails, but if I knew about these 20 years ago, I probably would've been pretty excited!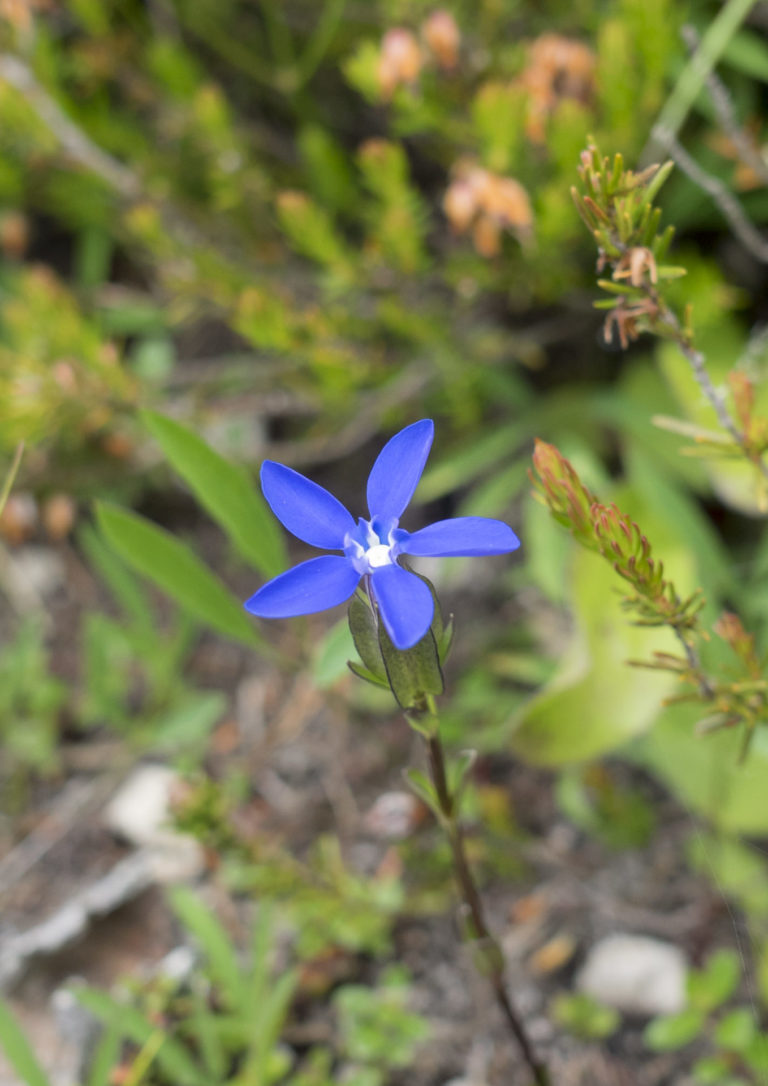 Dolomites - Tofana di Rozes
Quite a pretty little thing.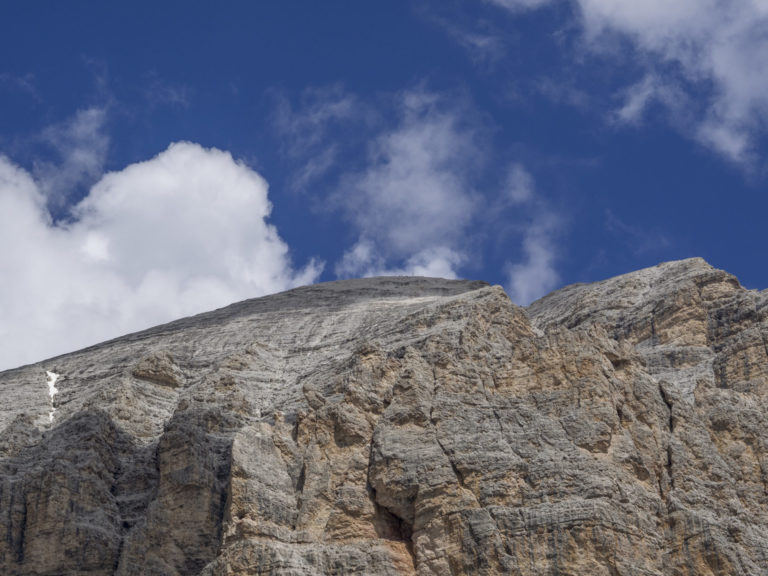 Dolomites - Tofana di Rozes
This is Tofana di Rozes. Can you see the little dots on the top – those are people!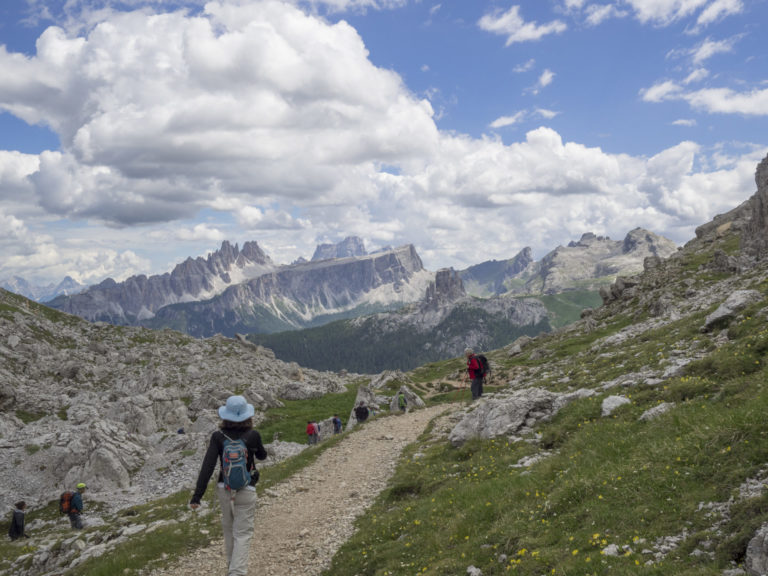 Dolomites - Tofana di Rozes
This is from a pass underneath Tofana di Rozes, looking back to where we hiked 2 days before. You can see a Cinque Torri (you can't quite count all 5 towers from this angle) just above the person in the red jacket in the middle. It's the ridge in the mid-distance, not the far background.
Not far from here we saw a rescue helicopter land – that via ferrata stuff is risky….