On the Road is a weekday feature spotlighting reader photo submissions.
From the exotic to the familiar, whether you're traveling or in your own backyard, we would love to see the world through your eyes.
It's stilll not On The Road; we cheated and used the form again.  It's looking like there will be one more installment from J. R. after this, with the kitties!  As it is with a good book, I will be sad to come to the end of his stories and photos.  Maybe we can convince him to write up some more, after he takes a break!

With John Lewis passing from this earth, we are blessed to have J.R.'s lovely stories and photos, and a post filled with love.  I am sure this will be a balm for all our souls today.

~WaterGirl
*****
Life with J R and Family: It's a Dog's Life on the Farm
by J R in WV
After Watergirl and I talked about pet photos, and I decided to do multiple sets, that first one really turned emotional for me. We really love the critters on the farm. At one time back in the '80s we had 9 cats (after an accidental pregnancy and successful pregnancy, back before digital cameras) and 2 or 3 dogs. In a 4 room Jenny Lind farmhouse!!!
This one is also emotional, but all different emotions. These critters are happy residents right now, all rescued puppies. I'll do one with the two current cats pretty soon… that seemed to be the natural once I had more photos than would fit into the On The Road submission tool.
Right now we have 3 dogs, one is senior older dog, two are "twins" from a litter of 10 dogs born to friends one county over.
Senior dog is a big ole white Lab mix and the junior dogs are a matched pair of black dogs with white markings from friends' goat dairy. When they came here they had never been inside a house, but they were able to pretend to be adult and responsible… briefly.
This thread is all about the dawgs currently in charge of the household up our hollow.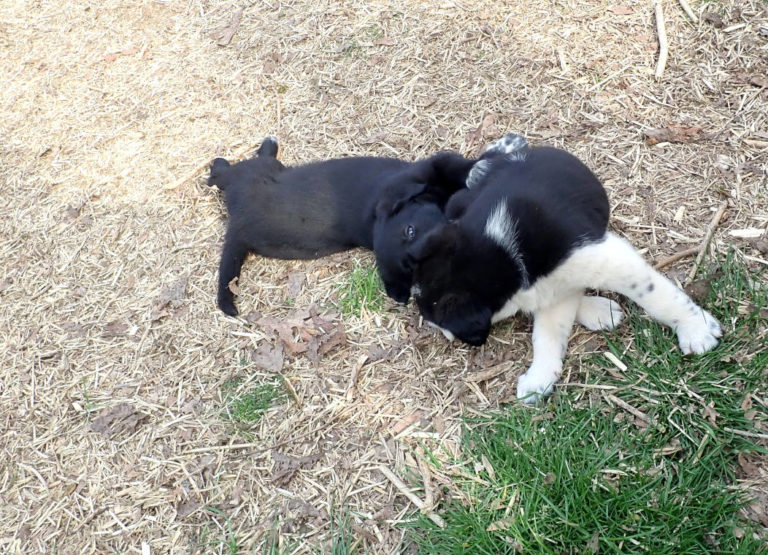 Goat Dairy, birthplace of BooBoo and CooCoo
April 4, 2019
BooBoo and CooCoo at their first home, a goat dairy in the next county run by two good retired friends, who primarily make French-style soft goat cheese, not for sale. Neighbor had a young bitch dog who as is the way in the country got in the family way, at which point her first home kicked her out. Since the sire was their watch dog, a half-Great Pyrenees and half Lab nix, they took mom in. Mom was an Aussie cattle-dog with some blue- heeler in her, judging from Boo-Boo's front legs and belly. They are about 8 weeks old in this April spring photo, born February last year IIRC.
They grew up in the dairy farmyard, and had never been inside a building beside the barn until A brought them over to our house, They suffer from extreme notion sickness in a car, but that was OK as their Subaru is equipped for hauling goats around. They are quite professional about everything, keep detailed records of their goats' production numbers and breeding, and make any money to be had by selling much of the annual kid production to other goat dairies.
They didn't learn to ask to come inside for weeks, would just stand outside the door looking all abandoned and sad, until someone noticed their presence and let them in. I guess they were unsure they really were going to be House dogs for a while there.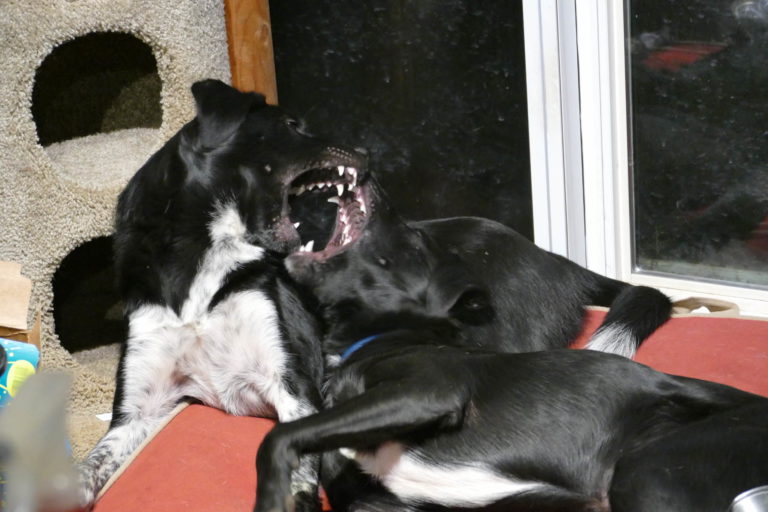 Our kitchen dogbed
November 6, 2019
All Teeth and Snarls this time, even tho they are really lovers, not fighters. You should hear the squealing and groaning as they wrestle each other with all those fangs – no telling how they don't shred each other, but so far no harm, just flashing teeth…
Although not too long ago I had to take Coo to the Vet ER on a Saturday night to get his belly stapled shut. They do roam the ridges, and there are many other dogs doing the same thing, and evidently there was some contention. He had several minor places, but only the one that needed serious attention. Coo weighs about 47 pounds, although he is a rangy tall hound. Cute sister Boo is a little shorter, but not as bony at 45 pounds. All part of having dogs on the farm.
They are really affectionate, and will some times sneak into bed at 3 or 4 am and creep slowly, up between us and wag softly with joy. This is OK with one pup, but 2 or 3 becomes an issue with just a Queen sized bed. I told wife we should get a King, but she thought that would take up too much room in the bedroom. Compared to what? I say~!~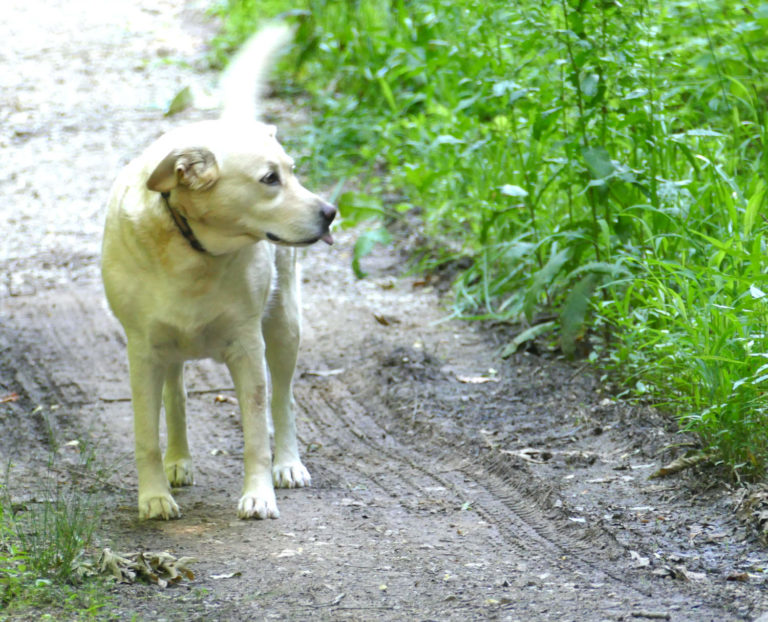 A path on the farm, near the house
June 13, 2020
This photo was taken on the farm road through the woods up to the house.
Alice – alert in the woods on the farm road up through the woods to the house. They are really affectionate, and will some times sneak into bed at 3 or 4 am and creep slowly, up between us and wag softly with joy. T to the house. Alice is the older senior dog on the farm now that Happy Dawg is gone. I rescued Alice from the pound several years ago when they announced they were nearing capacity, which would mean picking out critters to put down if necessary. This was taken last June, so about 4 or 5 weeks ago.
Alice was then a skinny girl about 9 months old, wearing a too-small pink rhinestone collar, and very sad looking. It looked to me like she was acquired by a family with a little girl living in an apartment, who expected her to be a lap pupper for the little girl. She soon exceeded that size and wound up in a crate 98% of the time. When I took her for the required walk about the grounds (the shelter is in a wonderful wooded nook just outside town) and we got to the edge of the concrete, she looked at the mown grass with great suspicion, and sniffed at it with uncertainty. I had to urge her to walk off the sidewalk.
Of course, then we had to go back into the shelter, and she was taken back to her chamber, but I reserved her for pickup the next day, and paid the required fees. The next day Wife and I went to our Vet where the shelter dropped her off to be spayed, but our Vets told us she had already been done. Next stop was the farm, wooded hillsides and big green moss-covered boulders, none of which Alice had ever seen. That's when she got her name, Alice in Wonderland, as she gazed around at the woods. She also met Happy Dawg, who was all waggs to meet a new companion. They were boon companions for years.
Happy taught Alice how to catch chipmunks, which were pretty prolific around the farm. Still are, but much less so around the house, which is probably a good thing, really. They are cute, but they are rodents, also, too.
Happy Dawg was unhappy being an only dog, and Alice was too when Happy was gone.
And now you know why the two new puppers were obtained.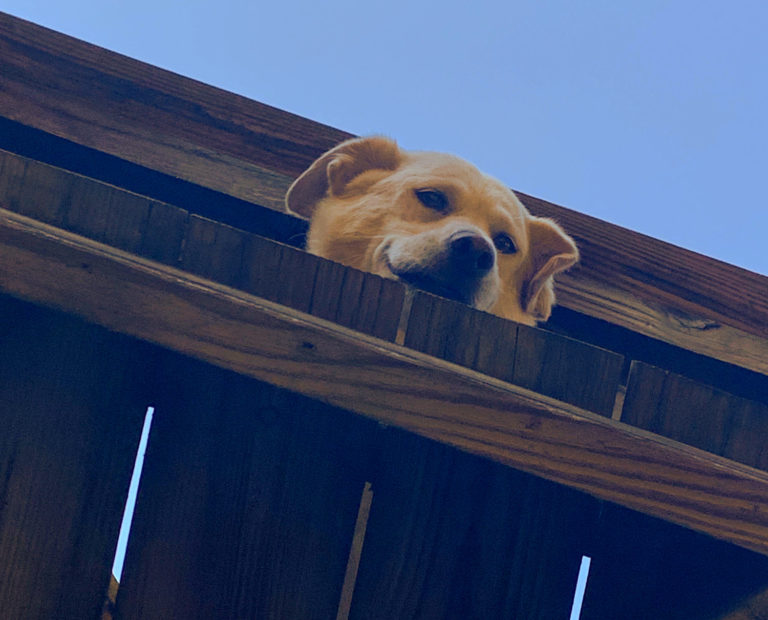 Deck on next door farm house
July 13, 2019
This is a photo taken by a next door neighbor, of Alice looking down from a porch. She is a little goofy looking, which is so appropriate for Alice in Wonderland, she of the goofy ears. They rarely have the same posture, working in different directions all the time, our in the woods.
This photo was taken with an iPhone, which T uses as a tool and computer mostly, was taken last summer almost exactly a year ago. Alice was probably avoiding the puppies – look at those ears!! One back and one out front…
All the other photos are taken with my Lumix DMC-FX1000, which is a super zoom Panasonic with a fixed Leica 24-400mm lens, very similar to Betty Cracker's Nikon Coolpix, same for the Critters of the Past photo set, which I think I forgot to mention in that set of photos.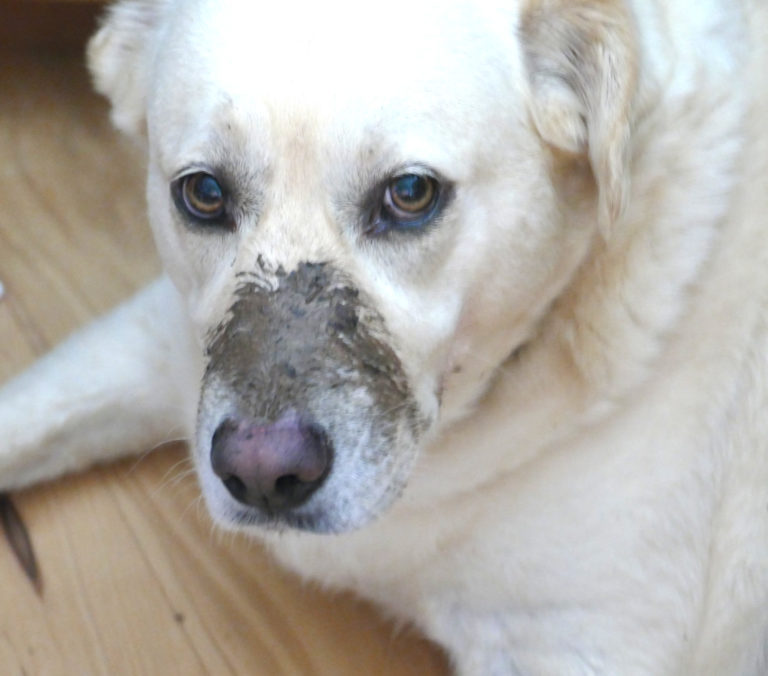 In our house
May 24, 2020
Alice of the Mud~!~
A shocking photo of the dainty white lab mix. In this portrait Alice has had her nose jammed deep into a muddy hole, sniffing after a rodent, most likely a chipmunk. SO CUTE ~!!~
We have had dogs badly hurt by sticking their noses into a hole as far as they could, only to learn they had gotten way too close to a woodchuck. Woodchucks have big front teeth, and impressive bite strength, and can really tear up a dog's nose. Talk about a bloody mess!!
And IIRC, the vet won't stitch a dog's nose for some reason… probably interferes with healing smoothly or something. But antibiotics help. In the case of chipmunks, the nip hurts enough to discourage further digging and snouting into the burrow, but no first aid is needed.
In this case, all Alice got was the muddy circle around her cute nose. I thought instantly of the camera, so we could share this image with the ages! Goofy dog!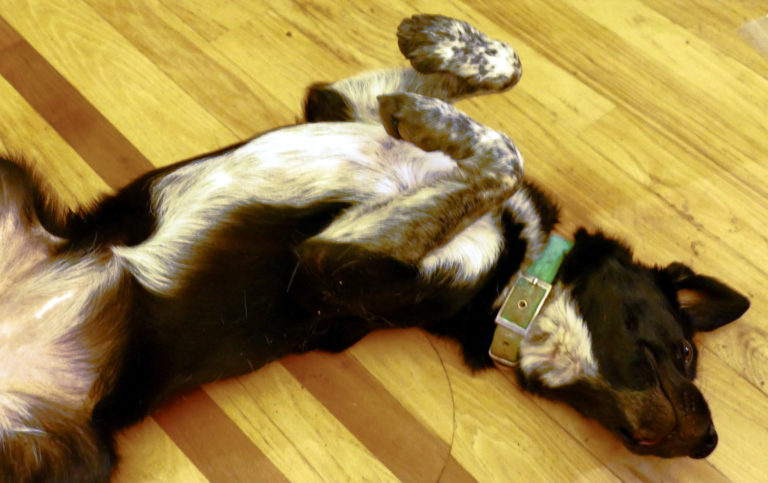 In the library
June 15, 2020
An intimate portrait of Boo lying on her back, showing that so cute heeler belly all white and freckles. She also gets set back on her hind legs and sits up so straight, and reaches out with one paw, SO CUTE !!! but I never have the camera in hand and it never lasts long enough so far to catch a photo.
Boo is a seriously cute and VERY affectionate puppy. She likes it on the back porch, especially in the winter, when she just curls up and sniffs the breeze. Come 3 or 4 am I can usually beg her to come in, but not always. She is very much an outdoor on guard dog, and when I go to town, she is alongside the driveway road watching for my arrival.
She can run alongside the SUV at 30 mph all the way up to the house, and Coo can too, he's a little faster than Boo being a little bit taller than she.
She and Coo frequently leave after their dinner, which comes right after we finish our dinner in the late evening, and run the ridges until 3 or 4 am. Sometimes I wish they had never figured out that bark to get back in trick~!!~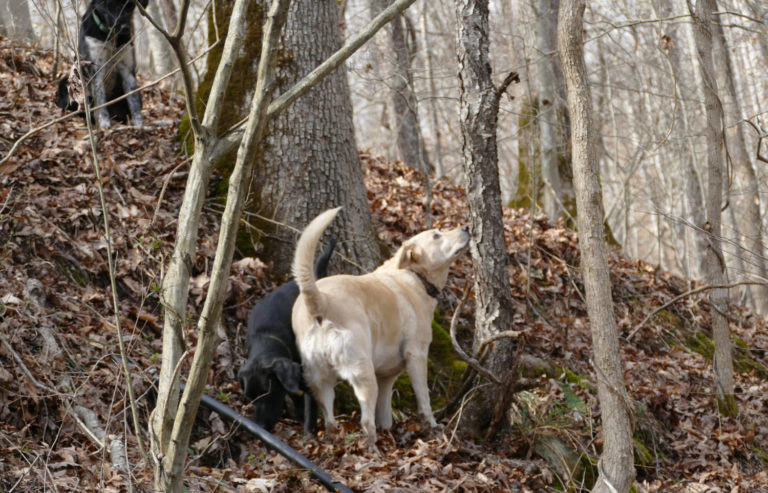 A hillside above our house
February 20, 2020
This is all three dogs on the hill above the house last winter, with the woods all gray and brown. Alice is looking up (hoping for a squirrel, perhaps, or seeing a big bird) and Coo is sniffing for something on the ground.
Boo is just watching the other dogs and being cute, as always.
This is really typical puppy behavior when outdoors on the farm. Always interesting things to smell and see, togetherness of the tiny pack, sometimes they will deign to chase a deer, usually not more than 40 or 50 yards. The deer know these guys are no real danger and go back to browsing for a meal right away, asap.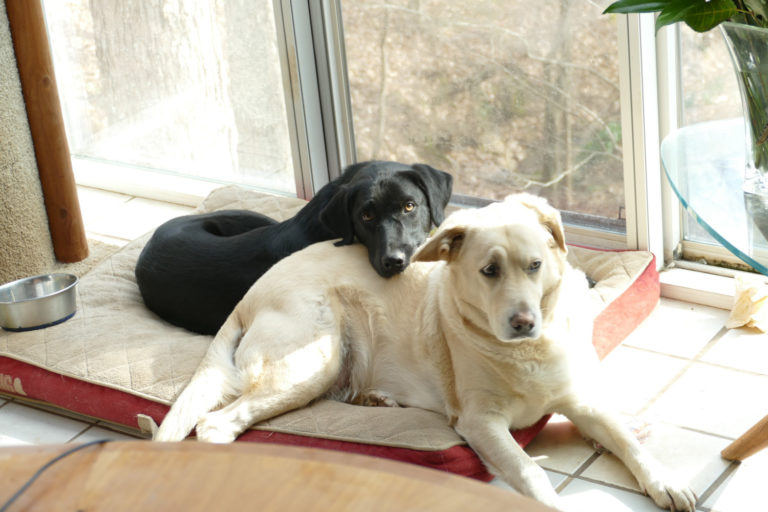 In the kitchen
February 20, 2020
This is more typical behavior for Alice and Coo, who are both really Lounge Hounds. Alice isn't too sure she wants to be Coo's pillow, but but Coo is pretty satisfied this is the correct way of life, he gets to lie on whoever he wants to.
Look at those ears on Alice, and the eyebrow ~!!~ so suspicious of something, maybe Coo.
A kitchen Lounge Hound portrait from last February. Coo is happy to use Alice as a pillow – Alice not so much! These guys are really hounds, and like to lay around sleeping and watching out the low windows. All the pets can see out in every direction, all the windows run nearly to the floor.
This means they can see something to bark about on a second's notice! Woof, woof, woof.
I hope this distracts everyone from current events off the farm!