Last night a picture started circulating on social media with the claim that ZTI, which is a defense contractor, has its tactical personnel deployed to support the Federal Protective Service (FPS) in Portland alongside Customs and Border Protection's (CBP) BORTAC and Immigration and Customs Enforcement's (ICE) Investigation personnel.
What the actual f*ck?! Private security contractors are Donnie's Gestapo here in #Portland?? #PortlandProtest #BlackLivesMatter #WallOfMoms pic.twitter.com/GLEnbCpzs7

— Kim Brater (@KimBrater) July 24, 2020
Here's a better look at the original post embedded in the tweet above: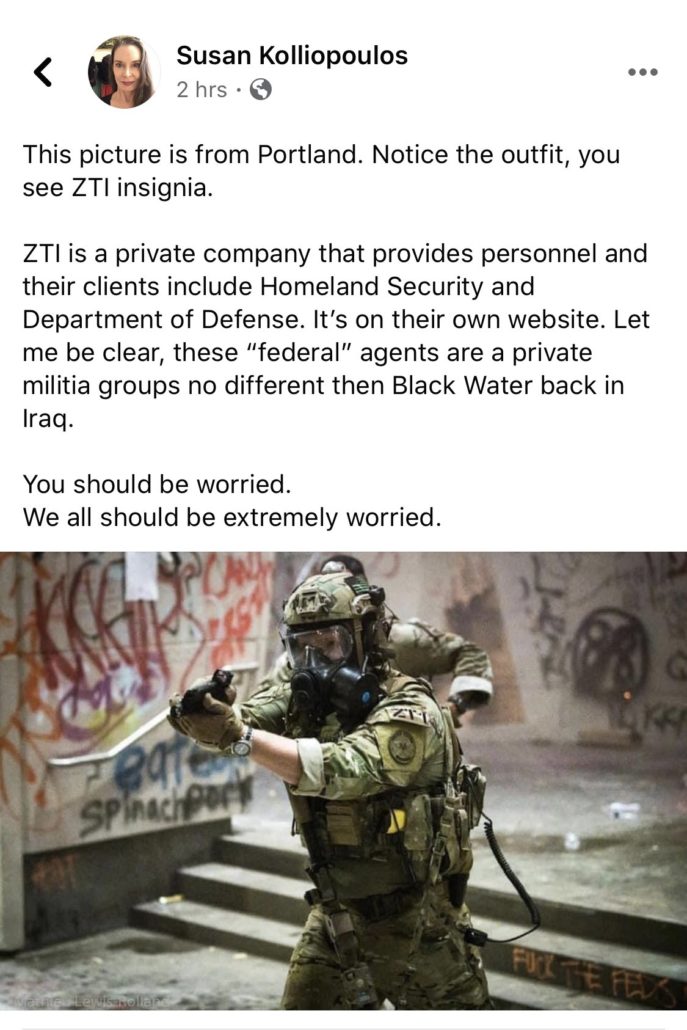 You'll notice that the Z and the T are close together, there's no space between the Z and the T, and then there's a full space and then the I. If you embiggen the picture you can see that it doesn't look quite right. And the visual disparity that implies that the patch is photoshopped becomes even clearer based on this picture that was tweeted out by Molly Jong-Fast with attribution to Nathan Howard, the original photographer:
This photo from @SmileItsNathan pic.twitter.com/V6f7oZxMPh

— Molly Jong-Fast? (@MollyJongFast) July 24, 2020
Here's just the picture, which Howard posted as part of a four image montage in a tweet last night: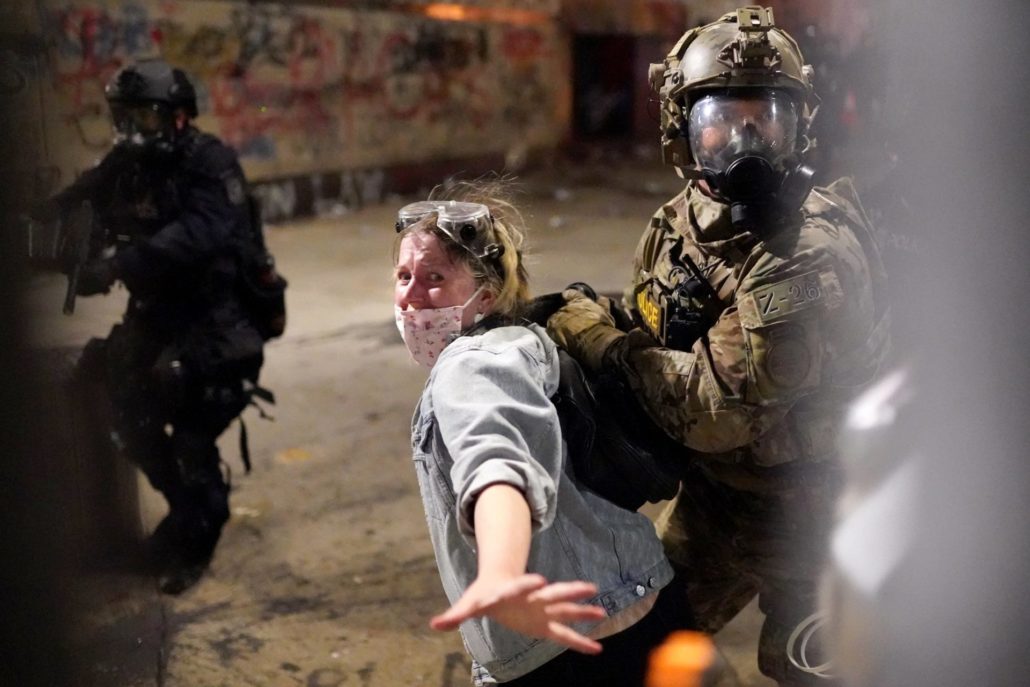 If you embiggen this picture you can clearly see the Z, then the equivalent of two full spaces, then two numbers. The first of those numbers is clearly a 2. The second appears to be a 6. We know the provenance of the photograph taken by Nathan Howard and we know he hasn't photoshopped the patch. While it is clear that Howard's photo is of a different Federal officer from the photoshopped one, we can clearly see what the patch is supposed to be: a Z, two spaces, then two numbers. Not a Z and T right next to each other, then a space, an I.
Since the original post last night, ZTI's corporate website has been down because it has been flooded with traffic that appears to have overwhelmed its servers. The company's official name is ZTI Solutions LLC and specializes in modifying computer software and packaging. Their description at their profile page at ClearanceJobs states:
ZTI Solutions, LLC specializes in providing cleared consulting and staffing solutions for Government agencies, along with highly skilled network engineering and architecture resources for all markets and industry verticals. Our highly trained and experienced professionals help customers take their IT visions from dreams to reality, in a secure manner, because our architects have both networking and security backgrounds.
They currently have seven job announcements posted at clearances jobs: 3 Secret, 2 Top Secret, 1 Unspecified, and 1 Top Secret/Sensitive Compartment Information (SCI). All seven involve computing, IT, network security, and/or network development. This is not the second coming of using Blackwater, or other private security contractors, to provide tactical operational personnel in Portland. I know everyone is concerned about this. And it is a legitimate concern given the semi-sterile to sterile combat uniforms being used by the Federal personnel in Portland. However, while having a sufficient level of paranoia is always good, knee jerk responses based on social media posts that when tracked backed don't actually provide the real, original photograph with a reference to the photographer are not actually helping, In fact they just serve to provide fodder to those who want to discredit those condemning this clear Federal overreach, which is unconstitutional.
Update at 10:28 PM EDT
I just heard back from a friend who after he got out of the military was in Federal and then state law enforcement. He has informed me that he remembers that the C&BP BORTAC units use Z followed by numbers as their call signs. So the patches are most likely to identify the BORTAC officers to each other and to Federal Protective Services personnel.
Update at 11:2o PM EDT
Thanks to Cheryl posting this tweet from Wesley Morgan, you can clearly see that the patch from the first picture posted above, and which appeared to be photoshopped, may not be photoshopped. Morgan tweeted out a much better resolution picture, with a much better angle and you can clearly see the ZT is followed not by an I, but by a 1. And that it is stitch on the patch as if it was done by a stencil so that the little leftward facing hook of the 1 is separate from the body of the one. So it appears like a small dash.
General Honoré is wrong about this. As other photos show, these are US Marshals wearing personal "cell tags" for identification to one another: ZT1, ML8, AP1 (and one pic is a CBP guy with Z-26). Thanks @JakeGodin and @mikenelson586 for flagging. https://t.co/Shdk4aeHeF pic.twitter.com/6VJSvCyVez

— Wesley Morgan (@wesleysmorgan) July 24, 2020
Here's the photo by itself: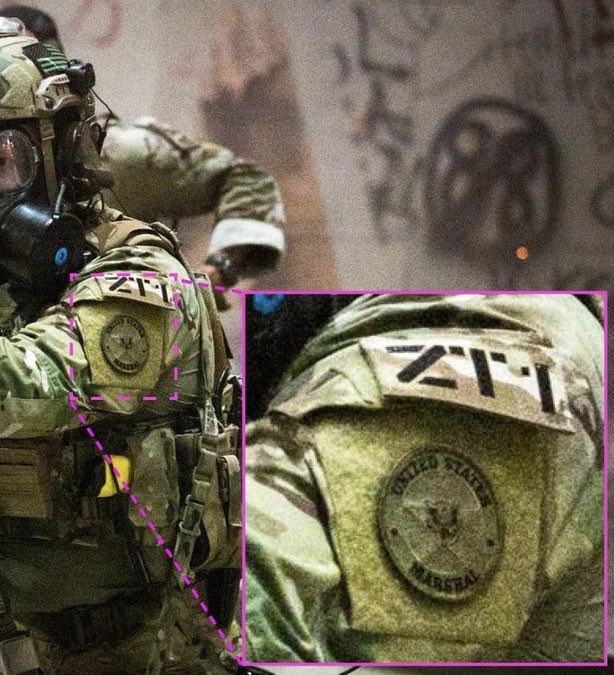 You can also make out the unit patch as United States Marshal.
Thanks Cheryl!
If it seems too good to be true, it probably is!
Open thread!