On the Road is a weekday feature spotlighting reader photo submissions.
From the exotic to the familiar, whether you're traveling or in your own backyard, we would love to see the world through your eyes.
There is something special about forests, I think, where a hush falls over everything and the world feels different somehow.  Of course, I've never been to a forest that has a waterfall, so that may be a completely different experience.  The last photo with the fall color is fantastic.
The Ramona Falls trailhead is about an hour and twenty minute drive from PDX (unless you take a wrong turn like I did!).  There are several campgrounds in the last 5 miles or so but because I went in October there was hardly any cars or people. It was also lightly raining. The falls are on the west slope of Mt Hood and I've heard the weather can be vey unpredictable. The trail is mostly an out and back with a loop option for part of the hike (I guess this trail is popular on horseback and the loop has "gates" to prevent riders from taking the loop section, I'm not sure if this works or why they did it). I saw exactly two cars at the trailhead parking lot and two hikers the entire hike. Although the surface is often soft dirt, needles, and is very quiet, I did not see any animals and heard very few birds, it was one of the quietest hikes I have ever been on.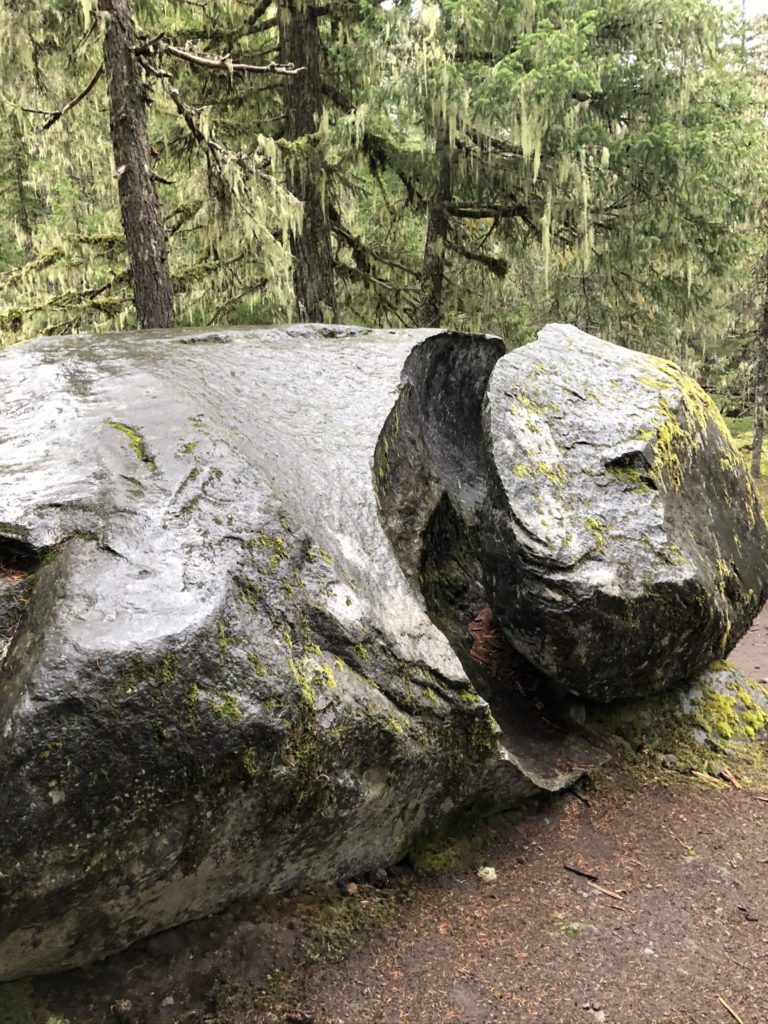 Ramona Falls, Oregon
A couple hundred yards from the trailhead is this massive rock, looking very out of place. This is certainly a very unusual crack as well.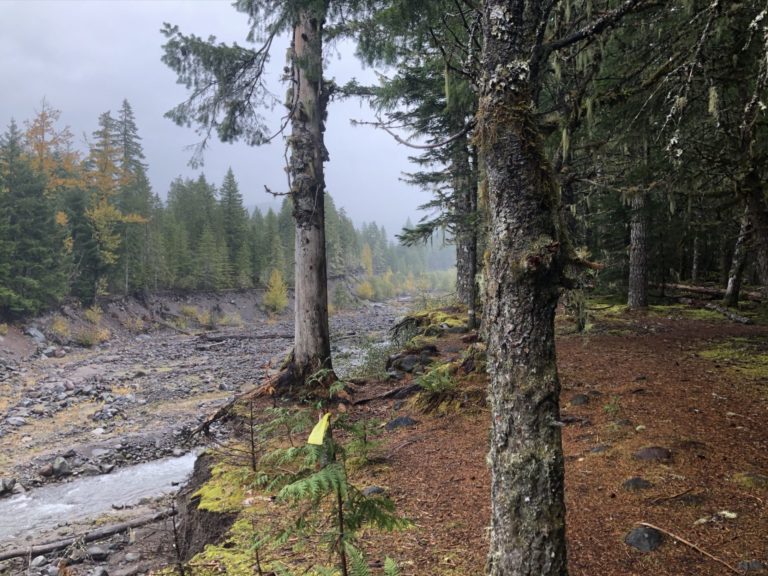 Ramona Falls, Oregon
The trail follows the Sandy River for about the first 2/3 and in August of 2014 there was a massive landslide that came down the river. I was not aware of that at the time and I started to see huge carved out sections and wonder what had happened.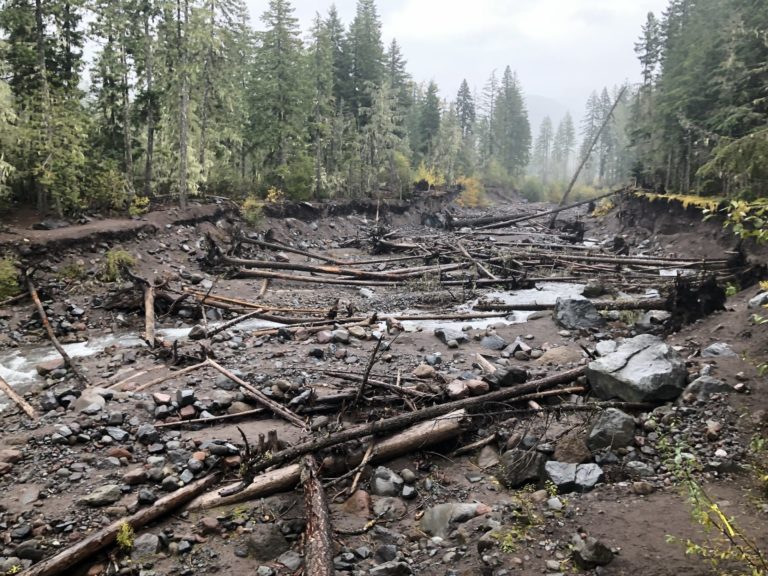 Ramona Falls, Oregon
The trail used to have some bridge or method to cross the Sandy and this devastation is what was left of that. There are youtube videos and plenty of google results of the event. It stranded hikers and swept others into the river. I can say it was very humbling to stand where that raging torrent was and reckon the power it took to carve this giant ditch that goes on for miles.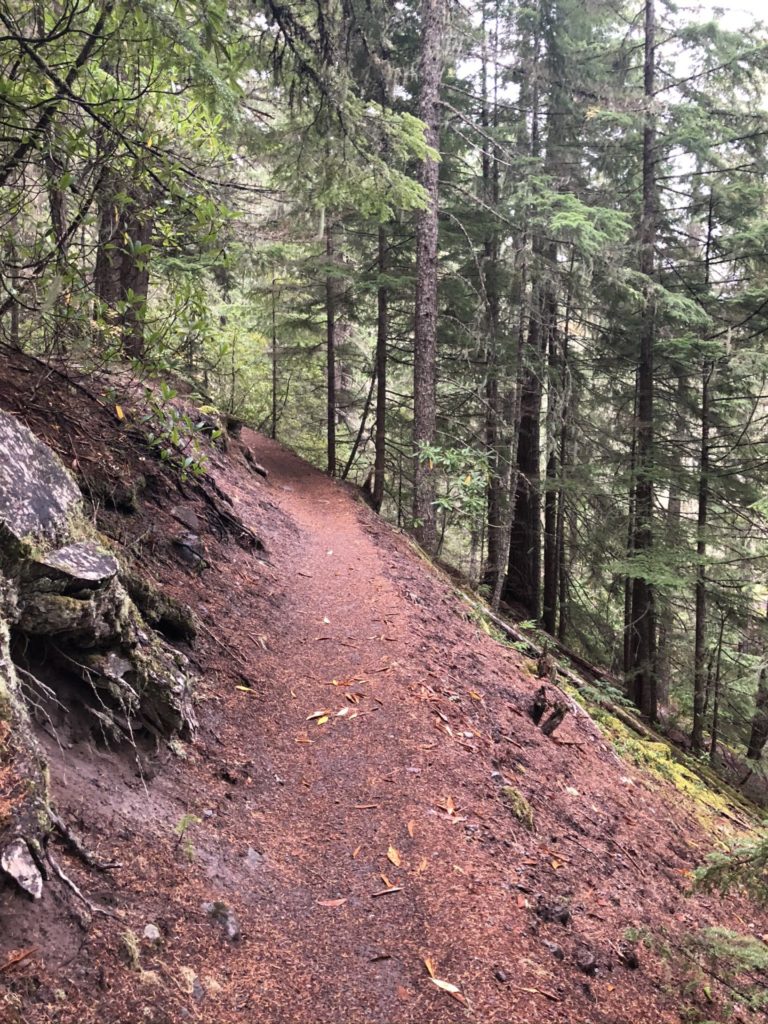 Ramona Falls, Oregon
The trail starts to rise and move away from the river, the woods and the views in this area were wonderful. This forest has a very Northwestern U.S. smell (which I love) and it was incredibly quiet and peaceful. I was worried about losing daylight and the trail being in such good shape helped me keep good time.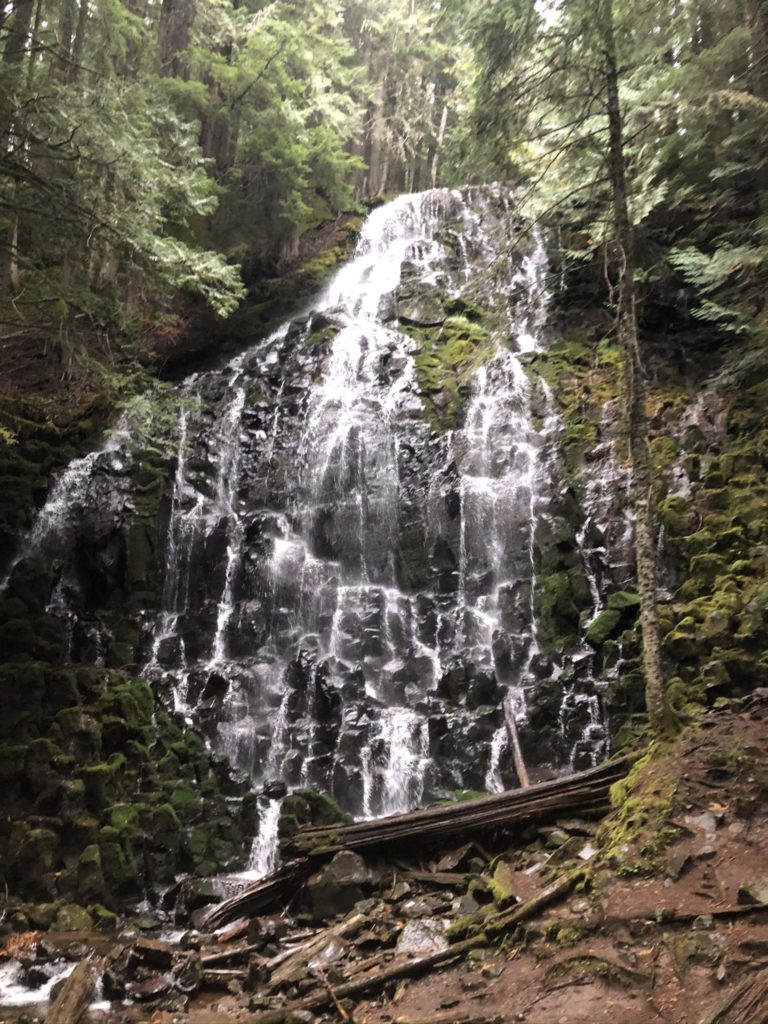 Ramona Falls, Oregon
These pictures of the falls speak for themselves. Because I have "live" versions (and a few videos!) I have audio and I love to listen to them.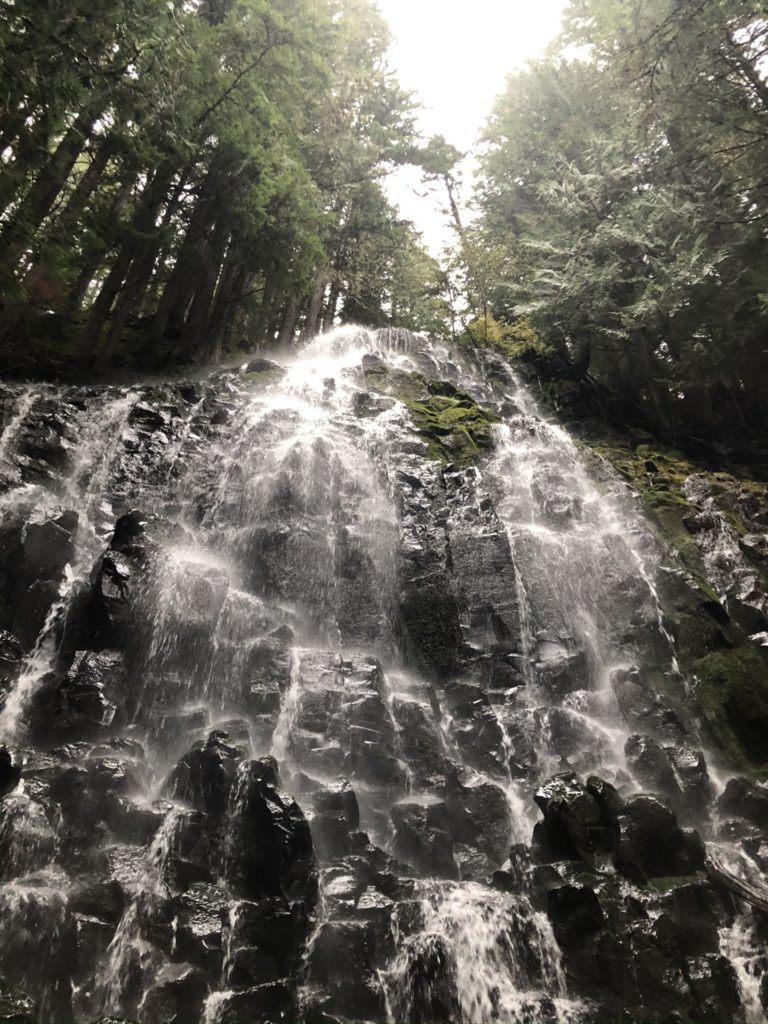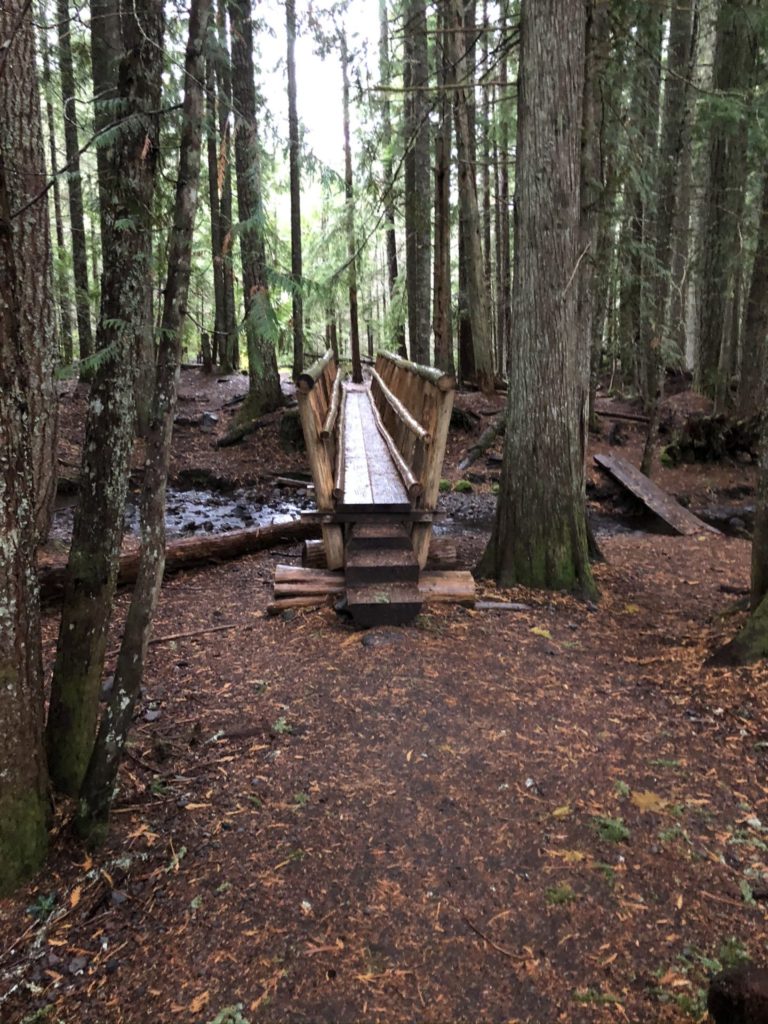 Ramona Falls, Oregon
The loop section back has several very well constructed bridges (maybe that's why no horses?).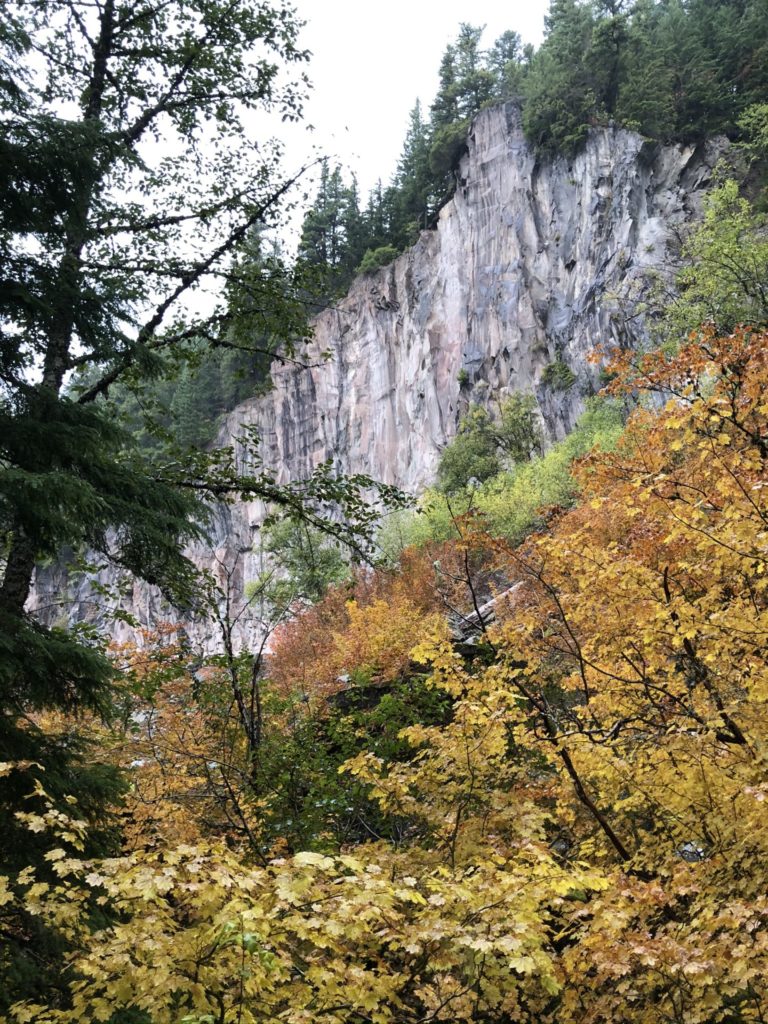 Ramona Falls, Oregon
The loop section also has views of rock walls and more colorful foliage. This was mid-October.