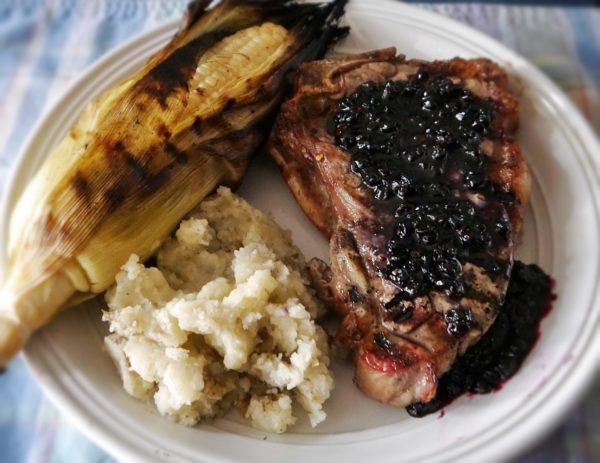 Since I missed last week, I decided I'd give you two grilling recipes tonight. And a bonus Blueberry Coffeecake (you can substitute any berry).
Pictured at top is Grilled Steak with Spicy Blueberry Sauce – I always get requests for this recipe when I serve it. I use small, wild blueberries, which I can find frozen and it gives it a next level of flavor. I might have one day been able to use my own blueberries, if the ducks hadn't eaten them. Not the blueberries, the actual blueberry plants. To the ground. This fall I'll get a couple more on sale and place them where the little feathered vandals can't reach them.
Grilled Steak with Spicy Blueberry Sauce recipe here. 
Next up, one of my most requested grilling recipes, and I've included a full menu and shopping list tonight.
A friend of mine spent a few months one summer experimenting with coffee rubs. This was one of my favorites. If you need something fun to do with your next grilled steak, this is a recipe to try. And with my love of blueberries, can't go wrong with a blueberry coffeecake.  Yum.
On the board tonight:
Steak with Coffee Rub
Green Beans w/Bacon & Onion
Baked Potatoes*
Blueberry CoffeeCake (pictured above and recipe here)
Steak with Coffee Rub
3 tbsp chili powder (pure ancho or a blend)
3 tbsp finely ground coffee (espresso works best)
1 ½ tbsp paprika (use a good one)
1 tbsp dark brown sugar
2 tsp dry mustard
1 tsp salt
1 tbsp fresh ground pepper
1 tsp ground coriander
1 to 1-1/2 lb of steak (rib-eye, sirloin, NY strip, etc) in 4 thick pieces
Mix together all spices. Lightly rub each steak with oil and then coat liberally on both sides with coffee rub. Now you can cook in a pre-heated skillet on medium-high heat, about 5 minutes each side for medium-rare. You can broil in the oven, using the second slot down from broiler, for 3-5 minutes each side, again for rare to medium-rare, longer for medium. Or you can grill them outside. Cooking times will vary no matter which style you choose, so watch carefully and you'll probably have to use a meat thermometer to really judge, because the rub makes it a little harder to eyeball it. Let sit for a few minutes before serving.
Green Beans w/Bacon & Onions
1 lb fresh or frozen green beans (if fresh, snap off ends and snap into smaller pieces)
2 strips bacon, cut into small pieces
4 green onions, chopped
salt & pepper to taste
Sm. Saucepan, steamer and Skillet
Steam beans until slightly crisp, but tender. While beans are steaming, begin browning bacon until crisp. You can drain most of the bacon drippings, leaving 1 tbsp to lightly coat beans. Add onions. Drain beans and dab with a paper towel. Add to bacon mixture, mixing well, until beans are coated in bacon drippings. Cook on medium-low for 1 to 2 minutes, until onions are heated through.
*I know many people like to wrap their potatoes in foil to "bake" them. Those are steamed in my world. I rub potatoes with olive oil and coat with sea salt before baking. This gives them a crispy, flavorful crust outside and a beautifully fluffy inside.
=====================
Shopping List:
3 tbsp chili powder (pure ancho or a blend)
3 tbsp finely ground coffee (espresso works best)
1 ½ tbsp paprika (a good one)
2 tsp dry mustard
1 tsp ground coriander
1 to 1-1/2 lb of steak
1 lb fresh or frozen green beans
2 strips bacon
4 green onions
4 tbsp cultured buttermilk powder or 1 cup buttermilk
egg
8 oz blueberries
Also: brown sugar, butter, flour, vegetable oil, vanilla, salt, baking powder, sugar, fresh ground pepper
That's it for this week. I'm heading back to see my family, so I don't know if I'll have a recipe for next week, but I still have a couple more queued up to share with you.
While I was home this last trip, I realized I have failed my youngest brother. We were at the liquor store buying some whiskey and I was pointing out what I use for cooking, a really good brand, medium price point, excellent for sipping. He shook his head and said, "no just use the cheap stuff, like this." And he picked up a bottle I'm not sure should even be called whiskey.
I looked at him, aghast. "Never," I stated adamantly, "use cheap alcohol in cooking." He rolled his eyes and walked away.
I have failed as a sister.
What's on your plate tonight? Whatcha got cooking? Any fresh stuff from your gardens? Hit the comments with your ideas, recipes and food thoughts.