On the Road is a weekday feature spotlighting reader photo submissions.
From the exotic to the familiar, whether you're traveling or in your own backyard, we would love to see the world through your eyes.
We've been to Homer, and now we're in Denali.  Next week we head to Resurrection Bay, and then after that we're back home in Flyover Country, though it looks like it won't be springtime anymore.  In the meantime, I think Albatrossity is pulling our leg with the state bird.  You'd think that as a state bird, someone would have told her she has way overdone the eye makeup. Perhaps they have different sensibilities in Alaska?  ~WaterGirl

P.S.  I want to call your attention to the generous offer from Albatrossity in the blockquote at the end of his introduction.  We are some very lucky jackals!
Albatrossity
Another leg of our 2012 Alaskan solstice adventure was a brief visit to Denali National Park. From Homer we went back to Anchorage and took a train from there to the park. On the way this train passes through some smaller towns, including Wasilla, made famous by Sarah Palin. I can report that when the train stopped briefly at the Wasilla depot, I was not the only passenger to stand up, look around, and declare that I could not see Russia from there. Sad.
Train travel in Alaska is (or at least was in 2012) quite comfy and convenient, as well as educational. There were college-age guides who wandered through the cars and helped spot wildlife (we saw moose and several black bears, as well as a marmot or two). They talked about the scenery and identified the mountain ranges and mountain peaks. Curiously they all referred to Denali (the mountain) as Mt. McKinley, and Denali (the National Park) as Denali. Political correctness? Company policy? Who knows?
We had only one day in the park itself, but it was splendid. In this park you are not allowed to drive a personal vehicle through much of it; you are on a bus with a driver/guide and other folks. It is a hop-on/hop-off arrangement; there are many stops where you can get off and then take the next bus for the tour route you signed up for (designated by bus color). There is an annual lottery where you can win the opportunity to drive your personal vehicle on the normally off-limits routes, however. I have a graduate school buddy who was lucky enough to do that, and his pictures are stunning. These are mine, and don't include the distant views of brown bears, moose, and wolves that attracted a lot of cell phone cameras to the bus windows. You will have to visit there yourself to see those shots!
Finally, I want to mention again that if any of you jackals would like one of my images as a wallpaper background for your computer monitor, I would be happy to provide one for you. Free of charge. Images that would be generally adequate for that in terms of resolution, etc, can be viewed at my portfolio site. If you see something that you would like to see everyday on your monitor, just let me know the name of the image and the needed size (width in pixels x height in pixels) and I can probably email that to you within a day or so. Contact information can be found on the site.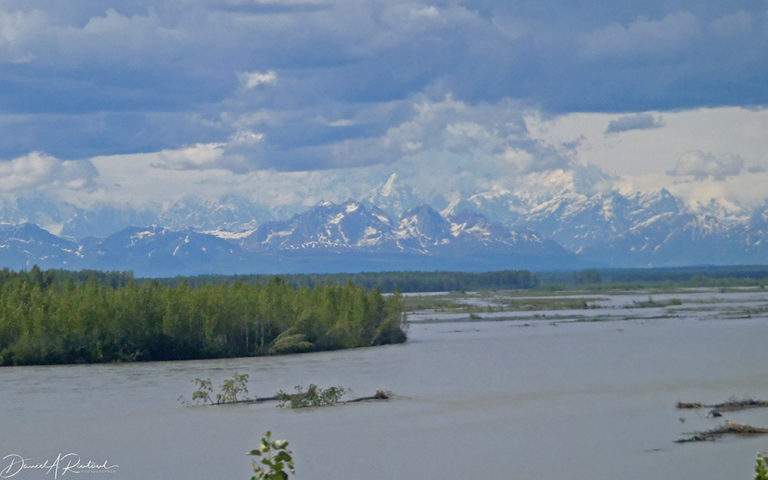 Alaska
June 17, 2012
Here's a shot of the mountain itself, Denali, taken from the train. We did not see the mountain from inside the park, which is pretty typical. According to the guides on the train, a view of the mountain from the train is something they get about once a week. So we felt fortunate, and even though this is a distant view, it does give you the impression that Denali is a massive peak.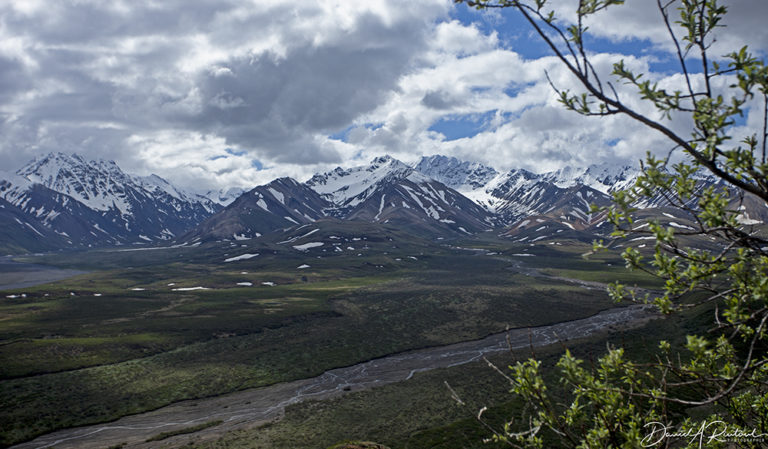 Denali National Park
June 16, 2012
From inside the park you can see other mountains; Denali itself is behind these and covered by clouds. The other striking features of this landscape are the braided meandering rivers. We were told to look closely at those stream-beds, because the wildlife could often be spotted there. In fact, there is a caribou along that stream that we saw a few minutes later, but it is impossible to see in this wide-angle shot.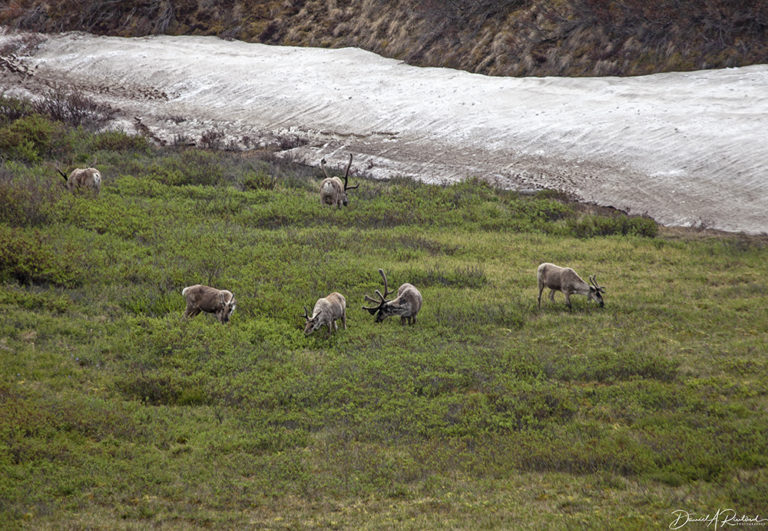 Denali National Park
June 16, 2012
Here are some other caribou, grazing peacefully near a residual snowbank from the previous winter. Caribou were the most abundant large critters we saw from the bus, but since I had never seen any before, each sighting was exciting!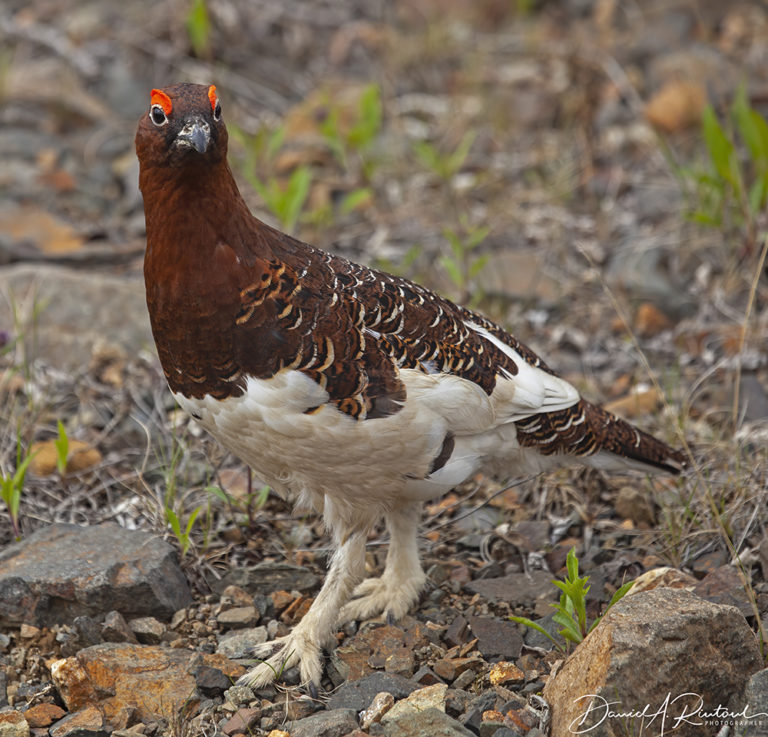 Denali National Park
June 16, 2012
This is the state bird of Alaska, the Willow Ptarmigan, also known as the Willow Grouse or the Red Grouse in Europe and the UK. This is a male, molting out of the white winter plumage into the browner summer plumage, and his halfway molt was unsubtle, but surprisingly hard to see when he was at a distance on a rocky slope. I love his feathery leggings!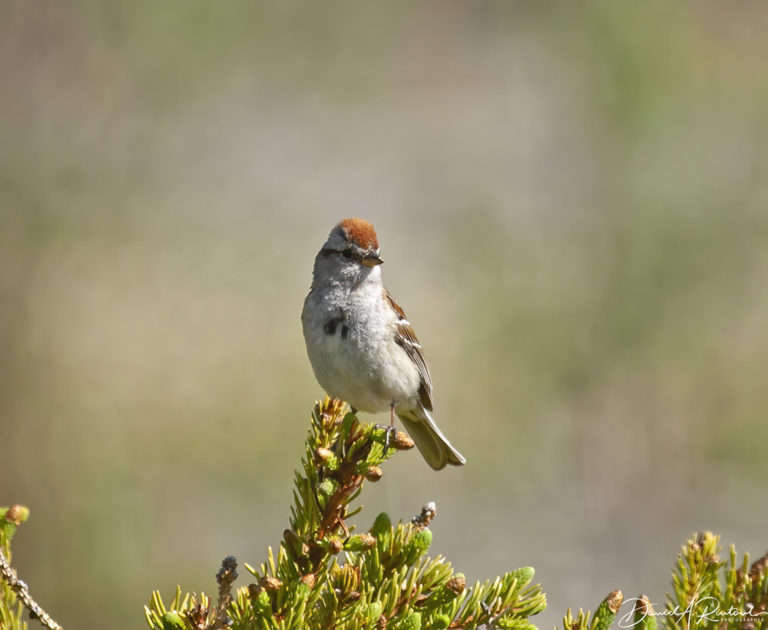 Denali National Park
June 16, 2012
Here's a bird we see a lot of in the winter here in the lower 48, an American Tree Sparrow. I heard the bird singing, which I have never heard in the winter here, and finally caught a shot of it in its summer finery.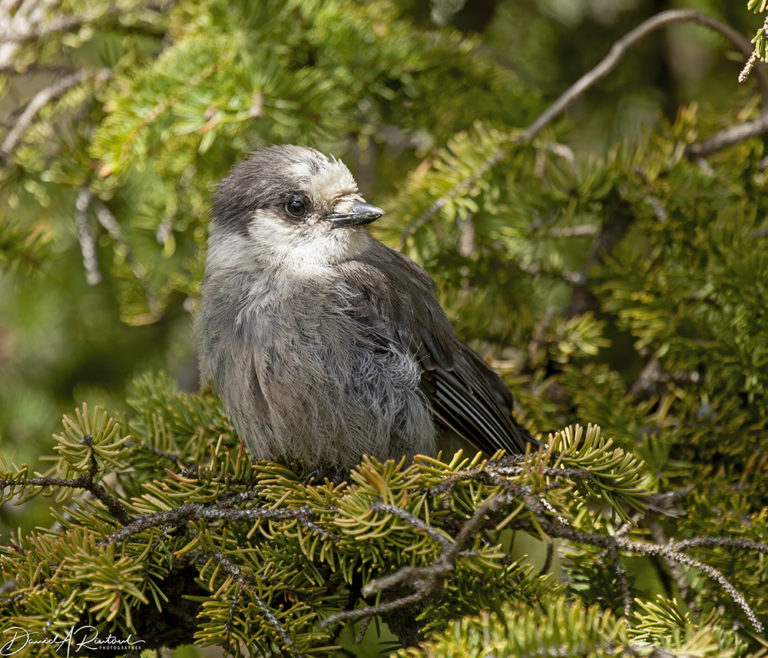 Denali National Park
June 16, 2012
This is not a bird that I've seen in Kansas; it is a very hardy bird that stays through the winter in places like Denali. It's a Canada Jay, which is a recent change from its former name of Gray Jay. The common name for this bird, camp robber, is a hint about its habits near your campsite; they are charming beggars and also clever thieves. A former student in my department at KSU is now in Denali, and these birds are her study species.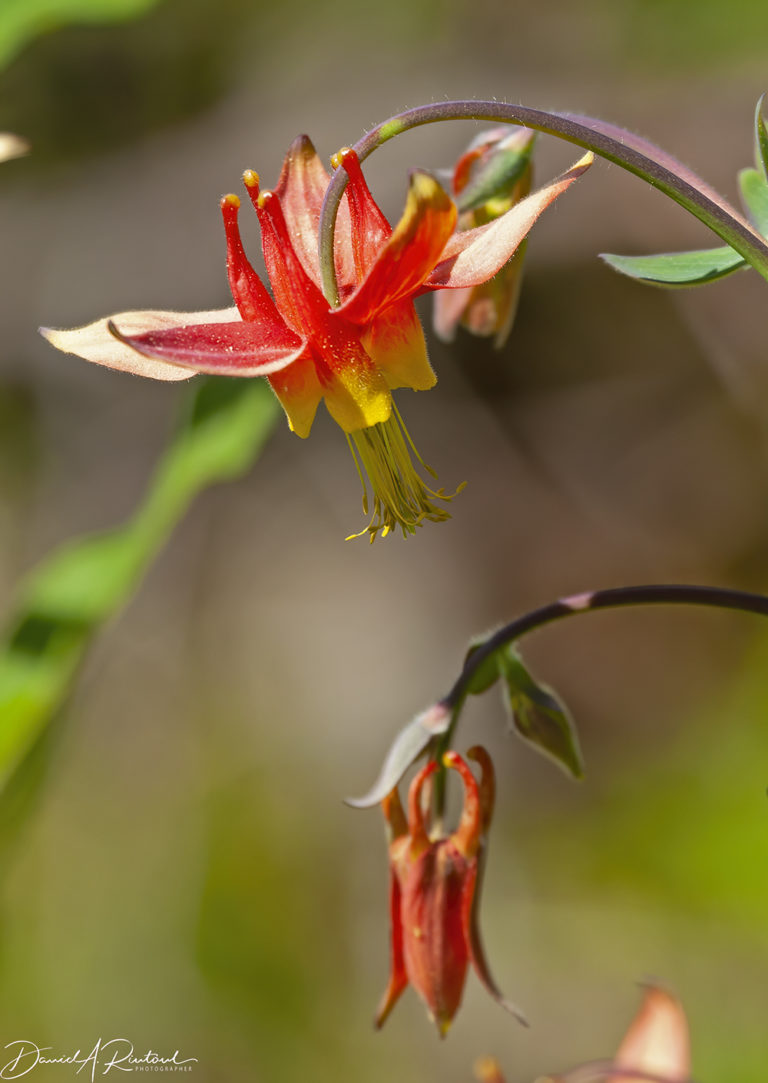 Denali National Park
June 16, 2012
One of the wonderful things about high-latitude summers is the proliferation of wildflowers. The brief summer season means that there is often a riot of color along the roadsides, but many of the species were not familiar to me. This one, Western Columbine, was familiar, and is a gorgeous flower as well.