Of course, he doesn't have the power to do this: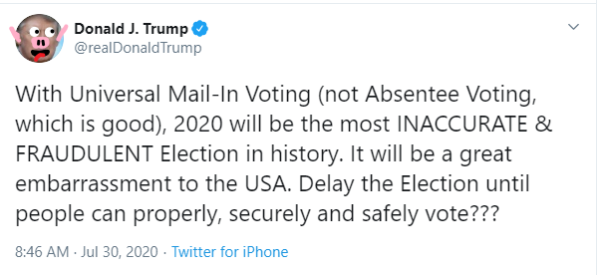 But it must remain scandalous that a sitting POTUS wants to delay the election, even if he can't do it. I'm calling each of my federal representatives to ask if they agree. It won't do any good since they're all Republican Trump enablers (pardon the redundancy), but hassling their interns is the least I can do.
Trump can't delay the election, but he can maximize the chaos surrounding it. Sowing division and fomenting chaos are his only talents, and his capacity to do both are horrifyingly magnified by the power of the office he occupies. Case in point: the low-quality hire Trump sleazed into the Postmaster General position is deliberately slowing mail delivery and sabotaging post office operations already.
We'll just have to adjust until we get rid of these people. If they blow up mail-in voting, I'll vote in person. If I have to stand in line for 12 hours with diseased Trump supporters in the middle of a hurricane that's blowing medical waste into the crowd to vote, I'll do it. It kinda feels like this is our last chance.
Open thread.