On the Road is a weekday feature spotlighting reader photo submissions.
From the exotic to the familiar, whether you're traveling or in your own backyard, we would love to see the world through your eyes.
Steps and forests, with dappled sun, are so enchanting.  I want to walk down those steps and stay in that forest until the world has returned to something approaching normalcy.  ~WaterGirl
feloniousferb
I was able to add a weekend trip to Zurich as part of a longer trip to Europe. This was based on some advice from a travel agent and it turned out to be an amazing experience. I was pretty overwhelmed by all of the sightseeing options and the wealth and opulence were pretty intimidating. I have never been to a city that exuded wealth the way Zurich did. It seemed like every other car was six figures and every food and drink item were well out of my price range. I made plans to get out of the city and do some hiking.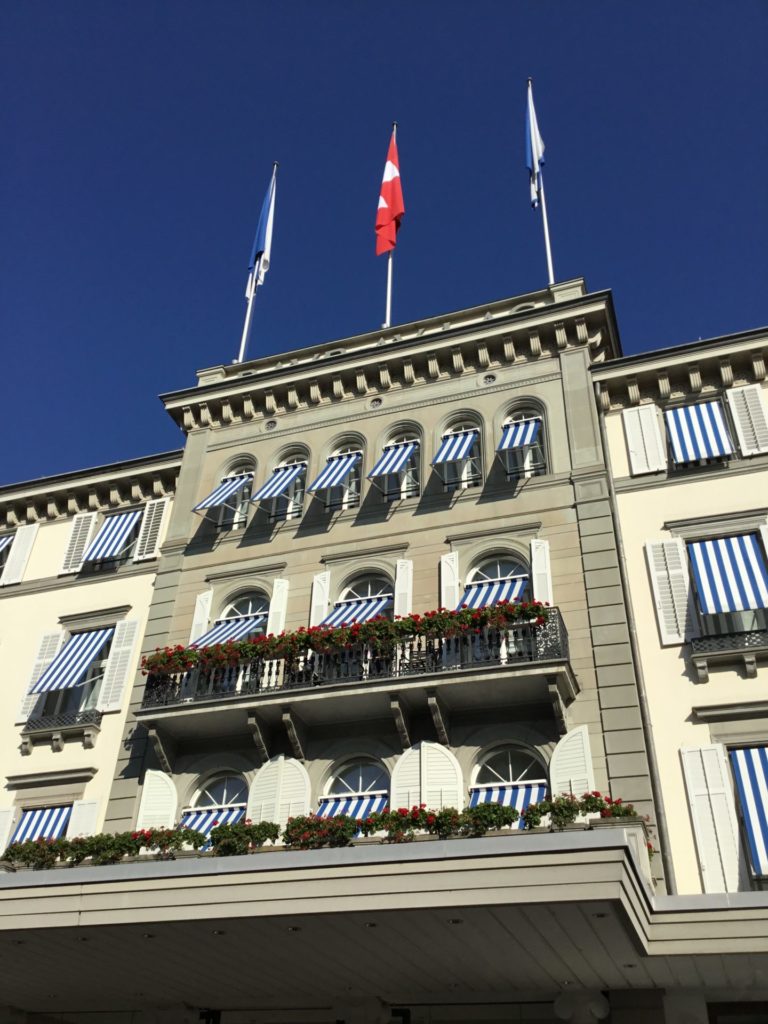 Zurich, Switzerland
The hotel is only a couple hundred feet from Lake Zurich with unobstructed views from an outdoor seating area and parts of the restaurant. The hotel dates back to 1844 and is still owned by the Baur family!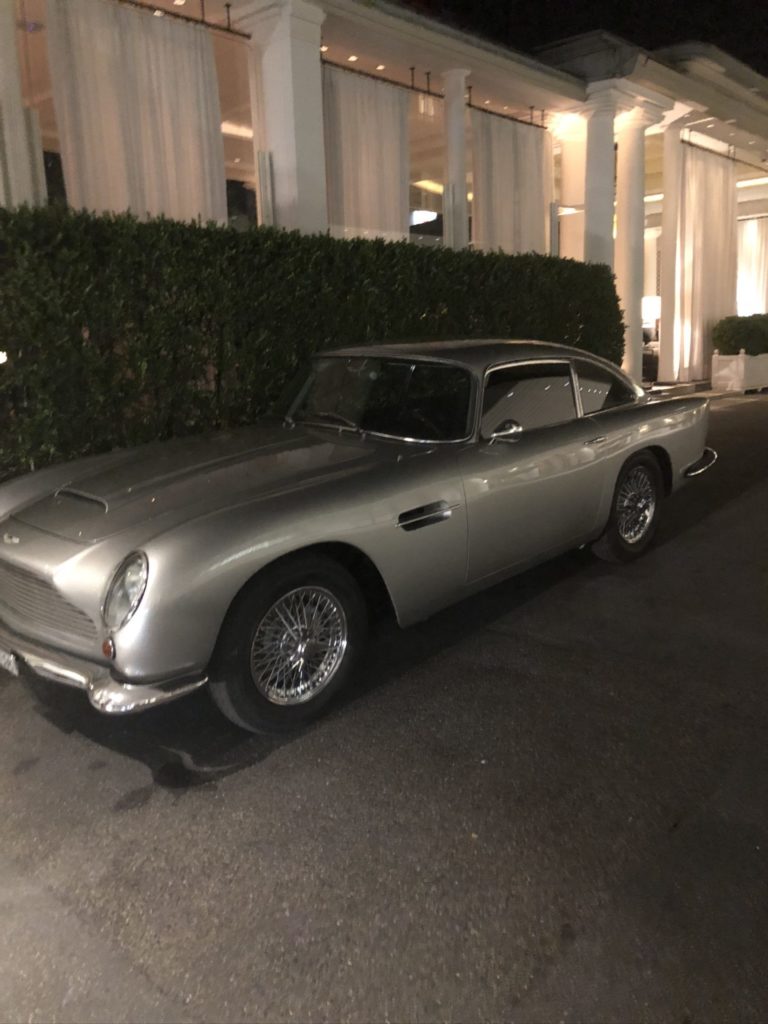 Zurich, Switzerland
When I came back to the hotel after dinner there was an Aston Martin DB5 parked in the valet section. (I'd like to point out that the hotel was paid for as part of a gift. It was very expensive and I'm normally a Marriott guy!)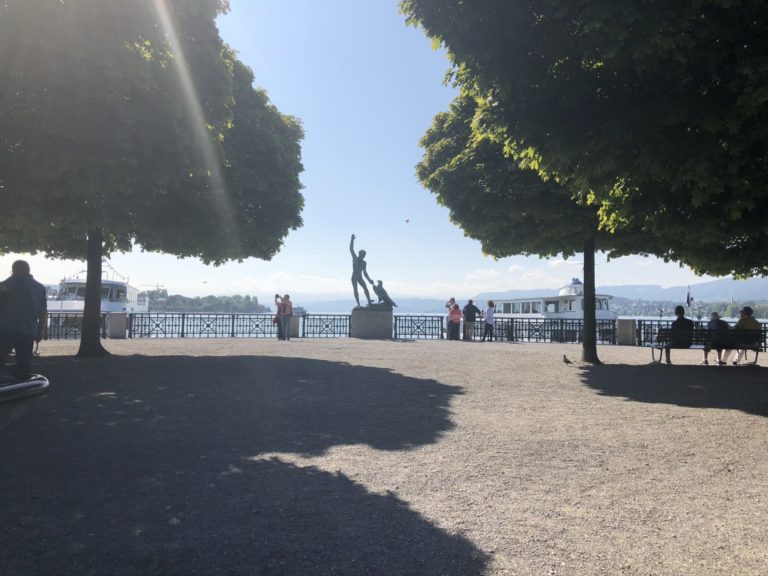 Zurich, Switzerland
The statue is of Ganymede (Greek mythology) and an eagle. The statue is located at Burkliterrasse, which is the park at the head of Lake Zurich. It overlooks the main boarding docks for boat tours and there are terrific mountain vistas either left or right (the lake continues to the horizon in front).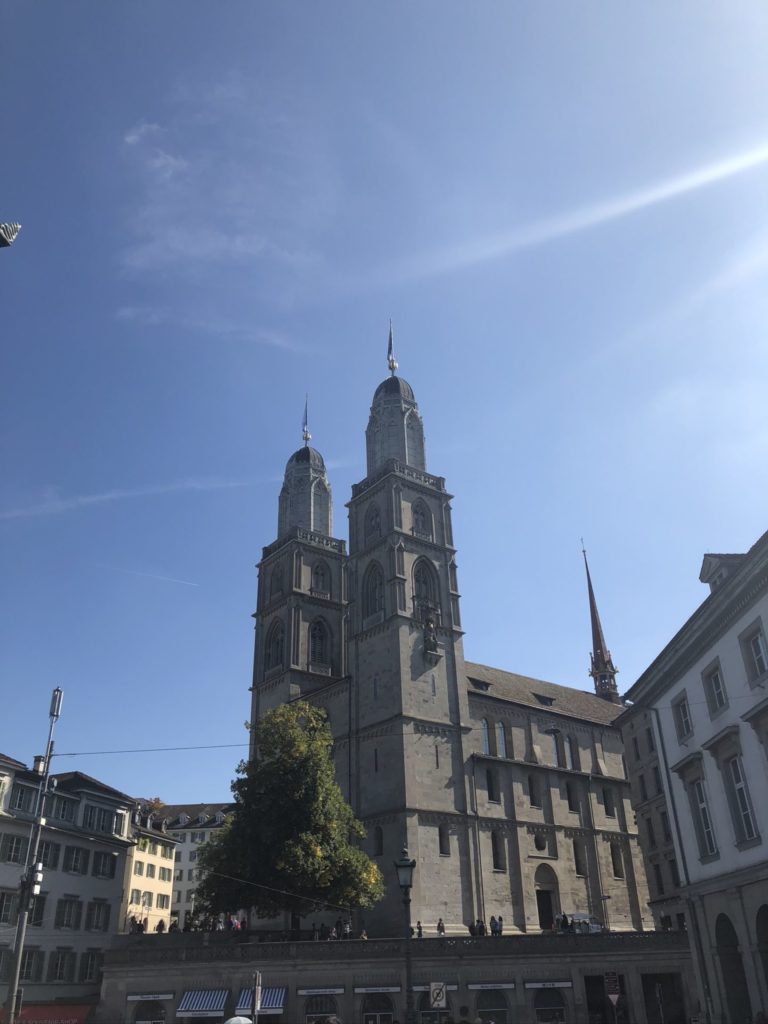 Zurich, Switzerland
Grossmunster is one of four major churches in Zurich. This Protestant church was finished around the year 1220! I took the photo from across the Limmat river.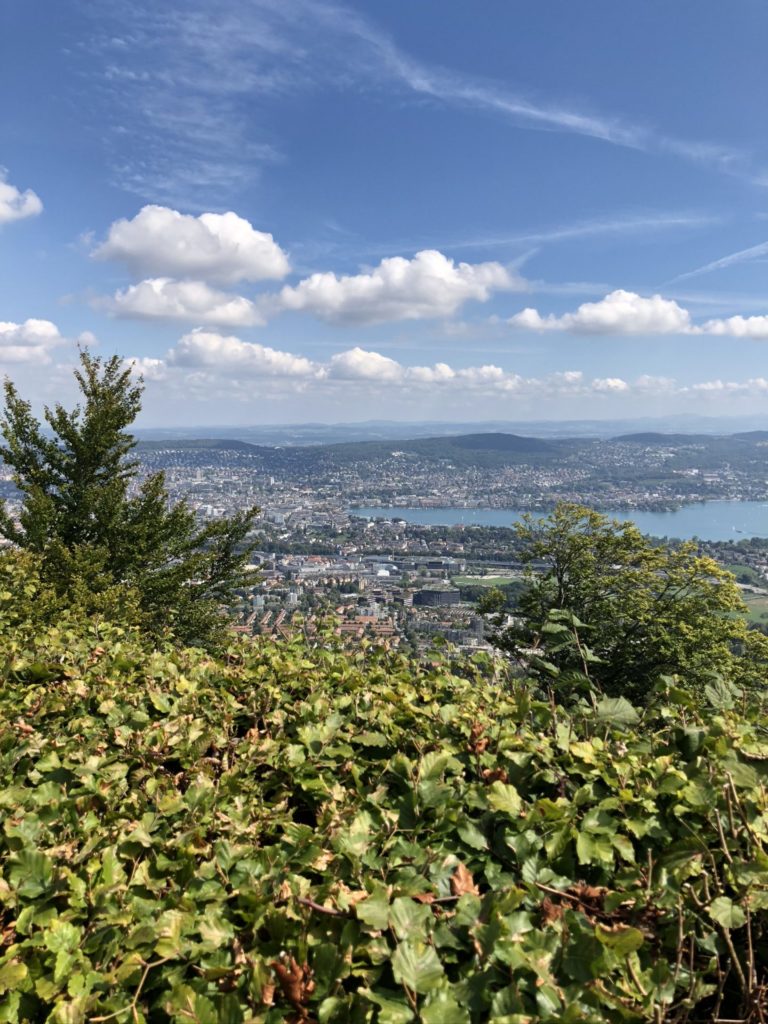 Zurich, Switzerland
I took the train to Uetliberg, a small mountain W-SW of Zurich. The hike from the train station to the prime overlook spots took about 15-20 minutes. There are gorgeous views of the city and Lake Zurich. It is a very popular tourist spot but there is plenty of space and trails head off in several directions.Hike down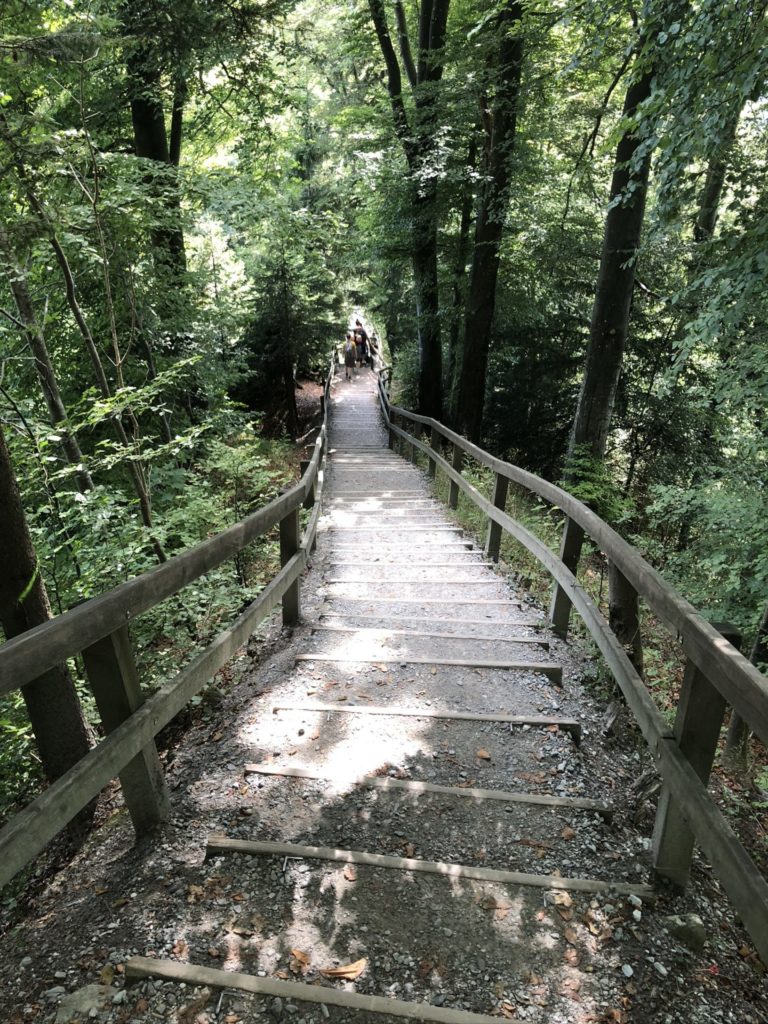 Zurich, Switzerland
The weather was perfect so I decided to hike back to the hotel, about 5km. This hike, I found out, is very popular both up and down, there were plenty of other hikers and the trail was very organized and well maintained. I was very surprised at the number of hikers with strollers going up given this is only one of many, many sets of stairs.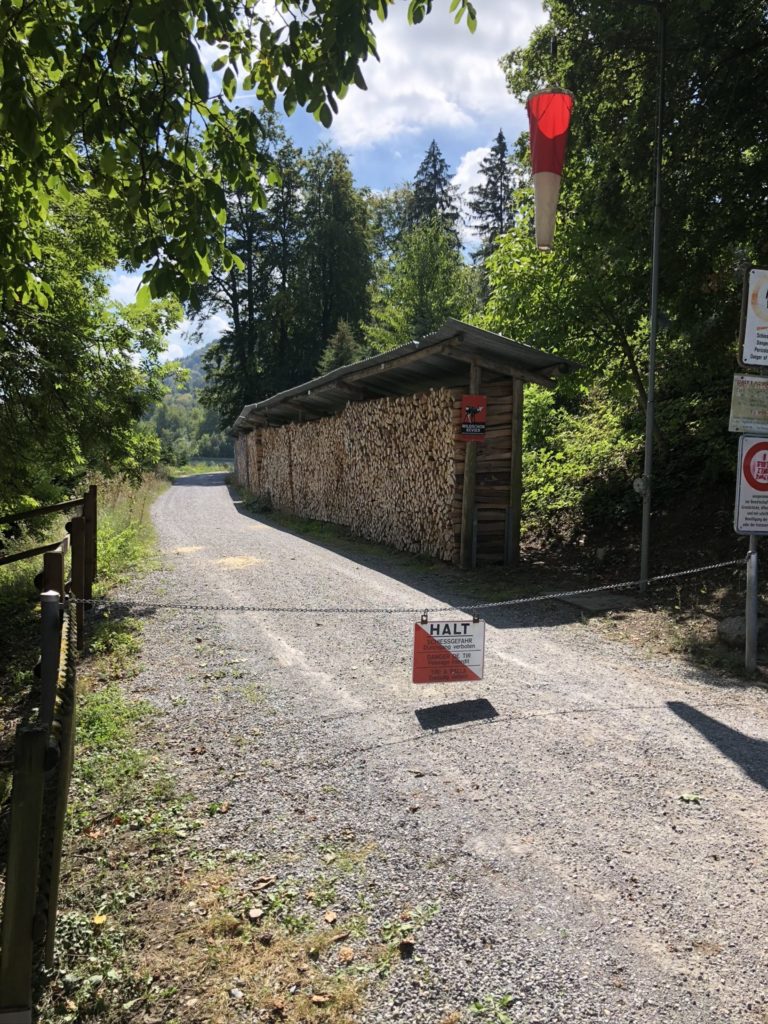 Zurich, Switzerland
Being familiar with preparing wood for a wood stove I was amazed at the amount of work that must have went into this stack! Around this time I could hear consistent gunfire (it sounding like a gun range, nothing sinister) and I started heading in that direction because I would have loved to have shot some clays while I was there.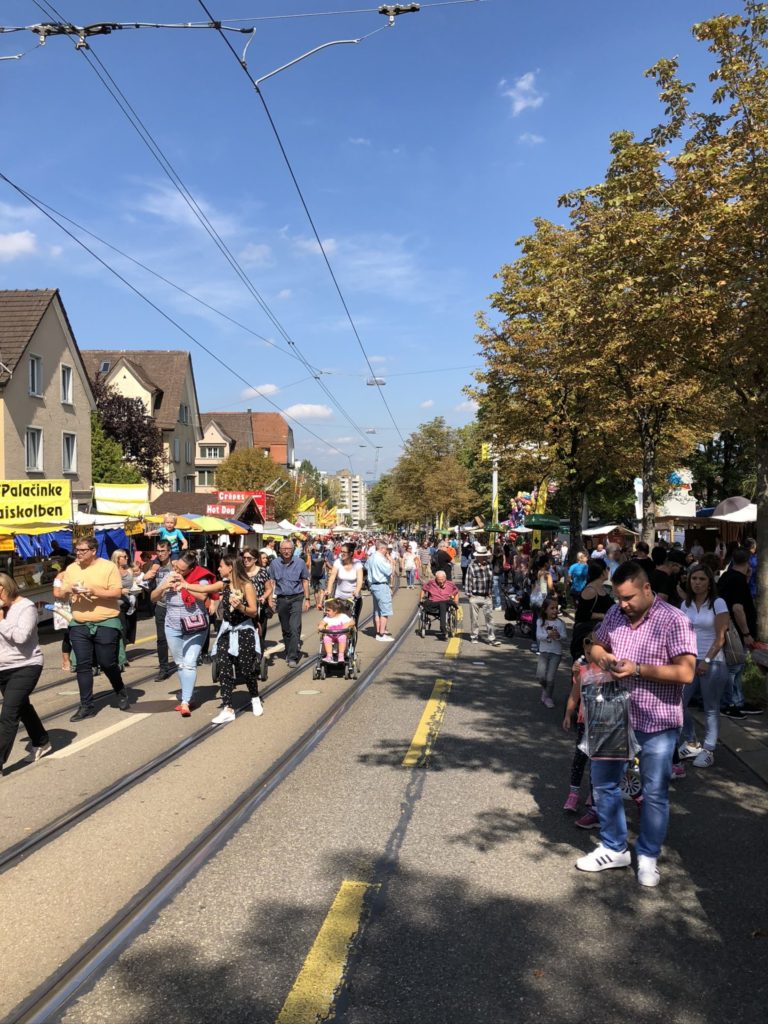 Zurich, Switzerland
The gunfire was actually part of Knabenschiessen, a Zurich festival held every year since 1889. The festival surrounds a gun competition for any (every) 13-17 year old who reside or attend school in the Zurich region (population around 1.5 million!). I knew none of this but was amazed at the thousands of people who were walking the Uetlibergstrasse, which was closed to traffic and solidly lined with food and drink vendors. The shooting competition is held at Schiessanlage Albisgutli and I've never seen a range that large. After stopping for some adult beverages and meeting some very interesting locals I eventually made it back to the hotel hours later.