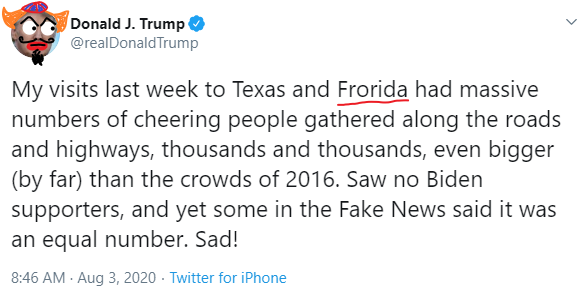 Some weeks back, shortly after Trump first began bellowing like a ruptured water buffalo about vote-by-mail FRAUD, I was listening to a podcast featuring Never Trump scamp* Rick Wilson where he marveled, with equal parts disbelief and glee, that vote-by-mail is the Republicans' "secret sauce," so a Trump push to discredit it would almost certainly boomerang back to hit Republicans on the noggin.
What Wilson said about vote-by-mail is common knowledge, at least among people who understand how campaigns work, which excludes Trump. That's one reason state-level Democratic Party organizations have put a ton of time and effort into persuading Democrats to vote by mail. They've stepped up those efforts because of the pandemic, for obvious reasons.
To offset the damage Trump is doing to his (and their) electoral prospects without hurting Trump's extra-dainty feelings, Republicans are trying to explain to voters that there is a difference between absentee ballots and mail-in ballots — a distinction that literally does not exist in some swing states, including Florida. But what's that saying — "if you're explaining, you're losing"?
They're losing, according to this report in The Post:
One recent Facebook sponsored post from the Johnston County, N.C., Republican Party exhorted voters not to dismiss a GOP mail piece coming their way: "ATTENTION!!! If you receive an ABSENTEE BALLOT MAILER like shown in this picture, please know that it is legitimate!!!"

"Please don't confuse North Carolina's absentee system with other states' all-mail elections," read the message from party chairman. "NCGOP and JoCo GOP agrees with the President that our current absentee ballot request system is safe and secure."

The assurance was met with skepticism from many commenters. "Burned it! I will go in person to vote straight Republican," wrote one.

"Why is the GOP sending this out," wrote another, adding: "You know damn well that we are arguing against this, and here it is our own damn party sending this horse dung out?!!! Whoever is in charge of this should be fired. I am going to the polls, Don't send me one."
The same thing is happening in Florida, where Republicans used to dominate vote-by-mail (thanks in part to Wilson's machinations) but now believe mail-in ballots are the work of Satan. Trump tells them to request an absentee ballot instead, but if you Google "request absentee ballot Florida," you'll get links to the state website for…vote-by-mail. Because they're the same thing.
Anyhoo, we don't know what the pandemic situation will be on election day, though perhaps we can infer from the incandescent stupidity of Trump and his cult that we'll still be floundering around with an uncontrolled spread. Trump and his gang of sycophants are fucking with the postal service, and that's awfully worrisome.
But from a strategic GOTV point of view, all this screeching from Trump about vote-by-mail fraud is looking like yet another example of Trump stepping on his own pee-pee while wearing golf spikes. Please proceed, Lumpy!
Open thread!
*As I've explained in comments, I know who and what Wilson is, but he and I are both Floridians of similar vintage who despise Donald Trump with every fiber of our beings and had sassy, quotable Southern grandmas, so I feel a kinship. At least for the duration of this nightmare of an administration.