Tonight we bring you the latest episode in our weekly Guest Post series: Medium Cool with BGinCHI
In case you missed the introduction to the series:
Culture as a Hedge Against this Soul-Sucking Political Miasma We're Living In
Tonight's Topic:  Let's Talk Gaming!
*****
BG is away on vacation, but we did some planning in advance!  ~WaterGirl
*****
Here's a note from BG, explaining what we have in store for you:
I'm out of town for this week's Medium Cool, but I think you'll do just fine without me.
I was surprised at how many of you have gaming experience in the last thread we did, so I hope this appeals. The subject is gaming, and to start you off, eddie blake outlines the evolution of his life with games.
How about the rest of you?  When did you first get involved in gaming, what are you playing these days, and what keeps you in the game?
Many thanks to Eddie for his work on this.
*****
Gaming Adventures by eddie blake
Let's talk gaming again. As we discussed, video games have grown steadily from their birth as novelty entertainment for drunks and stoners in the 1970's. Now developers put in millions of dollars and employ hundreds of people to create cutting edge games as high-end entertainment…for drunks and stoners (games are ALSO made for more family-friendly audiences in mind).
I enjoy good storytelling. I love comic books, graphic novels, book-books, films, cartoons, anime and video games. I always have. As a kid, when one of my neighbors got an Atari 2600, it was like a revelation. You could have that in your HOUSE?
I wanted an upgrade to the Sega Genesis. The machine sang to you when you turned it on. "sAAY-Gaaa!" Suddenly, you could have games that practically matched the arcades when it came to graphic fidelity.
Phenomenal games like Valve's Half Life or Bioware's Knights of the Old Republic drastically changed my opinion of what games could be, and what they could do. Half Life is a game with a seamless and engaging story. It was topped by the sequel, Half Life 2 and the subsequent DLC that allowed you to play as Gordon Freeman, a theoretical physicist who has to save the world from an extra-dimensional incursion or three.  'Knights of the Old Republic' was the first time I played something that felt like an old school, IRL role-playing game. The game allowed for an extensive player-creation setup, where you could craft your character's gender, disposition and body-type. It was a deep and astounding experience with a thunderous plot twist.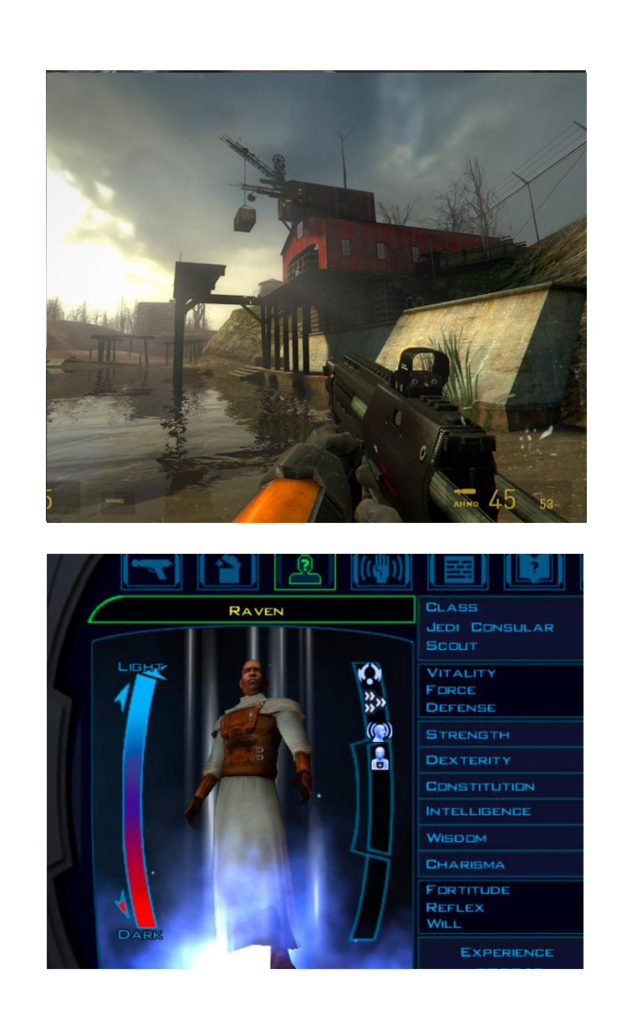 I had a friend in the aughts who had a brush with fame and a bit of money. His apartment had twelve foot ceilings with a projector TV and an XBOX plugged into it. We'd get wasted and play HALO: Combat Evolved, or Crimson Skies: The High Road to Revenge, or Dead or Alive,splashed across his walls in vivid color. He would beat me a lot. When my girlfriend at the time asked me what I was doing all those hours, I told her. I was surprised to hear her answer. "I like video games too," she said. The next thing I knew, she was taking him to school on pretty much every game he owned.
Clearly, my next move was to get an XBOX.
I got a lot of mileage out of that machine and didn't hesitate to get the next console, the XBOX 360. I was truly unprepared for games like Bethesda's Skyrim or Ubisoft's Assassin's Creed IV: Black Flag. They broke my perception of how big games could get.
There was no place you couldn't walk to, no place you couldn't climb within the map of Skyrim. In AC: Black Flag, that map was the Caribbean Sea. You could sail from Jamaica to South Florida and stop at any of the myriad islands in the nearby waters, commanding your two-masted gunship, Jackdaw. Then you could leap into the water and swim to shore, without a cut-scene. The scale of the playable area was stupefying.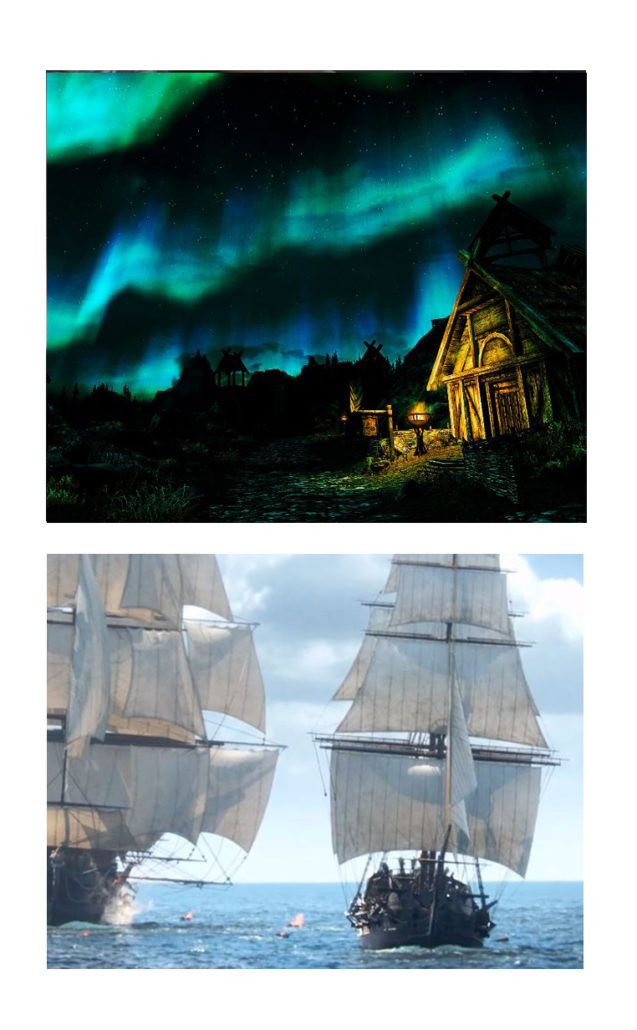 Assassin's Creed is a game series from Ubisoft Studios. The first came out in 2007 and there've been over a dozen on a variety of platforms. AC games are known for dual, dueling plotlines, mixing the present and the past. There is a complicated lore and backstory, involving a long-running battle between two factions, "Assassins" and "Templars". That's the least appealing part for me.  Black Flag immersed you in the rich plot and stunning, color-saturated visuals of the eighteenth century Caribbean Sea with very few interruptions.
To get the 360 to work after ten years, I'd be forced to pound on the casing. One afternoon, my girlfriend came upon me beating on the roof of the 360 like it owed me money. "It's time to let it go, honey," she said to me. "It's time."
So I got an XBOX One. It had new AC games. The conceit of the last few was that each of the newer games took place BEFORE the previous ones. They had an AC: Origins and AC: Odyssey.
Origins, taking place in ancient Egypt, was (obviously) the origins of the Assassin Order and the Templar-Assassin war. 2018's Odyssey, set in Greece of antiquity, was supposed to have NOTHING to do with any of that.
This intrigued me. That it had a version of the great sailing mechanic from Black Flag also piqued my interest. Odyssey puts you smack down in the middle of the Peloponnesian War with ALL of the islands and lands of Greece at your disposal to adventure through, from Macedonia to Crete.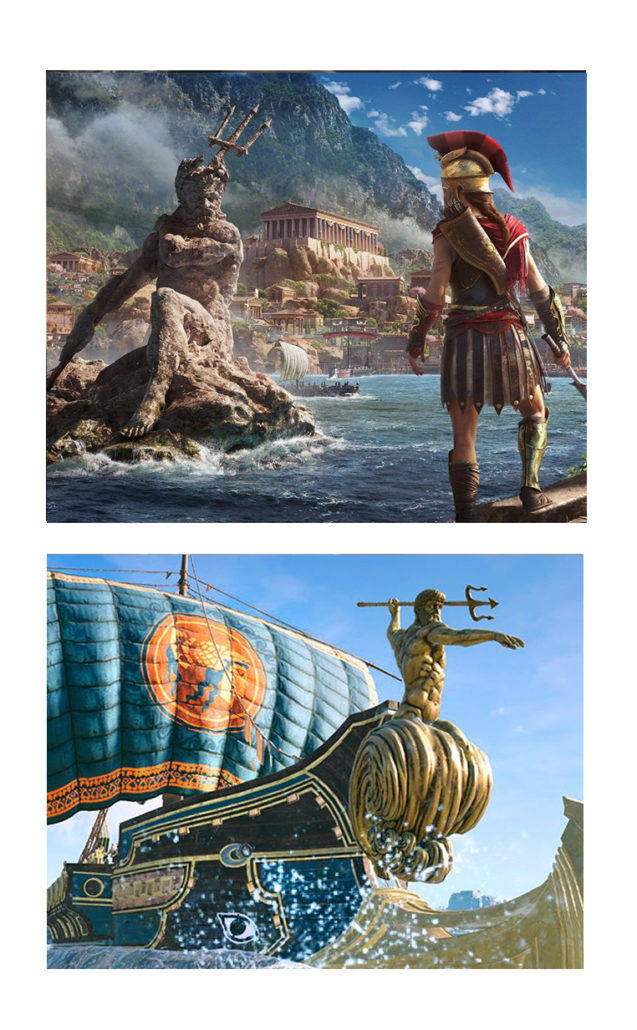 While the character creation system in Odyssey isn't as robust as that of KotOR, you DO get to choose your gender. You are given the option to play as Kassandra or her brother Alexios. The voice actress Melissanthi Mahout, who plays Kassandra, is more emotive and subtle in her characterization. Alexios sounds like Cookie Monster. The game is festooned with historical accuracy, locations and characters. There is some bending of the geography and that history, most blatantly in that they give Sparta a functional navy and fleets comparable to Athens, but other than that, you really feel like you're walking the islands of the Mediterranean, thousands of years ago.
And what islands! The grass and flowers blow in the wind. Goats and chickens scamper past as you wander from town to town. Monumental works of architecture surround you, as well as the ruins of the civilizations that have come before.  Whales breach out of the sea as you sail past, while your crew sings into the wind.  Dynamic weather comes upon you. Storms rage and pass, and you can see the Milky Way stretch from horizon to horizon as day turns to night.
I put 363 hours into that game. It was an addictive experience. My girlfriend would often sit next to me on the sofa and watch with glee as Kassandra stomped across the Greek world like a giant. No spoilers, but you discover early on that there is far more to the PC than meets the eye. The main game covers the story of Kassandra learning her personal history and trying to pull together her family, torn apart by the gyre of war.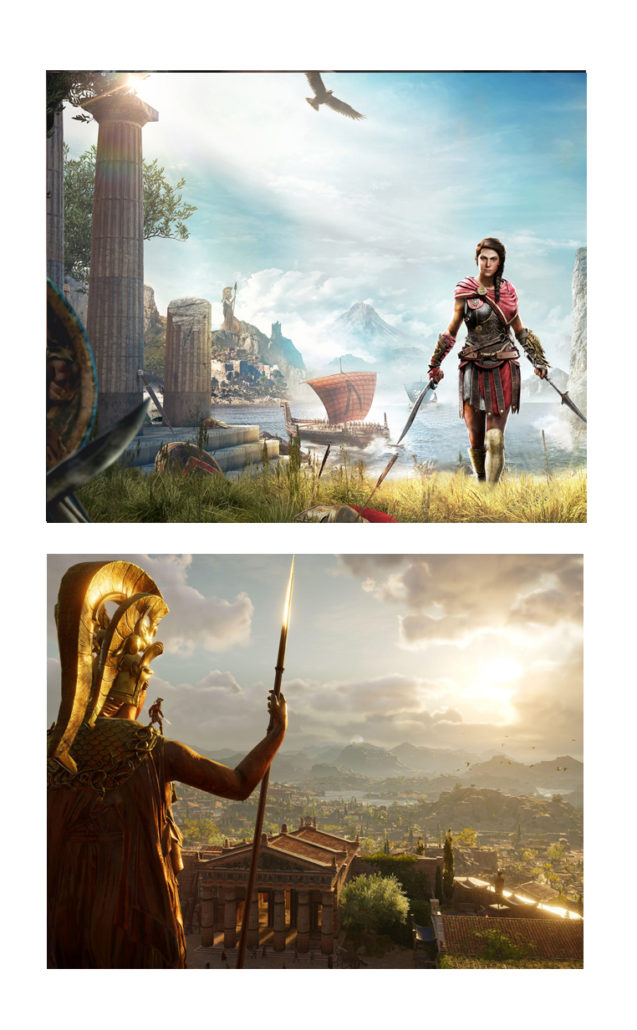 There are two available DLC expansions: The Legacy of the First Blade and The Fate of Atlantis.  The former rather clumsily tries to connect the mythological world you're striding through and the more grounded games that have come before in the series.
The second DLC, The Fate of Atlantis, explains why you have demigod-like powers as well as all of the supernatural events that have happened throughout, in a satisfactory manner. It made for a wonderful coda to the gaming experience, providing a deep dive into aspects of both Greek mythology and the game's mythos.
I'm going in a different direction now.  I've started 'Star Wars Jedi: Fallen Order'. So far it's pretty engaging. What are you guys playing? Any thoughts on Open World gaming?
I hope you enjoyed this diversion from the regularly-scheduled awfulness that makes up the news.
eb