Since the President's acquittal in the Senate back in January, several key senators have been working to turn their committee's oversight functions into both an information laundry as part of the Black PSYOP against Vice President Biden and an oppo research and distribution arm of the President's reelection campaign. These efforts are being led by Senator Ron Johnson, who chairs the Homeland Security Committee; Senator Charles Grassley, who chairs the Finance Committee; and Senator Lindsey Graham, who chairs the Judiciary Committee and are intended to do one thing and one thing only: dirty up Vice President Biden ahead of his election, as well as a number of his senior advisors who would be expect to have senior appointments in a Biden administration should he win in November. Should he indeed win, expect the Senate Republicans to use these hearings to either deny, should they hold their majority, or try to derail and deny, should they be in the minority, the Senate confirmation for these senior Biden aides and advisors. In this way the Black PSYOP campaign against VP Biden has metastasized in a new ugly way: to not just try to make him unelectable, but to damage many of his most senior and trusted aides and advisors so that they would be unconfirmable should he be elected and appoint them to the most senior positions in his administration.
Senator Graham kicked off the next phase of the Black PSYOP today with hearings into how the counterintelligence investigation into the connections between the President's 2016 campaign and a variety of Russian nationals who all link back to Vladimir Putin, which is being referred to by Republicans and conservatives as Obamagate, was started and conducted. The focus of today's hearing was on former Acting Attorney General Sally Yates. You can see this whole hearing at the video below:
As you can imagine, Senator Graham, as well as the other Republican senators on the Judiciary Committee were functioning in the closed epistemological bubble of conspiracies about the 2016 election.
Lindsey Graham has begun the Sally Yates hearing by raising a bunch of conspiracy theories about Biden and Susan Rice, in case you wondered what the point of this hearing about four years old events 90 days before another election was.

— Matthew Miller (@matthewamiller) August 5, 2020
The short version of these conspiracies are that it was not Russia interfering in the election, nor was it the President's campaign, campaign officials, members of the President's family, and official and unofficial surrogates all either conspiring to and working with various elements of Russian intelligence or trying to, but being so inept they failed to actually do so. Rather, the Clinton campaign successfully conspired with both the Obama administration, especially senior Department of Justice and FBI officials like Director Comey, and the Ukrainian government of Petro Poroshenko to subvert the will of the American people and rig the 2016 election and by creating a false flag that Russia was in fact interfering in the election on behalf of the President's campaign.
The key logical flaw in all of this, not that there aren't several of them, is that Secretary Clinton did in fact lose the election in the only way that mattered: the Electoral College. And that the Senate Select Committee on Intelligence has definitively concluded that not only did Russia through a variety of actors, at the orders of Russian President Vladimir Putin, interfere in the 2016 US election, but that these Russian or Russian backed actors tried to conspire with the President's campaign, campaign officials, family members, and surrogates. And that the President's campaign, campaign officials, family members, and surrogates failed to make it work because the President's campaign, campaign officials, family members, and surrogates were, with the exception of Roger Stone's conspiring with Wikileakes, too inept to actually conspire with Russia. The logical flaw also ignores that Vladimir Putin had a clear preference for the President and did everything he could to see him elected in 2016, including acting to harm the candidacies of the other Republican primary candidates like Senators Graham and Cruz.
The origin of the conspiracy theory that the Senate Republicans, the President, other Republicans, and conservatives are pushing was actually created by Konstantin Kilimnik and pushed to Paul Manafort who then laundered it through his criminal defense. It was also laundered through Politico by a discredited Ukrainian junior foreign service officer. And before you ask, yes the Politico reporter was Ken Vogel who has continued to try to peddle this made up garbage at The New York Times.
Former Acting Attorney General Yates did a very effective job of pushing back and knocking down the conspiracies that the Republican senators on the committee kept asking her about or suggesting happened.
NEW: Sally YATES used a Republican-led hearing to, under oath, counter claims that have become Trumpian gospel:

That Obama/Biden influenced the Flynn investigation, that there was no basis for the FBI to interview Flynn, and that Flynn was spied on.https://t.co/eMW0HAhipS

— Kyle Cheney (@kyledcheney) August 5, 2020
YATES: "During the meeting, the president, the VP, the natsec adviser did not attempt to in any way to direct or influence any investigation."

"No such thing happened."

— Kyle Cheney (@kyledcheney) August 5, 2020
Senator Graham's efforts in the Senate Judiciary Committee are not, however, the only Republican efforts to turn the US Senate and its oversight functions into an information laundry against Vice President Biden. Senators Johnson and Grassley are running the other part of the Black PSYOP, which is receiving information from some of Putin's assets in Ukraine, who are working with the President's private attorney Rudy Giuliani, to dirty up Vice President Biden ahead of the election.
Telizhenko, a former Ukrainian diplomat and associate of fellow cigar aficionado Rudy Giuliani, never drifted far from his obsession: Joe Biden and his son Hunter.

For three years, he has worked to help President Donald Trump get reelected by exposing what he perceives to be the corrupt actions of the Bidens in Ukraine. And he said he's not done.

Telizhenko first emerged on the political scene in 2017, when he was interviewed for a now infamous Politico article in which he alleged that Ukraine had interfered in the 2016 election, a charge that has been debunked.

He has since become a darling of the pro-Trump right-wing media and is part of a ragtag group of Ukrainian operatives working with Giuliani and hoping to help Congressional Republicans in the coming weeks surface damaging details about the Biden family.

Telizhenko and Onyshchenko said they have been asked to be interviewed as part of the Senate inquiry and have shared materials with Republican members of the committee. The two have plans to visit the US soon, and Telizhenko was setting up to attend the Republican National Convention in Florida before it was canceled.
The four Ukrainians working to launder this information through Senators Johnson and Grassley are not in very good standing back in Ukraine and their information has been widely debunked and discredited.
And, so far, the recordings have done nothing to substantiate, let alone advance, the accusations from Trump, Giuliani, and Republicans of Biden corruption in Ukraine.

The four Ukrainian operatives certainly are not held in high repute in their home country.

"They can't be trusted, as they are pursuing their own agenda and using all sorts of lies and manipulations for that," Daria Kaleniuk, executive director of Ukraine's Anti-Corruption Action Center, told BuzzFeed News about the Ukrainians.

Volodymyr Yermolenko, chief editor of the news site Ukraine World and director for analysis at Internews Ukraine, a media-focused nongovernmental organization, described the four men as "dubious personalities" and "certainly not idealists trying to unmask corruption."
Senators Johnson and Grassley are, of course, undaunted and are both pushing ahead with their efforts and pushing back on the criticism they are receiving.
The letter also confirms our reporting on the packets of information about Biden that were sent to the senators by Andrii Derkach (though Johnson/Grassley continue to deny receiving it).

This was also mentioned in the classified addendum.

Original story:https://t.co/x0AGdWHTzx

— Andrew Desiderio (@AndrewDesiderio) August 5, 2020
Two top Republican senators on Wednesday denied they are pushing Russian disinformation, responding directly to charges from Democratic congressional leaders who have demanded additional public disclosures about the Kremlin's interference in the 2020 presidential election.

Sens. Ron Johnson of Wisconsin and Chuck Grassley of Iowa, who are spearheading investigations targeting presumptive Democratic presidential nominee Joe Biden and his son Hunter, maintained they have "neither sought out, relied upon, nor publicly released anything that could even remotely be considered disinformation."

"It is certainly our goal to eradicate foreign influence from our elections," Johnson and Grassley wrote in a letter responding to the Democrats. "But your use of this issue to knowingly and recklessly promote false narratives for political purposes is completely contrary to that goal."

Their letter was addressed to Senate Minority Leader Chuck Schumer (D-N.Y.), Speaker Nancy Pelosi (D-Calif.), Senate Intelligence Vice Chair Mark Warner (D-Va.), and House Intelligence Chair Adam Schiff (D-Calif.).

Last month, the group demanded a briefing for all members of Congress focused on foreign interference in the 2020 election, based on their assertions that lawmakers are being targeted by those meddling efforts. They also have urged the Trump administration to publicly reveal additional information about the nature of the foreign-influence campaign. Intelligence officials told House lawmakers last week that the Russians are seeking to boost President Donald Trump in the 2020 campaign.

The public version of the letter was vague about those threats, but POLITICO reported that the classified addendum to the letter specifically names Johnson's investigation as vehicle for "laundering" a foreign influence campaign aimed at denigrating Biden.

POLITICO also reported that the addendum states that a Ukrainian lawmaker linked to the Kremlin, Andrii Derkach, sent information about Biden to Johnson, Grassley and other Trump allies who have pushed similar corruption claims against the Bidens. The senators have denied receiving such informational packets from Derkach, who has long attempted to tar Biden.

Johnson and Grassley confirmed in the letter that the addendum does, in fact, mention the Biden investigation and the Derkach packets. They also said they did not receive access to the classified addendum until "late last week."

"Your misplaced motives aside, the substance of your letter and addendum also grossly mischaracterizes our investigation in an effort to shoehorn it into the false 'Russian disinformation' narrative you have promoted for years," Johnson and Grassley wrote, accusing Democrats of weaponizing Russian interference to advance their political goals.
Note what Senators Johnson and Grassley have done in their letter. Despite the Senate Select Committee on Intelligence's extensively documented multi-part report on Russian interference in the 2016 presidential election on behalf of the President, Senators Johnson and Grassley call this a "the false 'Russian disinformation' narrative". They also deny that they are using Russian disinformation, despite having previously stated that they were in receipt of that information:
Spokespersons for Johnson and Senate Finance Committee Chair Chuck Grassley, who is aiding Johnson in the Biden probe, defended their inquiry and use of information from Telizhenko and other Ukrainians.

In a written response to questions, the senators told BuzzFeed News: "As with any inquiry, you get answers by asking questions. Those who restrict themselves from reviewing matters associated with 'people of ill repute' won't have much luck uncovering wrongdoing or improving accountability."
We know that these accusations against Vice President Biden and his son Hunter Biden are part of a Russian disinformation campaign that began in April 2014 and was intended to dirty up three potential candidates for president in 2016, VP Biden, Secretary Kerry, and VP Cheney, by insinuating that they were facilitating and benefiting from unethical behavior engaged in by their children.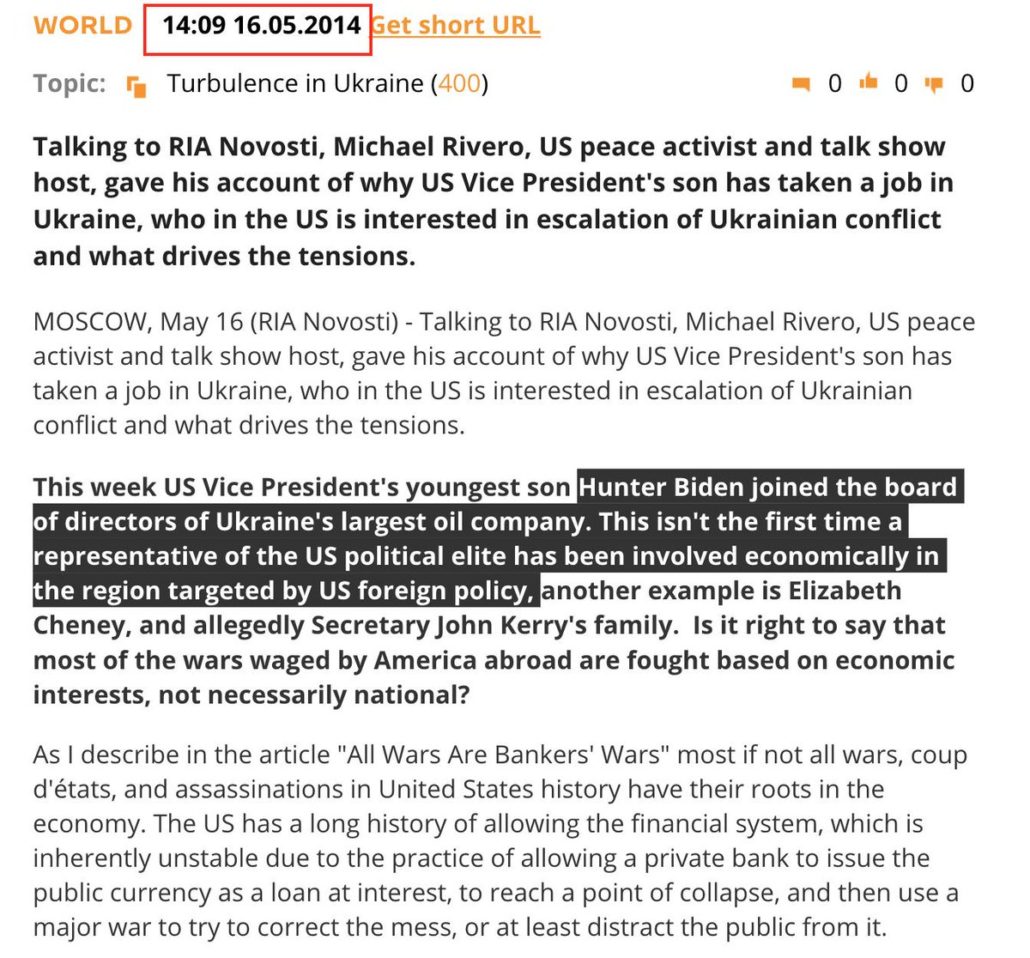 Senators Graham, Grassley, and Johnson are all twisting the Senate's oversight function in order to launder this six year old Russian disinformation through the Senate and through the news media to damage Vice President Biden and harm his electoral chances in November and to dirty up a number of his most senior aides and advisors to harm their chances for Senate confirmation should Biden win and nominate them for senior positions in his administration. They are aided and abetted in this by conservative news, digital news, and social media. Nathan J. Robinson, who I do not agree with on almost anything, has made a very good point about the asymmetric reality of America's information, especially its news, dissemination system (emphasis mine):
It costs money to produce good writing, to run a website, to license photographs. A lot of money, if you want quality. Asking people for a fee to access content is therefore very reasonable. You don't expect to get a print subscription  to the newspaper gratis, why would a website be different? I try not to grumble about having to pay for online content, because I run a magazine and I know how difficult it is to pay writers what they deserve.

But let us also notice something: the New York Times, the New Yorker, the Washington Post, the New Republic, New York, Harper's, the New York Review of Books, the Financial Times, and the London Times all have paywalls. Breitbart, Fox News, the Daily Wire, the Federalist, the Washington Examiner, InfoWars: free! You want "Portland Protesters Burn Bibles, American Flags In The Streets," "The Moral Case Against Mask Mandates And Other COVID Restrictions," or an article suggesting the National Institutes of Health has admitted 5G phones cause coronavirus—they're yours. You want the detailed Times reports on neo-Nazis infiltrating German institutions, the reasons contact tracing is failing in U.S. states, or the Trump administration's undercutting of the USPS's effectiveness—well, if you've clicked around the website a bit you'll run straight into the paywall. This doesn't mean the paywall shouldn't be there. But it does mean that it costs time and money to access a lot of true and important information, while a lot of bullshit is completely free. 
What Senators Graham, Johnson, and Grassley are doing is not intended to produce new legislation to prevent foreign interference in US elections, to require campaigns to immediately notify the FBI if members of the campaign are approached by foreign actors or agents of foreign powers, or protect the integrity of the 2020 elections – presidential, congressional, state, and local. Rather what they are doing is intended to produce disinformation and agitprop that will be laundered through conservative news media, conservative digital news media, and conservative social media to damage Vice President Biden, his campaign, and his senior aides and advisors. The laundering of this information through these sources is intended to force the mainstream news media to cover it as news that has to be reported and then fact checked, which will then push it into mainstream digital news and social media, furthering the reach of the disinformation and agitprop. Especially as most, if not all of these mainstream news sites are paywalled, which restricts the ability to access the fact checking and the debunking. Thanks to the efforts of Senators Graham, Johnson, and Grassley, the Senate is the laundry used to wash this disinformation and agitprop, disinformation and agitprop that is documented as originating in Russian state backed news media in 2014 and that has been thoroughly debunked.
If we stipulate that Senators Graham, Grassley, and Johnson are not Russian assets or under Russian influence, the question is what would they be doing differently if they were? And the answer is nothing!
Open thread!