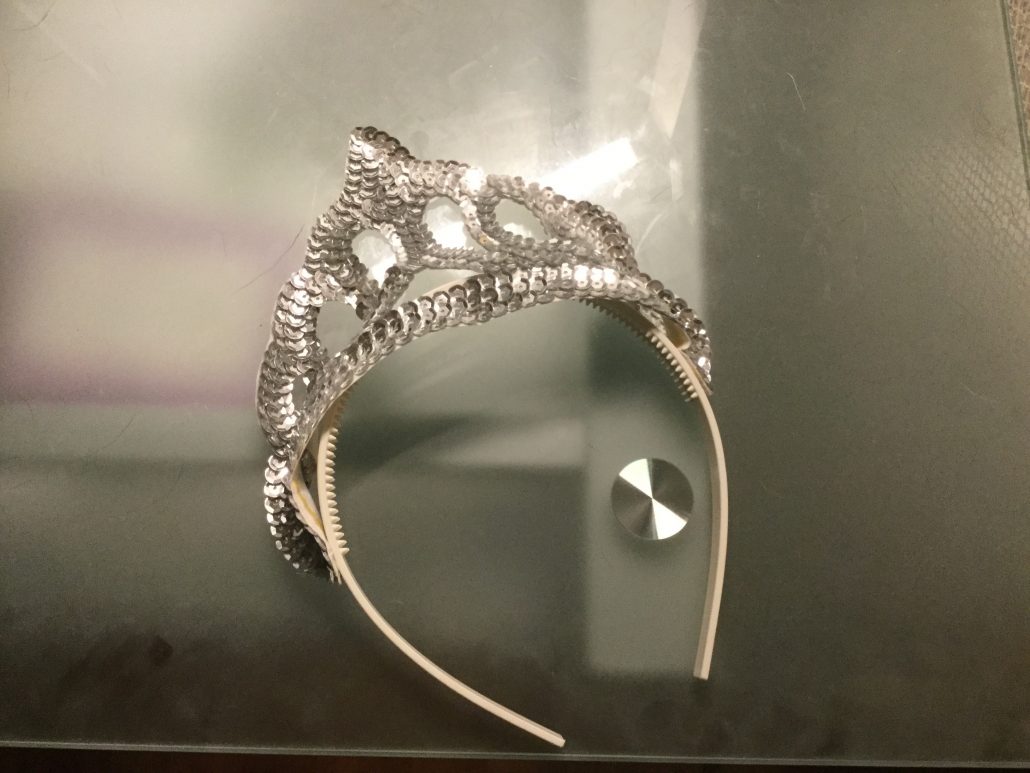 Tamara has asked that I fill in for her this evening, and I did myself no favors by texting her all afternoon about all the food I was preparing today. I have no one to blame but myself. So I have broken out the emergency tiara and let's get to work!
I did several different food/recipe preparations today. The first was making condensed milk so I can make a simple, two ingredient ice cream base tomorrow. Since I really can't process a lot of refined sugar or refined/processed carbohydrates, I substituted monk fruit crystals* for the sugar. It is in the fridge now, but since I'm not sure this is going to set up and I am likely to have to put it back on heat tomorrow to actually reduce enough liquid so that I have condensed milk and not sweetened milk, we'll leave that one for another day. I'm pretty sure there was a problem in the way the recipe I used was written up. I really don't understand how you can start out on low and then, once the sugar dissolves into the milk, turn the heat down to a medium-low simmer. I watched the video and it wasn't much help either. More on this project at a later date.
The second thing I did was bake a batch of the Palmer House brownies. I've posted about these here before,  including the recipe, but since I'm making these for me and I'm not interested in having both the cake flour and the sugar make me sick, I made a few tweaks. The first is that I substituted 8 ounces of almond flour for the 8 ounces of cake flour. The second is that I substituted 1 lbs of monk fruit crystals for the sugar in the recipe. I also used Guittard dark chocolate chips, which don't have a lot of sugar in them, so overall there isn't a lot of refined sugar in these brownies. They're not low calorie; they still get a pound of butter and 1 pound 2 ounces of dark chocolate, but without the cake flour and the refined sugar I can eat them without getting sick. I've made them this way three times now since I've gone into lockdown. So if you want to give this a try, with the substitutions I've used, just one important thing to note: until you add the eggs into the brownie batter, the melted chocolate-butter combination will not combine smoothly with the almond flour. Basically it starts okay, but after a minute or two it starts to look very grainy and the almond flour releases the butter. The batter quickly returns to normal once you add the eggs.
The recipe for tonight, however, is chicken-cheese enchiladas.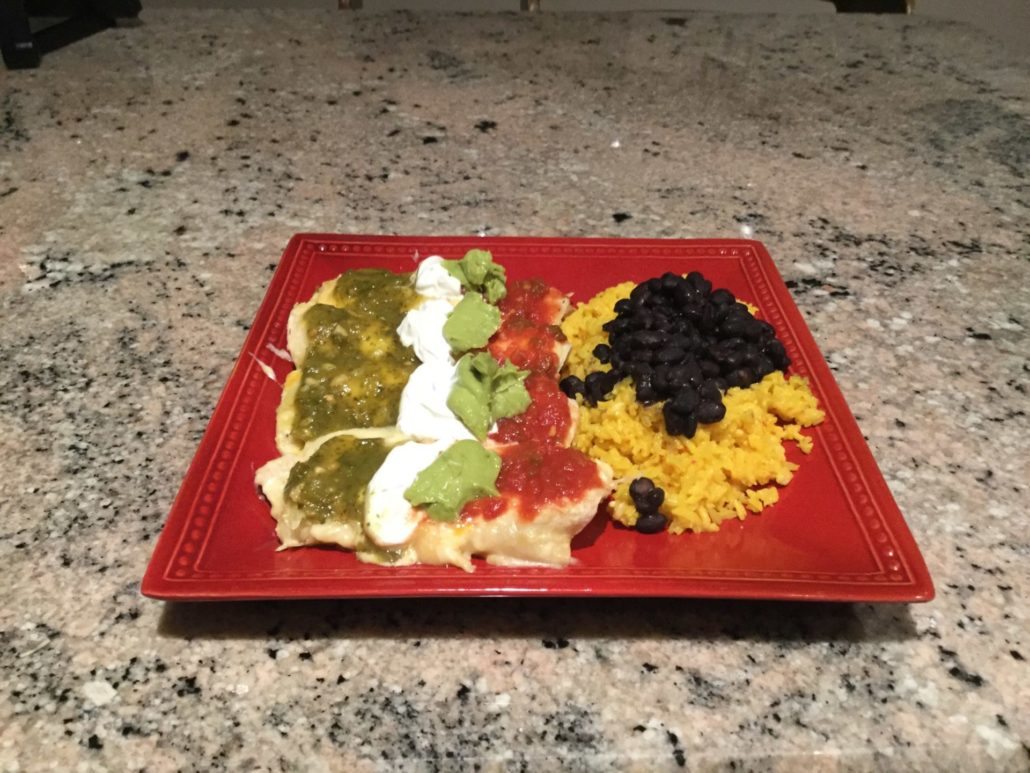 Ingredients:
Chicken:
2 boneless chicken breasts and 4 boneless chicken thighs or any combination of chicken you like. This was enough for 18 enchiladas. You could substitute beef or pork or even shrimp for the chicken if you prefer.
1/2 cup of salsa verde for the marinade
Place the chicken in a large bowl, pour the salsa verde over it, mix the salsa verde around to make sure the chicken is covered, and marinate for at least five hours.
Set your burner to just below medium-high. In a large skillet or saute pan, heat up just enough olive oil to coat the bottom of the pan. Once the oil is hot add the chicken and cook until the chicken is cooked all the way through and each side is turning golden brown. Remove the chicken from the heat, chop or shred, and set aside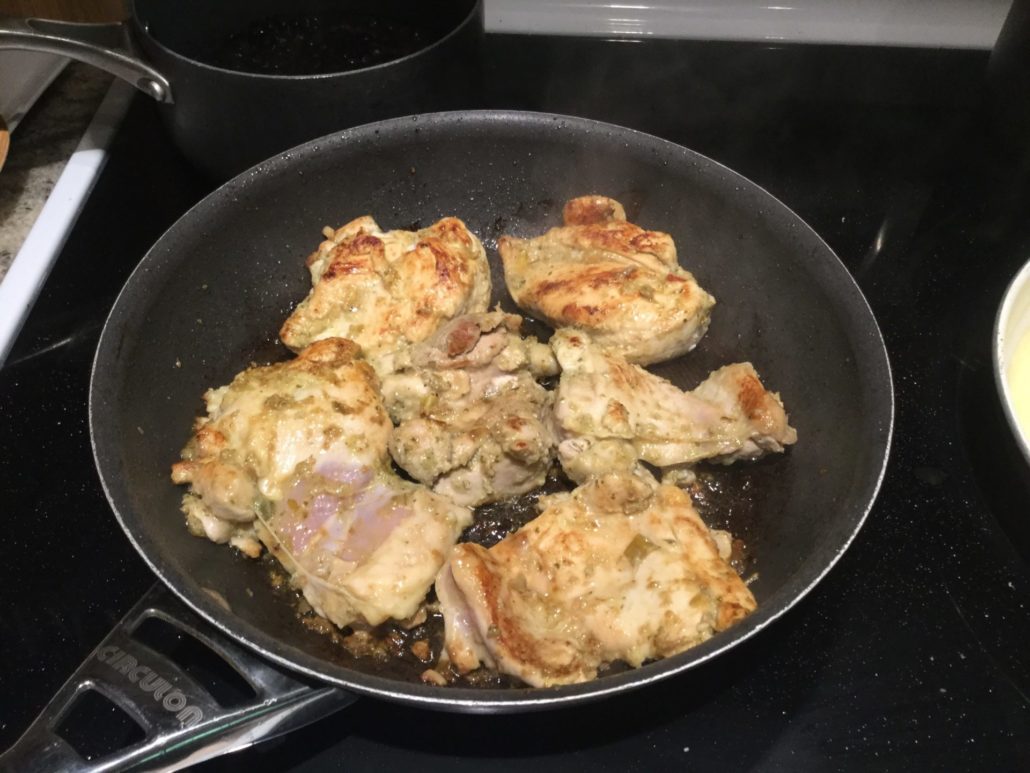 Preheat oven to 350 degrees
Quick queso blanco:
Ingredients:
1/2 cup of heavy cream
4 to 6 ounces of shredded cheese – I used the four cheese Mexican blend because I had it on hand and it meant I didn't have to sacrifice a knuckle to the box grater!
Heat the cream in a saute pan over medium heat. As the cream begins to get warm add the cheese, then thoroughly combine as it melts. Add salt and pepper to taste. Turn the heat down to as low as possible.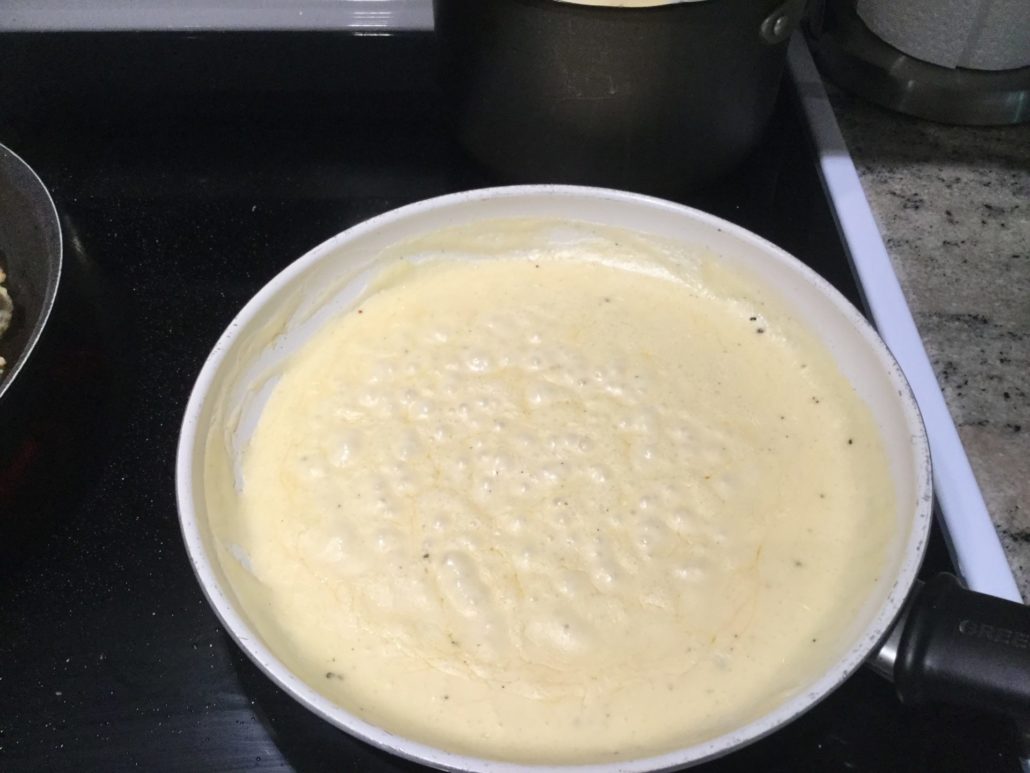 Enchiladas:
Ingredients:
18 corn tortillas
Grated or shredded cheese – I used the Four Cheese Mexican blend because it meant I didn't have to do any extra work
Chopped chicken
Enchiladas Assemble!!!!!
To assemble the enchiladas, take a corn tortillas sprinkle some shredded cheese into the center in a strip running from side to side, cover that with the chopped or shredded chicken, roll the tortilla around the chicken and cheese, and place in the bottom of a greased/kitchen sprayed baking dish. Repeat until you've got all the enchiladas rolled and sitting in the dish. Cover with the queso blanco and then more shredded cheese. Place in the oven at 350 degrees until the shredded cheese melts and is just on the edge of browning.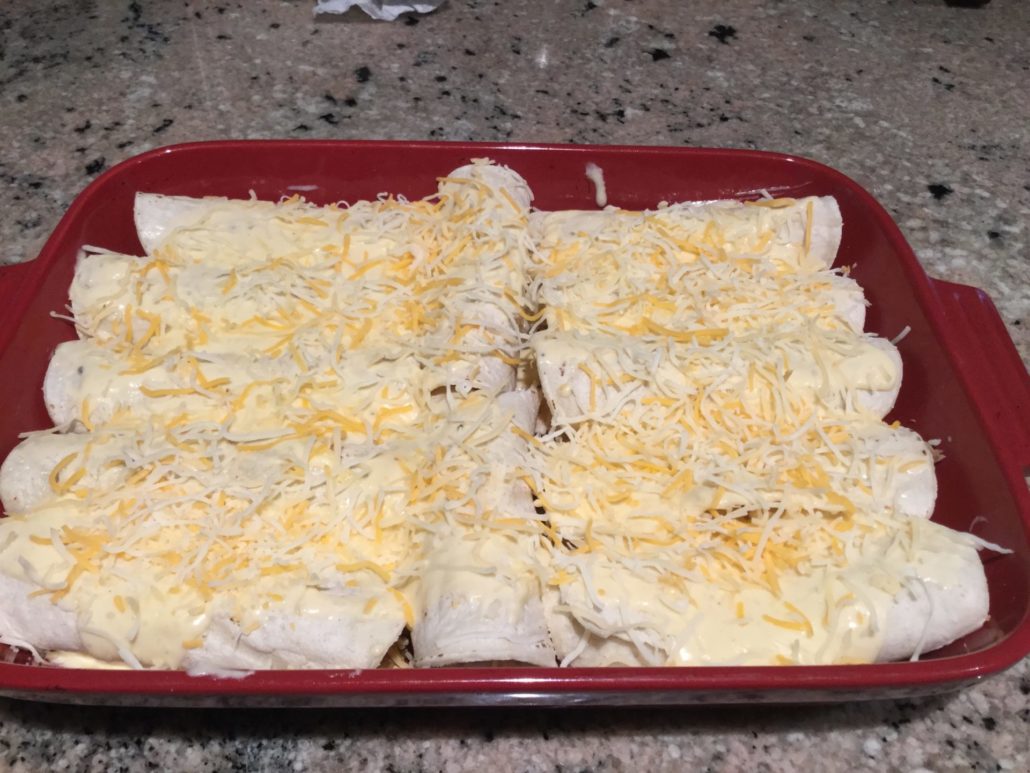 Sides:
I went very easy here. I bought a can of black beans – NOT GOYA – and a package of Vigo low sodium yellow rice. I made the beans and rice while I was assembling and baking the enchiladas. If you're really particular and want to use dry beans and make your yellow rice from scratch, that's great. Feel free to tell me in the comments, because you're going to do it anyway, why I'm a horrible human being who has destroyed your heritage by not making these from scratch.
Plating:
On your plate, put a serving of the yellow rice and then top with as much or as little of the black beans as you like. This can then be topped with chopped onion if you like or not if you don't. Then place as many enchiladas as you think you're going to eat on the rest of the plate. I did these New Mexico Christmas style. Cover one third of each enchilada with salsa verde, leave a 1/3 gap in the middle, and then cover the remaining third with salsa rojo. In that center third place a spoonful of sour cream with a spoonful of guacamole. Then serve and eat.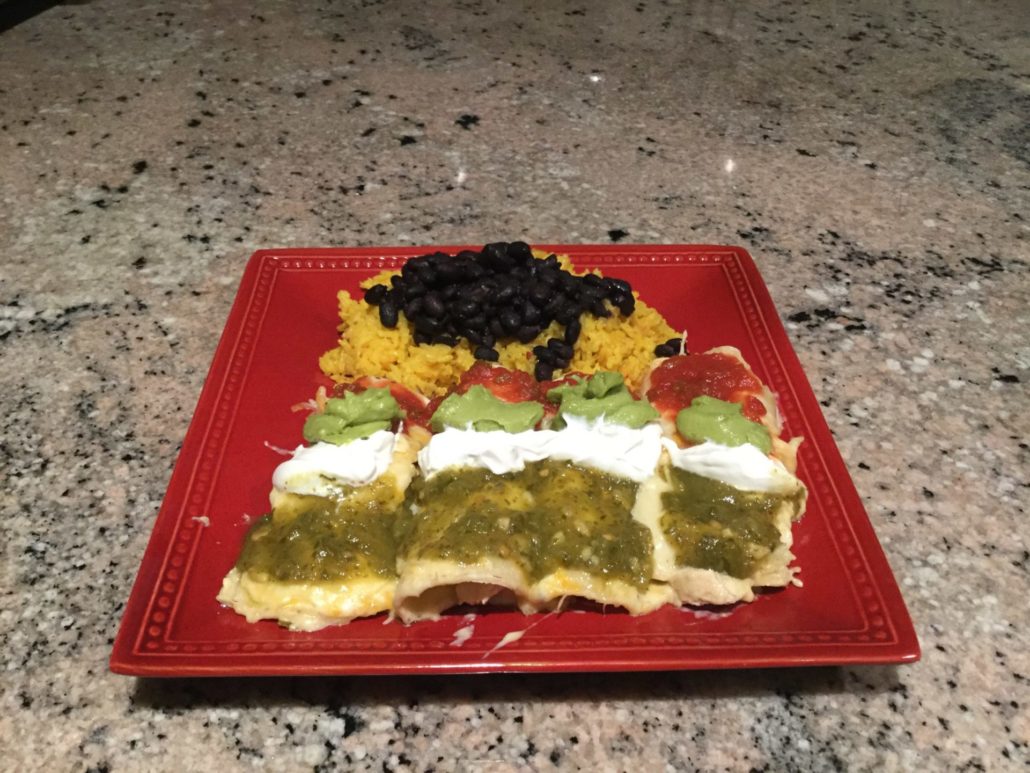 If you prefer all salsa verde or salsa rojo or no sour cream or only sour cream or no guacamole or only guacamole, serve it however is appetizing to you.
Bon appétit!
Open thread!
* I use a monk fruit crystal that do not have sugar alcohols added to them. You could also use agave crystals, honey, maple syrup, or pretty much any other sweetener that will caramelize.