The University of North Carolina (UNC) wanted to have Fall 2020 look mostly like a normal fall semester with students on campus, kids in classes and the football team playing.  Sure, there might be a few modifications as everyone would be encouraged to wear masks, and parties would be strongly discouraged, but things would look 85% normal-ish.
Undergraduates moved in about 10 days ago. Dorms were open and at nearly regular capacity. Everyone was finger-wagged on good behavior. There was no entry testing to establish a baseline of community infectivity nor isolate random individuals who were infected and potentially infectious before they could come in close contact with other, susceptible people.
Classes started last Monday. Everyone was asked to report symptoms (although by the time symptoms are differentiable from a hangover, there have been several days of plausible infectivity). Everyone was asked to be socially distanced and there were some huge parties and also the normal day to day interactions of campus and dorm life.
Reality hit on Monday: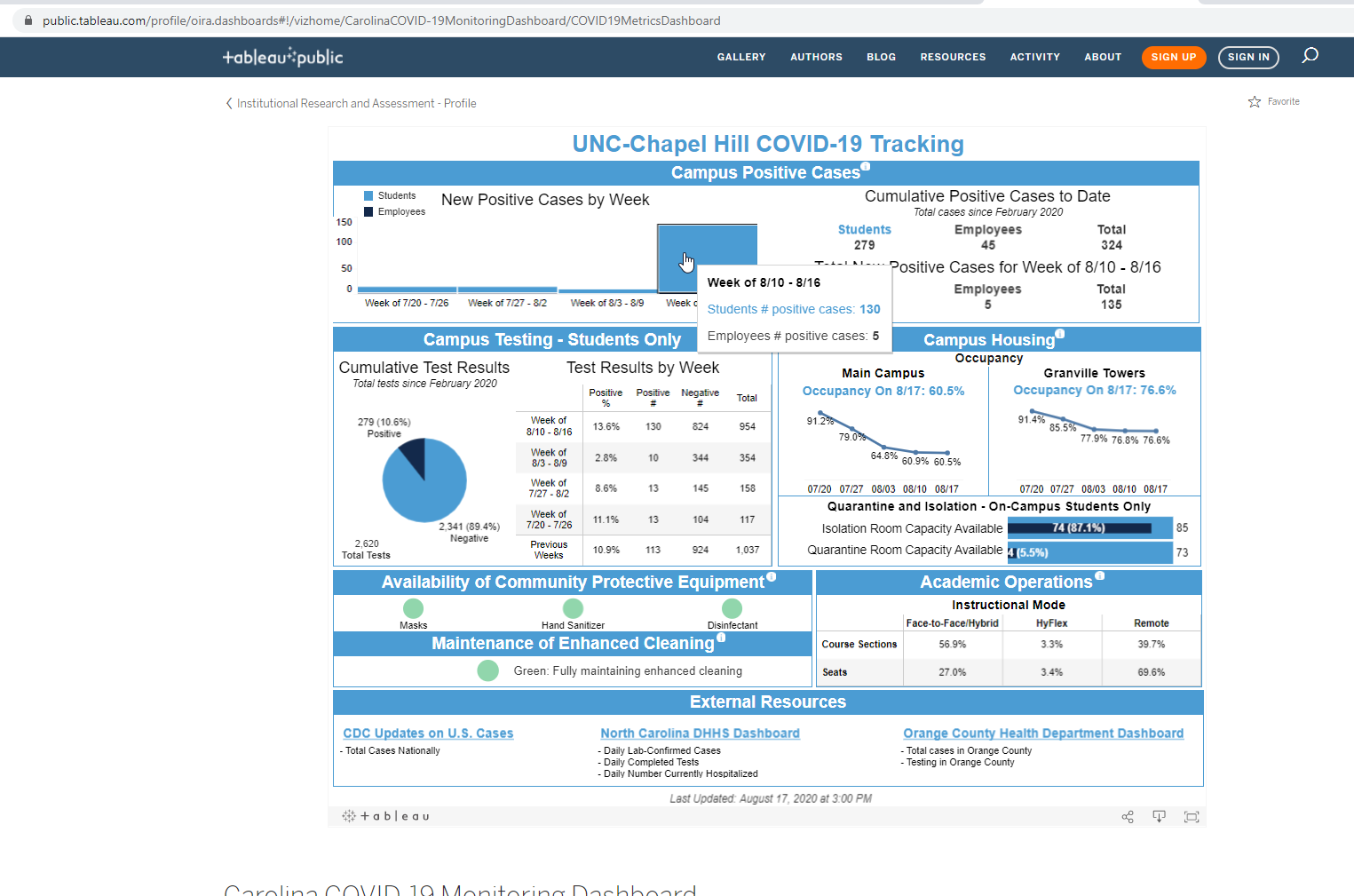 Case count in the UNC community went from 11 for the week August 3-10, to 135 for the current week. Four major residential facility clusters had been announced since last Friday. The case count is likely to be low as this dashboard only reports individuals tested in the UNC health system. Individuals who got tested off-campus are not included. There are also likely to be many individuals who are currently non-symptomatic but either in the early part of their infectious period or entering their infectious period who have either not been tested, or are waiting for test results to be returned.
BREAKING: One week into the semester, UNC-Chapel Hill announces that it is transitioning all undergraduate classes to fully online instruction, effective Wednesday.

Story to come. Check this thread soon.

— The Daily Tar Heel (@dailytarheel) August 17, 2020

Last night, UNC decided to stop getting beat by a clue by four.
As long as we have broad, unconstrained community spread, we don't get to go back to 85% of normal.
My big worry right now is are we creating a dispersed, super spreading event. I am assuming that there are a large number of individuals currently on UNC's campus that are undiagnosed but infected. If they were infected over the weekend or late last week when the clusters were first being identified, they are entering peak infectious period just as many may be  leaving Chapel Hill to return home.
There are few good options to manage this self-inflicted gunshot wound to the foot. Locking down all on-campus residential facilities for several days in order to do community wide screening testing is a possibility.  That might allow for the safe return of dorm residents who have negative results while the university could isolate and quarantine any potentially positive individual for the serial period. However, it does nothing about the off-campus residents and the community spread risk that they pose.  Some may stay, some may go.  I think if Orange County and Chapel Hill go back to late March regulations, local spread may be contained, but again, state and national spread is likely as people disperse from campuses.
UNC is getting hit by a clue by four early.  However it is not the only university that is convinced that it could resume operations at 85% of normal. Duke has students on campus.  Duke has a far more aggressive testing plan but higher density residential situations for more students who live off-campus.  Notre Dame is seeing high positivity rates of 11.5% of diagnostic (not general re-entry screening) testing since August 3.  Positivity rates above 5% is a very strong indicator that a population is not testing anywhere near enough and targeted measures such as tracing and isolating potentially infected individuals are logistically challenging if not impossible.
UNC is the first major university to try to resume business as mostly normal and failing miserably.  It will not be the last.