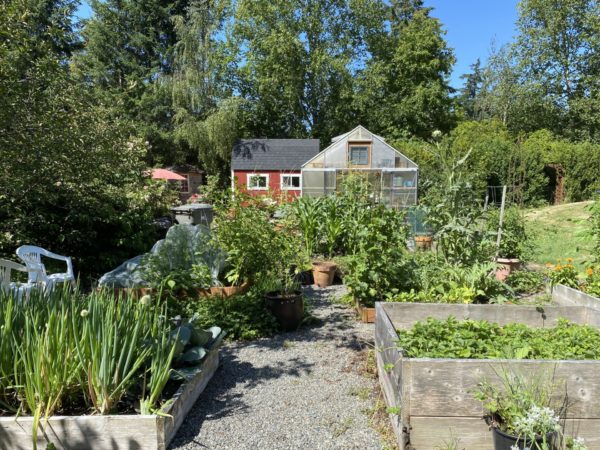 From master gardener & Garden Chat longtermer (I've got photos from her going back to at least 2014) OpieJeanne:
I have been remiss all spring and summer, partly because there wasn't much to show for while because we had such a cold, rainy spring and early summer. And then I kept putting it off, and other people had such nice gardens they were showing off.

Tomato bed

.
I have to say, our garden is much better because we couldn't go anywhere this year, so we really concentrated on gardening, tracking down seeds, starting seeds, and checking the garden diary for comments in past years about which varieties did well, or otherwise.

Red cabbage
.

My niece's husband laughed when he heard that I keep a garden diary that I started in 2010, because I couldn't remember where I planted what, and because in 2010 we were essentially starting from scratch, not sure what variety of tomato would produce well in this new-to-us climate, which carrot, which short season corn. We knew that gardening would be a bit different after moving here from Southern California, but have been pleasantly surprised that we can still grow artichokes and keep the plant alive for several years.

Two artichokes

.
We don't know the gender of this bunny so we named it Pat, The Bunny. Pat has been around us since it was a tiny bunny, so much that we practically trip over it sometimes. It will run away from us if we get too close, so we try to walk a path that doesn't disturb it. It seems to prefer eating grass, weeds and clover, and the only time I've seen it in the garden it was tasting potato leaves and choosing to eat the bindweed (wild morning glory) instead.

Pat, the Bunny
.

We've made dill pickles twice from our two small cucumber plants when we were overwhelmed by cukes. The first batch was a batch of Kosher dills canned in a waterbath, the other batch is being brined in a gallon crock on my kitchen counter.


Pickles
.

To be continued…
***********
What's going on in your garden(s), this week?