Somehow,  I made an extremely spicy Green Chile. The peppers were marked as hot, so I should have suspected because normally they just assume you know green chiles are on the hot side. These were on the super-hot side.
A jackal sent me this recipe when I was asking for recommendations (and I only have her real name, so I'll leave off the identification, if she's around tonight, she can wave). It's simple and turned out great. The only substitution I made was beef for pork. I'm not a big pork fan. Bacon, sausage and pepperoni are about it.
I used a boneless blade steak, which worked perfectly. I kinda wished I would have popped it on the grill when I roasted the chiles.
Green Chile
2 lbs cubed pork shoulder
1 tbsp minced garlic
1/4 tsp pepper
3 tbsp flour
2 cups diced fresh tomatoes (or canned)
1 can chicken broth
1 cup water
2 1/2 cups diced, roasted green chiles, skinned (seeded if desired)*
2 cups diced onion (I used 1 cup, 2 seemed overwhelming)
salt and pepper to taste
Brown the pork, add garlic and cook for 1 minute. Add flour, stir and cook for 2 more minutes. Add all remaining ingredients and mix together well.
Slowcooker times: Cook for 2-3 hours on low
Instant Pot/Multipot times: Cook on meat setting (or high) for 1 hour, depressurize. Meat should shred easily, if not seal and cook another 15 minutes.
*If you want to roast your own chiles, instructions are here.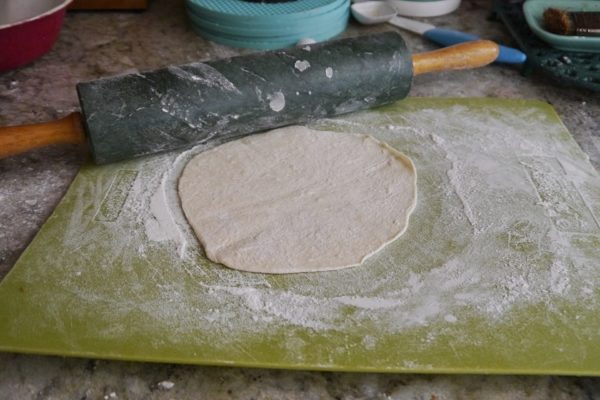 There are lots of ways to use Green Chile, but I like to just dish some up and eat it with fresh tortillas. Recipe for making your own tortillas is here.
It's been a busy day here, what with the Chameleon rescue and all, so I'll check back in if I haven't fallen asleep.
OT: a friend of mine, who is Japanese, just turned me onto this Netflix show Duty/Shame. It's a British-Japanese hybrid from the BBC and the visuals (as well as the leads) are stunning. Story is pretty good, too.
What's on your menu tonight?