Is there such a thing as a Sunday night news dump?
'Cause this sure is interesting:
Kellyanne Conway, a senior adviser to President Trump and one of his longest-serving aides, is leaving the White House at the end of the month.
This isn't what I've been expecting–a move from the White House to the campaign, which clearly needs the boost she helped provide in 2016. Instead, Conway is choosing late Sunday night just before the RNC to tell Trump that, as Ashley Parker of The Washington Post reports,
Conway called her time in the Trump administration "heady" and "humbling," and said she and George were making the decision based on what they think is best for their four children.
Yes, fellow jackals…Conway has decided that this is the precise moment at which she needs to spend more time with her family, and her ever-fascinating marriage.
ETA: I should add this before going on with your regularly scheduled cynicism. There's no doubt that the lives both Kellyanne and George Conway are leading are incompatible with anything remotely like a comfort-conveying family life, and there are indeed real kids in the mix, who are not parties of the first part in the madness and misery in which their mother is so deeply implicated. So whatever the other reasons that, have no doubt, are in play here, stress at home is real, and there's no pleasure I can take in the suffering of a child.
Now, back to the red meat of the story. This is a world in which Adam S. moves much more comfortably than I, but there's no reading of this news I can come up with that doesn't point to a pretty straight-forward implication at the level of power politics.
This would be that Kellyanne's sponsors/capos, the Mercers, have come to the conclusion that their investment in Trump has reached the point of diminishing returns, and are redeploying their assets accordingly.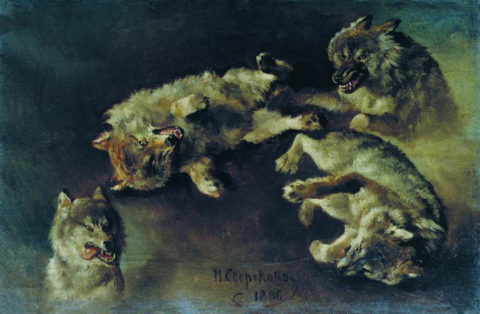 Further: I think Conway terrifies Trump. He'd be happy to see her gone…except for what that absence implies. He may retain just enough feral cunning to recognize that the wolves are getting clsoer, the sled is skating on through the night, and he's ever more alone, freezing his ample keister on the ice.
As always, such political meandering is worth precisely what you paid for it. Open thread.
ETA*2: See Adam's comment below for a different and likely much better take: not the Mercer's but some combination of true family urgency and/or emergency legal maneuvers.
Image: Nikolai Sverchov, 
Wolves,
  1899.