Via CSPAN's Jeremy Art on Twitter, this comparison snapshot of the roll call of states at the Dem (left) and Rep (right) conventions speaks a thousand words: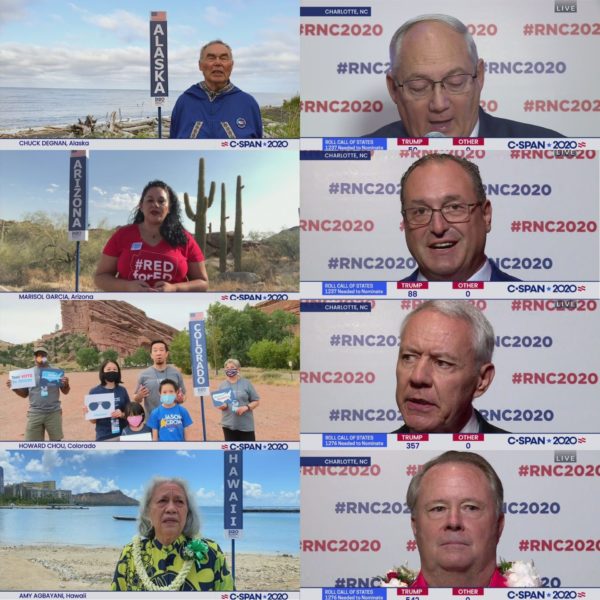 Speaker Pelosi has a favorite saying: "Our diversity is our strength, and our unity is our power." I like that. But you can't say the Republicans aren't diverse. Sure, it's four older white men in that picture, but only half wear glasses. And while three have dark suits with white shirts, the Hawaii delegate appears to be wearing an aloha shirt.
I'm not watching the convention, but from clips I've seen on Twitter, it's clear that whichever one of y'all said it would be like CPAC on steroids was dead right. One speaker said, "Joe Biden is hiding in the dark, waiting to take the lives of our unborn babies." Seriously — that's a direct quote. Video here. (I personally think "Joe Biden, Baby Assassin" will be a tough sell…)
Someone on Twitter noted that Trump's speech today went on twice as long as Biden's acceptance speech last week (and Trump's was still going on when that report was filed). It's all grievances (they spied on meeee!) and self-aggrandizement (I've done more for The Blacks than anyone!).
In other news, kick-ass Attorney General of New York Letitia James is investigating charges that Trump inflated his wealth on lender documents, which I'm told is a big fat no-no. Details at The Post. An excerpt:
In the filing, signed by a deputy to Attorney General Letitia James, the attorney general's office said it is investigating Trump's use of "Statements of Financial Condition" — documents Trump sent to lenders, summarizing his assets and debts.

The filing asks a New York state judge to compel the Trump Organization to provide information it has been withholding from investigators — including a subpoena seeking an interview with the president's son Eric.

The attorney general's office said it began investigating after Trump's former lawyer and "fixer," Michael Cohen, told Congress in February 2019 that Trump had used these statements to inflate his net worth to lenders.
That's going to leave a mark. And so much for an "upbeat" convention.
Open thread!