Not quite two weeks ago, I put up a post called What We Can Do: 85 Days, 85 Things and asked you to help come up with a list of 85 things we can do for the 85 days that were left.
Thanks to all of you, we now have a list of 81 things on that list, and 72 days left to do everything we can to save our democracy.
You can find the full list under Featuring in the sidebar.
By the way, is anyone even looking at that list for ideas?  There's no point in my adding to the list if no one is looking at it.  :-)
Today we are featuring the action group Election Protection.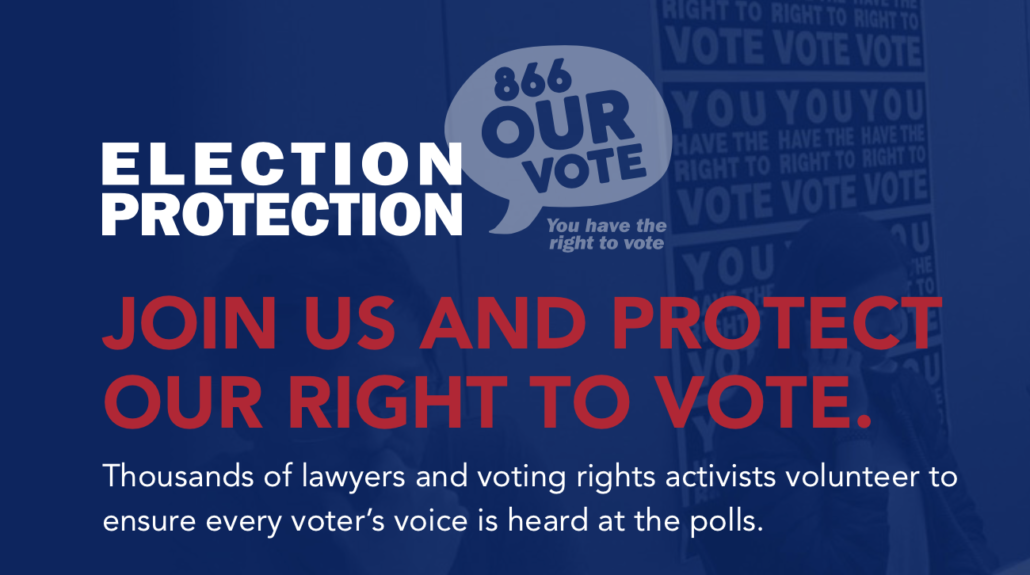 Election Protection (information supplied by Winston)
Watergirl asked me to write up a blurb about this information, so without further ado:
I was reading the comments in this WAPO article:
Trump's suggestion of deploying law enforcement officials to monitor polls raises specter of voting intimidation  
and felt compelled to post my own comment to the effect that democrats ought to raise their own army to monitor Trump's army. I immediately was replied to that we already had such an organization and it was called ELECTION PROTECTION. Tens of thousands of volunteers. So I checked it out and signed up. 
Per their web page:
The national, nonpartisan Election Protection coalition was formed to ensure that all voters have an equal opportunity to participate in the political process. Made up of more than 100 local, state and national partners, Election Protection works year-round to advance and defend the right to vote.
Election Protection provides Americans from coast to coast with comprehensive voting information on how they can make sure their vote is counted through a number of resources including:
1) a suite of voter helplines: 866-OUR-VOTE (administered by the Lawyers' Committee for Civil Rights Under Law), 888-VE-Y-VOTA (administered by the NALEO Educational Fund), 888-API-VOTE (administered by APIAVote & Asian Americans Advancing Justice-AAJC), and 844-YALLA-US (844-925-52872) Arabic language hotline (administered by Arab American Institute);
2) voter protection field programs across the country; and 3) digital tools including 866ourvote.org, @866ourVote, and facebook.com/866OurVote
ELECTION PROTECTION VOLUNTEERS
Volunteer Opportunities with Election Protection – Educate. Empower. Protect.
Election Protection – led by the Lawyers' Committee for Civil Rights Under Law – is the nation's largest non-partisan voter protection coalition. Through the 866-OUR-VOTE hotline and our voter assistance field program, Election Protection helps ensure eligible voters are able to participate in our democracy while collecting data for meaningful reform so that our elections are free, fair, and accessible.
We are currently recruiting volunteers in a number of states across the country to help voters in 2020. Please note that we recruit volunteers in the states where they live and cannot support deployment to other states.
Please email [email protected] if you have any questions.