On the Road is a weekday feature spotlighting reader photo submissions.
From the exotic to the familiar, whether you're traveling or in your own backyard, we would love to see the world through your eyes.
I actually teared up looking at some of these photos.  This would be the part of Paris that would be hard for me to leave, the street scenes and the delightfully charming neighborhoods.  For some reason, looking at these I am reminded of Boston, which is near and dear to my heart.  ~WaterGirl
Steve from Mendocino
I was married for 15 years to a French Basque woman. She was a school teacher, and she'd visit family for a month or two every summer. I made a point of negotiating a leave of absence of a month as a precondition of my accepting any job, and I would join her during that period, mostly in the Basque country but also in Paris as well as a bit of travel.
For the purpose of Paris week, I've decided to concentrate mostly on the look and feel of the city as opposed to portraits of monuments, which I suspect will be amply represented in other posts.
Dates are split between the early 70's, and a 6-week trip I took with my daughter right after her 13th birthday (as a bribe to compensate her for one final year of home schooling before dropping into 9th grade public school).
My travel photos are mostly catch as catch can, shot on Kodachrome, which I don't like, scanned badly and then rendered as impressionistic sketches that provide me with a window on my memories.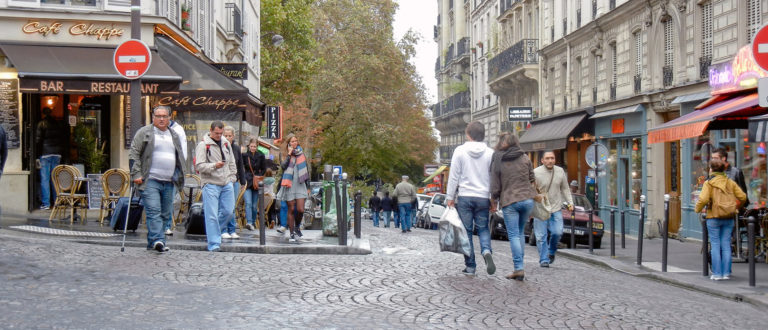 Comptche
I'm starting with this picture taken at the base of Montmartre because it so effectively illustrates the urgency and vitality of the city along with the shops and greenery that are so much a part of the Paris experience.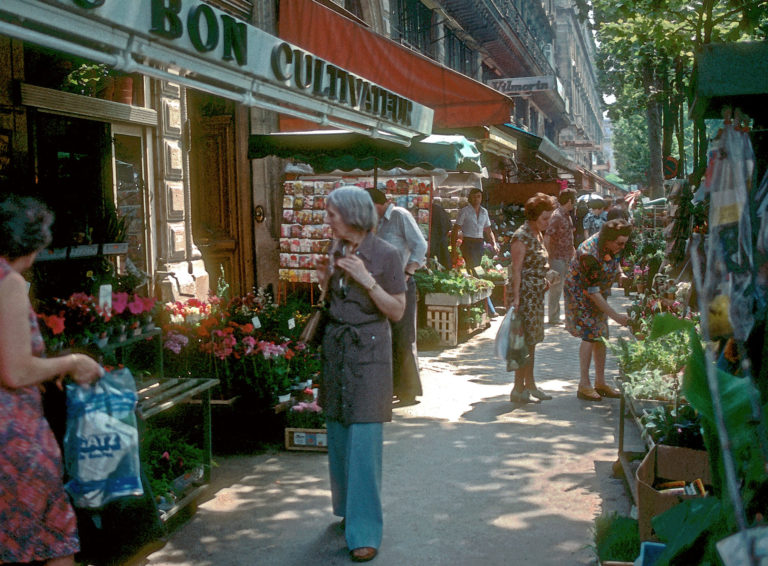 Most Americans experience their shopping in either stand-alone stores or in malls. Paris shops are mostly tucked into these little shops with apartments above them. Here we see a typical Parisian version of a nursery.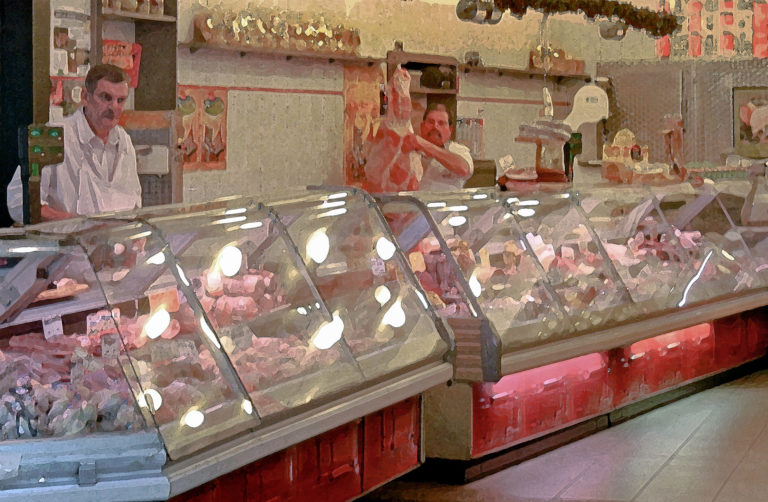 Here we have a butcher shop, different cuts of meat carefully tied with string and beautifully arranged in the case. The butcher in the rear is breaking down a leg of veal.
Outdoor seating at a typical bistro. This was a long block from the apartment I rented from my ex-wife for the 6 weeks I spent with my daughter, and we had petit dejeuner there every morning.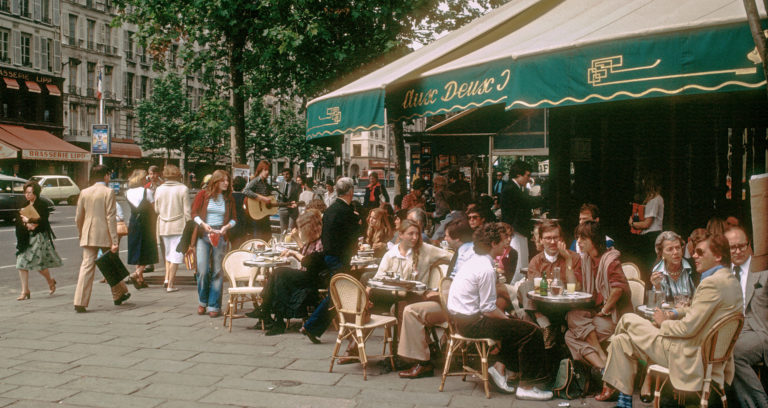 1970's erra shot of Au Deux Magots. Fun to see all those bell bottoms on the business suits.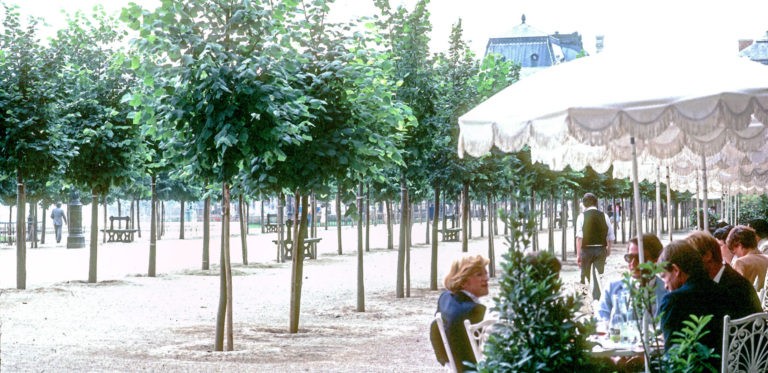 Al fresco lunch in the gardens of the Palais Royal.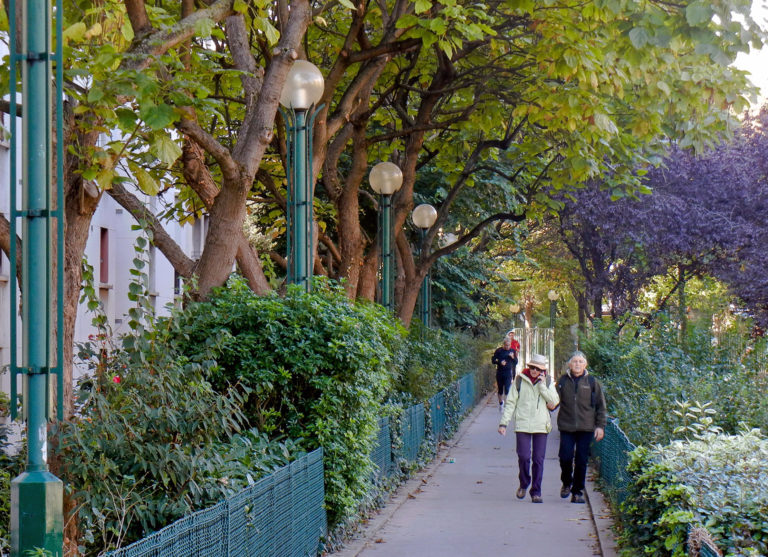 The coulee verte didn't exist back in the days of my annual vacations in France. The Vincennes railroad line was shut down and converted into a greenway where people can stroll or (shudder) jog. It's really lovely and relaxing and runs above a swath of the city full of salons de the, restaurants, and other escapes from the rigors of "exercise".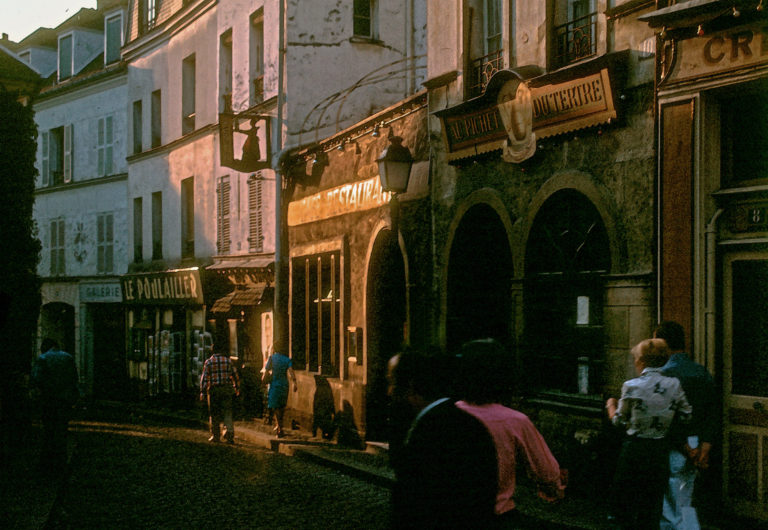 And we conclude back in Montmartre in a tiny side street at sunset.