Tales of Love and Loss, and then More Love
by Dan B
Finally a missive about kittehs from me.
We've got two katz with character.  They're a balm for our souls and challenging – but we keep improving our relationship every day, mostly linearly.
Last year we lost three kitties.  Mr. Furr Beast, cutest long haired black and white unit with huge white whiskers and a white holy grail on his chest.  We had him for almost 20 years.  Oscar, a striped cat was young and came down with a mysterious ailment the day after Christmas.  It was a traumatic six hours at the emergency vet with a terrified cat.  The $2,000 – $7,000 estimate for treatment was out of reach.  And we had lost a tiny orange rescue named Miss Peach to traffic.  We think our boy cats scared her off the property.  Each one left a different hole in our hearts.
Enter two more.  My partner Mike has a house on the other side of Beacon Hill that he leases.  Across the street is a greenbelt that shelters some homeless and a feral cat colony.  They're neutered, mostly, and spend lots if their day at Mike's house.  A new addition was a 6 pound grey striped kitten who was probably destined to be coyote food since he was much smaller than any of the other cats.  He also would rub against Mike's leg on Mike's daily feeding trip.  So we brought Ba Boo, or Babu (or Doodlebug , Monkeyboy) to our house.  After a month of being invisible then sheltering in the top of the cat tree he began to trust us and wants luxury-pets, food, napping on his sofa, food, and running around the garden like a nut.
Meet Babu: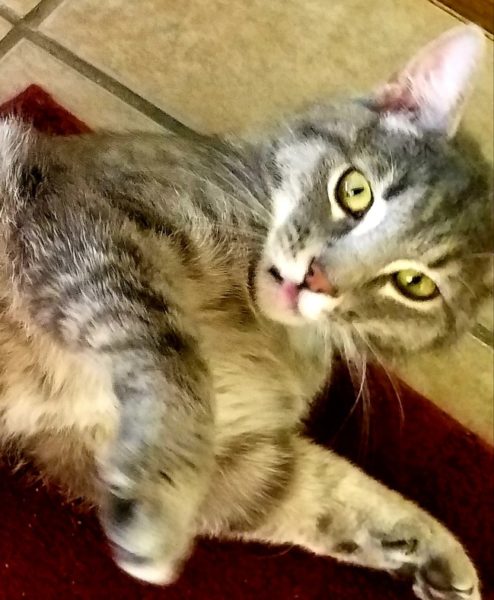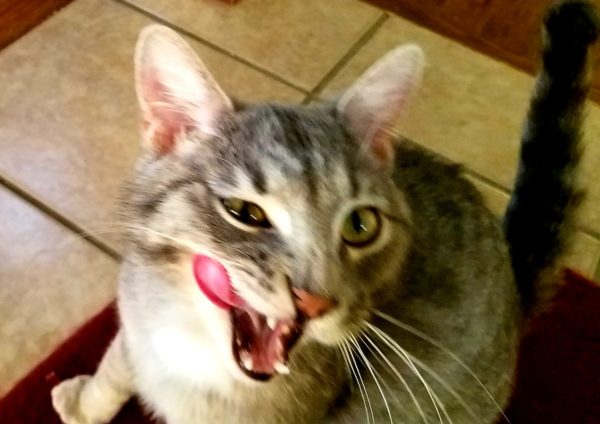 Scary Kitty!  (probably not)
Number two was the grand orange Wobbles.  He has some issue with his hind legs.  At the rental house he was terrorized by the other cats so he was moved into the house.  He marked the tenants beds but was mostly lethargic and dreaded going outside. So in he moved for the obligatory two weeks under the bed.  And there was the little, lovely but a terror, Babu.  This little grey one would run into Wobbles and knock him off balance.  There was hissing and growling that slowly became wrassling and chasing around then napping on the bed together.
And here's Wobbles!

Sweet, Sleepy Boy
This summer we let them out for the day in the garden.  When we sit outside in the evening they come around and then take turns venturing into our mostly housebound elderly neighbors yards like lions stalking prey on the savannah.  The last few weeks they've proudly dashed into the house talking noisily.  The grasshoppers they're talking to have not fared well.  They've also delivered larger furry prey but it's only been once so far and luckily they didn't seem to know to eat it,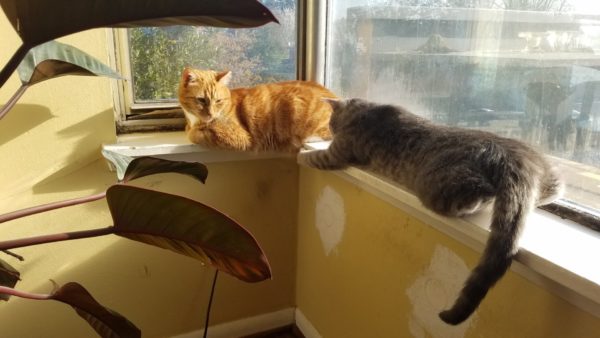 Babu and Wobbles Having A Chat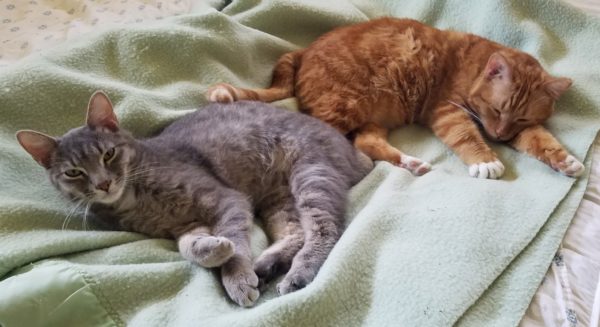 Long Day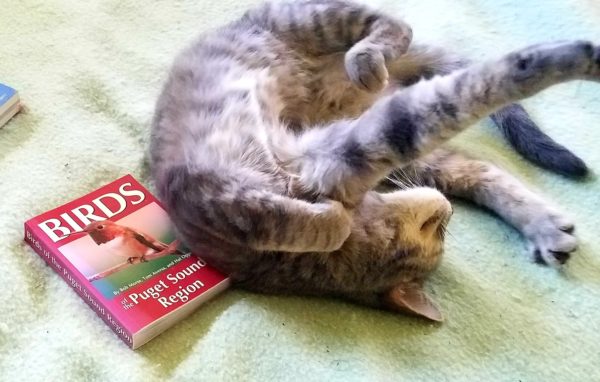 Babu is warn out from trying to identify all the birds.
.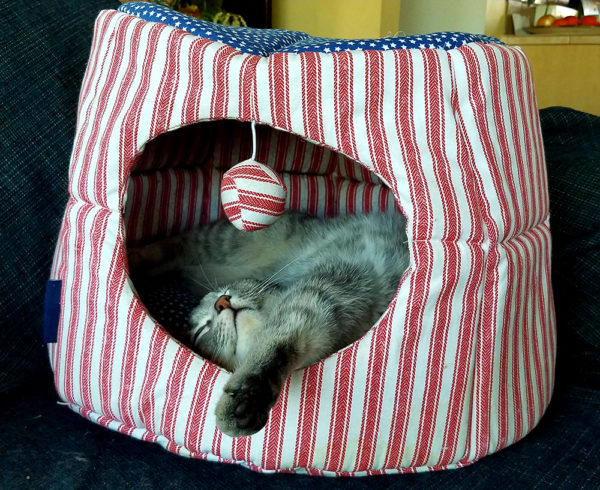 And from playing.  Playing is hard!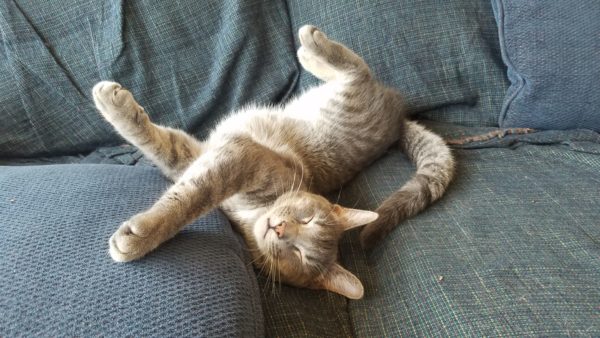 And from being a goofball, apparently.
Wobbles hind legs still wobble but he leaps around and over short fences.  He's gotten muscly in a well fed way and has become guard cat / temple lion / greeter in the drive, while  is growing into the purring lovebug role.  They've made isolation bearable.  It's four personalities in the house instead of just the two of us. Our every other week socially distanced garden visits don't seem as far apart as they would without our two furry characters.  And we have fond memories of our previous three instead of empty places in our hearts.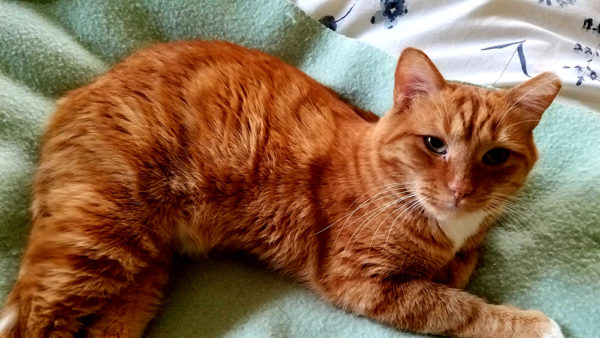 Wobbles: Can't you see I'm trying to rest?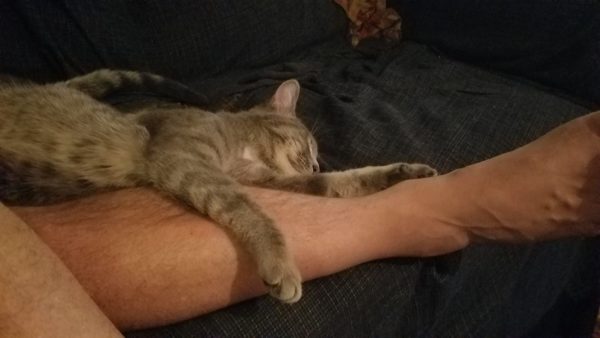 Sleepy kitty loves his dad.
Oops, I forgot:  Babu has a "Scorpion Tail"  There's a picture of it.  I've attached another where he's using it as a prehensile / opposable to grasp my hand.   Cute.