On the Road is a weekday feature spotlighting reader photo submissions.
From the exotic to the familiar, whether you're traveling or in your own backyard, we would love to see the world through your eyes.
I believe, but am not certain, that this touching post is a first submission from Argiope.  It's a testament to love and loss, to honor and sacrifice, to joy and celebration of life.  I am so glad you shared this with us.  ~WaterGirl
Argiope
Last March, a year after we lost our mom, my sister and I sojourned to Paris carrying a bag of her ashes. Our mom loved travel and spent several happy days of her life on earth in Paris, so we decided to leave our families behind to take a sisters' trip and do some clandestine scattering. It may be strange to spend any time focused on death in a city where so many of us go to celebrate life, but this time it made sense to linger in a few spots commemorating those who have gone before.
As a travel tip for the adventurous, I can't say enough about the rental Velib bikes that are scattered throughout the city. Due to newly erected Jersey barriers and some changed traffic patterns, I came somewhat close to becoming one of Paris's dearly departed, but other than that, it was a blast to get around on two wheels.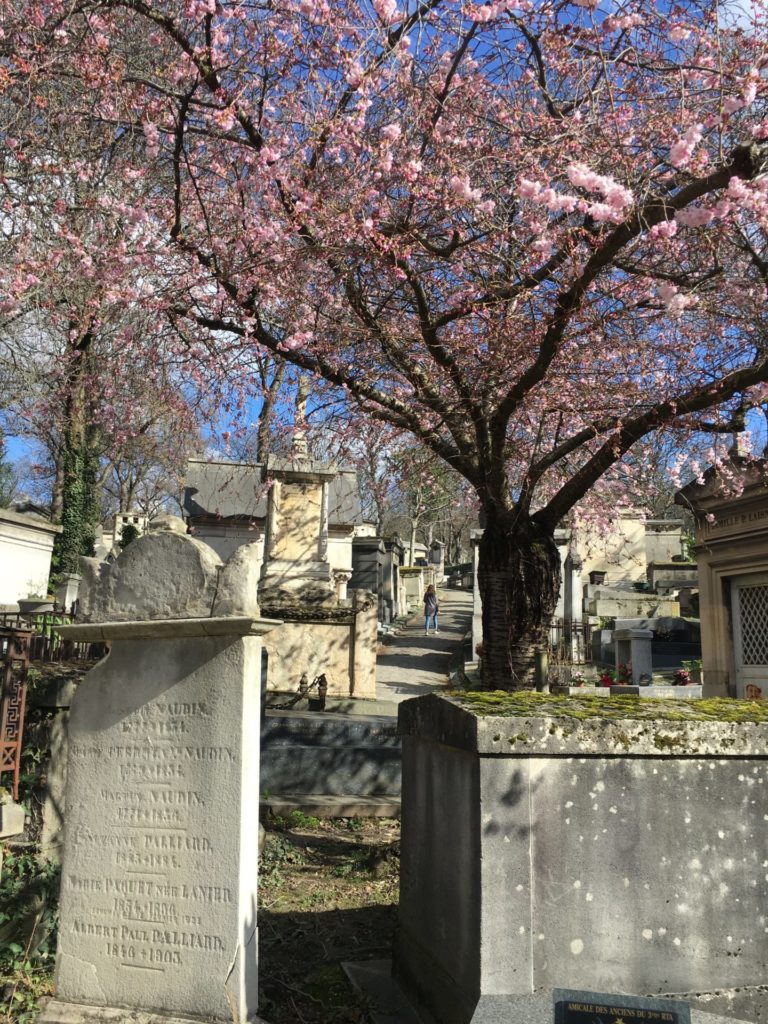 Pere LaChaise Cemetary
March 8, 2019
Pere LaChaise is one of the largest green spaces in Paris, and is a great place to stroll on a beautiful early spring day. It's gigantic, with streets and alleys bisecting through sepulchers and monuments and mausoleums of various sizes. We caught this beautiful tree in early bloom, giving the place quite a cheerful atmosphere.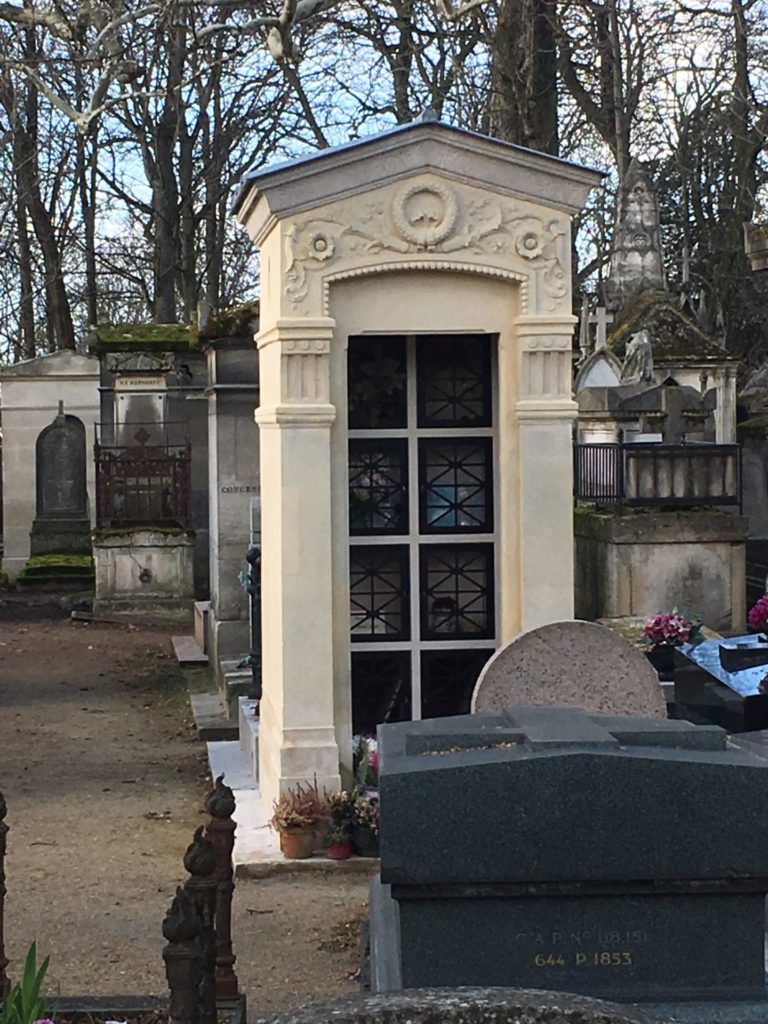 Pere LaChaise, Paris
For some reason, this monument reminded me of a tardis, and I couldn't help but wonder if it was bigger on the inside.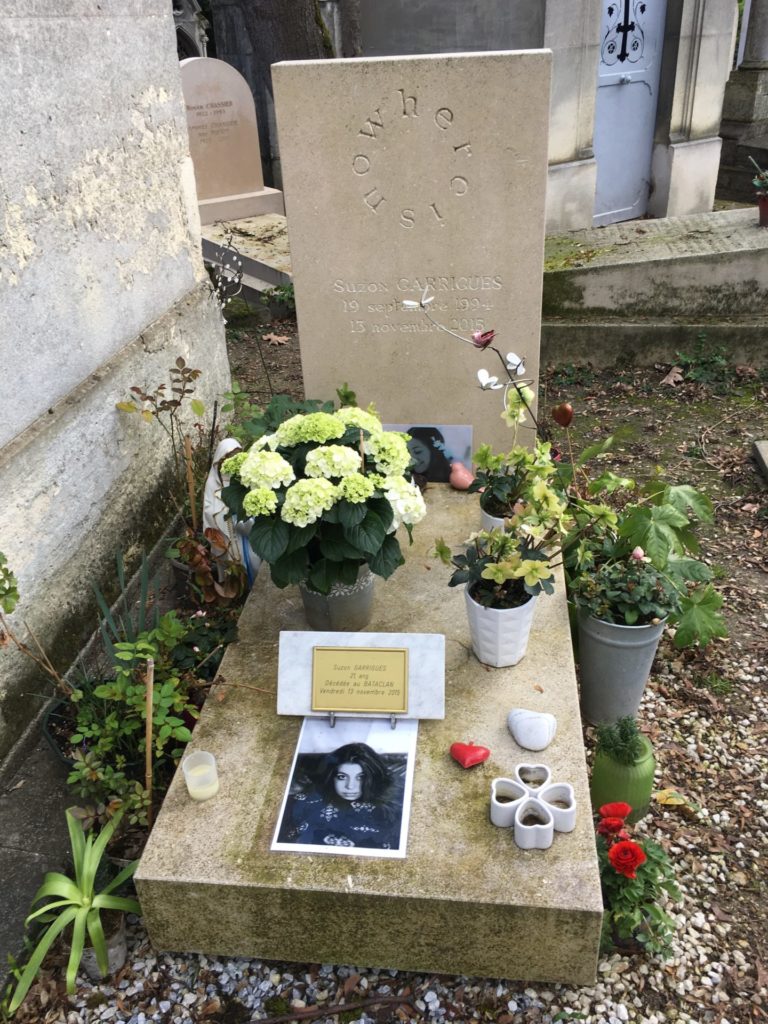 Pere LaChaise
Many famous people are buried in Pere LaChaise. Oscar Wilde, Gertrude Stein and Alice B Toklas, Jim Morrison, Chopin and Moliere. Yet this was the grave that affected me most. Suzon Garrigues was barely 21 when she died at Bataclan nightclub in 2015. Her photo is on her grave, as is the round inscription. Where to start reading it? You decide. Either way, it's haunting.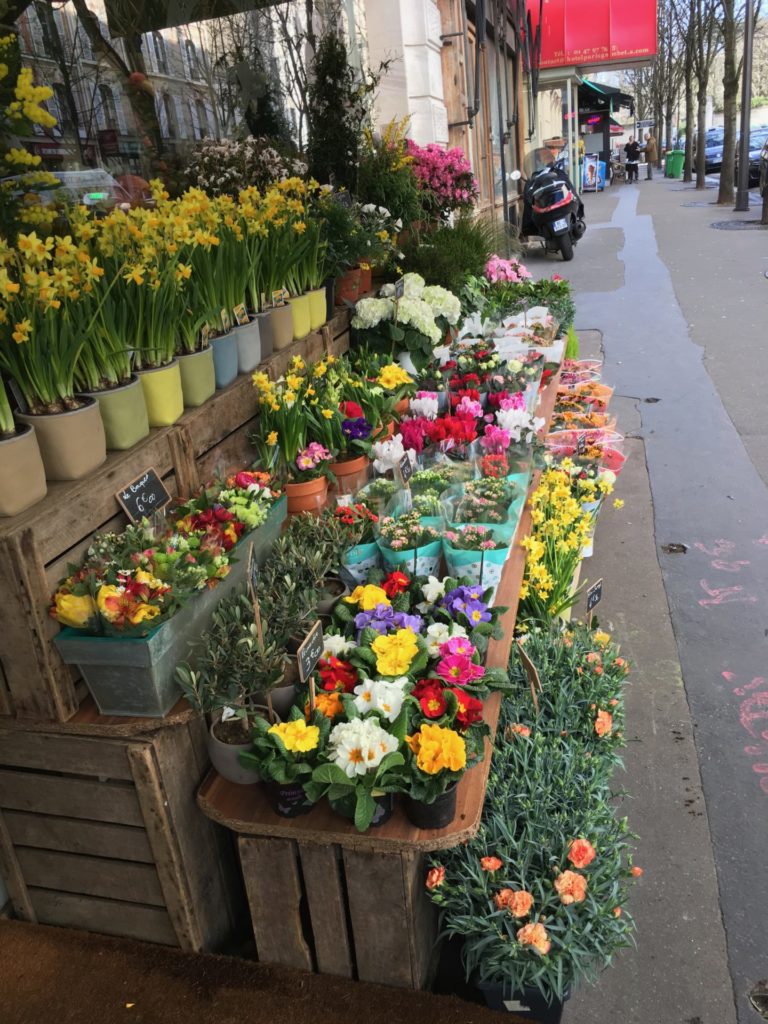 Between the Pere Lachaise Metro station and the Cimitiere
People buy pre-made bouquets from this little flower shop to take to the cemetery. At the end of the rue are the walls of Pere LaChaise.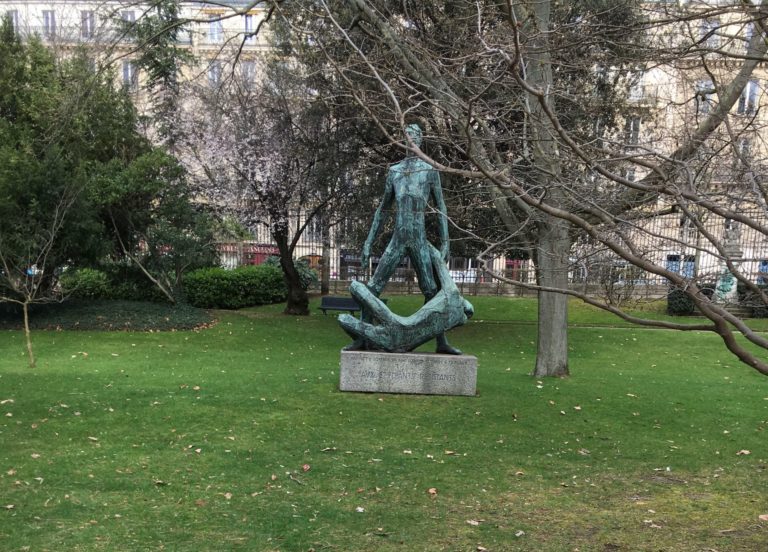 Jardin de Luxembourg
This bronze monument to the students killed in the Resistance is in a lightly traveled part of the Luxembourg gardens. We stumbled on it quite by chance. Erected in 1956 by the students of Paris, it was made to commemorate their predecessors killed trying to liberate France during the occupation.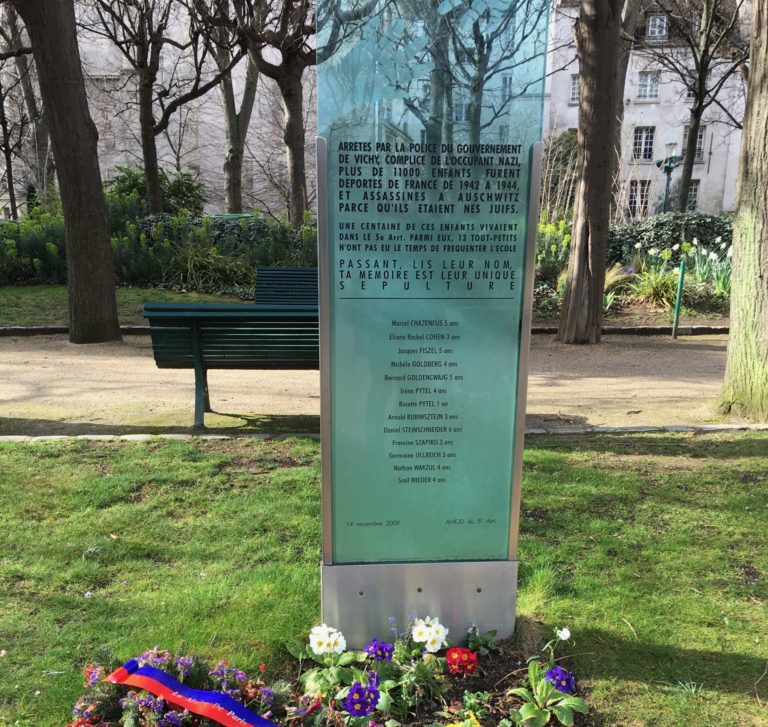 Square Rene Viviani
Just across from Notre Dame, there is small park with a lovely view of the cathedral. At least, there was before the fire. In this park there is a monument to the Jewish children of the 5th arrondisement who were deported to Auschwitz and died there. It includes just 13 names of children who attended a preschool nearby, a small sample of the hundreds who shared their fate, but knowing these specific names and ages makes the reality hit home with greater force. The inscription includes the reminder: As you pass, read their names. Your memory is their only monument.