On the Road is a weekday feature spotlighting reader photo submissions.
From the exotic to the familiar, whether you're traveling or in your own backyard, we would love to see the world through your eyes.
We have another first submission this week!  We are treated to lovely pictures of Paris over the years, in parks and outdoor places, and it's been fun to see a bit of Christmas in Paris in multiple posts this week.  I love the last photo, and it doesn't seem weird to me at all.  Totally charming!  So glad you took the plunge!  ~WaterGirl
There go two miscreants
A few years back, I was lucky enough to have friends who lived in Paris, and visited there six times over a span of seven years. I had never visited France at all before — I'm not much of a tourist — but I enjoyed it a lot. It does help to know someone where you are going, and my companion at that time (still a friend) was the instigator for these visits. So I was fortunate, as I might never have gone on my own initiative.
It is quite easy to get around Paris; the Metro is great, and bus service is good too. It was helpful to get a Navigo card that allows unlimited rides. No need to be concerned about getting tickets although that is more economical if you don't plan to use Metro much. We walked a lot as well, even in bad weather.
I am not really a good photographer, and I don't take enough shots (bad habit from growing up with film cameras where every shot costs money). (Hmmm, I think that's different from: "The food is terrible and such small portions!" but maybe not.) I did manage to get some presentable pictures although with just a point&shoot type camera. There is so much to see — maybe if I survive until it is safe to travel again…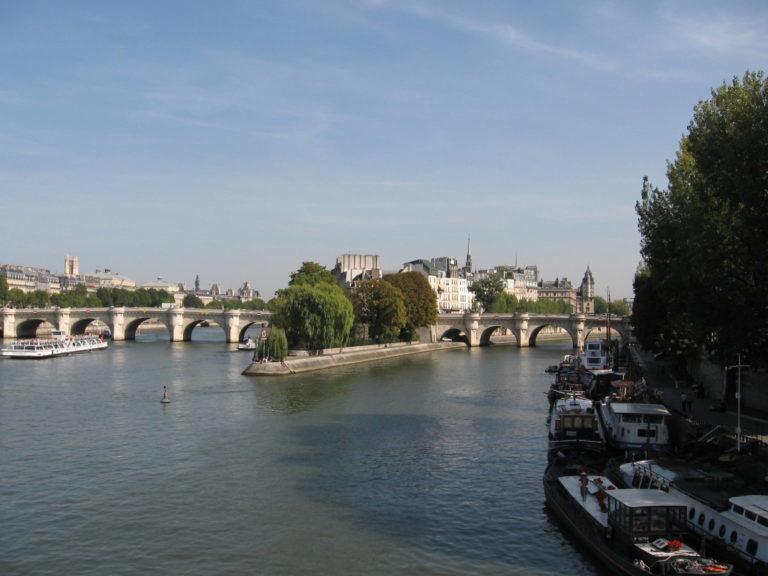 Pont Neuf
The Seine looking upstream toward Pont Neuf and the Ile de la Cite. This was in September 2009, and the weather was superb.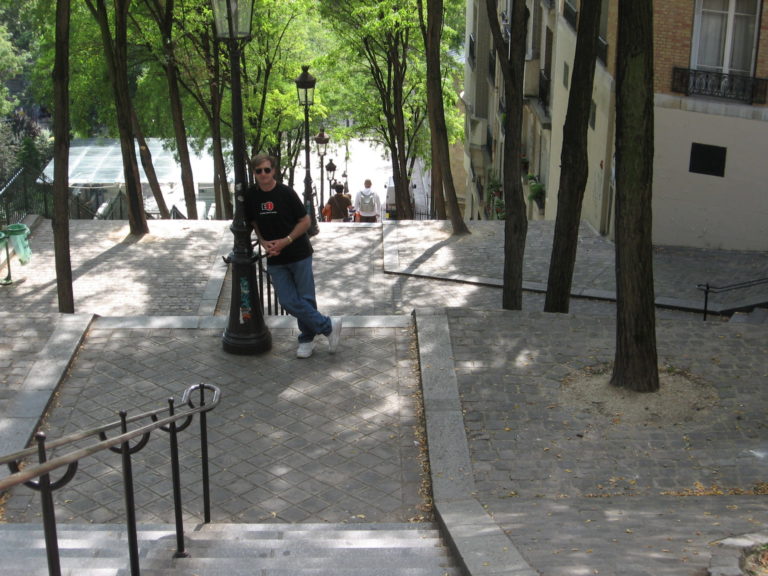 Montmartre
Same September trip, that is me on the steep stairs leading to Montmartre. There is a funicular (left side of picture), and of course you can get there just walking on the streets (which we did on the way up).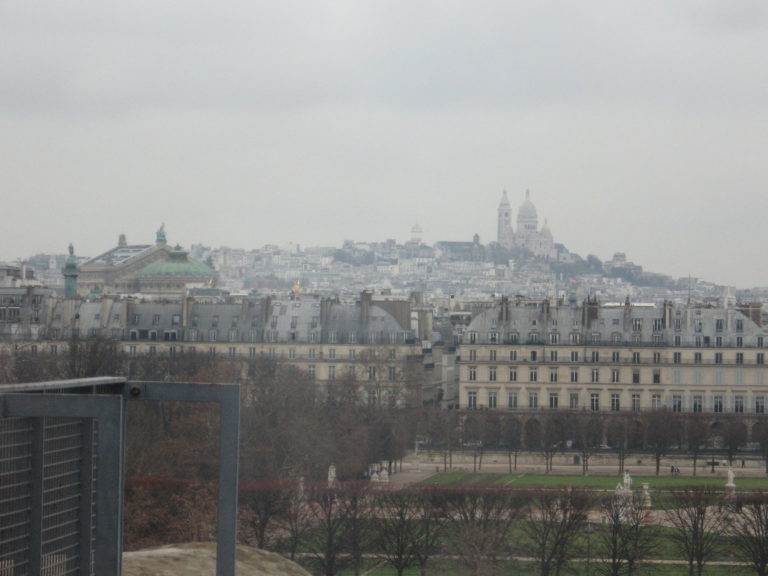 Musee d'Orsay
View from the top of Musee d'Orsay, overlooking the Seine, with the Tuileries on the opposite bank, and Montmartre in the distance. This was in January 2012, and the weather was a bit raw, but still walkable. Musee d'Orsay is my favorite museum by far; we spent two days at the Louvre on one trip (it is just overwhelming), and went to several other museums on the various trips, but I love the MO best. (I didn't show the museum itself because there are much better pictures online. Also, I learned the hard way at the Louvre that it is a waste of time for me to take pictures of the art! So I knew better by the time we got to MO.)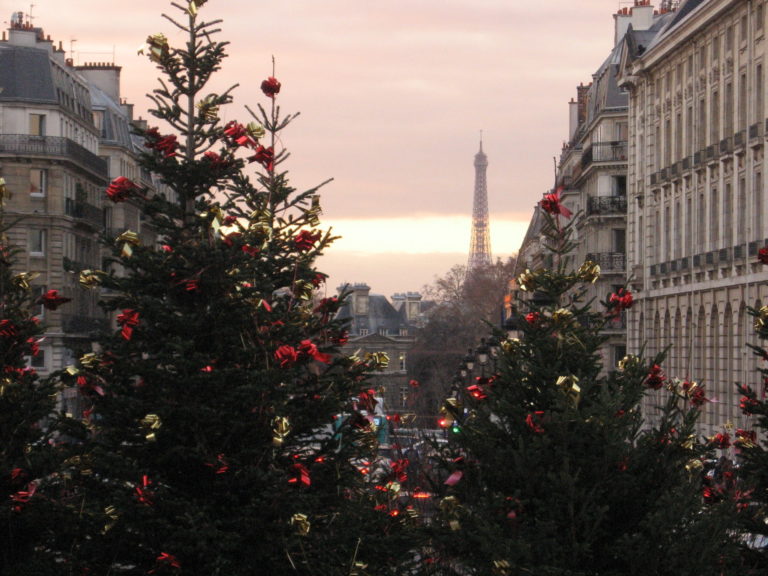 The Pantheon
Another shot from Jamuary 2012. Christmas decorations were still up in many places; this is looking out from the plaza in front of the Pantheon toward the Tour Eiffel around sunset. (When it was built, and until the Chrysler Building was completed, the Tour Eiffel was the tallest structure in the world.)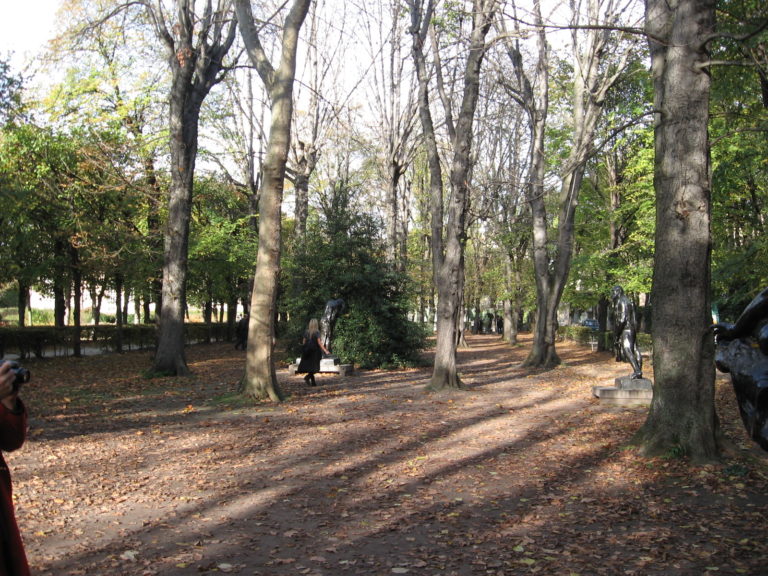 Musee Rodin
From a November 2014 trip, another of my favorites, the Musee Rodin. The sculpture garden has a lovely path with various works along it.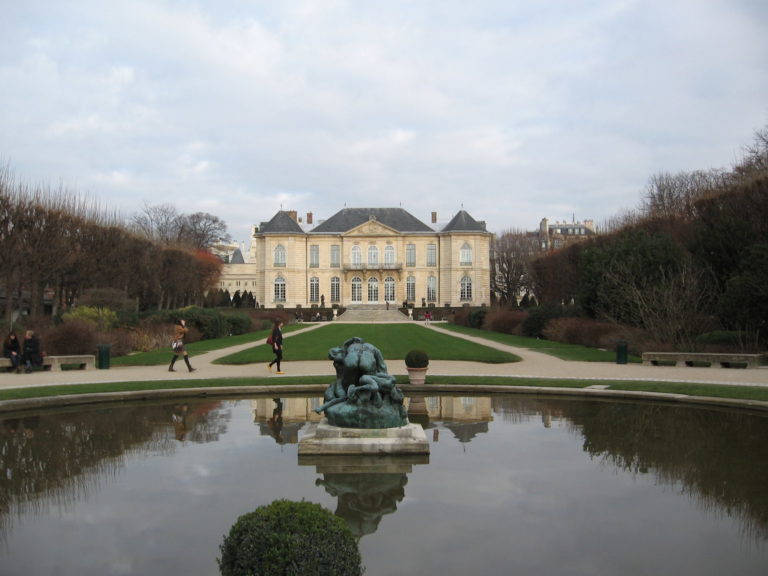 Musee Rodin
A view of Musee Rodin from an earlier visit in January 2012.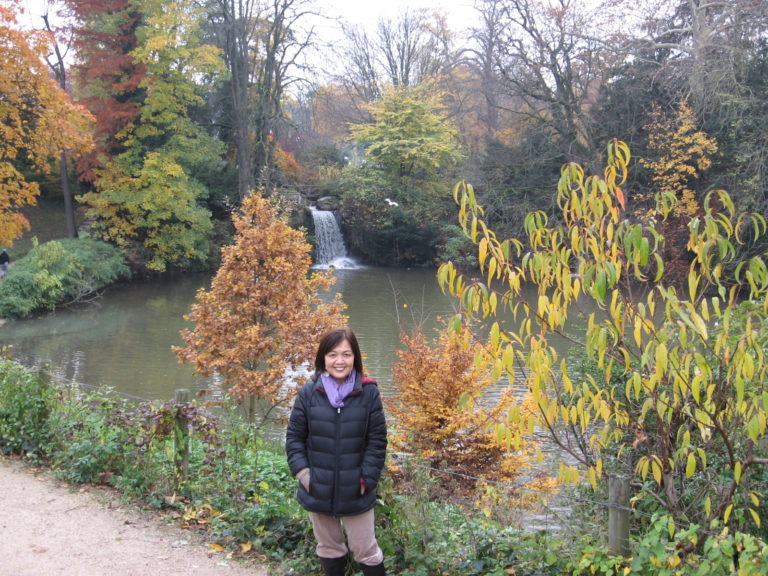 Bois de Boulogne
November 2012 My companion and I went for a walk in the Bois de Boulogne, a large park on the outskirts of Paris.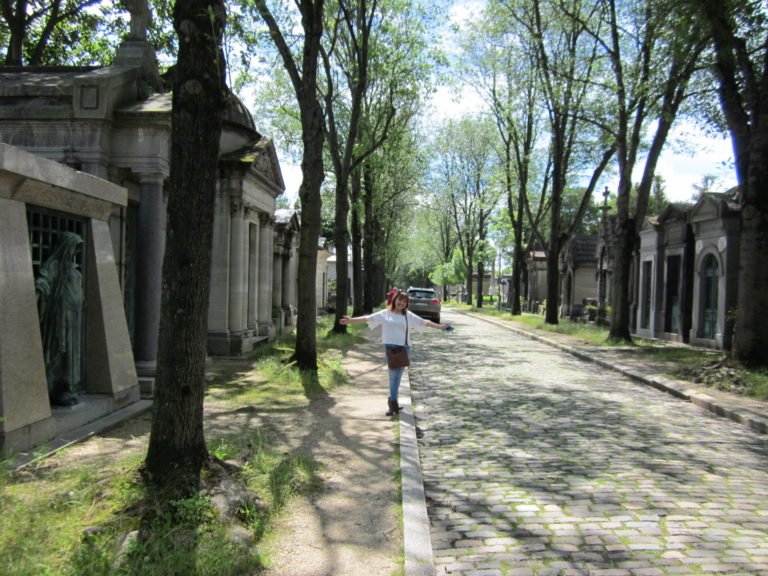 Pere Lachaise
Our last trip was in June 2016; after that the friends moved out of France. We went to Pere Lachaise, which is…weird, man. Heck, I grew up behind a big cemetary and *I* think it's weird. It's also steep in places, and confusing to find your way around.