Donald Trump is a slow-witted bully, and his occupancy of the highest office in the land is more attributable to his dumb luck and others' bad faith, greed and stupidity than any skill or strategic acumen on the part of Trump or the low-quality hires who surround him. But Trump does possess a certain low cunning. Absent that, it would have been the destiny of some other hate-filled buffoon to become the avatar of the dumb, angry, jingoistic, bigoted horde that comprises 40% or so of our citizenry.
Trump knows how to gin up hate based on the prejudices he shares with the MAGA horde, and he understands the wellspring of their self-righteousness, which is a staggeringly hypocritical and unlearned version of Christianity and a judgmental form of ersatz patriotism. This shallow patriotism exalts "the troops" and "our flag" and "the Constitution" and "the founders" in the abstract, but it exists primarily to exclude undesirables and enforce showy, Lee Greenwood-branded displays of fealty to the horde rather than the country as it actually exists.
I think Trump's primal understanding of his followers' shallow, phony version of patriotism is why he's so threatened by the allegations in The Atlantic that he called America's war dead "losers and suckers." President Cornered Rat has never sounded so cornered as he did in these tweets denying the story: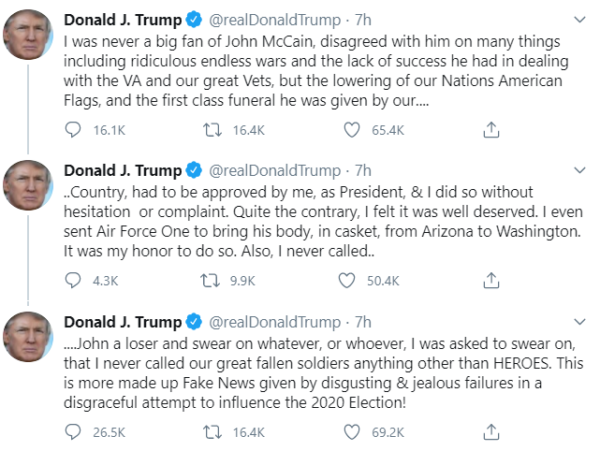 It's a lie — there's video of Trump calling McCain a loser, and as always, there's a tweet: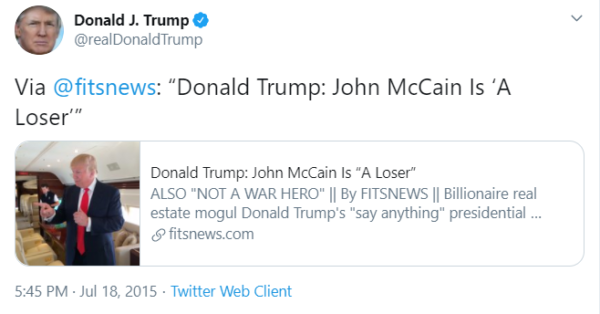 The bald-faced lies are standard fare. That Trump doesn't understand the concept of service and is contemptuous of all non-transactional activities isn't surprising either. Of course he has contempt for soldiers who are willing to risk or lay down their lives for low pay.
He's contemptuous of his own followers too. They're extras in his narcissistic drama, good only for providing the public adulation he craves on cue, handing over money to campaign hucksters and voting to keep him in power. Trump would order the strafing of the flag-waving MAGA horde in a New York minute if they dared to show up at Mar-a-Lago for an unscheduled event.
Given all that, the lies and hypocrisy are unremarkable. What is surprising is the tone of desperation in Trump's response — the offer to swear on "whatever" or "whoever." It reeks of flop-sweat and conjures an image of his piggy little eyes darting nervously in their pasty, white-rimmed sockets.
It's axiomatic at this point that MAGAs cannot be moved but can only be outvoted. The scales are not going to fall from their eyes, ever, and waiting for them to finally realize they've been conned is as dumb and delusional as waiting for Trump to start acting like a "normal" president.
Still, it's interesting how rattled Trump seems by these allegations. It's as close to "A Face in the Crowd" moment as we've seen so far from the phony, elitist demagogue.
Open thread.