On the Road is a weekday feature spotlighting reader photo submissions.
From the exotic to the familiar, whether you're traveling or in your own backyard, we would love to see the world through your eyes.
On the Road: Week of September 7 (5 am)

Albatrossity – Caves and Birds in France, part 1
lashonharangue – Socorro Island, Mexico
?BillinGlendaleCA – Franklin Canyon – Infrared/Visual Pairs
way2blue – Outer Hebrides
Steve from Mendocino – California beach moods

Paris After Dark: Week of September 7 (10pm)

opiejeanie – Paris, 2014
Lapassionara – Paris in the daylight
Omnes Omnibus – Paris
BigJimSlade – Paris, 1989
J R in WV – Paris Street Scenes

And now, let's get back to Albatrossity.  I love just about every one of these pics!
Albatrossity
All of the pictures of Paris were wonderful, and it seems that each submission gave us a unique view of that fabled city. I have never been to Paris, so I appreciated each day of pictures from there.
However, I have been to France. I am not an urbanite (as you might have guessed based on my location here in Flyover Country), so avoiding cities is something I do when I travel as well. In 2005 Elizabeth was working on a series of essays about petroglyphs, cave art, and the relationships that our ancestors had with the animate world they lived in. That work is collected in her award-winning 2008 book, "In the Mind's Eye".  So we went to the part of France that has prehistoric art in caves and grottoes to see some of that, as well as to the Camargue, the wildlife-rich delta of the Rhone. Here are some images from that memorable tour of cave art and birds of France.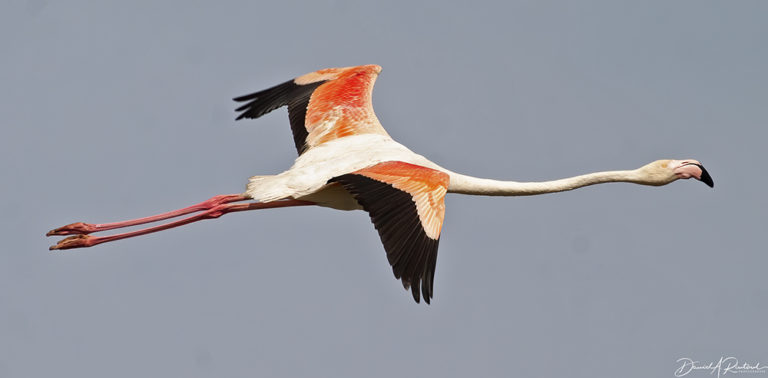 The Camargue
May 31, 2005
We flew into Nice and then immediately drove to the Parc Ornithologique du Pont de Gau, in the heart of the Camargue, where we stayed in a lovely 2-star hotel, the Hostellerie du Pont de Gau. In our visit we made a point of staying in smaller hotels and eating in 4-5 star restaurants, the logic being that if the food and wine were wonderful, we would sleep well regardless of the quality of the bed. This strategy (quickly dubbed the "waddle and sleep") worked well here, since the restaurant at the hotel was fabulous. The next morning we woke up to find flamingos flying past the windows of our room.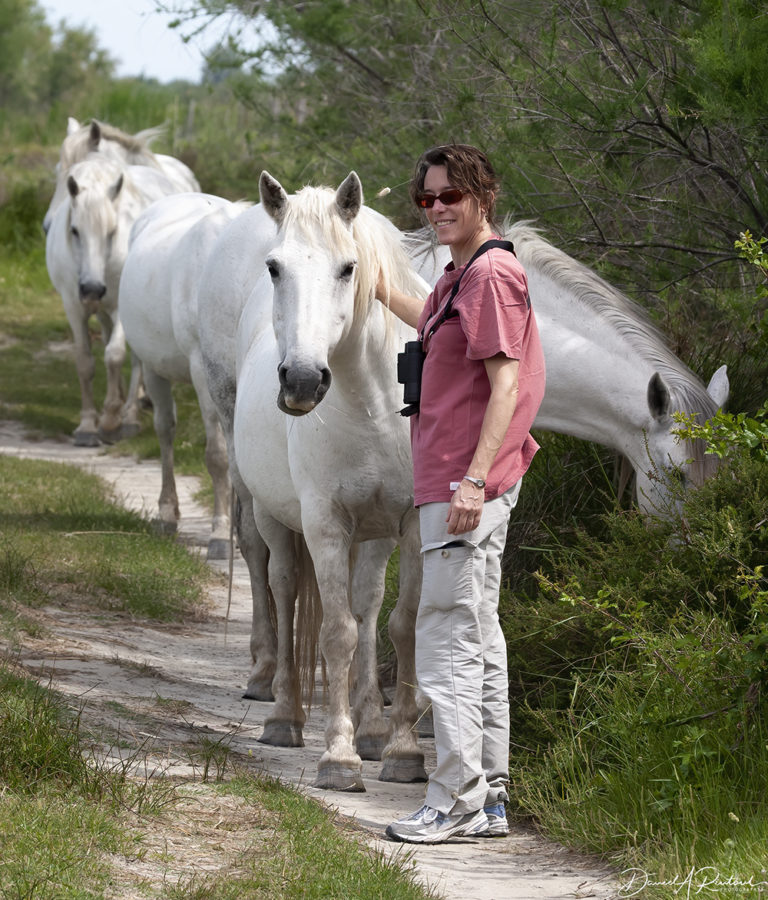 The Camargue
May 31, 2005
The trails at the Parc were great for wildlife viewing, hiking, and horse-petting. Here's Elizabeth with some of the famous white horses of the Camargue. This is considered to be one of the oldest breeds of horses in the world, small but sturdy, and also very friendly in this case.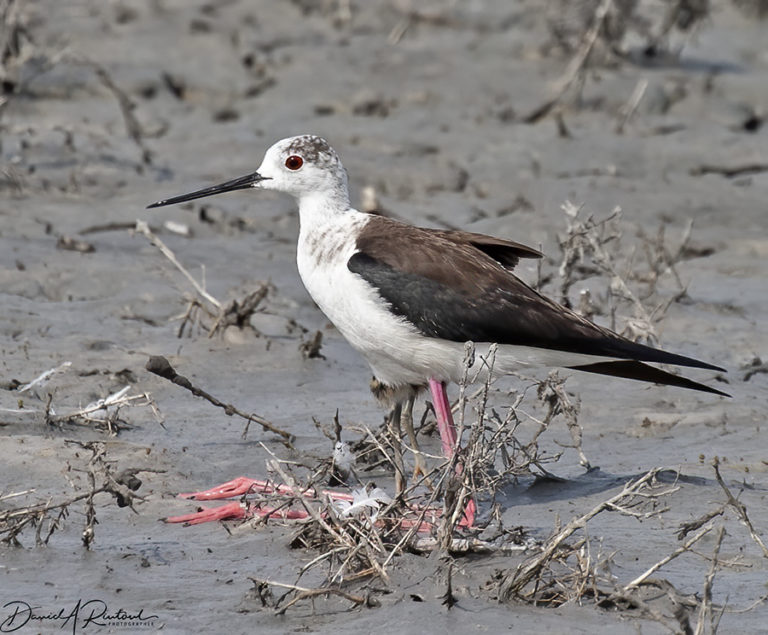 The Camargue
May 31, 2005
It was nesting season for lots of waterfowl in the Camargue, and young birds were abundant. Here is a Black-winged Stilt, crouching down to shield the downy youngster from the prying eyes of the photographer. You can see the legs of the young bird, which are not quite as long as those of the adult, underneath the body of the parent bird.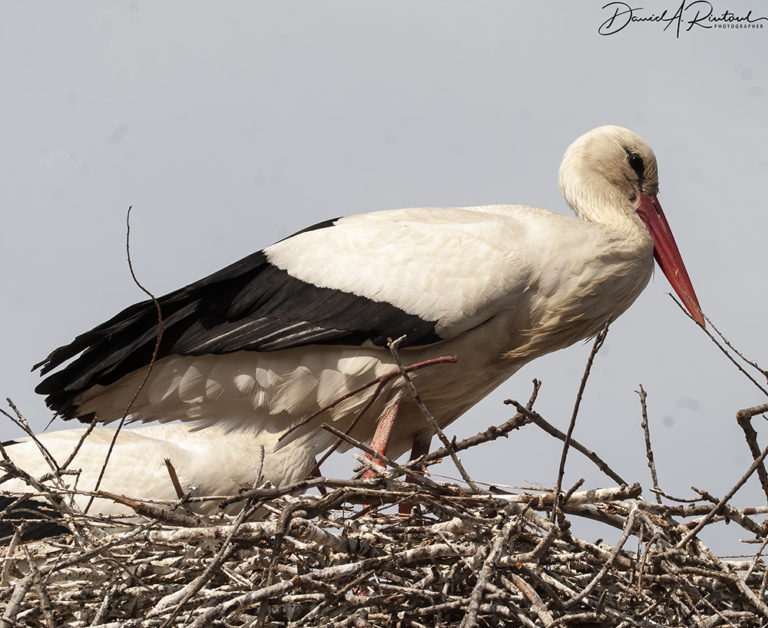 The Camargue
June 1, 2005
White Storks were on nests as well; this one was just across the road from the hotel.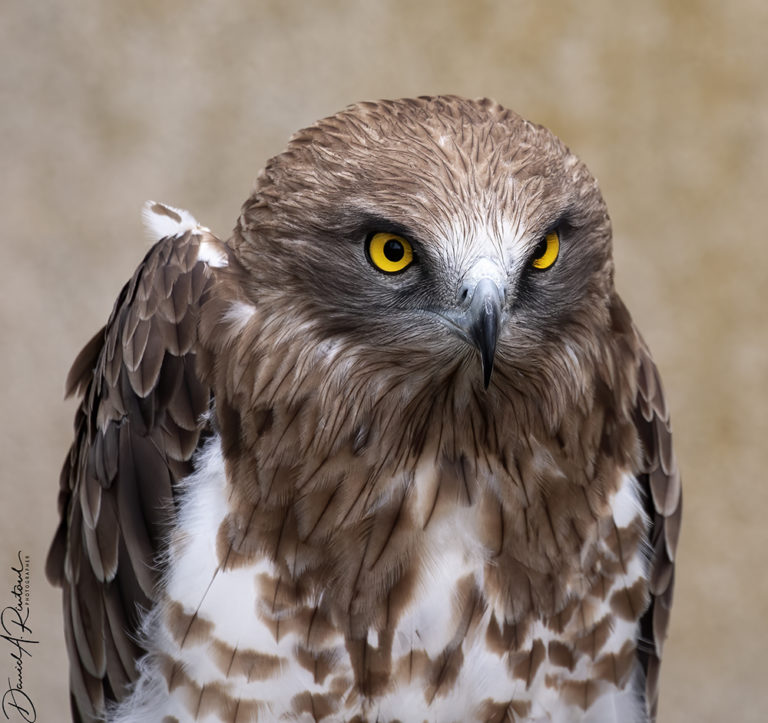 The Camargue
June 1, 2005
One of the local raptors, this Short-toed Snake-eagle was content to just glare at me. I was happier than usual that I was not a snake.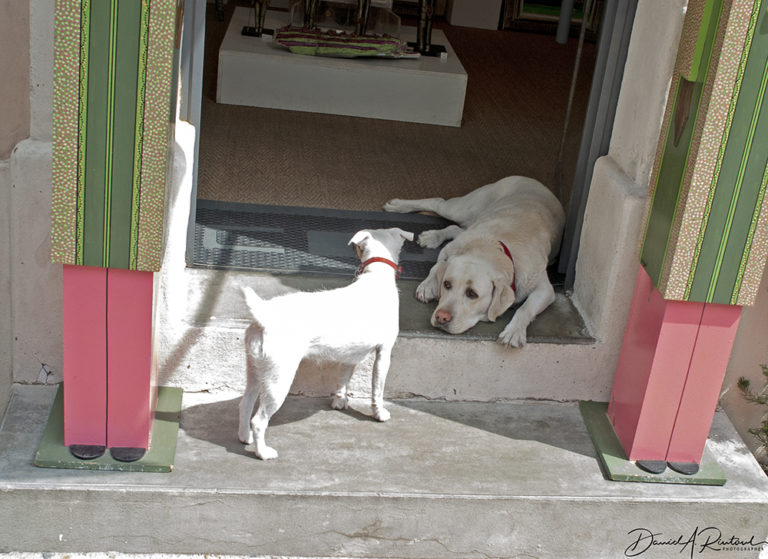 Aigues-Mortes, Provence
June 1, 2005
One of the nearby towns had a colorful doorway that was hosting these two dogs, I could not tell if one or both of them lived there, but since the BJ crowd loves dogs and other pets, I thought that this photo would be appreciated here. This medieval walls surrounding this town are very well-preserved; it's worth a visit!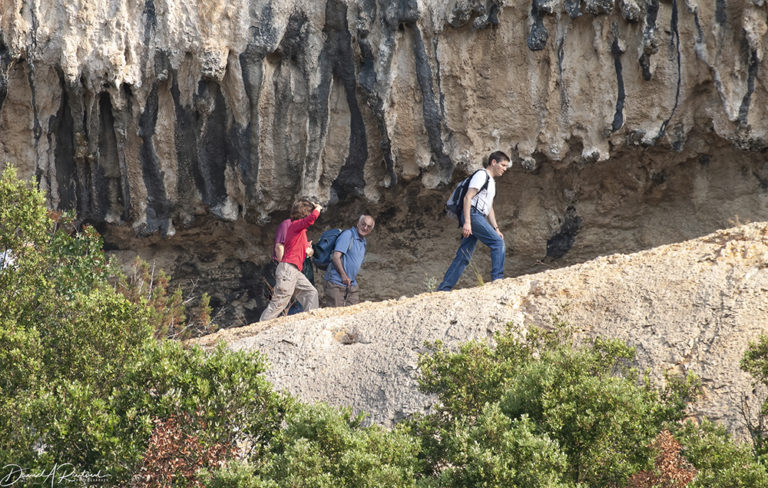 Pont-d'Arc, Ardeche
June 3, 2005
After a couple of days in the Camargue, we headed north to the Ardeche River, site of a cave that Elizabeth was absolutely thrilled to have gained permission to enter, the Chauvet-Pont-d'Arc Cave. In correspondence with archaeologist Jean Clottes, whose study of this famous cave has revealed much about the humans who inhabited it 32,000 years ago, she got an appointment to meet with him and other archaeologists for a planned trip into the cave. It is otherwise closed to visitors (I didn't get to go along!), so this was a very special (pinch me, is this real?) treat. This is my photo of Elizabeth, Jean and the others trekking up to the cave entrance, high above the Ardeche River. Her trip into the cave is chronicled in an essay published in Notre Dame Magazine; lots more information about this fabulous discovery can be found here. You may also have seen Werner Herzog's 3D movie about Chauvet, "Cave of Forgotten Dreams".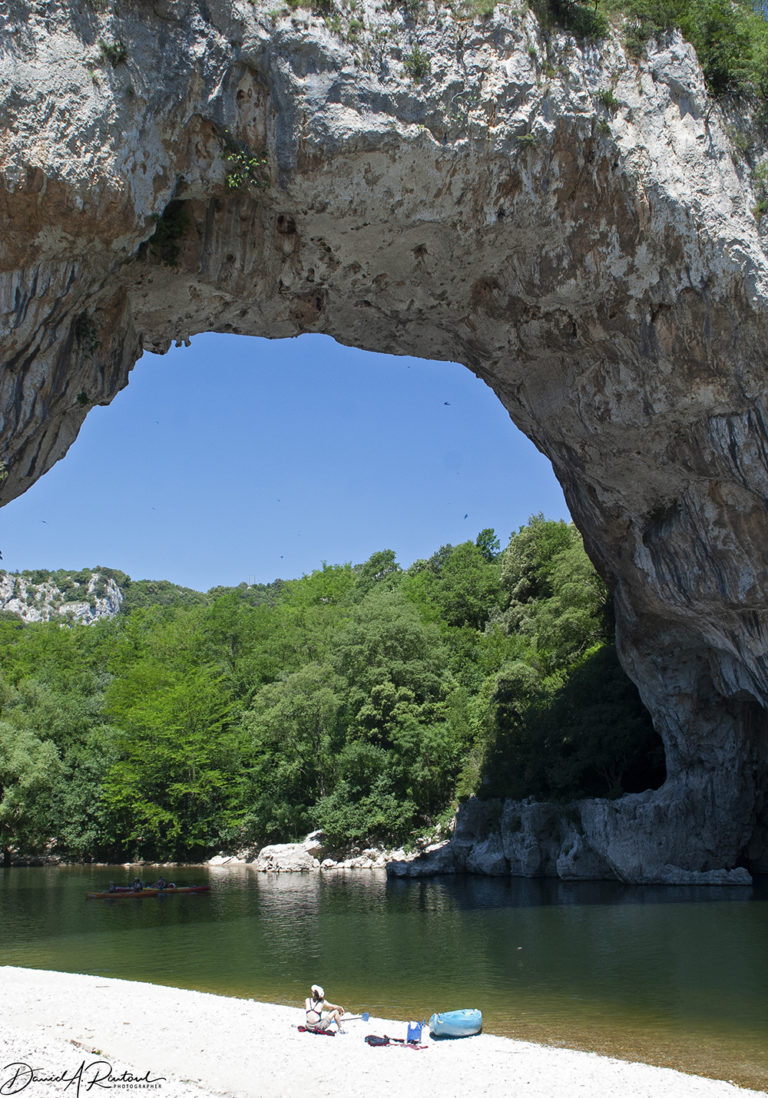 Pont-d'Arc, Ardeche
June 2, 2005
The other noteworthy feature of this region is this natural arch above the Ardeche, which is relatively close to Chauvet Cave. We rented a canoe, floated down the river, and had a picnic lunch under the arch.