On the Road is a weekday feature spotlighting reader photo submissions.
From the exotic to the familiar, whether you're traveling or in your own backyard, we would love to see the world through your eyes.
If you woke up this morning, tired of this timeline and wishing you could be in another world, your wish has been granted.  :-)  We are mostly underwater this morning, but not in the bad way! ~WaterGirl
lashonharangue
One of my favorite places to scuba dive is Socorro Island in Mexico. It is the largest of a series of small volcanic islands about 250 miles S-SW of Cabo San Lucas off the tip of Baja. A large shield volcano rising out of the deep Pacific, the island attracts large marine life that live in the open ocean: hammerhead sharks, whale sharks, dolphins, and manta rays.
To get there you book a cabin on a live-aboard dive boat which takes 24-26 hours to reach Socorro from Cabo. You can do up to five dives a day off the boat (it isn't permitted to go ashore). The boat holds about 20 divers.
Over the course of a week the boat visits several different locations around Socorro and two other islands in the Revillagigedo archipelago. Each island is the top of a volcano rising from a submerged mountain ridge. Socorro has had eruptions in the relatively recent past. 
Some locations are pretty easy diving while others have moderate current. Before diving each location, the divemaster reviews a map of the location drawn on a whiteboard. Most dives are at a depth between 40 and 80 feet.
The manta rays that frequent the islands often swim over to check out the divers. It isn't possible to keep pace with the mantas so the encounters are totally on their terms. Each one has unique markings. See if you can spot the differences.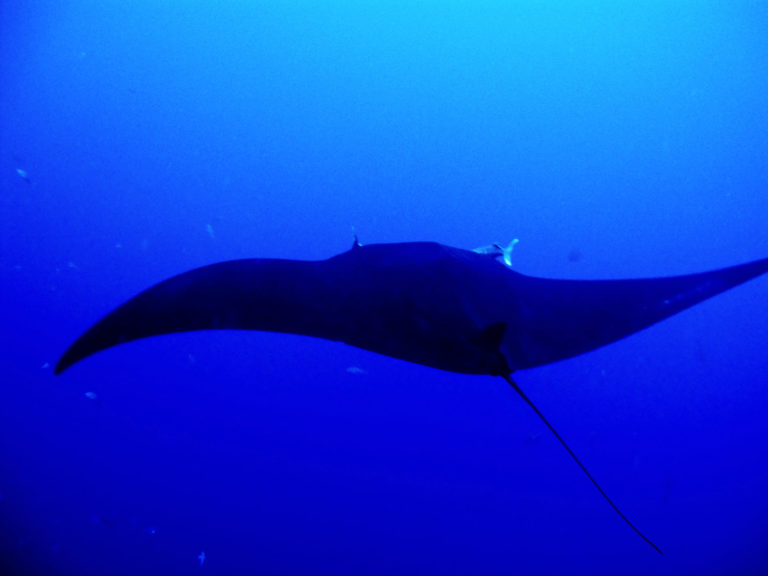 Roca Partida
This is a view from slightly above. It is hard to judge size underwater. But the mantas we saw were probably about 15-17 feet wingtip to wingtip. Manta rays are related to sharks (cartilaginous fishes) but are filter feeders that eat plankton suspended in the water.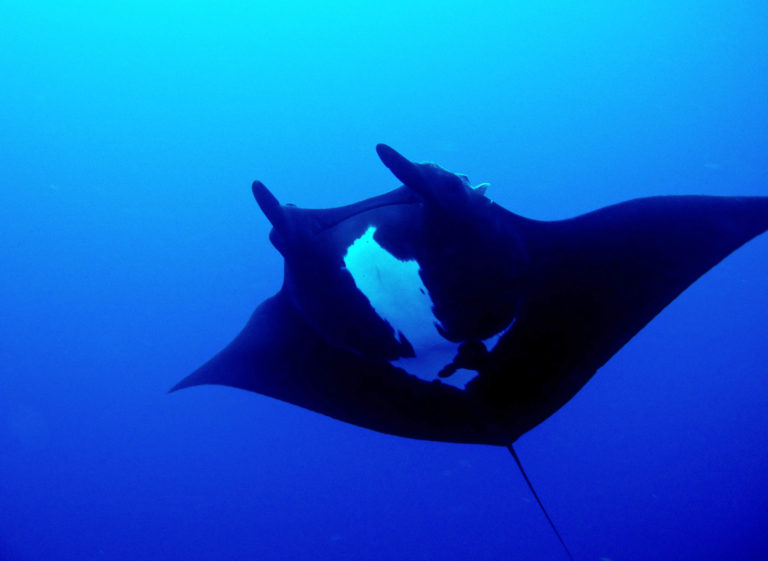 Roca Partida
I think this was a companion swimming with the manta in the previous photo. We usually encountered more than one manta at a time. Unfortunately, still photos can't convey how graceful these animals are moving through the water – like slow motion birds.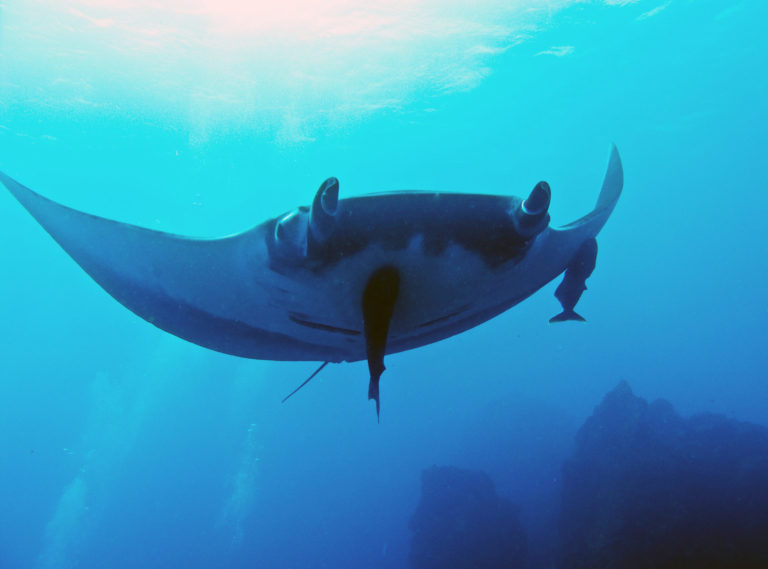 San Benedicto
These are remoras (suckerfishes) attached to the manta. I think we saw at least one on each manta we encountered. My understanding is they don't impact the health of the mantas, as they are not really parasites – more like freeloaders getting protection and transportation.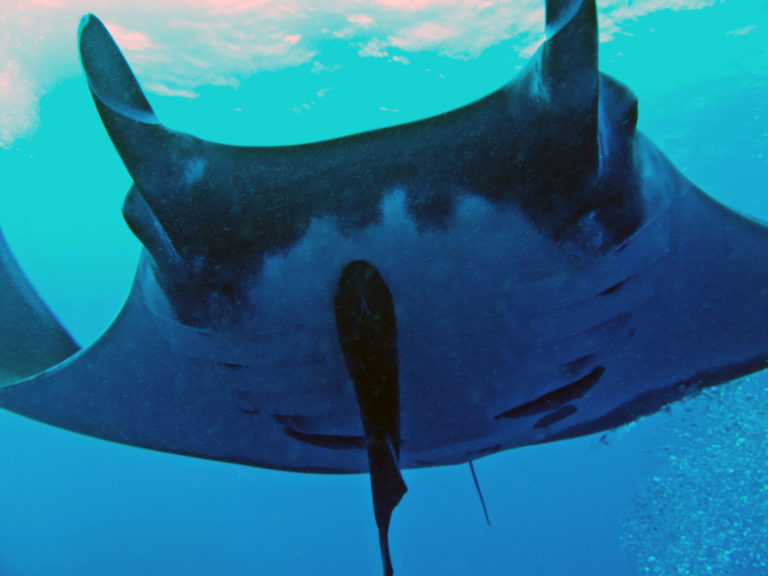 San Benedicto
This is the same manta up close, not a zoom. Sometimes a manta will swim directly over a diver and can be touched without being spooked. Their skin is somewhat rough in texture. Why they are willing to get so close is unclear. One theory is they enjoy the feel of the divers' exhaust bubbles. 
This is very different from the behavior of hammerhead sharks. If you have seen good photography of them the diver was probably freediving or using rebreather equipment that doesn't create bubbles. We saw a few hammerheads but always at a distance.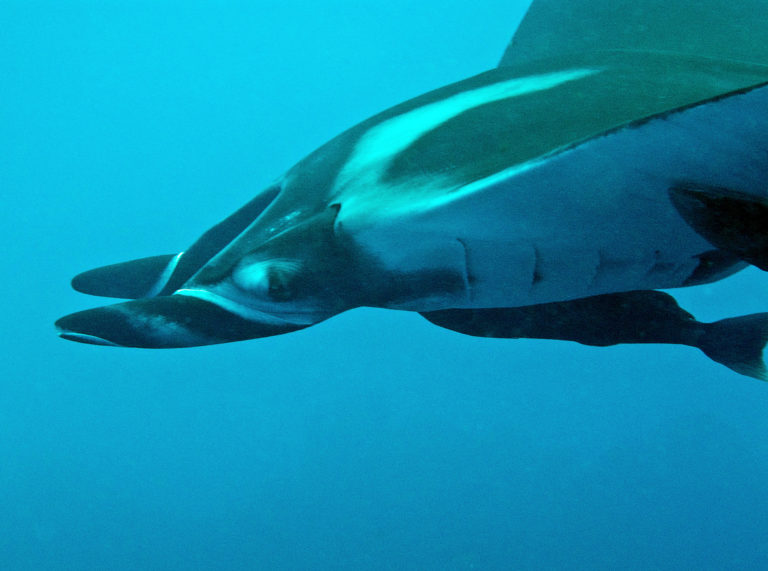 Socorro
This manta had a very distinct pattern on the dorsal side.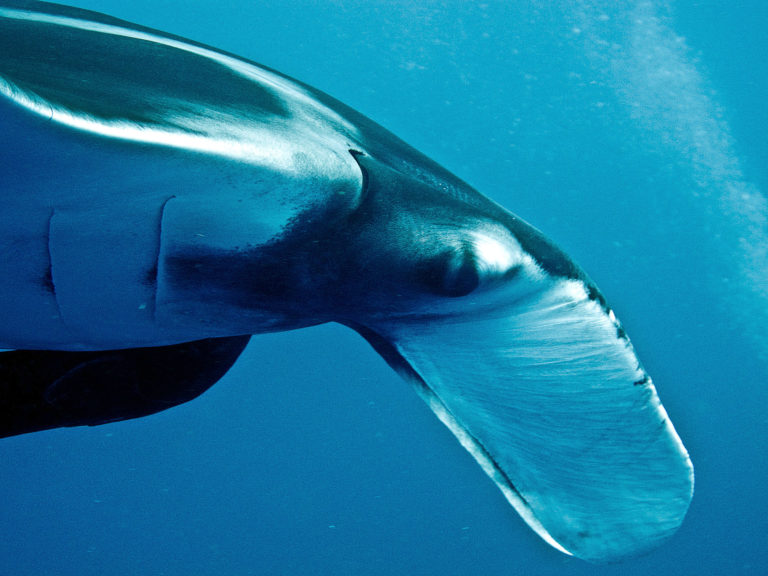 Socorro
Manta rays have large eyes. When this one swam by it looked me over. I had the distinct impression of a consciousness there – kind of like meeting an ET. Not something I've felt from being close to other fishes. Manta rays have the largest brain of any fish. https://oceana.org/blog/manta-ray-brainpower-blows-other-fish-out-water-10
The divemaster told us about some research done by marine biologists. Can't confirm his account but I can imagine it's true. He said a group of similarly sized divers wore different colored dive gear. One interacted with a specific manta ray. The divers surfaced and then did another dive after exchanging their gear among themselves. Unprompted, the manta picked out the diver it had previously interacted with.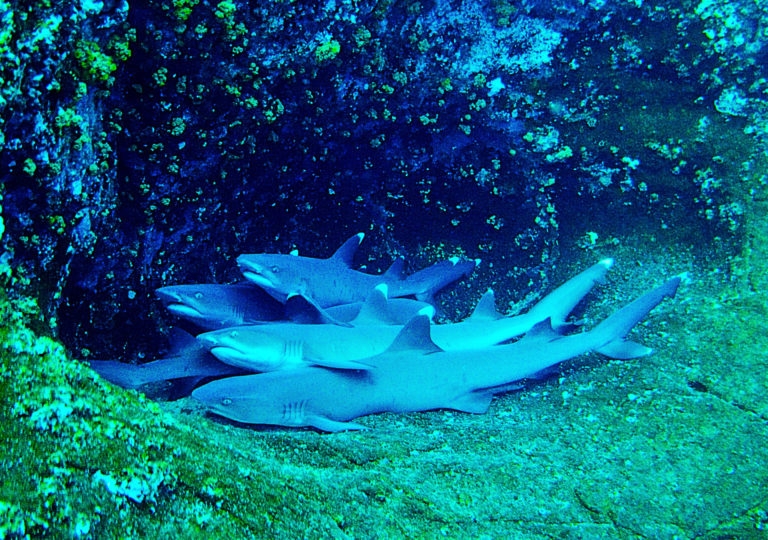 Roca Partida
There is more marine life to see at the islands than just manta rays. We were diving on a vertical wall and saw this group of five white tip sharks resting like a pile of puppies on a ledge. The idea that all sharks need to keep moving to breath is not correct. It depends on the species.
This photograph was taken by getting below the ledge and then slowly rising up to the edge – about five feet away. The sharks were about 3-4 feet in length and didn't react. On this same dive we also saw dolphins, mantas, and a whale shark. Wow!