On the Road is a weekday feature spotlighting reader photo submissions.
From the exotic to the familiar, whether you're traveling or in your own backyard, we would love to see the world through your eyes.
We are taking a trip in the wayback machine tonight!  I feel certain that BigJimSlade doesn't look a day older than he did in 1989, wouldn't you agree?  I have to say, the statue with the guy holding his own head wasn't quite as charming as the kings from Omnes last night, but it does make a statement! For some reason, I feel like I should post a link to a Jim Morrison song, though I don't know which one.  ~WaterGirl
BigJimSlade
After 4 years of college, I was one class shy of graduating. Most of my friends were on the 5 year plan, so I decided to take the fall semester off and go to Europe (and graduate at the same time as my friends), sporting a 110 Vivitar pocket camera. At least I think that's what it was.
I was just thinking back to what I ate… I had a pear from a market while walking from a train station to the youth hostel – it as the best pear ever! Breakfast was some bread, jam and cheese at the hostel, plus a quick stop at a market for a yogurt and some chocolate, which I used as the spoon for the yogurt, or maybe a pain au chocolat. Lunch was what ever I could find while out in the city. Dinner was bread, sardines, cheese and a bottle of wine back at the hostel. I was on a $25/day budget (though I probably spent $5 – 10 more a day in Paris), so no bistros for me in 1989.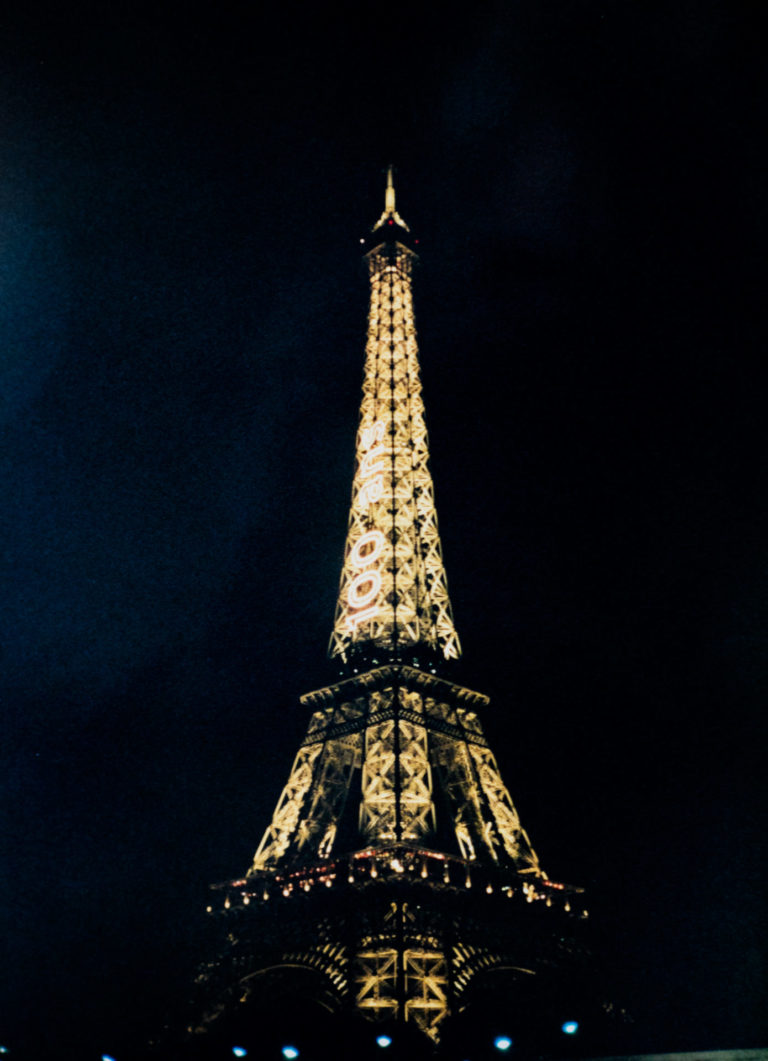 Paris
I accidentally timed my trip with the centennial of the Eiffel Tower! ("100 ans" on the side of the tower translates to 100 years)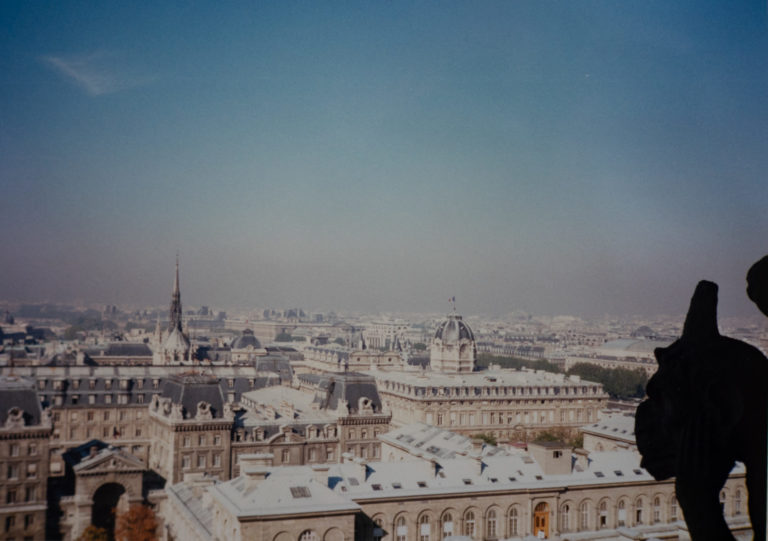 Roof of Notre Dame, Paris
Even before Instagram there were famous shots that you had to take, if you can believe it!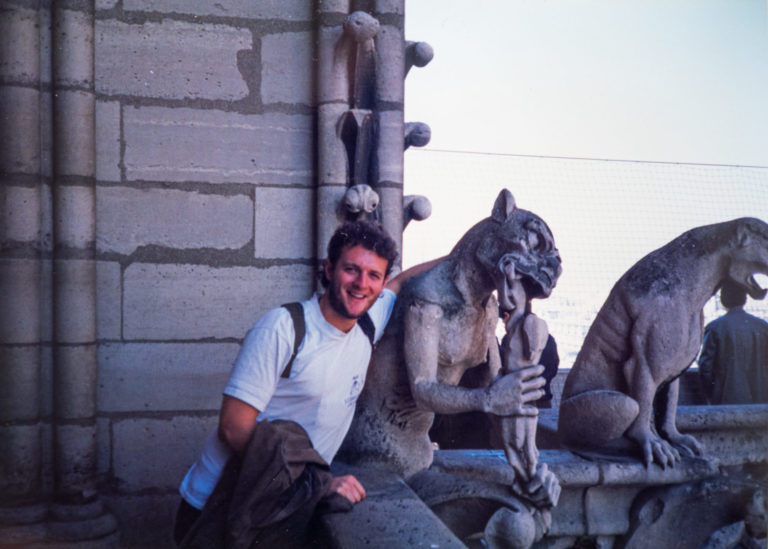 Roof of Notre Dame, Paris
In college, everyone's your buddy, even, or especially, gargoyles and the like. I didn't shave the entire trip (this is about 4 weeks into a 6 week trip). It was one less thing to pack and one less thing to do in the morning before you go out and see the sights. Since then I've stuck with shaving.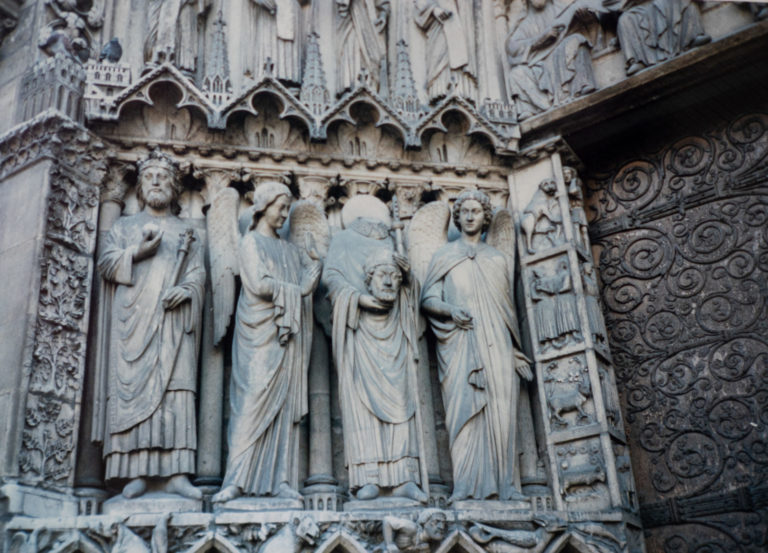 Notre Dame, Paris
This guy holding his head, a martyr, I assume, caught my eye in one of the doorways of the Notre Dame.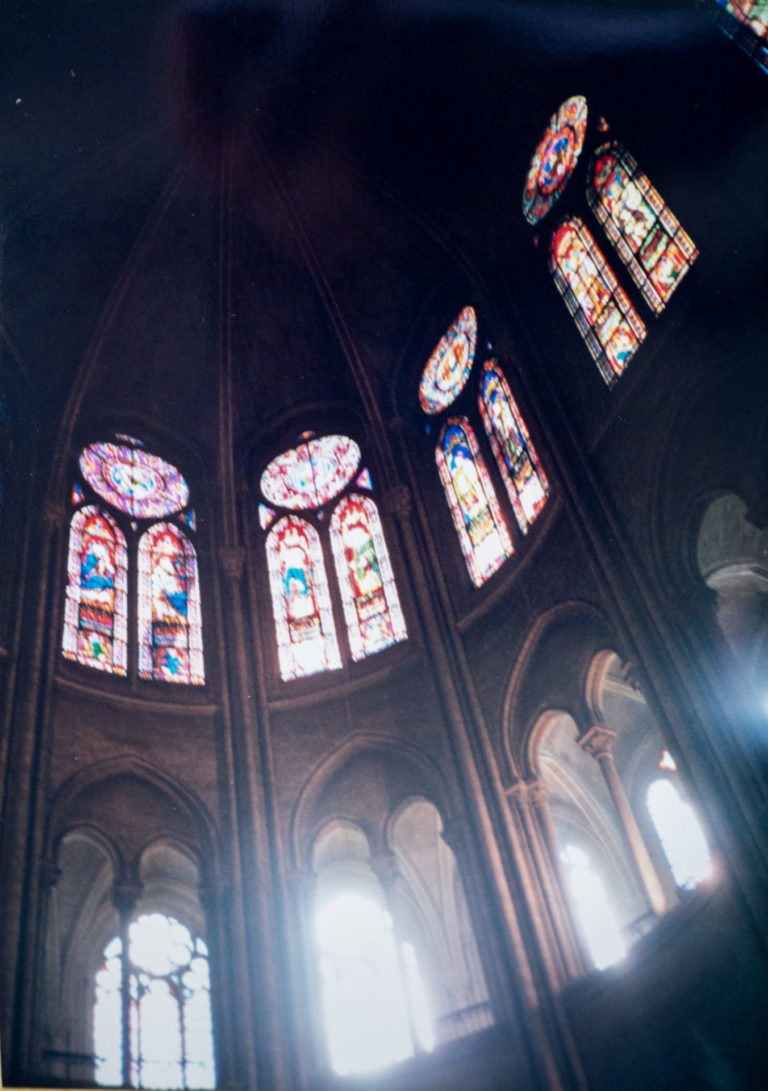 Notre Dame, Paris
Inside I was trying to capture the light and the colors – it's hard! Especially with a point-and-shoot from the 80s. Anyway, the Notre Dame may be my favorite building in the world. Really, really, rully, hope they can restore it properly.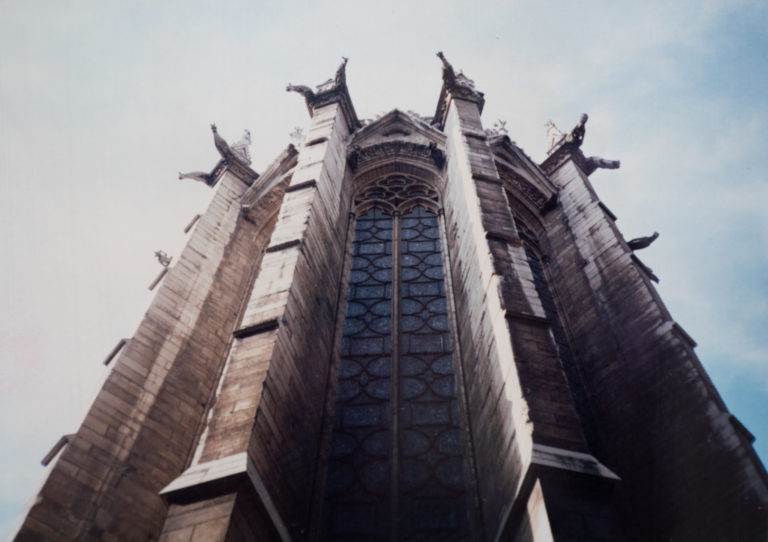 Ste. Chapelle, Paris
Google for beautiful pictures of this little jewel's inside. This is the far end of it.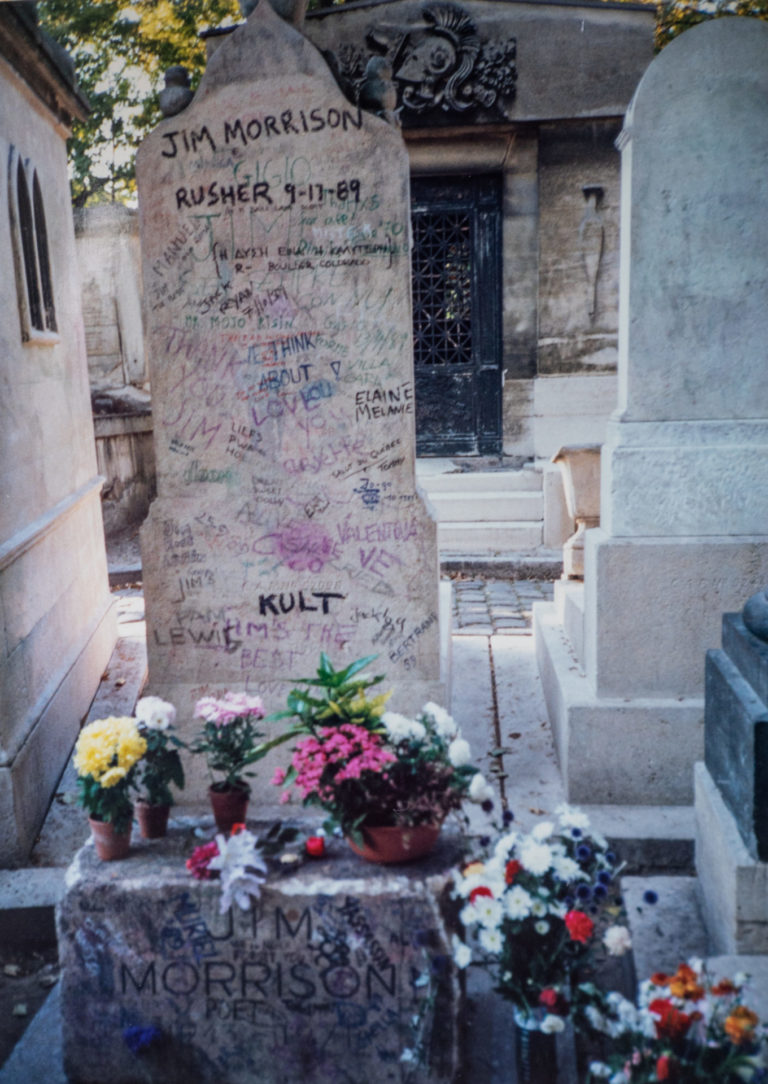 Pere Lachaise Cemetery, Paris
Hey, I was in college and I wasn't too far from Jim Morrison's grave…