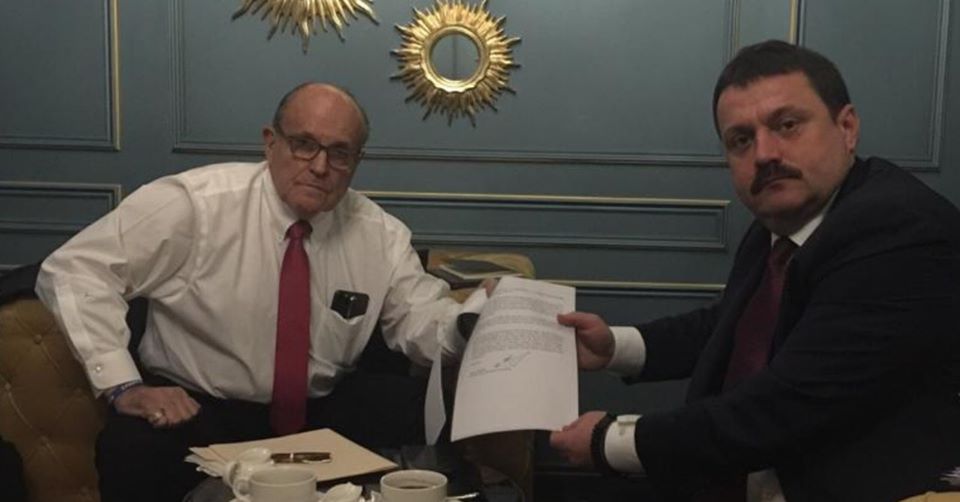 (Photo of Rudy Giuliani and Andrii Derkach Reviewing "Evidence Against VP Biden" Posted on Derkach's Facebook Page)
Today, the US Treasury Department placed sanctions on Ukrainian member of parliament Andrii Derkach. And while that would itself be news, of a kind, the real news is the designation and descriptor that the Treasury Department used to described Derkach (emphasis mine):
Treasury designated Andrii Derkach (Derkach) pursuant to Executive Order (E.O.) 13848 for his efforts to influence the 2020 U.S. presidential election. Derkach, a Member of the Ukrainian Parliament, has been an active Russian agent for over a decade, maintaining close connections with the Russian Intelligence Services. Derkach has directly or indirectly engaged in, sponsored, concealed, or otherwise been complicit in foreign interference in an attempt to undermine the upcoming 2020 U.S. presidential election. Today's designation of Derkach is focused on exposing Russian malign influence campaigns and protecting our upcoming elections from foreign interference. This action is a clear signal to Moscow and its proxies that this activity will not be tolerated. The Administration is working across the U.S. Government, and with state, local, and private sector partners, to make the 2020 election secure.

"Andrii Derkach and other Russian agents employ manipulation and deceit to attempt to influence elections in the United States and elsewhere around the world," said Secretary Steven T. Mnuchin. "The United States will continue to use all the tools at its disposal to counter these Russian disinformation campaigns and uphold the integrity of our election system."

From at least late 2019 through mid-2020, Derkach waged a covert influence campaign centered on cultivating false and unsubstantiated narratives concerning U.S. officials in the upcoming 2020 Presidential Election, spurring corruption investigations in both Ukraine and the United States designed to culminate prior to election day. Derkach's unsubstantiated narratives were pushed in Western media through coverage of press conferences and other news events, including interviews and statements.

Between May and July 2020, Derkach released edited audio tapes and other unsupported information with the intent to discredit U.S. officials, and he levied unsubstantiated allegations against U.S. and international political figures. Derkach almost certainly targeted the U.S. voting populace, prominent U.S. persons, and members of the U.S. government, based on his reliance on U.S. platforms, English-language documents and videos, and pro-Russian lobbyists in the United States used to propagate his claims.
More at the link.
What the Treasury Department's press release does not say is who, exactly, Mr. Derkach is partnered with in his activities against the United States as a Russian Intelligence Services officer. We know the answer to that because Derkach and his American accessories have been very up front about their activities. Derkach's two main partners in his endeavors, which The Department of the Treasury has now stated unequivocally are the endeavors of the Russian Intelligence Services, are Rudy Giuliani and Chanel Rion, the far too credulous reporter from One America News Network (OANN).
From The Washington Post (emphasis mine):
Dec. 5, 2019 at 5:45 p.m. EST

Giuliani did not make any immediate public comments on the meetings in Ukraine.

But in tweets hours later, he drew connections between future U.S. aid and investigations by Ukraine into former vice president Joe Biden — issues that are already at the center of the impeachment inquiry.

Giuliani tweeted that U.S. assistance to Ukraine on anti-corruption reforms could face a "major obstacle" until the "conversation about corruption in Ukraine" is resolved. Giuliani alleged "compelling" evidence of criminal misdeeds by Biden, but gave no specifics.
OANN trumpeted their own, and their correspondent Chanel Rion's, involvement.
CONFIRMED – @OANN's @ChanelRion concluded over a half dozen interviews with Ukrainian officials, including Ukrainian MP Andrii Derkach, pic shown.

Part III of "Ukrainian Witnesses Destroy Schiff's Case w/ Rudy Giuliani" to air Saturday, Dec 15 at 10pm EST! pic.twitter.com/9sQifKS9Fx

— One America News (@OANN) December 6, 2019
Rion has her own issues, which I won't get into here, but quite simply she is the poster girl for the counterintelligence concept of MICE: Money, Ideology, Compromise, and Ego. Rudy Giuliani is definitely one of the poster boys for MICE! He's constantly chasing money to maintain his lavish lifestyle and pay alimony; his ideology has been all over the map for years, but basically comes down to whatever benefits Rudy Giuliani; he's carried on multiple affairs and tries to keep them secret and he's constantly chasing shady security consulting contracts in the post-Soviet states and the Middle East, so there's a lot of compromising information on him out there; and his ego is ginormous!
What the Treasury Department makes clear today in their press release announcing the imposition of sanctions on Derkach, is that both Rudy Giuliani, who is the President's personal lawyer, and Chanel Rion, who is one of his favorite reporters, have both been compromised by a Russian Intelligence officer and are being used by him to interfere in the 2020 US election to the benefit of Russia. It is important to keep in mind that both Giuliani and Rion most likely believe that they are using Derkach, not being used by Derkach, though the reality is the direction of control runs the other way. The Russians have watched and assessed exactly what bait they needed to use to attract Giuliani and Rion, as well as others like Congressman Nunes and his catspaws Derek Harvey and Kash Patel, the latter of whom is now embroiled in the new DHS whistleblower allegations just as he got himself wrapped up in the Ukraine phone call when Nunes placed him on the National Security Staff during 2019. All of these people are convinced of their own superior intelligence and the righteousness of their cause and they are desperate to be important and be world changing figures, which makes them ripe for manipulation and easy to control.
It also means that the cornerstone of the President's impeachment defense was supplied by the Russian Intelligence Services via Derkach to and through Giuliani as the President's pro bono personal lawyer and Rion and her reporting. And which is also being used by Senators Johnson, Grassley, and Graham in their attempts to use their Senate committees to dirty up VP Biden prior to the election.
Rudy Giuliani – America's Mayor, Mr. a Noun, a Verb, and 9-11, the first name in cybersecurity, coveter of the position of Secretary of State, and the President's pro bono personal lawyer – is being run as an asset by Andrii Derkach, a US identified Russian Intelligence officer who is overseeing an ongoing, active measures campaign to subvert the 2020 US election to the advantage of Russia in a war that Putin believes Russia has been fighting against the US since at least 2014. Rudy Giuliani has betrayed his country. Rudy Giuliani is currently acting against the United States on behalf of Russia's Intelligence Services. Rudy Giuliani is a clear and present danger to the safety and security of the United States.
Obligatory: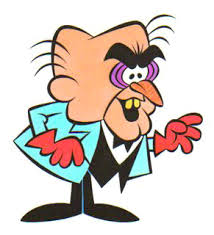 Open thread!