On the Road is a weekday feature spotlighting reader photo submissions.
From the exotic to the familiar, whether you're traveling or in your own backyard, we would love to see the world through your eyes.
Beautiful beaches and water scenes this morning.  Something for everyone, the black & white peeps and the color peeps.  First and last photos are my favorites.  :-)  What a surprise that these would make someone named WaterGirl happy!  Thank you, Steve.
Steve from Mendocino
Water Girl has indicated that she is one of the many who don't particularly respond to black and white, and I suspect she finds my subject matter a bit academic as well. I've tried to make this post as dynamic as possible with a mix of techniques, styles, dates, and emotional content as much as possible within the peculiar mindset that drives my bumbling path through life. This one's for you, Water Girl.
Starting as a newborn and through my teens I went with my family to my grandfather's beach house for the majority of each summer plus occasional visits on major holidays like Easter week. We'd poke around tide pools looking at the countless strange creatures that live there. I learned rafting then body surfing and eventually checked surf reports regularly to plan my daily activities. The Pacific Ocean became part of my soul. I specifically selected the location of my retirement home to be within 30 minutes of the ocean.

This picture of MacKerricher beach was taken in October of 2015. I'd finally made friends with digital photography and gotten myself a decent rig. The tremor in my hands is bad enough now that all hope of hand held photography is long past. Everything is on a tripod, and I use the camera's timer to trip the shutter after a 10 second delay which allows me to get my hands off the equipment and step back. It works well in most cases, but makes the timing of photos of dynamic subjects like surf and birds a matter of guess work and luck.
It was just before 9:00 in the morning on a clear day in late October. I was pretty much alone with my thoughts and the beauty of my surroundings.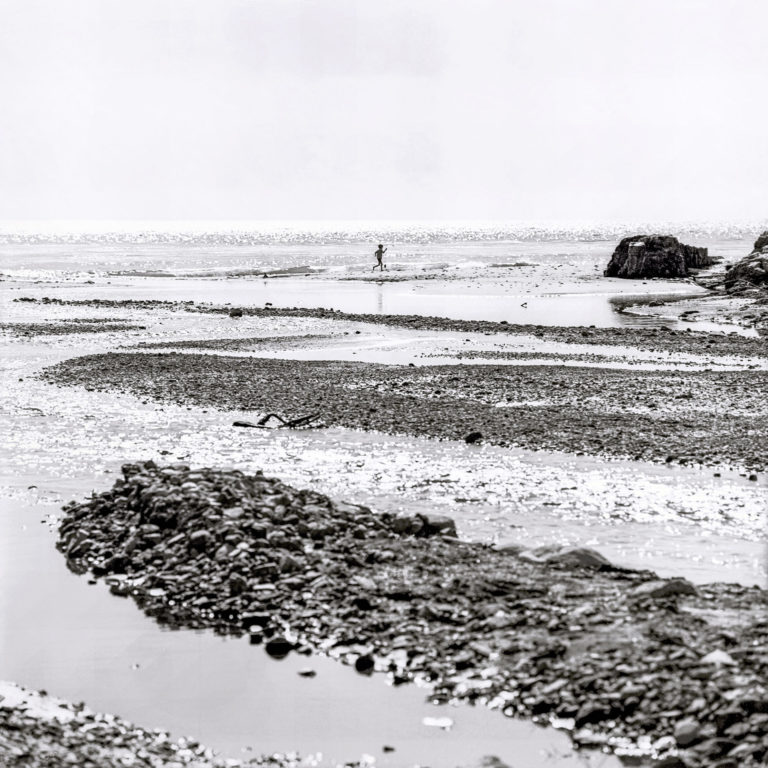 A couple of years ago (probably a bit more) Alain was soliciting photos for OTR. I didn't really have a sense of what he wanted so I turned him loose on my web site and told him to download whatever he wanted. He chose this one.
It was taken in the early 70's at a beach that I stumbled upon along the coast below San Luis Obispo. Generally, I find it more difficult to get exciting shots with mid-day sun, but the spectral highlights off the water made this pop.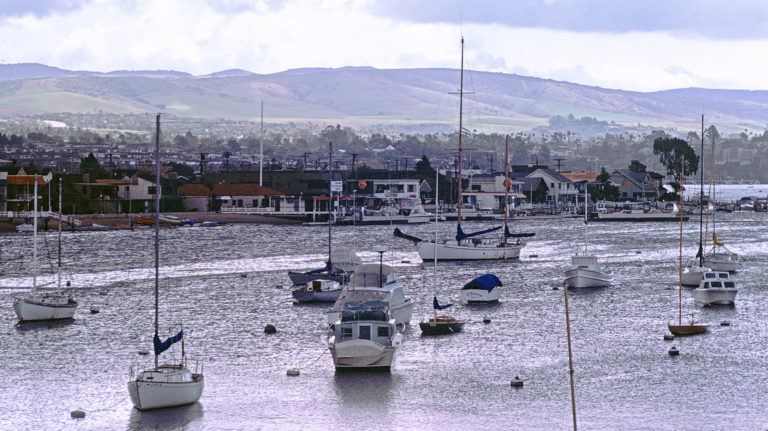 A stormy winter morning shot looking out over Balboa Island in Newport Beach, probably in 1976. Back then, the community got real quiet during the winter in a way that the place felt like my own private amusement park. Today those green hills are totally built out and the bay is busy all year around. At the time of the photo there was one of the largest bison herds in the country up there.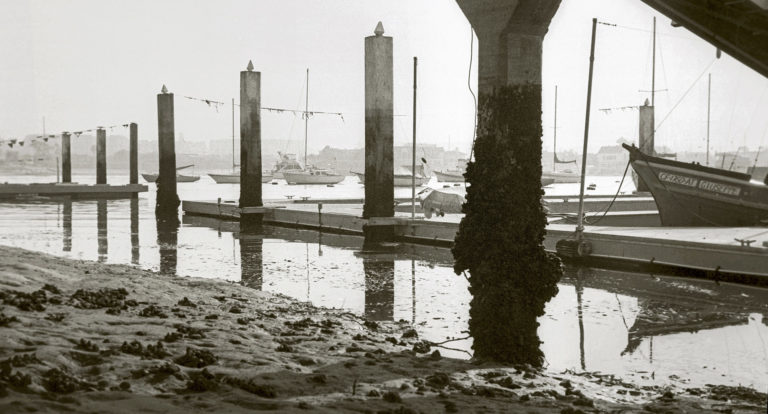 Another old picture of Newport Beach in winter. Low tide at the docks. Again, alone with my thoughts.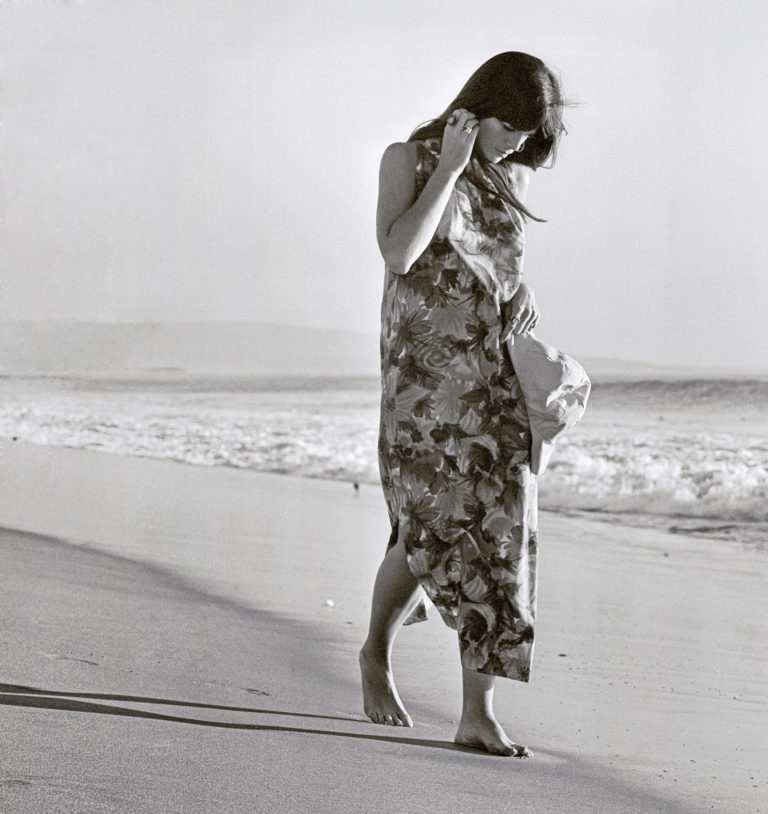 For fashion assignments at art school, photo students would request a model who was just starting out at Nina Blanchard Agency. The model would work for free in exchange for free photos for their portfolio. These beginning models were frequently clumsy, but that contributed to the educational value of the shoot. This image was one of the more successful pictures I got from that collaboration, taken on a generic beach in the South Bay, likely Redondo, in the late afternoon.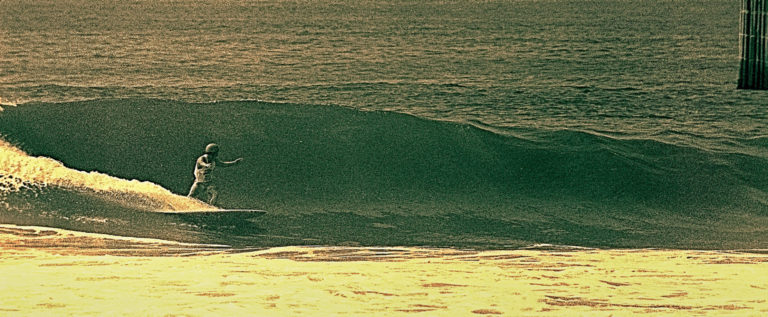 One of my class mates went on to become a staff photographer at Surfer Magazine for a couple of decades. His surf photos were undeniably better than mine, but I still took a bunch because it was something fun to do when I wasn't actually in the water, and it provided cool images of fun times I had. This was taken at the annual world championship event at Huntington Beach, probably in fall of 1969.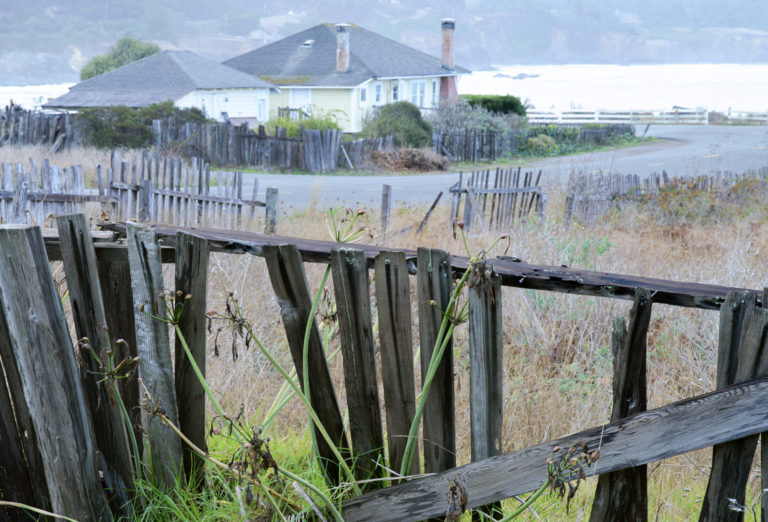 The Northern California coast is dotted with little communities that have a feeling of being out of time and isolated from the intensity of the "real world". Mendocino in winter is definitely a place like that. This photo looking south across the bay was taken on a misty mid-October morning in 2015.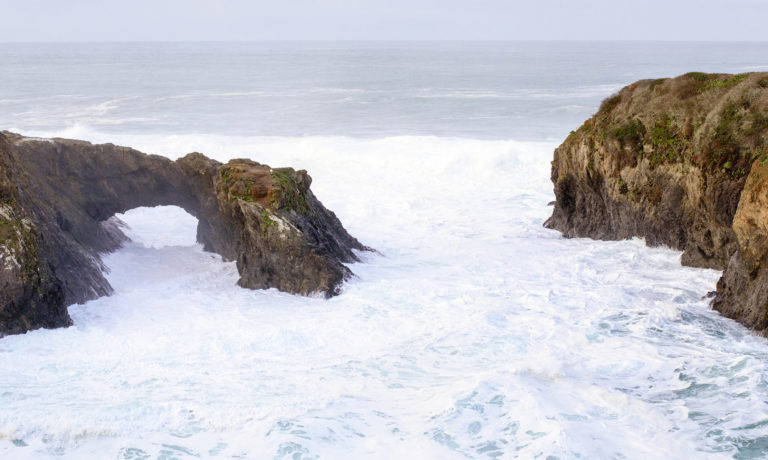 Early February 2016, 9:00 in the morning. The sun was weirdly intense and the swell was fairly high. The green/cyan cast of the foam against the ragged red/magenta rocks got my attention for this shot.