On the Road is a weekday feature spotlighting reader photo submissions.
From the exotic to the familiar, whether you're traveling or in your own backyard, we would love to see the world through your eyes.
On the Road: Week of September 14 (5 am)

Albatrossity – Caves and Birds in France, Part 2
Captain C – Captain C Goes to Japan, Spring 2019: Tokyo 1
?BillinGlendaleCA – Sunset at Leo Carrillo
Wag – Architectural Details
BigJimSlade – Yosemite 2020

Paris After Dark: Week of September 14 (10pm)

Empress of the Known Lute World – Paris through A Life
Ceci n est pas mon nym – Montparnasse, Paris
randy khan – Paris
slipz – Paris: Dame de Cœur
J R in WV – Roman Ruins Under the Notre Dame Parking Deck

?

Friday night marks the end of our Paris After Dark feature.

One week from today will be the start of our Farewell to Paris After Dark, where we'll show a collection of some favorite places and photos from the series.  We'll have two "Farewell" nights next week, with the final goodbye on Tuesday 9/22.

Then on Wednesday 9/23 we will head to Chile After Dark – with lashonharangue – who will take us on an 8-part road trip to Southern Chile while we figure out where we want to go after Paris. Favorite City?  Favorite Trip?  Something else entirely?  Start thinking about that, and we'll talk about where to go next, and come to a decision by the end of next week.  How does that sound?

And now, let's get back to Albatrossity.  I love how we don't just get gorgeous photos – we get background and interesting history, too.  P.S. don't be alarmed by the second-to-last photo, no one stepped out of their clothes and walked into the sea.
Albatrossity
After the visit to Chauvet we ventured west to Les Eyzies-de-Tayac-Sireuil, in the valley of the Vezere in the Perigord region. This town is centrally located in a region of France that is littered with prehistoric caves (including Lascaux), and is a UNESCO World Heritage site. It is also the site of the marvelous Musée National de Préhistoire, which was relatively new in 2005 when we were there. In Les Eyzies that we found several 4-5 star restaurants, the best truffle risotto on the planet, and it is also where we really perfected the waddle and sleep technique for visiting France. One of the excellent restaurants we visited had an outdoor balcony overlooking the river, from which you could see La Madeleine cave, the type site for the Neolithic art and tool assembly of the Magdalenian culture. Perfect!
Les Eyzies
June 5, 2005
One of the birds I most wanted to see was this one, the European Hoopoe (Upupa epops). This is a young bird, recently fledged, so it was willing to sit still and be photographed. The adults were much more surly.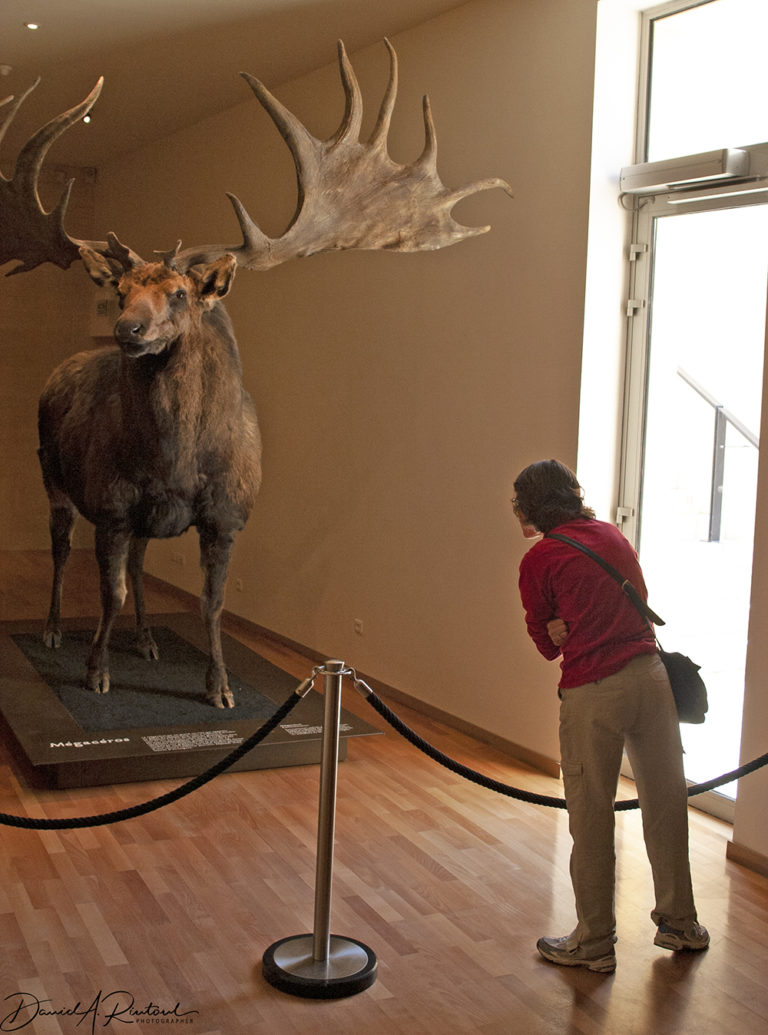 Les Eyzies
June 6, 2005
The Museum in Les Eyzies was fabulous, and I am sure that it is even better now. All of the tags and labels were only in French in 2005, and I am told that they are also in English these days. One of the more impressive displays is this Irish Elk (Megaloceros giganteus), one of the largest deer that ever lived, and a former inhabitant of this region. But they also have many galleries devoted to stone tools as well as jewelry and other wearable art of the Neolithic.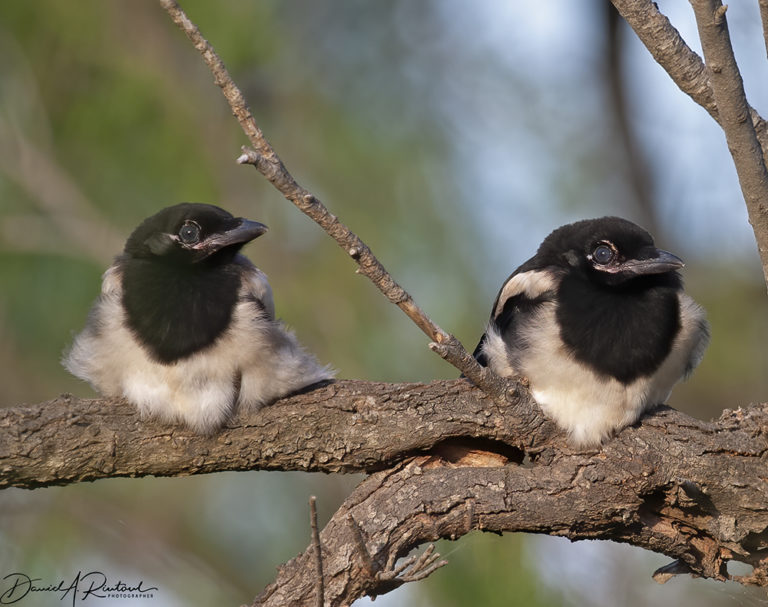 Perigord region
June 6, 2005
At the time these Eurasian Magpies (Pica pica) had just been reclassified; formerly they were thought to be conspecific with our North American Black-billed Magpies (now Pica hudsonia). So I was happy to find a new species, and particularly happy to find these youngsters, which still had the steely blue-gray eyes that many corvid fledglings exhibit.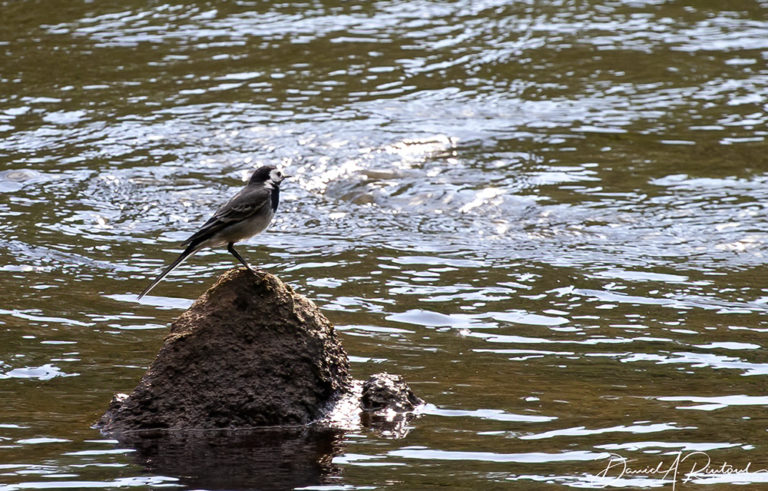 Perigord region
June 6, 2005
There are a number of species of wagtails (genus Motacilla), and all are found in the Old World. Since I had not been to Europe prior to this trip, I had not seen any of them. This Pied Wagtail (aka White Wagtail) on a rock in the river was a nice way to be introduced to the family.
Tarascon-sur-ariege
June 9, 2005
After we left Les Eyzies we headed south to the Pyrenees, and to the town of Tarascon, directly north of the tiny country of Andorra. The Pyrenees region is also littered with Neolithic sites, and this ancient town is centrally located for a visit to several of those, including one which had an entrance large enough that WWII aircraft could land and take off from there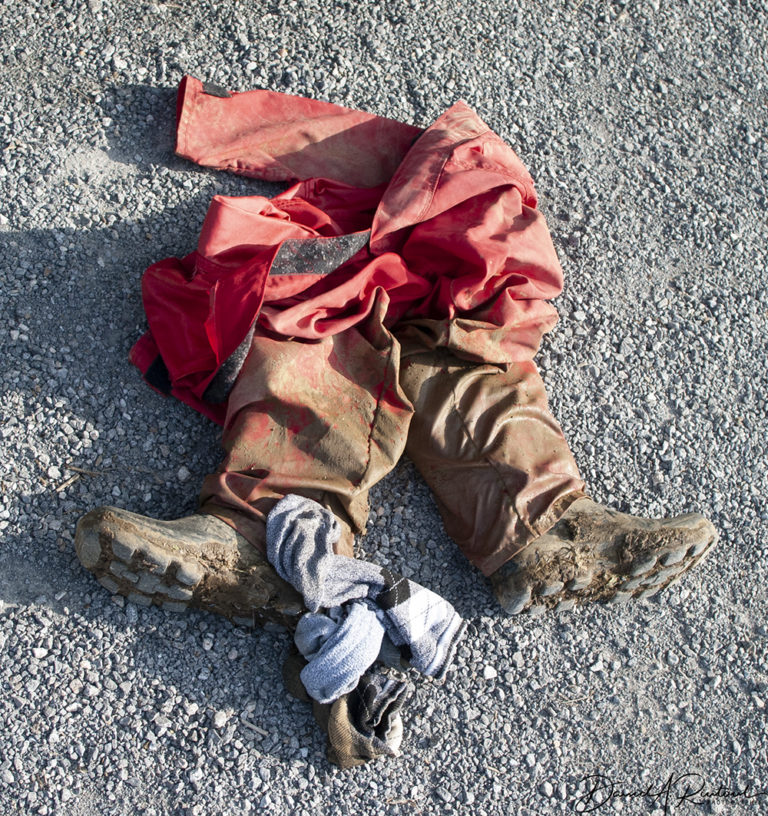 La Bastide
June 9, 2005
We had an appointment to visit a cave known as La Bastide, which was then and still is closed to the public. Again Elizabeth's contacts (and her excellent French language skills) paid off, with an invitation to join Yanik Le Guillou, along with a professor and her archaeology students from UC Berkeley, to visit this site. We were told to bring "boots" because the cave floor might be muddy, but international travel does not readily allow muck boots and waders to be packed, so we just had hiking boots. This is Yanik's outfit, shed like an exoskeleton, after the expedition. We were less well-equipped, which meant that about halfway through the tour, the rest of the group headed down a river of mud, leaving us to meditate silently for over an hour, alternately in the dark and then with our lights illuminating a magnificent polychrome horse painting (not my picture, amateur photography in these caves is strictly prohibited). I am not religious, but this experience, in a dark cave with a work of art that was thousands of years old, was mystical, magical, spiritual, or some other adjective that combines all of that with a sense of one's own mortality. It was profoundly moving. More images of La Bastide are here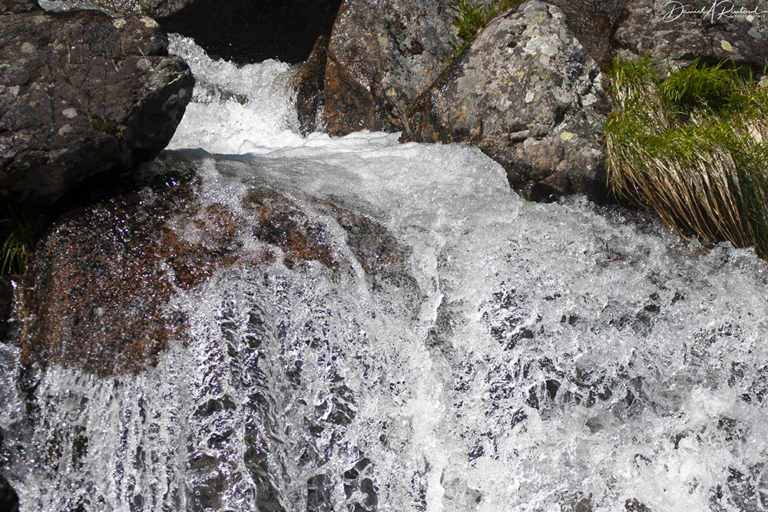 Andorra
May 13, 2005
After that, we took a day to go to Andorra (just to say we have been there), and our trip up through the higher Pyrenees was punctuated by numerous stops to see waterfalls like this one. Those are beautiful mountains, and I'd love to go back someday.