On the Road is a weekday feature spotlighting reader photo submissions.
From the exotic to the familiar, whether you're traveling or in your own backyard, we would love to see the world through your eyes.
For our final submission to Paris After Dark, we have Paris Underground!

Monday is the start of our 2-day Farewell to Paris After Dark, where we'll show a collection of some favorite places and photos from the series.

Then on Wednesday 9/23 we will head to Chile After Dark – with lashonharangue – who will take us on an 8-part road trip to Southern Chile while we figure out where we want to go after Paris.

~WaterGirl
J R in WV
By the time we reached Paris on this trip back in 2013, which was an AIA sponsored tour of ancient Cave Paintings in NE Spain and SW France, my Panasonic Lumix camera was out of commission, as I toasted the battery charger on European 230V power. So these pictures are from a Google tablet, which also served us as translator in Spanish and French… mostly Spanish as we were in the countryside more so in Spain.
This whole archaeological site was dug after the ruins were found incidental to construction of a new parking building near Notre Dame. Being big fans of ancient ruins, we went in here before we went into the cathedral. Being under the parking deck, it is darkish, especially for a tablet camera, although it was well lit for the naked eyeball.
There isn't much to say about the ruins. Even the rocks look old, white limestone, which most of Paris still appears to be built from. Foundation walls, bits of basements, some remaining arches over doors. It was fascinating to see ruins of buildings from Ancient Gaul though, that were at least perhaps planned and built in Latin. Since some folks expressed a strong interest in the Paris Street Scene that ran on the evening of 9-11 I decided to post up the best of the lot.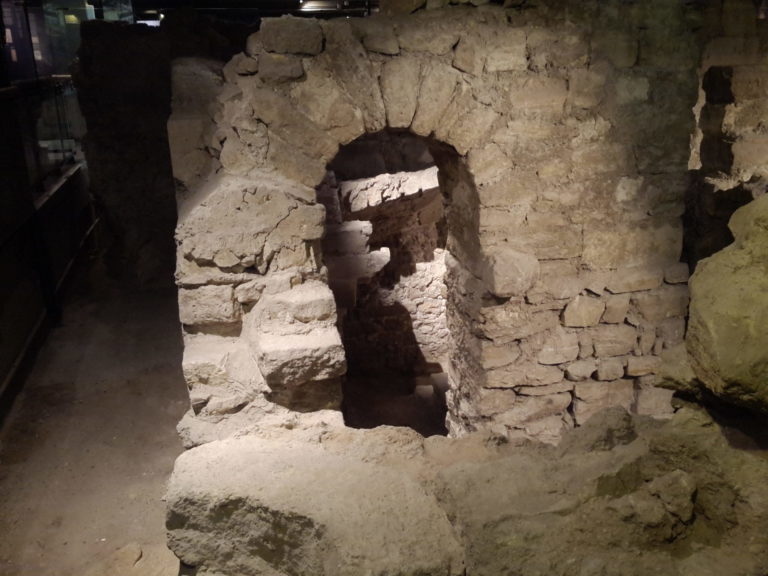 Notre Dame, Paris, Parking Deck basement Archaeological Dig
October 8, 2013
Ancient Ruins under a Parking Deck, at 1/8 of a second. Not sure if this shows steady hands or if I braced the tablet against a rail or post, which I learned early on really helps when you are shooting with available dark.
I thought this shows the gloomy creepiness of ancient basement ruins pretty well. For ~2000 years old, the stone work is still looking pretty good. If it wasn't white limestone you wouldn't be able to see a dammed thing!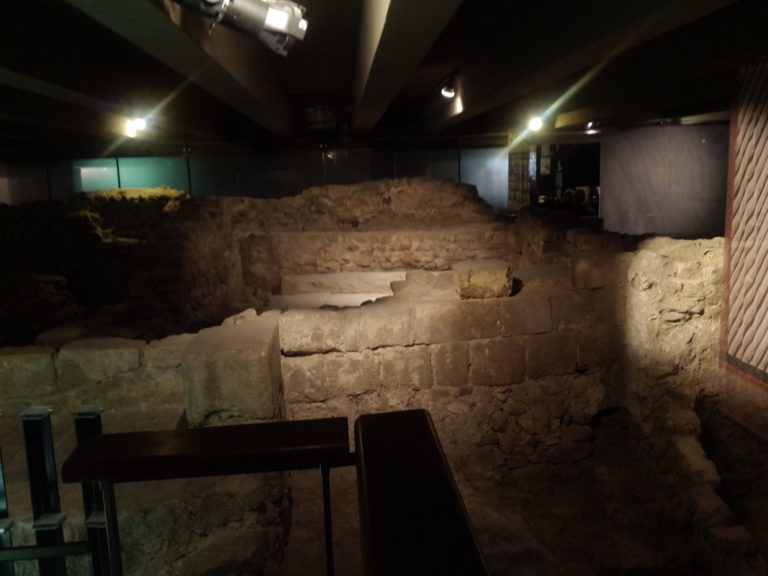 Notre Dame, Paris, parking deck basement Archaeological Dig
October 8, 2013
This shows the building facility over and around the uncovered ruins. You can see the heavy beams and the well designed lighting, as well as the stone walls, foundations, etc.
At this point in the trip, we have seen bones, 30,000 y o paintings, Neanderthal and CroMagnon remains, so these ruins didn't really hit me as much as they would have at the beginning of the trip. We were already saturated in old and creepy by now. This exposure is at 1/10 of a second and certainly could use more light, but it seems worth seeing to me.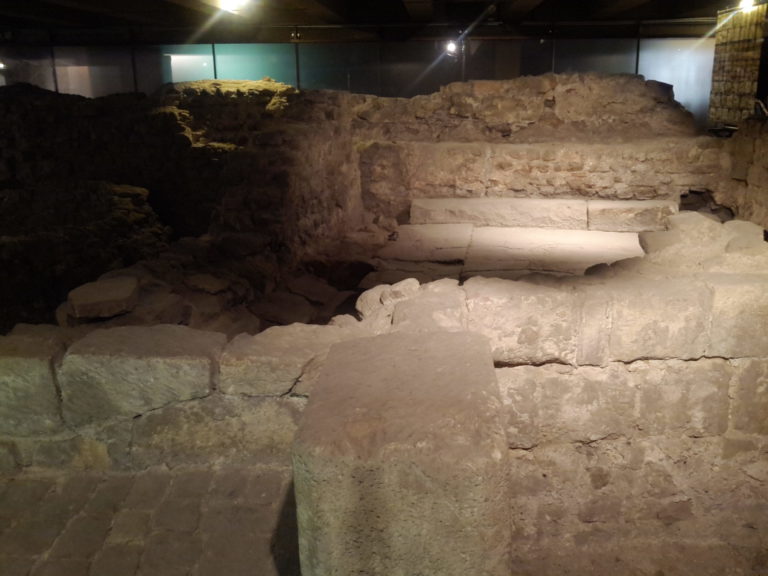 Notre Dame, Paris, parking deck basement Archaeological Dig
October 8, 2013
Roman ruins, some flooring among the remnants of walls. I expect this work was all done by enslaved Gauls, directed by guys who had at least some Latin, but probably never saw Rome, which in CE 89 was a very long walk from Paris.
I took Latin and read Julius Caesar a very long time ago, so who really knows?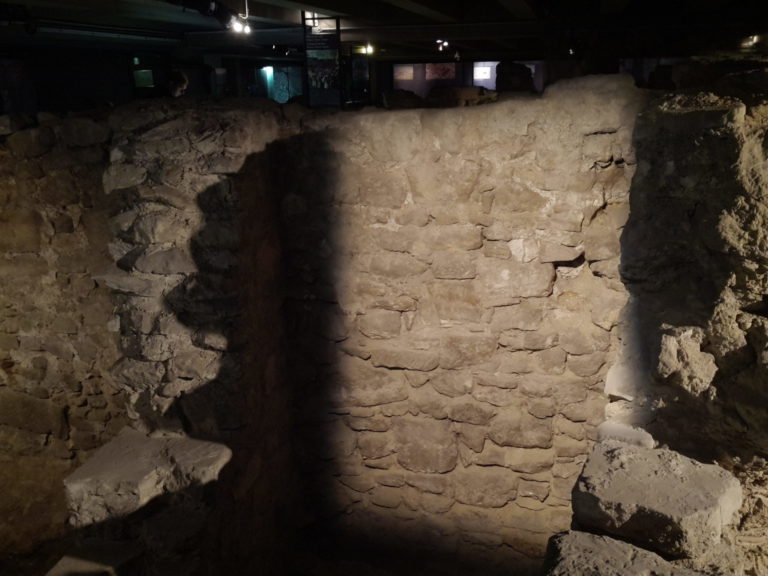 Notre Dame, Paris, parking deck basement Archaeological Dig
October 8, 2013
Ancient Roman wall… 1/13 sec.
I was actually amazed that these came out so well at that speed, holding a Nexus 10 tablet still. Some are fuzzy, but I'm not going to share those, am I? It was pretty dark for taking photos, they were going for atmosphere more than bright lights.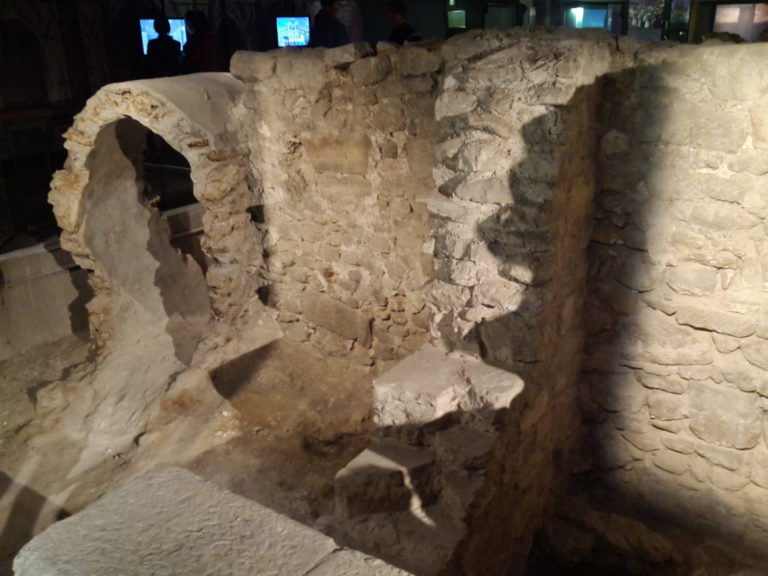 Notre Dame, Paris, parking deck basement Archaeological Dig
October 8, 2013
This arch is still looking pretty good after nearly 2,000 years of wear. That was built by a pretty good mason any way you count things.
In the upper background you can see some video monitors that provided lots of information about the dig and the ruins… none of which I recall much of. I could be off by several centuries on the age, for example… sorry, but here is what it looks like down there in the basements of Paris.
1/8 sec exposure.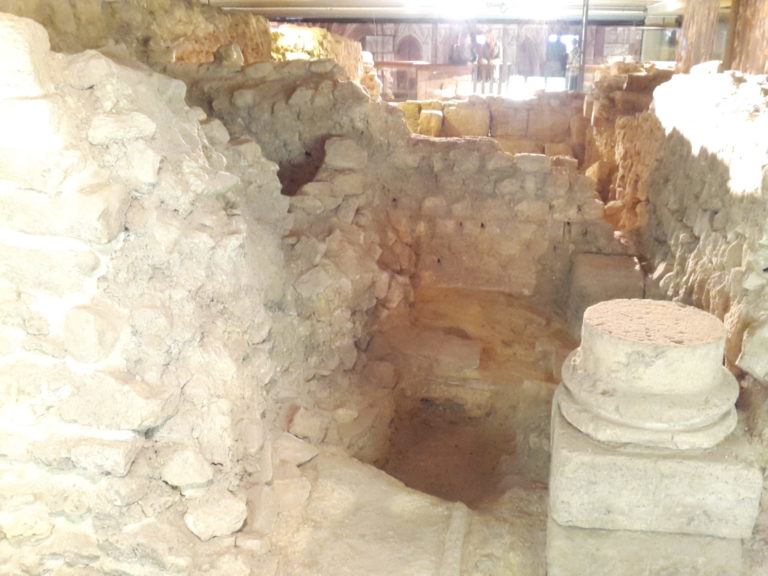 Notre Dame, Paris, parking deck basement Archaeological Dig
October 8, 2013
More ruins. I feel less competent because I have so little to say about these photos. This is pretty bright because it was 1/2 second exposure, amazing that it isn't smeared with movement!
There is the bottom of a column, and otherwise this looks like the basement of the basement, deepest place of the digs. Here's part of what I find from google about this dig "The dockside of ancient Lutecia, the building of Gallo-Roman public baths, the early 4th century city wall…"
There was more, but it didn't make much sense to me, so that's that.
Hope this was interesting for folks, I know we felt like we had found gold when we ran into this. The whole trip was archaeological ruins, museums, digs, and this in Paris was icing on the cake.