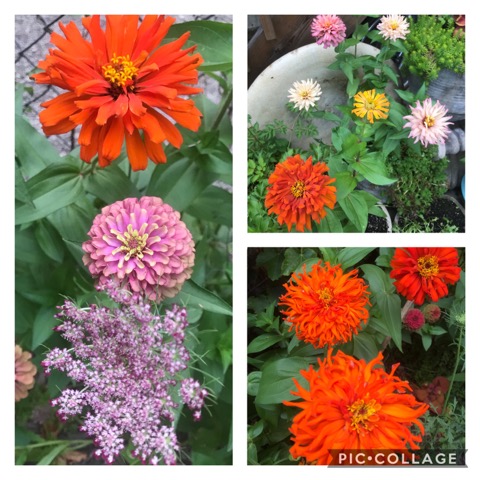 Following up on last week's post, from commentor Misamericanthrope:
I would be remiss if I didn't mention the other event of the gardening season. Here she is:

A pair of Robins decided to build a nest under the stairs to my 2nd floor back porch. She (I named her Gretchen) was not a big fan of me! She would regularly dive-bomb me when I watered and would land nearby and give me a terrible stink-eye! It was simultaneously hilarious and harrowing. She never actually touched me but I could feel the air move from her flapping wings. She really wouldn't bother the other tenants; only ME! Granted, I am the one out there most often. I even attempted a disquise at one point. It didn't work. After they hatched, I would leave bowls of mealworms out for her and the Papa to feed the babies. The peace offering failed to impress her. Only after the babies fledged and she moved on did I realize that I kinda enjoyed our drama!

Here's a still from a grainy video of one of her attacks:

My perennials certainly did their part to add some fullness to the overall garden. Here's my Amsonia and a Brown-Eyed Susan (a new addition; a gift from a friend).
And here's the Brown-Eyed Susan in pre-dawn light.

And my Coleus 'Campfire' is still going strong! I take a cutting each year and over-winter it indoors and take a new cutting in the Spring to put back out. I put additional cuttings in other more Full Sun planters and they didn't do as well. It really loves this spot as it gets some late afternoon shade.

Late season is now producing blooms on my Morning Glory "Flying Saucer" vine. Nice to encounter in the AM!

The final shot from this year's garden will have to go to another new addition. It's a Sambucus called "Laced Up". Unlike other Sambucus, this one is columnar, only getting 2'-3' wide but 6'-10' tall. It seems well-established and should be a star of next summer's garden.
***********
On the one hand, last night's cold snap probably finished off my last straggling cherry tomato plants.
On the other, maybe I'll be able to spend more than half an hour in the garden without suffering from heat prostration!
What's going on in your garden(s), this week?