On the Road is a weekday feature spotlighting reader photo submissions.
From the exotic to the familiar, whether you're traveling or in your own backyard, we would love to see the world through your eyes.
Just prior to the conclusion of the Paris After Dark series, featuring lots of great pictures from lots of jackals, WaterGirl asked me if I would be interested in choosing some favorite images and adding them to a couple of posts as sort of a finale to the series. I've never been to Paris, so maybe she was just rubbing it in :-)
I also don't take photographs of cityscapes or people very often, so I thought it would be interesting to do this, and to compare my choices with hers. Turns out we did pick several images that appealed to both of us, and there were also several in each of our sets that did not appear in the other. That's not too surprising, since there are so many great images in this series. I suspect everyone who followed the series had some favorites that didn't get on our lists, because there were just so many good ones!
So here are a dozen of my favorite images from the series. Thanks to WaterGirl for conceiving the idea for this series, and for including me in the finale despite my woeful inability to get to Paris in the past!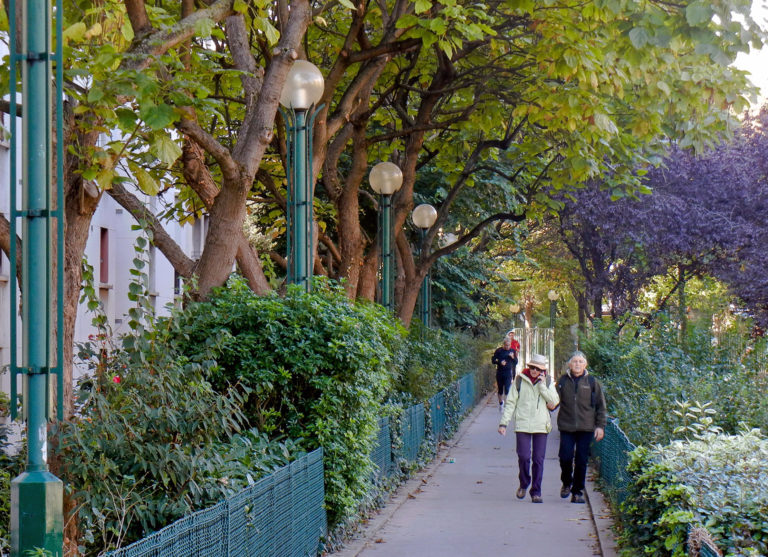 Photo by Steve from Mendocino
Steve's photo of a green and welcoming walkway is colorful, well-composed, and really makes me want to be there!  WaterGirl most definitely would like to be there, too.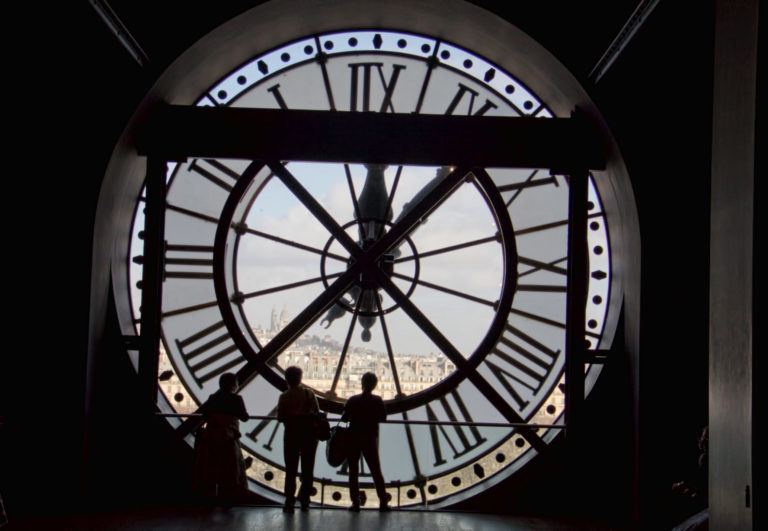 Photo by arrieve (2018)
What a great view from arrieve! Foreground figures add interest, but the vision of the city through that clock face is simply marvelous.  (Another WaterGirl favorite!)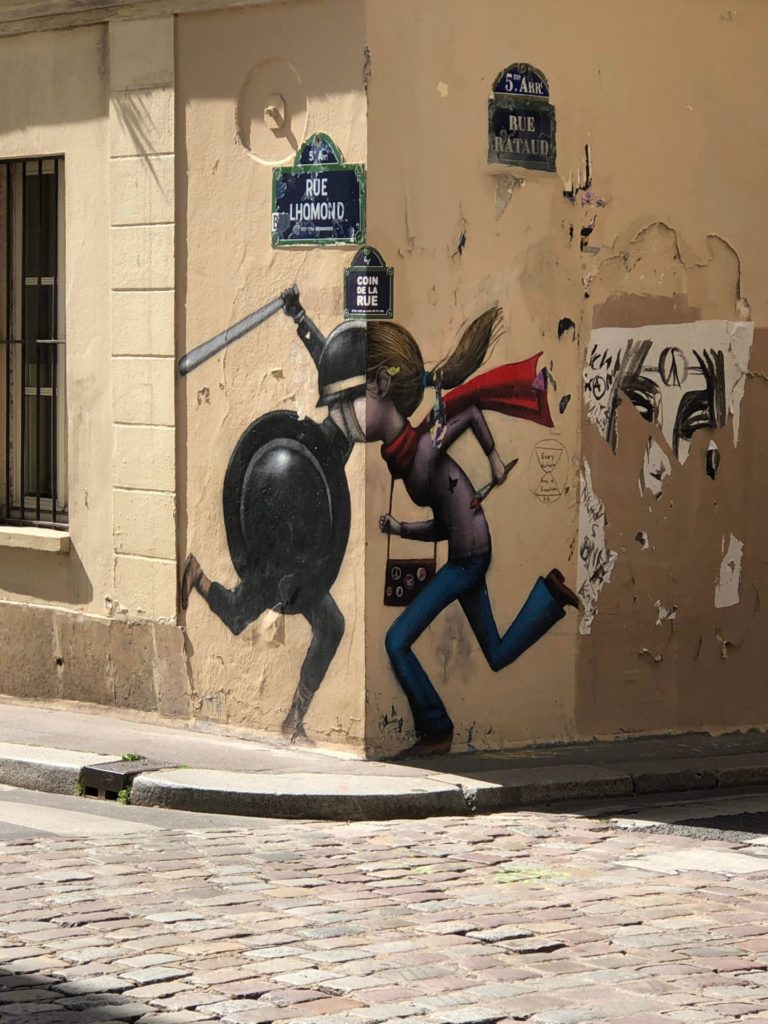 Photo by MissWimsey (2019)
Street art can be mundane, political, amusing, or all of the above. This is a fascinating bit of street art captured by MissWimsey, and I'd love to hear more from that artist about how this came about.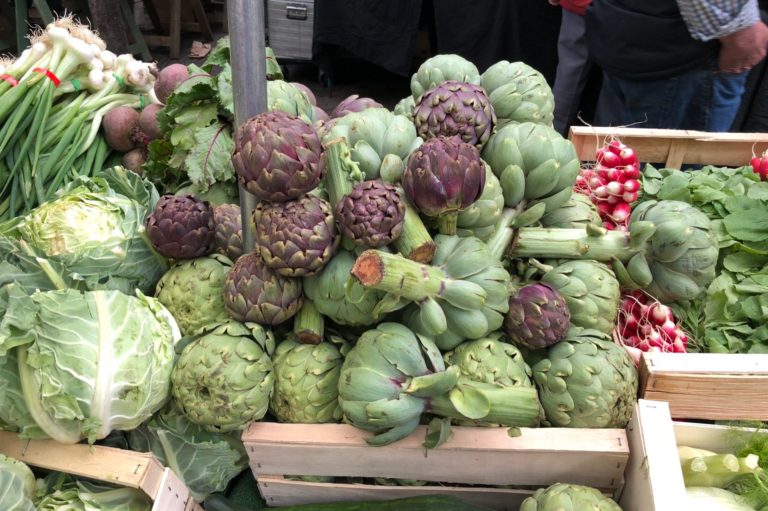 Photo by MollyS (2018)
I love artichokes, and this display of great-looking artichokes makes me hungry. The colors snap, and the composition is wonderful. The hint of a buyer or seller in the upper right adds a nice touch to this image from MollyS.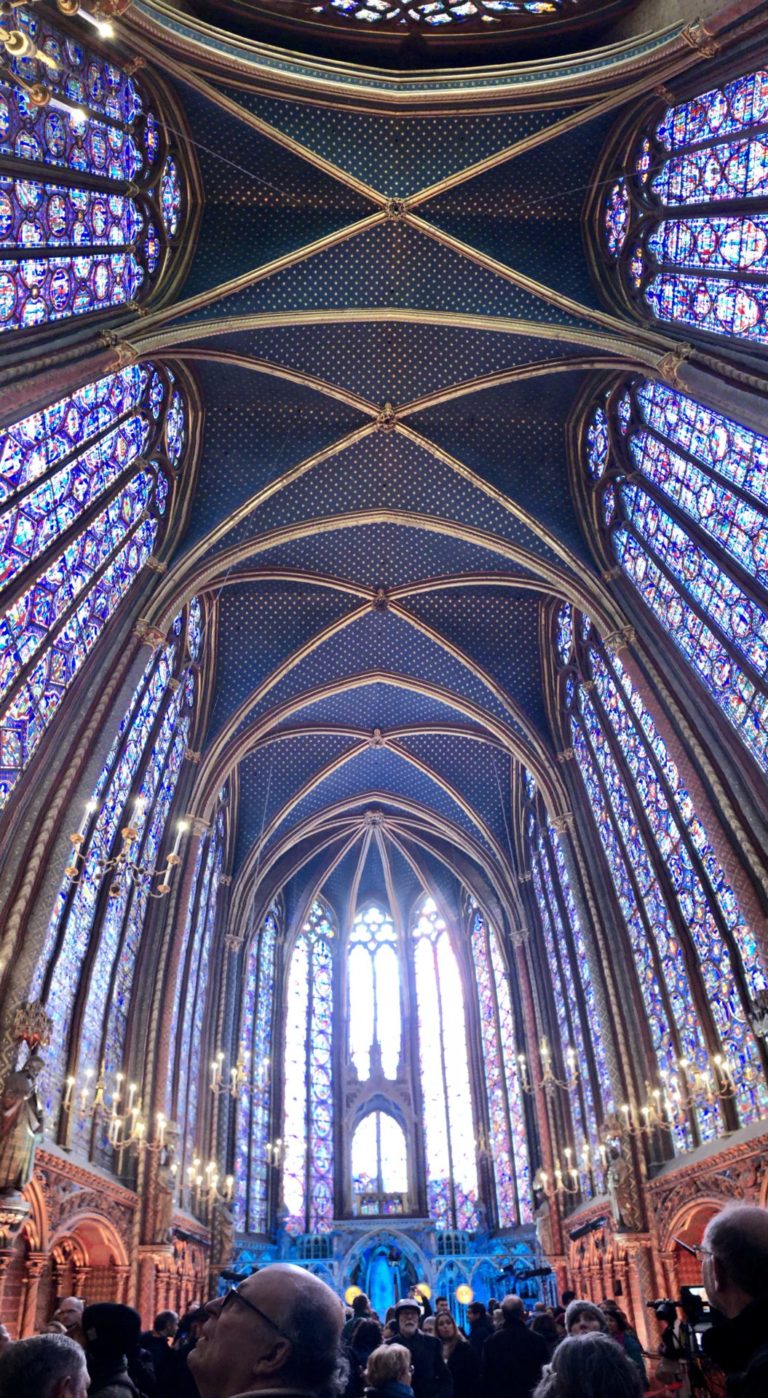 Photo by Wag (2018)
There were so many gorgeous pictures of church interiors in the Paris After Dark series that it was tough to make any decisions about favorites. But this one from Wag shows the majestic vault of the ceiling as well as the incredible light filling the space. The tourists and gawkers at the bottom of the image help to direct our gaze upward.
This was another of WaterGirl's favorites.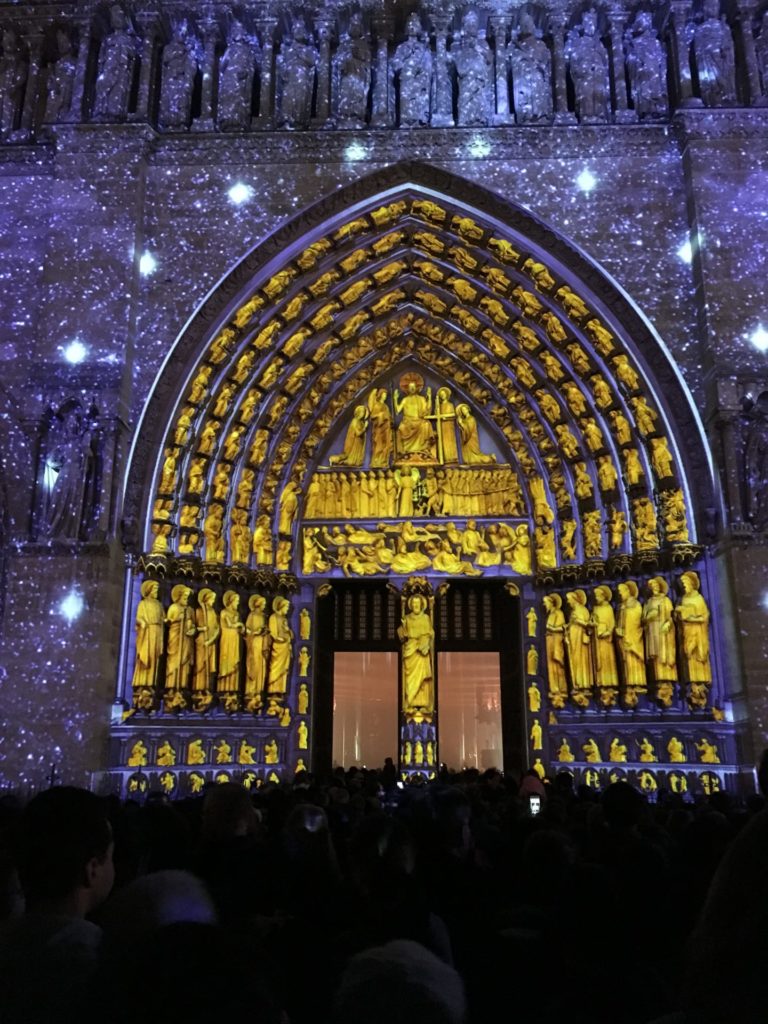 Photo by slipz (2018)
The story that went with this image was special, but this image from slipz is powerful . All these sainted statues, smoke, and a light show along with the crowd! And the ghostly statues above reflect the crowd below. Gorgeous!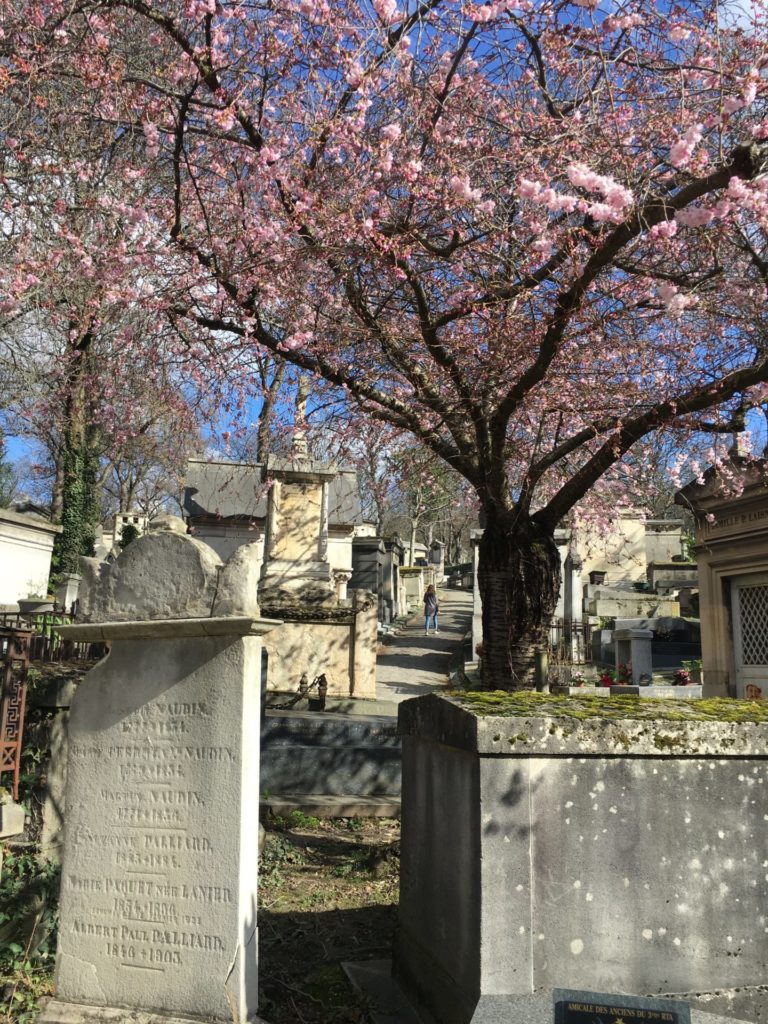 Photo by Argiope (2019)
Cemeteries made a lot of appearances in the Paris After Dark series as well, and again, it was tough to pick a favorite. But springtime and renewal, epitomized by this great flowering tree, lend an extra tough of poignancy to the long rows of headstones and mausoleums in this image from Argiope. The lone human figure, back turned toward us  in the distance adds another reminder of the fleeting nature of the living world.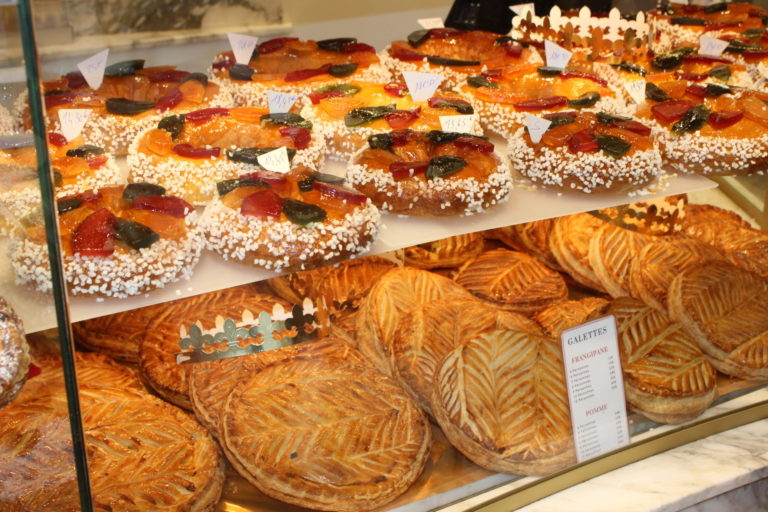 Photo by randy kahn (2018)
These pastries look spectacular, and I do my finest Pavlov's dog imitation when I look at this image from randy khan. I'm hungry as I write these words, and I really want to be in this bakery right now!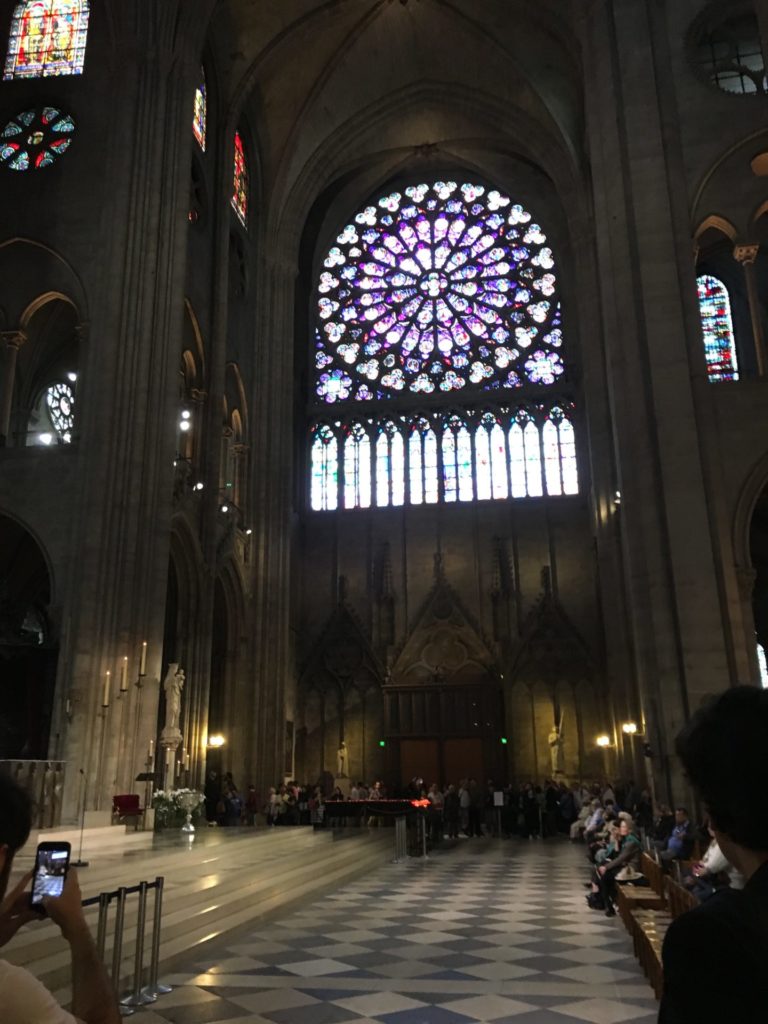 Photo by Auntie Anne (2017)
Stained-glass rose windows made lots of appearances in the series, and this time, as you will see, it was impossible to pick just one. I like this one from Auntie Anne for the informality of the image. It's a church, but there are no services ongoing, and folks are sitting, standing, gawking, and taking cell-phone pics, all in the presence of this magnificent work of art.
This is WaterGirl's favorite stained glass photo.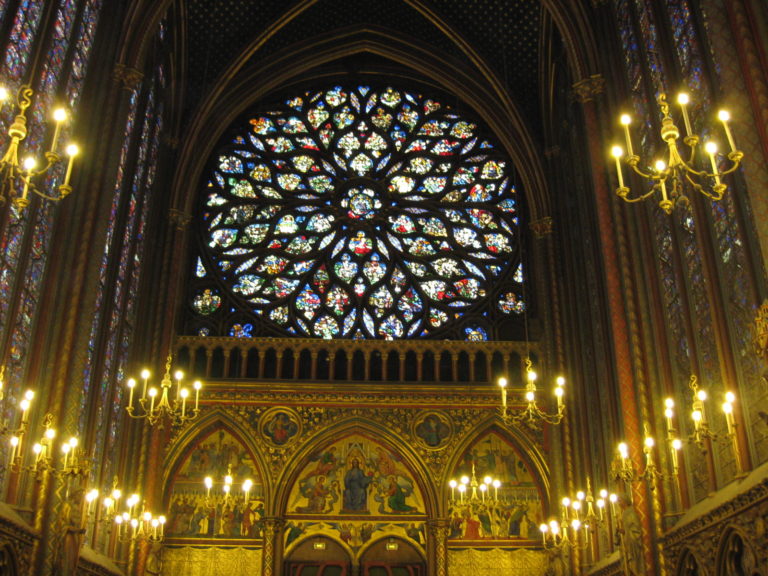 Photo by Omnes Omnibus
A glorious stained glass rose window, encased in rich gold colors and saintly visions, from Omnes Omnibus. I can almost smell the incense!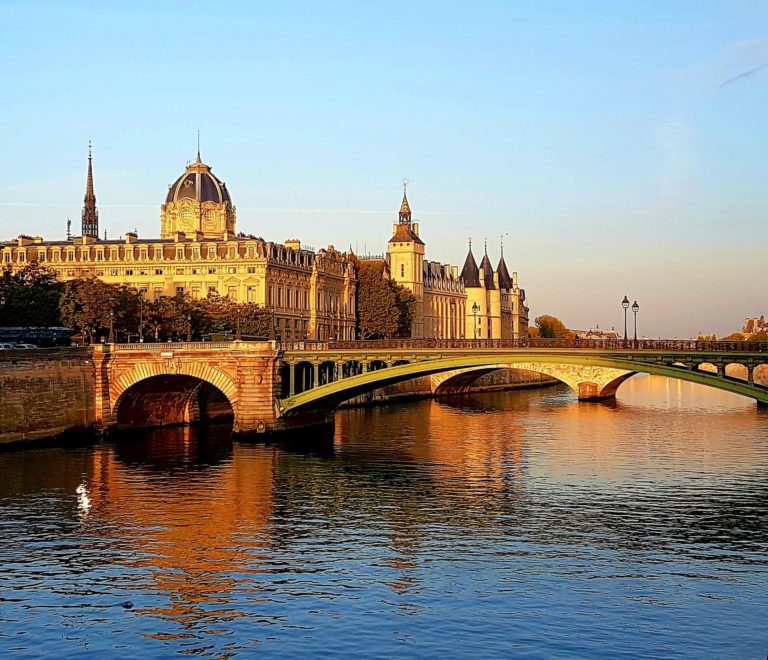 Photo by lashonharangue (2019)
A glorious golden-hour view of river, bridges, and spectacular church architecture from lashonharangue. The lack of human figures in this iconic setting is arresting, and the light is perfect.
WaterGirl: "Absolutely stunning."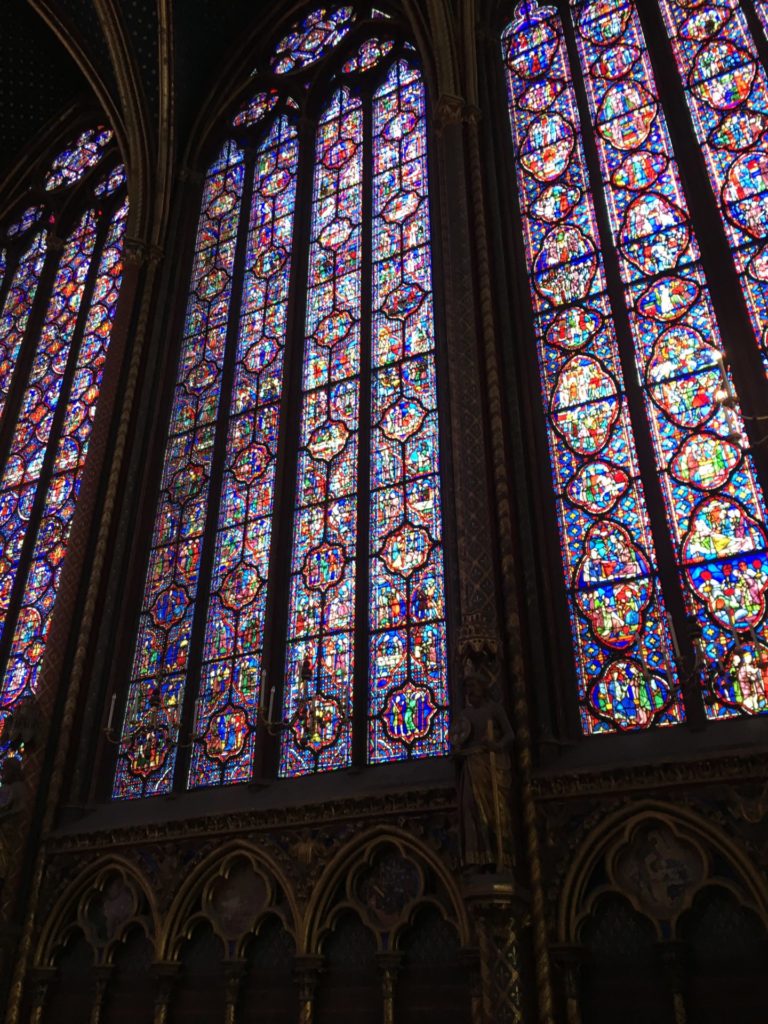 Photo by Auntie Anne (2017)
Stained glass windows with just a hint of gothic architectural detail below and vaulted ceiling above, this image from Auntie Anne makes Paris come alive even for those (like me) who have never been there.