I'm losing my gourd, as my son says on a daily basis, and like some here, am having a little trouble just getting through the minimum needed to keep all the balls in the air, much less contribute as I should to the common struggle our little community is waging to keep ourselves and our country on the beam.
I've got lots to say about current events–we all do–but they mostly seem to come out as a half-wail, half-scream, half-self-pitying whinge. (Hey! I am a three-handed professor, after all.) So I'll keep trying to come up with something more substantive going forward, but for now, a little fun.
You guys may recall that a new furbomb joined the Levenson household recently. Champ, then just six weeks old, came through our door a week ago last Friday, as teeny as can be and kind of spooked about the whole business of existing.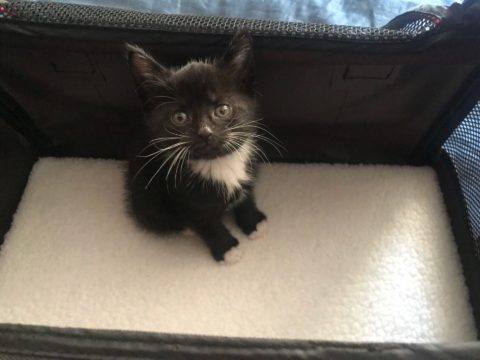 It hasn't taken long for her to come into her own. She's particularly interested in human bodies as jungle gyms.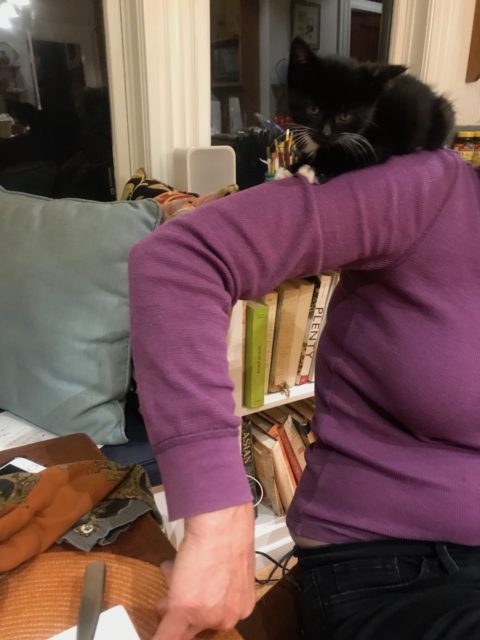 And in discovering hidden talents–here she is getting in touch with her inner Catier-Bresson…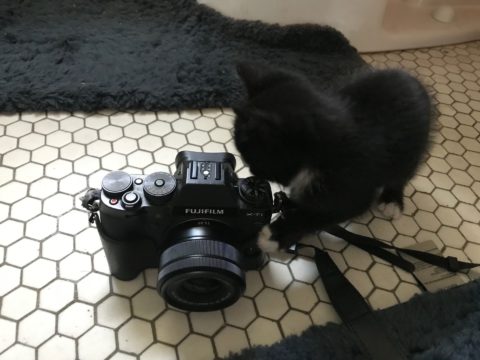 …and standing the morning watch with me and Oppie: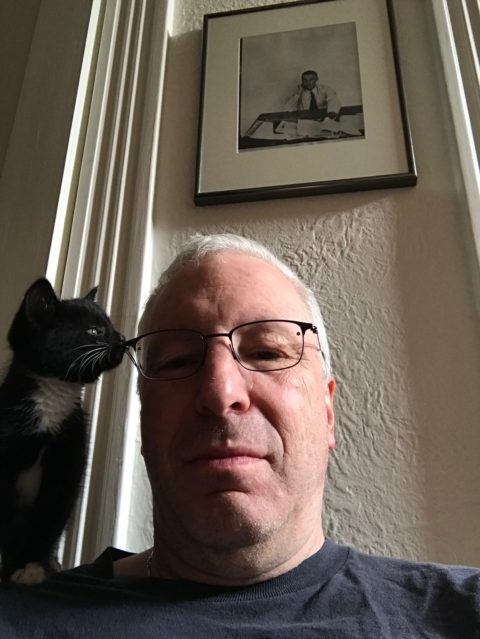 But the Big Cat hasn't been amused: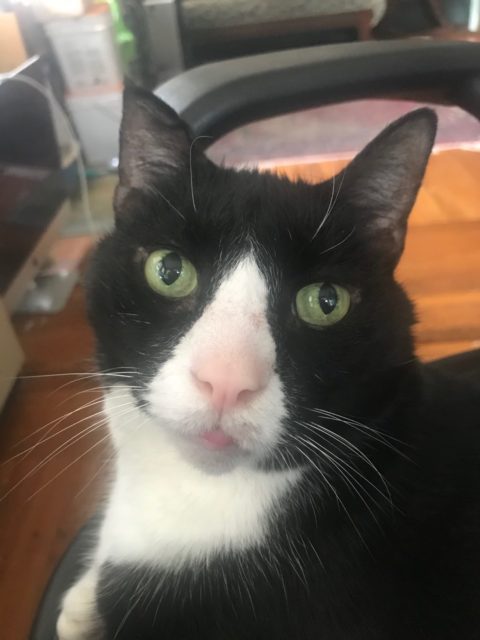 It's been getting a little better–but Champ does test the limits.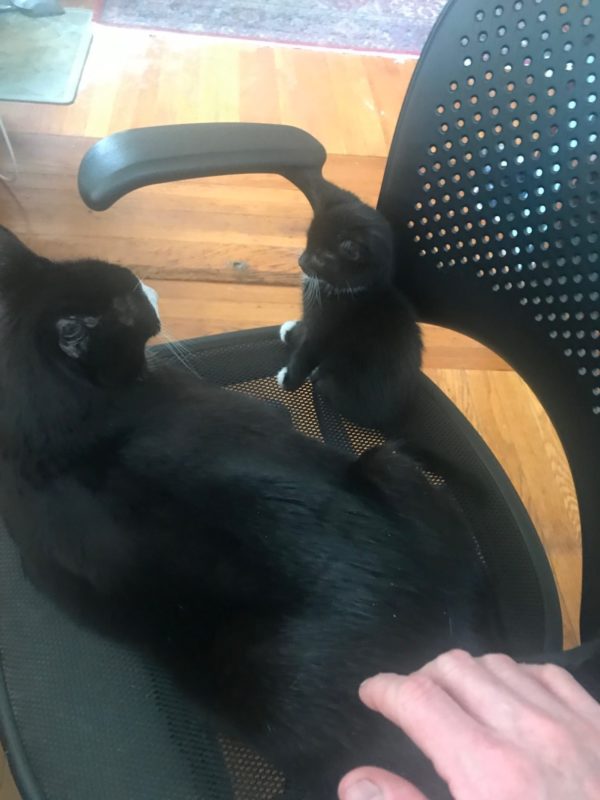 But it's all good–sort of: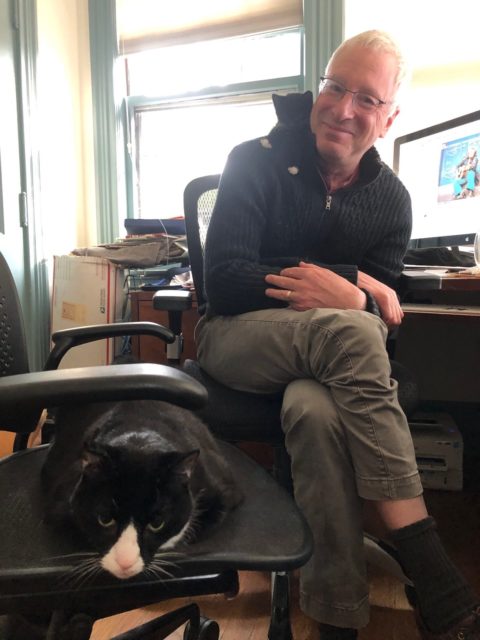 Bonus respite. We made the best steak last night. Just a delicious version of a cut that is often pretty cheap.  That would the picanha–sirloin cap, cut from the bit just next to the tri-tip, I've been told.
It has a great fat cap, and when we have folks to help us eat it, and an epidemiological circumstance that allows us to do so in company, we will buy whole picanhas (2-3 lbs), cover it with the simplest of rub–3:1 freshly ground cumin and coarse salt that gets pulsed once with the cumin at the end of the grind. We sear it on the fat side only, very quickly, and then either cook it in a slow oven–275 degrees convection–or, if I'm feeling particularly attentive, in a Weber, to which I add smoke chips that I've soaked. Serve that with a chimichurri sauce or the Peruvian variant that adds feta, and you've got a treat. All of two minutes of prep, and, especially for the oven version, nothing more difficult than checking the meat thermometer.
That's not what we had last night.  Instead, the local Whole Paycheck had unusually well marbled sliced steaks (picanha is usually pretty lean–that's why hanging on to the fat cap is so important)  I scored the fat cap (really: don't let them trim it!) and the meat, and dumped the steaks into a marinade I picked up from somewhere: 1/4 c olive oil. 1/4 c. lemon juice. 3-4 cloves of garlic, smashed then mashed in a mortar and pestle with 1-1.5 teaspoons of salt. 1.5 teaspoons of pimenton, (the sweet one, not the hot)–Spanish smoked paprika. 1 teaspoon dried oregano.
Basically whisk all that stuff up really well. That's enough for 1.5 pounds of meat–just dump the steaks in the bowl and sluice them around until they're well covered. Marinate for at least 90 minutes, as much as 6 hours or so–longer than that and the lemon begins to "cook" the meat more than I like; YMMV.
Then onto a hibachi or similar. I cook it hot, and it takes just a few minutes per side to get to the rare-side-of-medium-rare we like.
Nothing special, nothing earth shattering–just a really tasty way to enjoy a steak that doesn't hurt the wallet the way a rib eye or a strip does, and that requires really minimal prep and skill.
Last goody (see–I'm really trying to focus on stuff that takes me back to my happy place)…
I find as I age I grow increasingly hard of heron: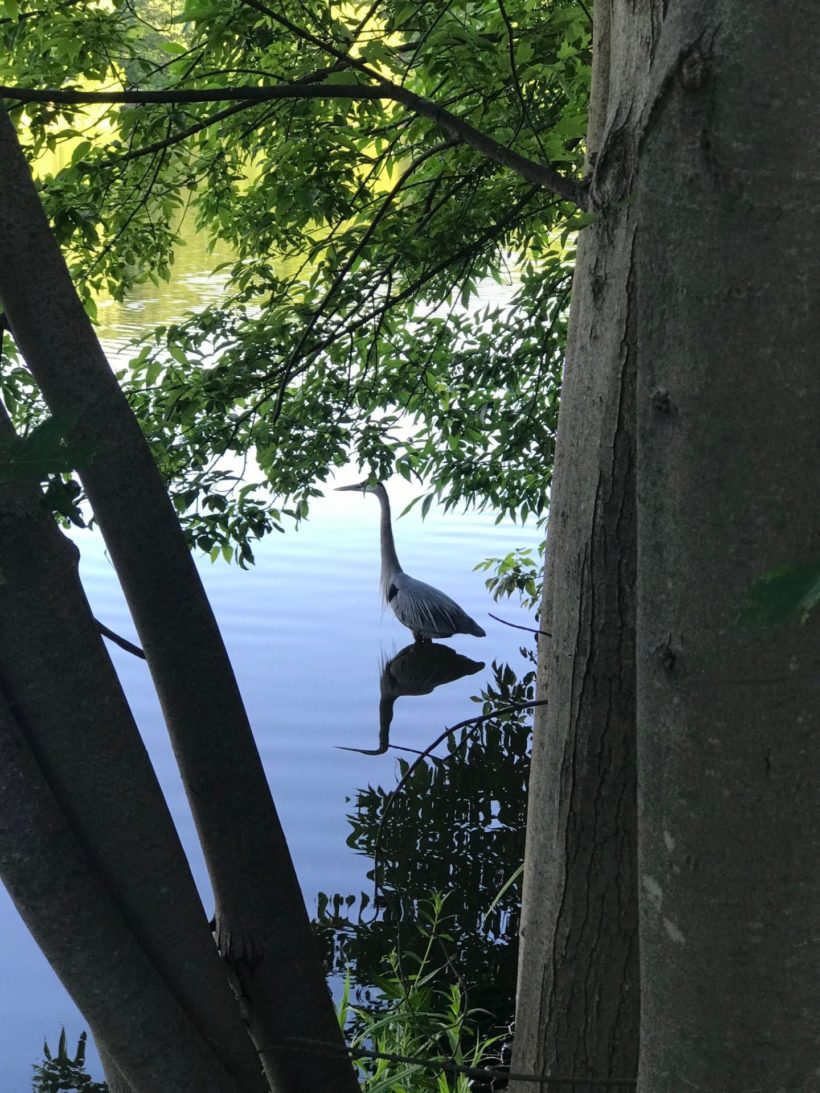 And with that…
Respite open thread. Talk food, talk pets, talk birds, talk anything but you-know-what.