On the Road is a weekday feature spotlighting reader photo submissions.
From the exotic to the familiar, whether you're traveling or in your own backyard, we would love to see the world through your eyes.
Today is the start of Chile After Dark – with lashonharangue – who will take us on a road trip to Southern Chile while we figure out where we want to go after Paris.

I'll introduce the series with this first post, but will let the other individual Chile posts speak for themselves.

In this 8-part series, we'll be treated to a story arc that starts from a place that had been developed for over a century, with paved roads and power poles, and tourist destinations with tour buses.  We take a ferry ride and drive onto a gravel road in a rainforest, but the story ends at a place that is at the "end of the world."

lashonharangue highlights how recent the Carretera Austral was (Chile's own Rt. 66?) and how it is impacting the people/places in the south.  He tells me that there have been a lot of environmental battles in Patagonia, and that ecotourism and adventure tourism are alternatives to more destructive economic development.

lashonharangue includes a fair bit of text to convey what the trip was like so that we might feel like we are along for the ride.  He tells me that you can find as good or better photos of Patagonia online – but that's not the point.  His hope for the series is that we can share his adventure and see both the good and challenging aspects of all of it.

Let's get started!

~WaterGirl
lashonharangue
Soon after retiring my spouse and I prioritized our bucket list trips. Top of the list was visiting Chile, specifically Patagonia. We flew to Santiago, spent a week there, and then drove south in a rented 4WD SUV along with our camping gear. It was the first time we had driven a stick shift in four decades. We spent four weeks camping and hiking through Patagonia, including driving most of the Carretera Austral in Chile, and ultimately reached Tierra del Fuego. 
We stopped in several cities (Concepción, Valparaiso, Temuco) on the way to Puerto Montt, which is at the northern end of the Carretera Austral. This road, built by the Chilean army, was started in the mid-70s but its full 770 miles were only completed in 2000 at the small town of Villa O'Higgins. The road stops there because it is blocked by a giant ice field. Some of the road is paved, but much is a two lane gravel road, with sections connected across bodies of water by ferries of various sizes.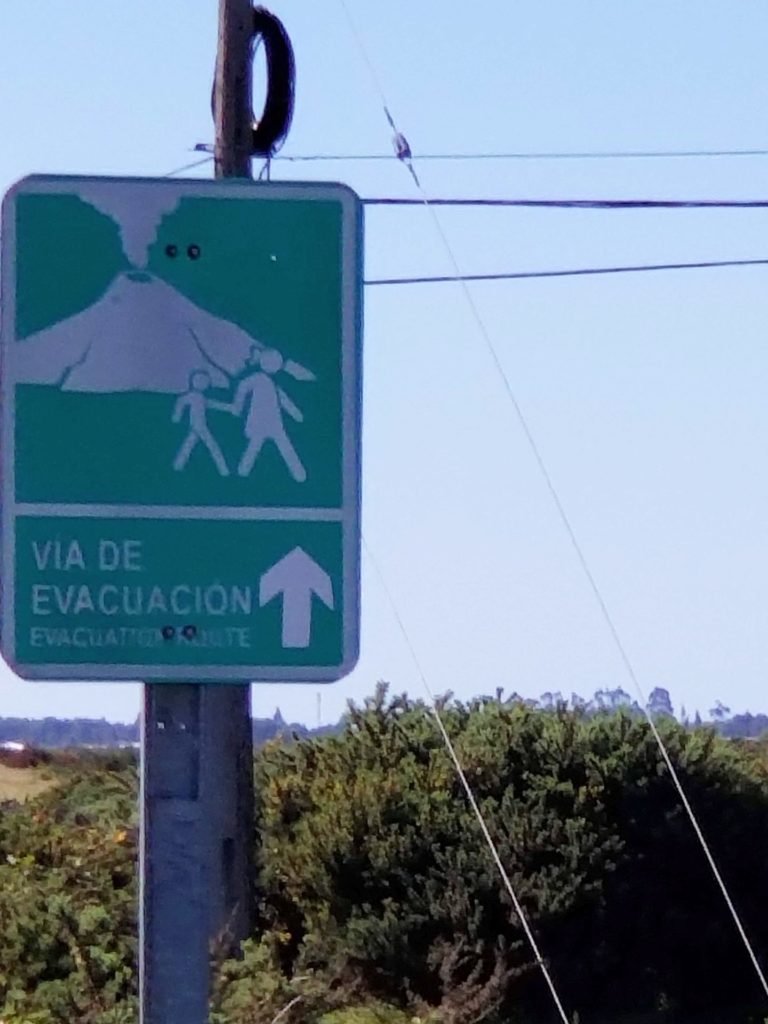 Puerto Varas
November 30, 2018
We spent a few days exploring the Puerto Varas area just north of Puerto Montt. We drove around Lago (lake) LLanquihue. You can see the influence of the german immigrants who arrived in the mid 19th century in architecture, food, and beer. 
Compared to Chile, California is geologically tranquil. All the Chilean towns we saw along the Pacific had tsunami evacuation route signs. Signs for volcano evacuation were also a frequent sight. And major earthquakes are distressingly common. 
I find signage fascinating. What is this image trying to communicate? It is important to hold hands when evacuating from an erupting volcano? Mothers don't forget your child during an eruption?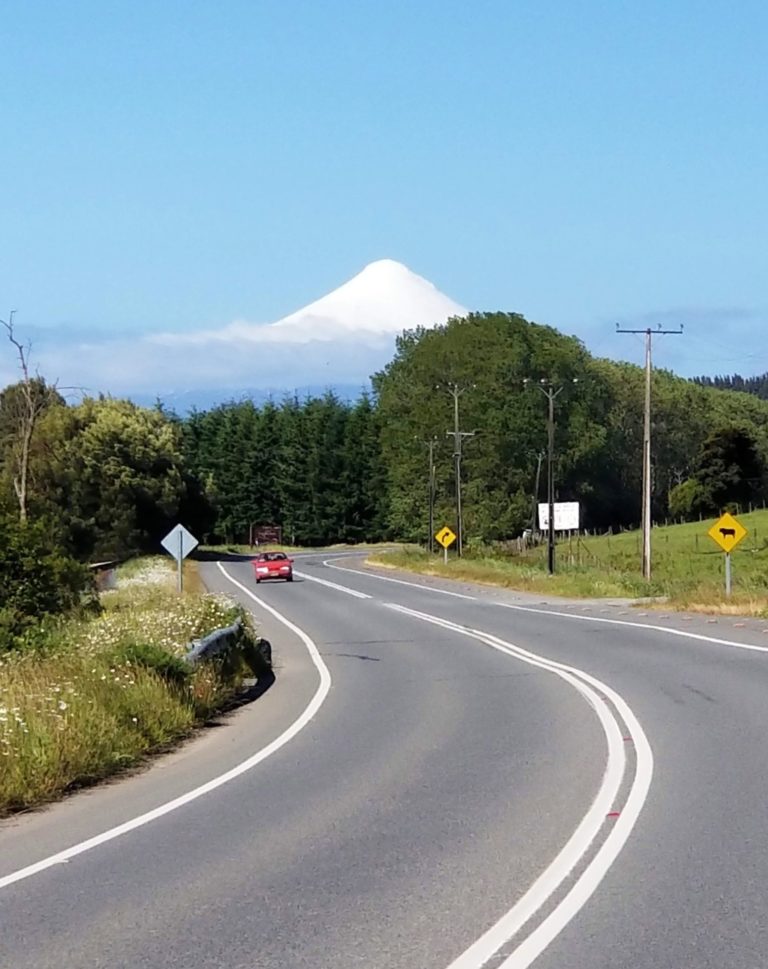 Osorno Volcano Near Lago LLanquihue
November 30, 2018
At first we would get excited when driving and see a snow capped volcano. Over the course of the trip it became kind of routine. An estimated 500 of the 2000 chilean volcanoes are considered potentially active.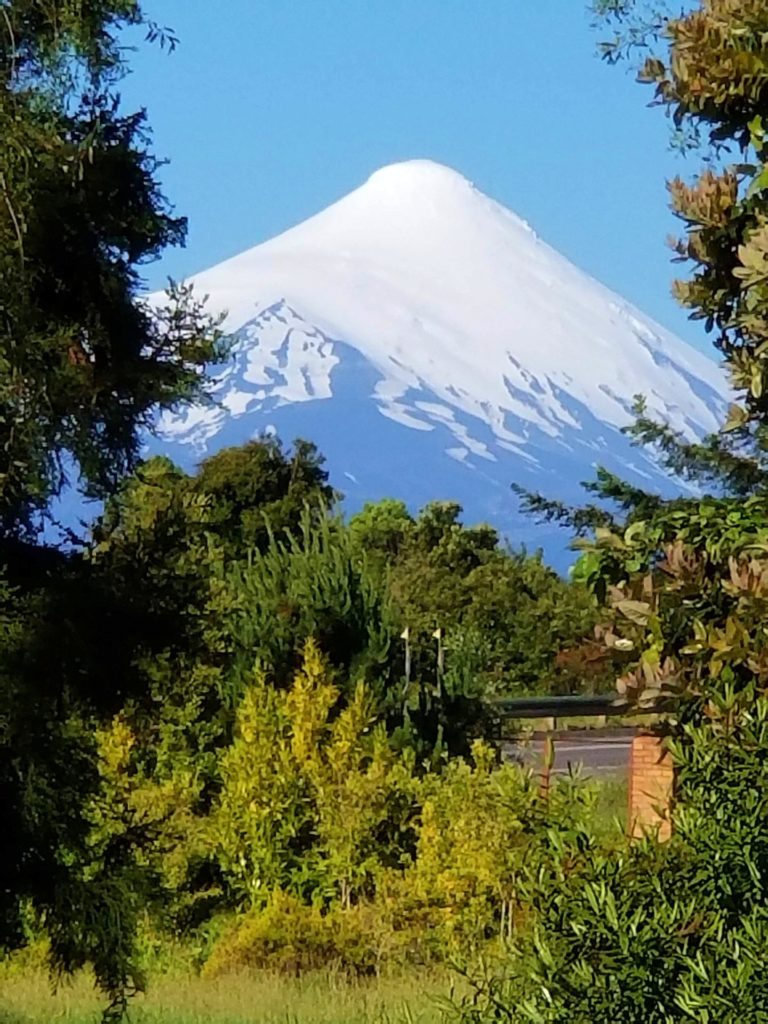 Osorno Volcano Near Lago LLanquihue
November 30, 2018
Imagine having this view from your house.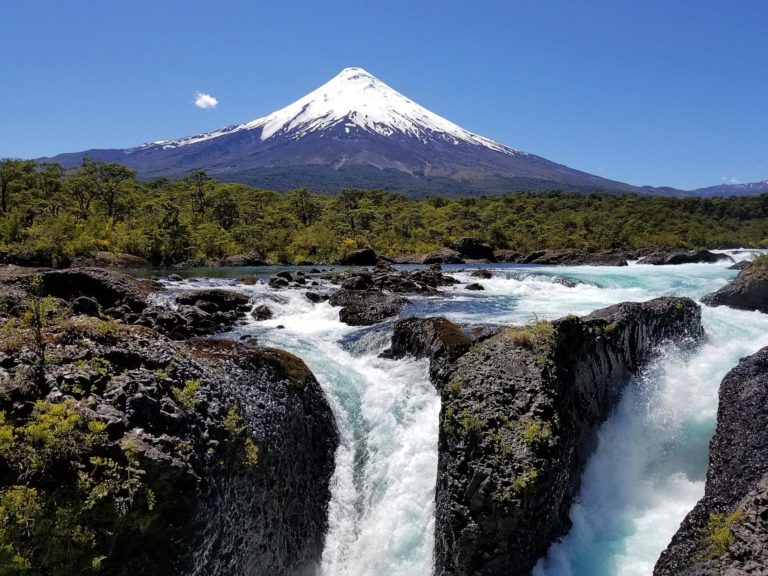 Petrohué Waterfalls
December 1, 2018
These falls are an easy hike from the park entrance. I managed to get a few photos without people in them. It was one of the most crowded parks we visited in Chile, with lots of groups on tour buses.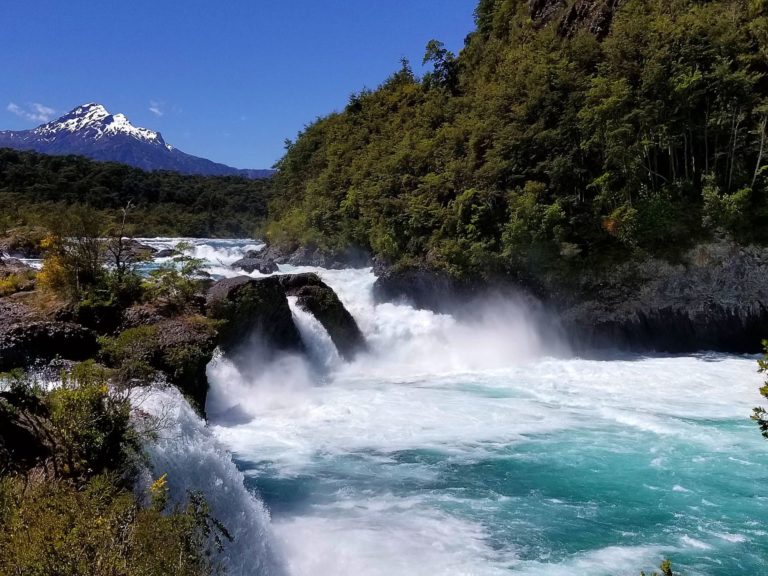 Petrohué Waterfalls
December 1, 2018
Same spot. These falls are to the right of the previous photo.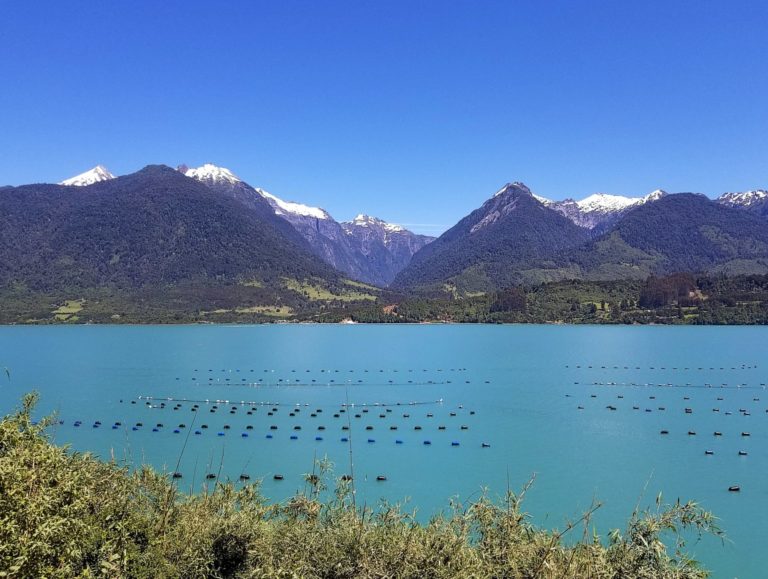 Driving to Hornopirén
December 3, 2018
Salmon farming is a major industry in the Puerto Montt area. Fish farms were a common sight.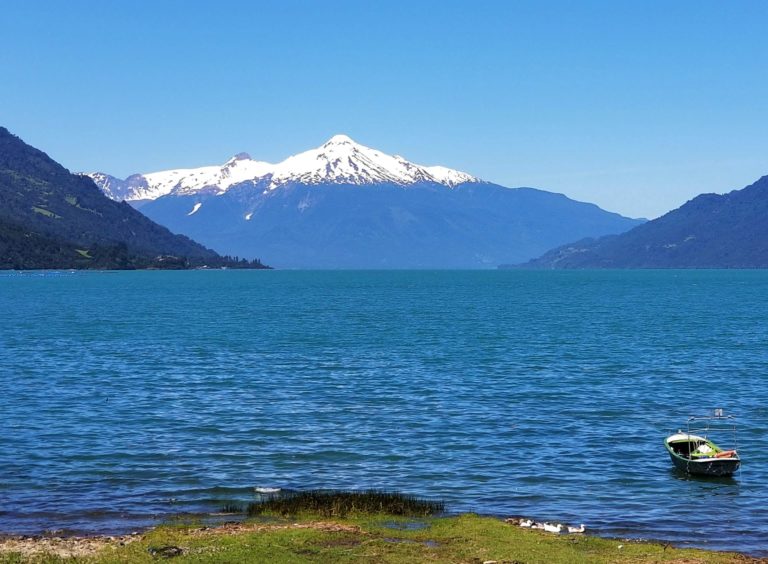 Driving to Hornopirén
December 3, 2018
Duck family, boat, and snow capped mountain. I mostly rode shotgun and my main job was to say when to pull over to take another photo.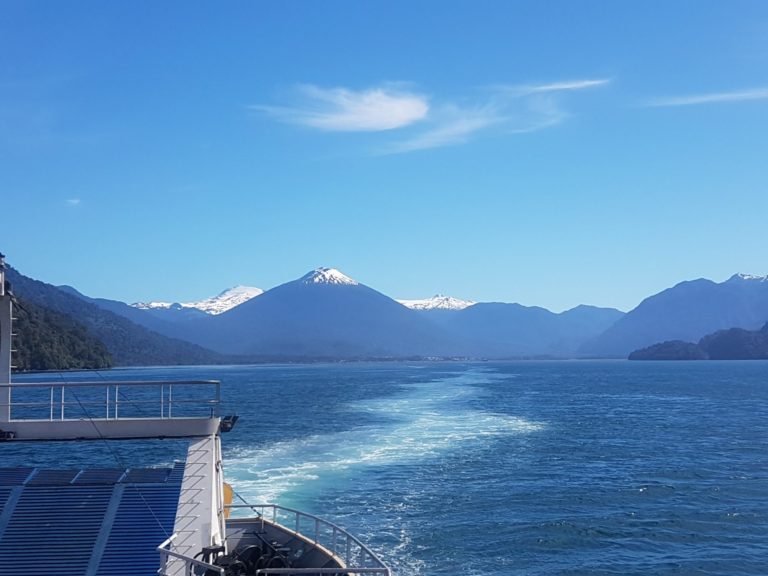 Ferry to Caleta Gonzalo
December 4, 2018
The ferry ride from Hornopirén to Caleta Gonzalo on the following day was about five hours. From there the road south was mostly gravel.