This is the second post for anyone who wants to talk California Propositions.
pacem appellant graciously agreed to share his views on the California propositions this year.
The intention is to provide a jumping off point for discussion, and a place for BJ folks to share their views, not to suggest to anyone how they should vote.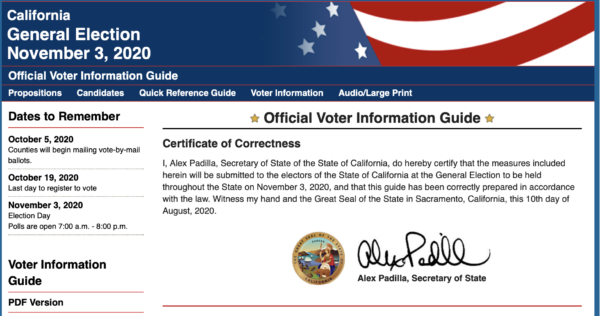 The 12 propositions are covered in 2 posts.
Friday's post covered 14, 17-19, 21-23 and 25.
Today's post covers 15, 16, 20 and 24.
pacem appellant (aka Vincent Jorgensen)

I'm a California native, born and raised in the Bay Area. For the past several years, in every election in which there are propositions on the ballot, I've been researching the propositions and posting my findings and recommendations to my Facebook feed. It spurs a healthy discussion among my friends, and it's led to my mind changing, too.This November, there are 12 propositions on the ballot, which isn't record-setting, but still daunting. There were 17 on one ballot in 2016. The record, by the way, is 48, and was set in 1914.

For those unaware, ballot propositions are a staple of California politics, dating back to 1910. They are placed on the ballot either by the legislature or by citizens. With enough signatures, it's possible to get any pet issue before the voters. I've been tasked with voting on whether to ban the sale of horse meat as food (that one passed), as well as modifying the state constitution to ban gay marriage (that one sadly passed, too). Because of the relatively low threshold for the number of qualifying signatures, most ballot proponents simply buy enough signatures to get their issue onto the ballot. A common sight is paid petitioners standing outside the grocery store trying to get shoppers to sign their names to a slew of potential referenda. Once a proposition is passed into law, the legislature can't overturn it, only another citizen initiative can (like this cycle's Prop 15).

This year we have four initiatives that were placed there by the legislature (16, 17, 18, and 19). The rest are citizen initiatives. We are tasked with deciding changes to who can vote, how taxes are assessed, who's an employee (and who's not), and criminal justice. I take this responsibility very seriously. I hope my fellow Golden State residents find my research and musings useful. I look forward to hearing your thoughts as well.

For my sources, I primarily used the following (and reference them at the end of each proposition)

Ballotpedia
CA Secretary of State
League of Women Voters
The L.A. Times
…..
Proposition 15: Shh! We're partially rolling back prop 13, but don't tell anybody

Increases Funding Sources for Public Schools, Community Colleges, and Local Government Services by Changing Tax Assessment of Commercial and Industrial Property. Initiative Constitutional Amendment

Legislative Summary: Increases funding for K-12 public schools, community colleges, and local governments by requiring that commercial and industrial real property be taxed based on current market value. Exempts from this change: residential properties; agricultural properties; and owners of commercial and industrial properties with combined value of $3 million or less.

Pros: It's a partial rollback of the CA's infamous Prop 13. In 1978, Prop 13 passed into law when I was but a wee babe, and has been screwing with CA's ability to collect revenue and pay for government programs ever since. Schools were the hardest hit. Schools are funded out of local taxes and some state grants, but the bulk of the money comes from property taxes. While Prop 13 did stop grannies from getting priced out of their suddenly crazy expensive beach-front retirement home that they bought in the 1940s, it also allowed ginormous (and not so ginormous) corporations like Safeway to amass huge amounts of property and hold it virtually tax free, since property is only reassessed when it changes hands and large corporations buy and sell property much less frequently than small businesses and homeowners. However, as the price of goods and services continued to rise, the amount of revenue the counties could assess effectively remained flat. Local municipalities try to compensate with parcel taxes and sales taxes, but these are regressive and hurt homeowners the most: a $500 parcel tax e.g. might be nothing for Safeway, but is the difference between Christmas presents or a missed mortgage payment for actual people. 

Cons: If you're an extremely large, land-holding corporate entity in CA, you're going to have to pay fair-market value on your property. If you are a homeowner, a farmer, or a small business (classified as whose property holdings value less than $3 million), then this proposition has absolutely no effect on you. 

My rec 15: Hard YES. As a homeowner in CA, I feel especially irked that in this crazy expensive housing market, time tax-dodging corporations have left it to us to shoulder the burden.

Further Reading:

Ballotpedia for Prop 15
Secretary of State Ballot Proposition for Prop 15
…..
Proposition 16: We're calling a do-over on affirmative action!

Allows Diversity as a Factor in Public Employment, Education, and Contracting Decisions. Legislative Constitutional Amendment

Legislative Summary: Repeals Prop 209 (1996). Prop 209 prohibits the state from discriminating against, or granting preferential treatment to, any individual or group on the basis of race, sex, color, ethnicity, or national origin in the operation of public employment, public education, or public contracting.

Pros: When prop 209 passed in 1996, a prominent African-American UC Regent argued that affirmative action hurt minorities more than it helped them. In the intervening 25 years, we've learned that he was wrong. The vagaries of fortune are more punishing on women and minorities. Ideally, there would be a level playing field for all people, but the one we have now is tilted heavily to the white cis male.

Cons: The status quo is maintained. Women and minorities will continue to have hindered access to public education and employment. We will continue to delude ourselves that the American dream is colorblind, raceblind, and genderblind. White people can feel smug that they succeed because of merit and that minorities fail because of a lack of moral rectitude.

My Rec 16: Yes. When I was in college in California (UC Berkeley, Go Bears!) Prop 209 was a huge deal and led to lots of protests. It was also the first election in which I was eligible to vote. One prominent campus pro-affirmative action group took the extreme action of confiscating all the copies of the student newspaper which contained a letter-to-the-editor in favor of ending affirmative action. It wasn't a good look for that group, and a lot of students were annoyed with their antics (I being one of those students), leading to opposition to affirmative action just because its most ardent proponents had the most fascist tactics. Regardless of what was happening in the People's Republic of Berkeley, the proposition went on to pass statewide. Since then, women and minority businesses have been "decimated" in the state (The CA Senate's assessment's word). In the last 25 years, we have learned that systemic racism and misogyny are implanted deep in the American psyche, and we aren't going to excise them with wishful thinking.

Further Reading:

Ballotpedia for Prop 16
Secretary of State Ballot Proposition for Prop 16
…..
Proposition 20: Criminal justice reform for dummies

Restricts Parole for Certain Offenses Currently Considered to Be Non-Violent. Authorizes Felony Sentences for Certain Offenses Currently Treated Only as Misdemeanors. Initiative Statute

Legislative Summary: Imposes restrictions on parole program for non-violent offenders who have completed the full term for their primary offense. Expands list of offenses that disqualify an inmate from this parole program. Changes standards and requirements governing parole decisions under this program. Authorizes felony charges for specified theft crimes currently chargeable only as misdemeanors, including some theft crimes where the value is between $250 and $950. Requires persons convicted of specified misdemeanors to submit to collection of DNA samples for state database.

Pros: Props 47 and 57, and AB 109, passed between 2011 and 2016, were intended to reduce the state's prison inmate population by shifting prisoners down to local jails and changing several non-violent crimes from being classified as felonies to misdemeanors. Prop 20 is a slight rollback of some of these reforms, upgrading misdemeanors such as firearm theft, vehicle theft, and unlawful use of a credit card to potential felonies, and adds two new felonies into the state code–serial crime and organized retail crime. Also, if a person is convicted of some crimes like shoplifting, grand theft, drug possession, or prostitution with a minor, requires that they submit DNA to a database.

Cons:  Asking the general population of CA to vote on criminal justice reform has usually not played out well in the long term. Humans are a vindictive lot, and we like to punch down whenever possible. We passed three-strikes reform via the ballot in the 90s, and we've had to roll it back pretty much all the way. In the ballot proposition itself, I find this wording extremely disingenuous: "Protecting every person in our state, including our most vulnerable children, from violent crime is of the utmost importance. Murderers, rapists, child molesters and other violent criminals should not be released early from prison." Current law does not do this, and this scary wording hints at other motivations for the proponents of this reform.

My Rec 20: No.

Further Reading:

Ballotpedia for Prop 20
Secretary of State Ballot Proposition for Prop 20
…..
Proposition 24: Now for some real user power

Amends Consumer Privacy Laws. Initiative Statute

Legislative Summary: Permits consumers to: (1) prevent businesses from sharing personal information; (2) correct inaccurate personal information; and (3) limit businesses' use of "sensitive personal information"—such as precise geolocation; race; ethnicity; religion; genetic data; union membership; private communications; and certain sexual orientation, health, and biometric information. Changes criteria for which businesses must comply with these laws. Prohibits businesses' retention of personal information for longer than reasonably necessary.

Pros: As the Electronic Frontier Foundation put it in neither endorsing or condemning, Prop 24 is "a mixed bag of partial steps backwards and forwards." One of the partial steps forward is preventing the collection of PI for "consumers" (the word used in the legislation, not mine) under the age of 16, and tripling the penalty for non-compliance. As someone with preteen children, I'm very concerned about how my children are subjected to online marketing. 

Cons: The legislature passed the California Consumer Privacy Act of 2018 (CCPA) to specifically address new online privacy concerns. A SF-based real-estate mogul felt that the protections didn't go far enough, and hence this ballot (he had withdrawn his original proposition 2018 after the Assembly took up the CCPA). As such, the CCPA has barely been effective for two years and whether it's sufficient has yet to be determined. 

My Rec 24: No. Even though the arguments against it contain some weak sauce ("unelected regulatory agency", "invention turned into stagnation", blah-blah-blah), I give credence to the EFF's unenthusiastic non-dorsement. The ACLU has many concerns as well. Lastly, if this passes by initiative statute, the legislature will have a HARDER time amending privacy laws in the future, as each change would have to go before all the voters. Proponents think that not being able to be "watered-down" by lobbyists is a bug, but deliberative action is a feature of democracy. With the speed at which tech innovation happens, it would actually slow down the state's ability to adapt in the future.

Further Reading:
…..
THE END