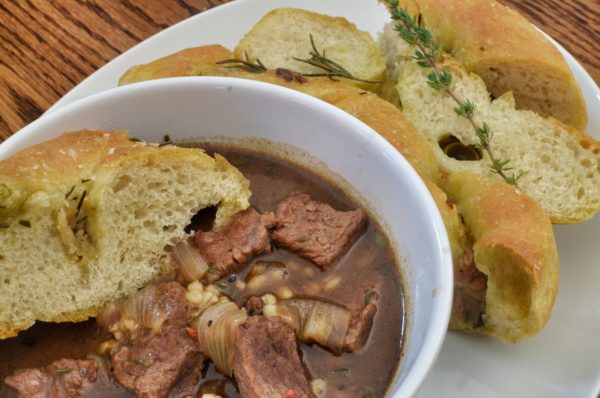 JeffreyW makes mouths water with this photo of his Beef and Barley Soup (with bonus Foccacia recipe here)
I've updated the basic soup recipe for Instant Pot style cooking. For the stovetop version, click here.
It has been unseasonably warm here, but I still wanted soup. Checked the freezer and I had a cross-rib roast, that would do since there was not a secret stash of chuck roast tucked away in there. All the other ingredients were handy, so Beef and Barley soup was it.
I added a potato, diced small, just because.
Beef & Barley Vegetable Soup
olive oil
1 lb chuck, cut into small cubes
1/2 small onion, diced
2 tsp crushed garlic
14 oz of tomatoes (fresh or canned)
8 cups of water (or water and vegetable broth**)
12 oz sliced carrots (frozen ok)
12 oz green beans (frozen ok)
3 stalks of celery, chopped
1/2 cup barley
1/4 tsp cayenne
1/2 tsp ground pepper
1/2 to 1 tsp salt (more as desired)
2 bay leaves (remove before serving)
large saucepan
Heat oil in the instant pot on the sauté setting. Sauté onions for 1 minute, add beef and brown on all sides, add garlic and sauté for 1 minute making sure not to burn the garlic. Add remaining ingredients.  Set the pot to Soup/Stew setting and cook for 35 to 40 minutes, until barley is tender.  Use natural release method.
Serve with biscuits or cornbread.
**For vegetable broth,  I blend the tomatoes, and an additional 6 oz of carrots, 6 oz of green beans, 2 stalks of the celery, 1 cup water into a smooth puree, to make a hearty base for the soup.  I like the hearty stock.
Yum.
It's soup season, so here are a few more: Tomato Soup and Grilled Cheese,  Chicken Tortilla Soup, and Minestrone with Tiny Meatballs