Those of you who speculated that Trump concealed his taxes because he's broke, step up and collect your prize, which is a schadenfreude buffet. The Times:
Donald J. Trump paid $750 in federal income taxes the year he won the presidency. In his first year in the White House, he paid another $750.
Also, he wrote off $70K in taxes for hair styling. He wrote off more than $700K in "consulting fees" that suspiciously matched an amount collected by a Ivanka-owned consulting company. I am not a lawyer, but that sounds legally dubious. It may be perfectly legal since our tax code seems designed to allow rich people to perpetuate outrageous scams.
Anyhoo, I've long since stopped waiting for any revelation about Trump, no matter how repulsive or ridiculous or outrageous, to make the bottom fall out of his base of support. If 200K-plus dead Americans on his watch — with recorded evidence that he lied to us about the danger — won't budge the needle, nothing will. Somewhere around 40% of our fellow citizens are dumb and/or malevolent chumps, and they'll never admit they've been conned. Still, being exposed as a fraud has got to be a personal hell for a narcissist like Trump.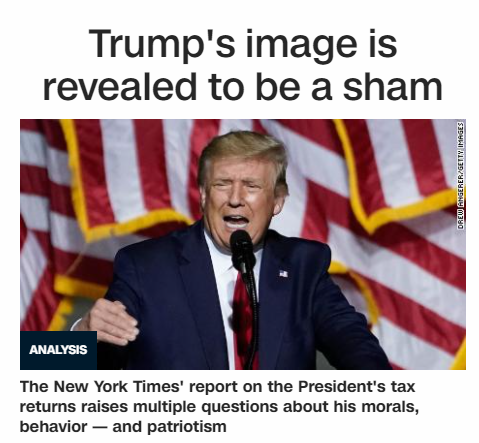 The thing to remember about narcissists is that for all their bluster and self-aggrandizement, they're pathologically insecure, with no sense of self except what is reflected back at them by other people. Everything they do is about collecting praise and avoiding shame to protect their fragile egos.
So, no matter how furiously and desperately Trump denounces the NYT revelations as "fake news," a headline like this inflicts a narcissistic injury. Good. I hope Joe Biden finds a way to pour salt into the wound tomorrow night. Open thread.