Trump's horrible, no-good, awful debate performance may have been even worse than we realized, judging from the desperate and delusional spinning from his allies. Here's Rudy's original effort: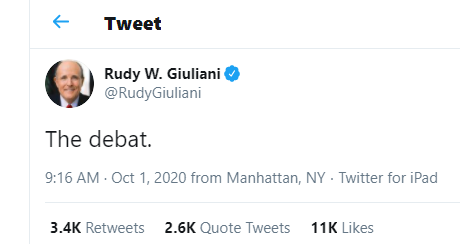 Someone rebooted Rudy a couple of hours later (after "debat" enjoyed a run in trending topics), and Rudy barfed up several tweets about how Trump did TOO win because shut up, that's why. But really, the now deleted "debat" was more coherent, not to mention elegant.
My guess is the internal post-debate polls are ghastly, and Republicans know public post-debate polls are going to create a narrative — a LOSER narrative. So they're trying to get in front of the story, flooding the zone with bullshit. Trump did his part:
I won the debate big, based on compilation of polls etc. Thank you!

— Donald J. Trump (@realDonaldTrump) October 1, 2020
Needless to say, there is no "compilation of polls" that suggests anything of the sort. It's the sort of face-saving lie we've come to expect from this ridiculous person.
But here's a thought about how Trump's boundless capacity for self-delusion can spare us endless strife. If Trump does lose the election, maybe he'll just claim he won according to a "compilation of polls etc." and go right on pretending that it's so.
Then, on January 20, 2020, he could simply announce he's decided to move out of the White House, claiming it's "too small," and just pretend that he's president forever. It would be easier than tearing the country to pieces on the way out the door, so maybe we'll luck out and he'll go with this easy, face-saving option. Open thread!