As a bunch of jackals have noted in the comments, Trump's entered his burn it down phase:
President Donald Trump has ordered his negotiators to halt talks over a new stimulus package, after the two sides have struggled for months to reach a deal.
"I have instructed my representatives to stop negotiating until after the election when, immediately after I win, we will pass a major Stimulus Bill that focuses on hardworking Americans and Small Business," Trump wrote in a series of tweets Tuesday afternoon.
So that's everyone working for a living and every small (and large!) business person…and
Wall Street's MOTUs too
! who now knows exactly who to blame for every lost job, (and house), venture, next Ferrari or whatever.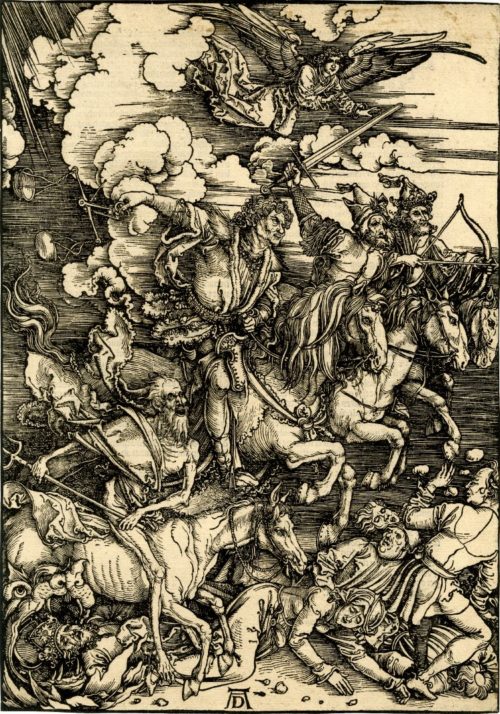 Add that to the fact that older Americans are, seemingly, starting to conclude that it's a bad idea to vote for a man and a party that sees their deaths as a useful response to the coronavirus epidemic and it's pretty clear that Trump–or at least anyone around him possessed of greater sentience than Barney Frank's dining room table–doesn't think he's going to win.
So why not tank the economy? Leave Joe and Kamala with the most ginormous steaming heap of Republican ordure to clean up and hope they choke on it.
Also too: the grift will be in ludicrous mode from now to January 20. I'm beginning to suspect that the reason Trump is
cancelling ad buys
is because he wants to hang on to every dime of campaign cash until the last dog dies.
Over the next weeks/months the only thing worse than Trump losing is Trump winning–and that's waaaaaaaaaaay worse.
Image: Albrecht Dürer, The Four Horsemen of the Apocalypse, 1498.